Riviera Maya Vacation Rentals with Personal Chef Service!
Riviera Maya is known for its beautiful beaches, tropical climate and vegetation, luxurious resorts, friendly locals, and last but not least excellent food, no matter if seafood, traditional Mexican, or international cuisine. Cancun, Playa del Carmen, and Tulum are home to many gourmet restaurants run by celebrity chefs and five-star luxury resorts with "all-inclusive" dining options.
However, an increasing number of luxury vacation rentals now go a step further, offering its guests a private chef service. An approach focused on an "all-exclusive" experience rather than "all-inclusive" for the masses. A personal chef is a special treat for every gourmet, offering completely personalized, flexible high-end service for the guests right at the villa.
Please Inquire for Villa Experience Chef Service!
Why not feast on a fancy dinner or some local cuisine upon arrival at the villa? We can organize dinner for you upon arrival or have the chef prepare daily meals, or organize a special event for your friends and family. These can Include tasting menus, authentic Mexican, French, Italian, and meals suited to dietary needs.
Grocery shopping (chef selection & additional cost for groceries)
Labor
Perpetration and kitchen clean
Price for groceries not included
Please note that the actual groceries and delivery fee costs are not included in the rates. The delivery fee inside Playa del Carmen is 20%, and outside Playa del Carmen is 25%.
*Rates for this experience vary depending on the season. Select your travel dates for accurate rates.
Most private chefs have worked at first-class restaurants and hotels, and every villa usually has an established, extensive menu with dozens of signature dishes to choose from. In addition to that, before the guests' arrival, We will create preference sheets for every single guest reflecting special requests, favorite dishes, food allergies, etc. This way, chefs will cater to the guests' needs and cravings, whether it's a light and healthy snack by the pool, a multi-course-themed dinner, a BBQ, or fresh seafood. A private chef can also cater to special dietary needs, religious restrictions, or food allergies. Chefs can add vegetarian, vegan, low-carb, dairy-free, Kosher, Halal, or Hindi options to the menus upon request.
With selected properties, the chef service is already included in the price of the rental. Guests will only have to pay the actual price of food and beverages purchased by the house staff. Fresh and high-quality produce, meat, seafood, and alcoholic drinks are considerably cheaper in Mexico than, for example, in the US or Europe, so the additional cost is only $25 and $50 per person per day, including drinks, depending on the number of meals and the guests' individual preferences. A truly unbeatable deal for a five-star dining experience!
Here are three Riviera Maya properties with excellent and highly rated chef service included, making them ideal vacation rentals for the food connoisseur looking for the culinary trip of a lifetime.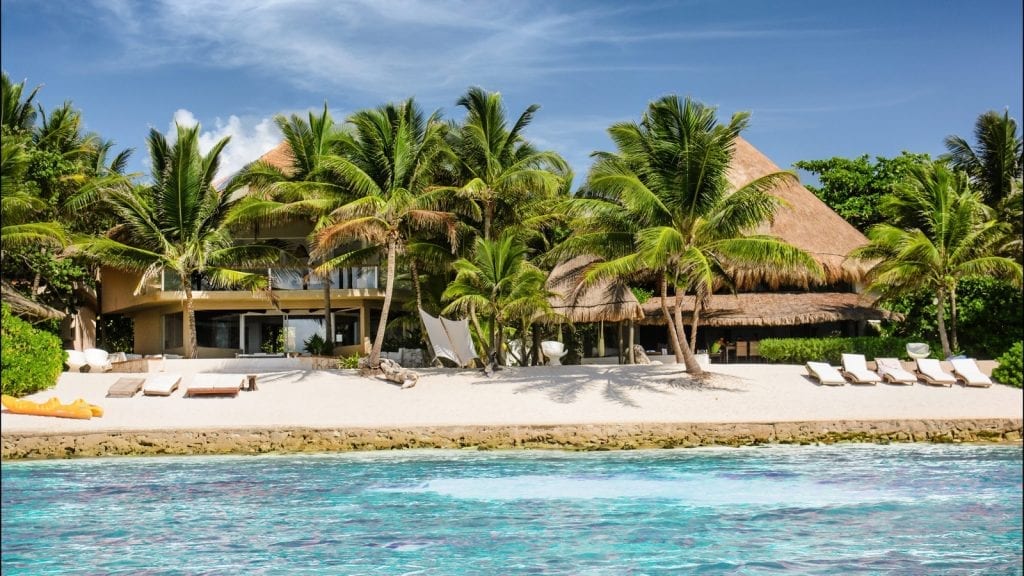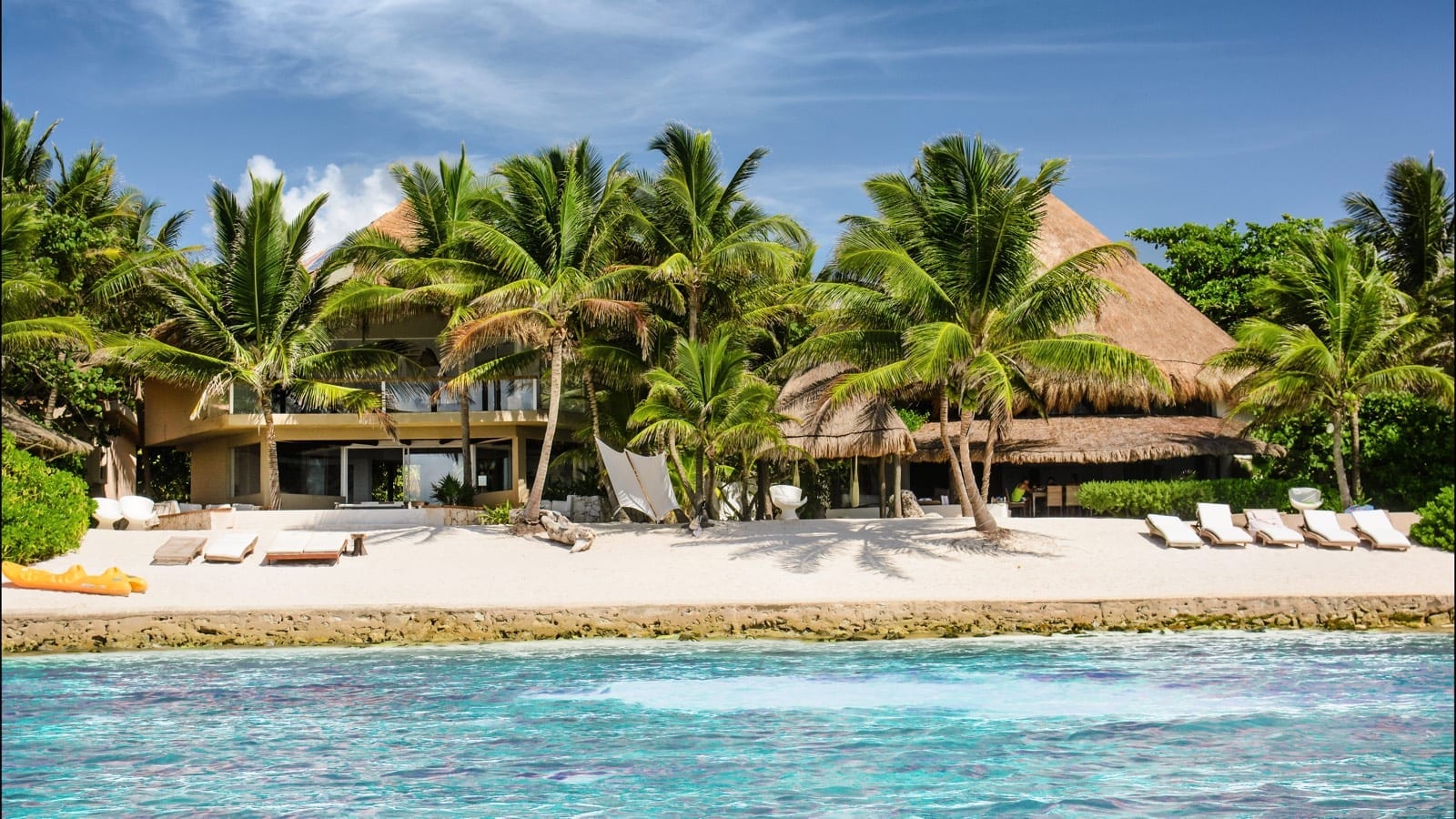 Casa del Agua in Puerto Aventuras
This four-bedroom villa sits right on the beach in beautiful Puerto Aventuras. Eight guests can enjoy this traditional Caribbean-style gem, featuring rich wooden accents and tropical decoration and artwork. The chef and his waiters will prepare three meals per day in the spacious dining room or right on the beachfront terrace.
Villa Aqua in Playa del Carmen
A modern luxury vacation rental located inside the prestigious gated community of Playacar, just minutes away from Playa del Carmen's lively "Quinta Avenida." With five bedrooms and ample indoor and outdoor space, this villa sleeps twelve guests. Villa Aqua features an "indoor garden" in the main living area and floor-to-ceiling windows, creating a perfect blend of indoor and outdoor living. Chef service at the villa includes breakfast and lunch. In addition, we can add dinner service at a nominal fee.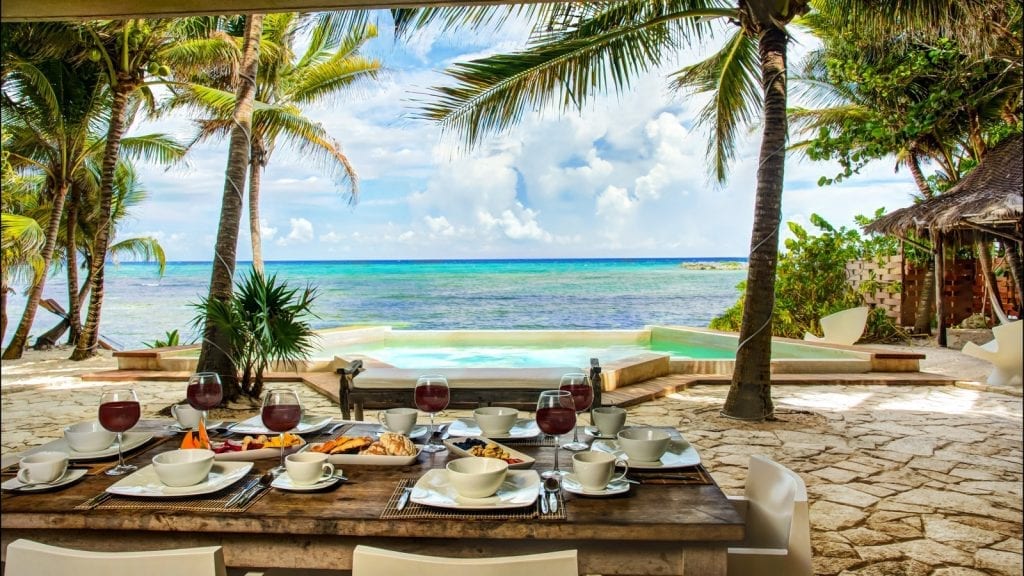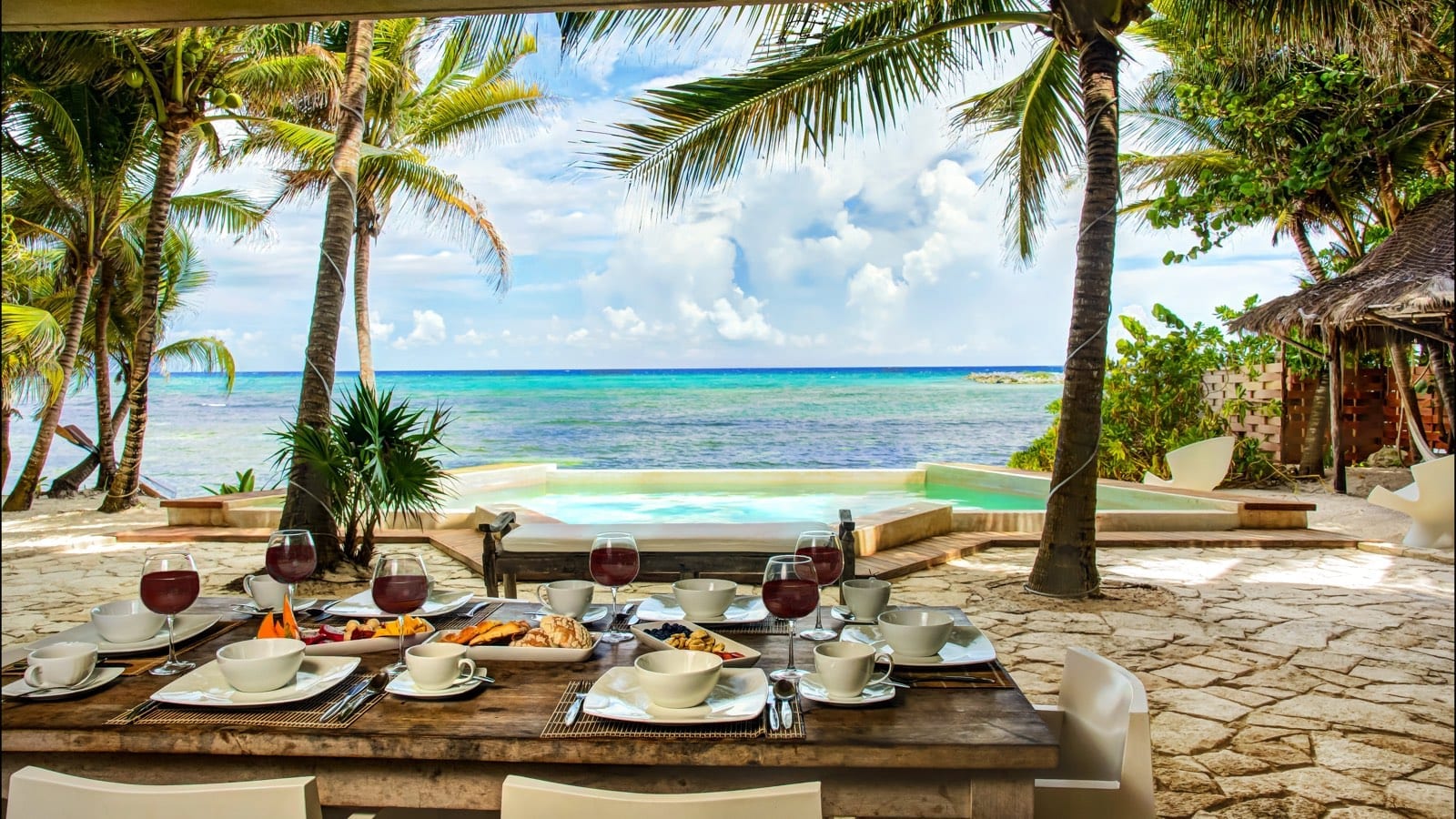 Villa Zacilna in Puerto Aventuras
Experience calm and lay down to enjoy luxury within this villa with award-winning architecture and breathtaking ocean views from the living areas. Time shall stop in the two ocean-view bedrooms, and connection with nature in the three garden views will happen in this lavish villa—all bedrooms with ensuite bathrooms. Create memories with your loved ones and let our team take care of everything. Enjoy concierge, butler, and private chef service during your stay.
Villa Zacil Na is a magical place for small and intimate special events.