Punta Ballena Villa Rentals

Luxury Vacation Villas in Punta Ballena, Los Cabos!

We specialize in full-service luxury villa rentals for the best travel experience in Punta Ballena, Los Cabos, Mexico. Villa Experience's finest collection of Punta Ballena vacation villa rentals; fully staffed private villas with chef service, maid, butler, and personal concierge. Our concierge is there to help you create your ultimate itinerary for your vacation.
Villa Experience's Finest Collection of
The Lifestyle of Luxury & Glamour
Los Cabo's popular tourism started back in the nineties with Palmilla and the first of many top-notch golf courses. It has now exploded into an impressively hot market where there seems always to be some new development on the horizon, offering new and ever-more-original properties and amenities. 
The reality of Cabo now is one of the opportunities. Many celebrities have chosen their favorite beach destination and bought their beach homes here. We are talking about properties in the millions of dollars, so you can get an idea of the kind of market we are talking about. Many of these identical villas are available for rent for the better part of each year, as these properties would otherwise be empty most of the time.
Located in the famous Corridor that connects Cabo San Lucas and San Jose del Cabo, Punta Ballena is an upscale residential community with a reputation for being one of the most luxurious areas in Cabo. Since opening in 2000, Punta Ballena has offered unique top Mexican architecture with high-end modern amenities. 
In addition, most properties in this exclusive neighborhood enjoy spectacular desert and ocean views, which adds to the place's already extraordinary atmosphere. Those who love a lifestyle of luxury and glamour will feel at home in Punta Ballena.
Over two miles of walking paths are among its amenities, a Private Residents Beach Club, Spa services, and tennis courts. In addition, the beach club includes a fully-equipped fitness center, restaurant, lounge bar, swimming pool, and Jacuzzi. The beach at Punta Ballena is beautiful and relaxing, although swimming in its waters is not recommended. However, more swimmable beaches are in the nearby area.
There is a wide range of three and four-bedroom properties at Punta Ballena starting at USD 1.8 million, which might tell you all you need to know about the kind of villas you can find in this exclusive gated community in Cabo. Knowing that the development is managed by the internationally renowned hospitality company Auberge (which also owns the next-door, 5-star Esperanza resort) says quite a lot.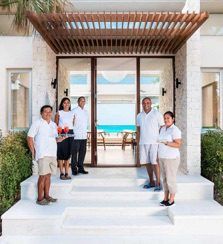 Description of the staff members and services at the villas.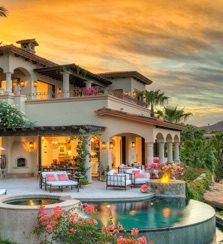 Most common questions about luxury villa rentals in Los Cabos.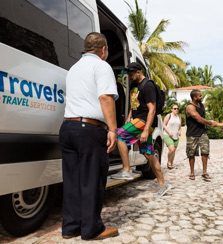 How to take advantage of the Villa Experience concierge services & benefits.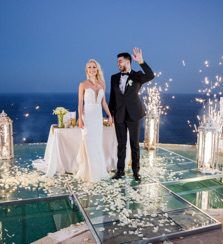 Terms and conditions when having a wedding or event at a private villa in Los Cabos.
Frequently Asked Questions
Interesting Villa Experience Magazine Articles