Punta Mita Residential Communities
Punta Mita offers some of the most pleasurable activities and a range of world-class services unavailable in other places of the Riviera Nayarit or Puerto Vallarta.  It is located on a 1,500-acre peninsula in the Riviera Nayarit, just north of Puerto Vallarta in the Riviera Nayarit. Visitors often say that Punta Mita fulfills their every need and is an idyllic tropical getaway.
Visitors with discerning tastes prefer to stay in one of the ultra-luxurious communities within one all-encompassing residential area. These communities are home to multimillion-dollar villas. In addition, there are 15 residential communities with various homes, a tennis center with ten courts, two Jack Nicklaus golf courses, and several beach clubs.
Visiting Punta Mita is a year-round event, as it boasts similar weather to that of Hawaii due to its lateral location. The area is quietly divine, a place where you can enjoy the soft melody of the indigenous birds and the soft, soothing sounds of the ocean waves. It has been a favorite area for celebrities, wine connoisseurs, and business executives alike since its first opening in the late 1990s. Here we will list all of the major communities in the Punta Mita Peninsula and explain the features that set them apart.
Our Featured Villas within the gates of Punta Mita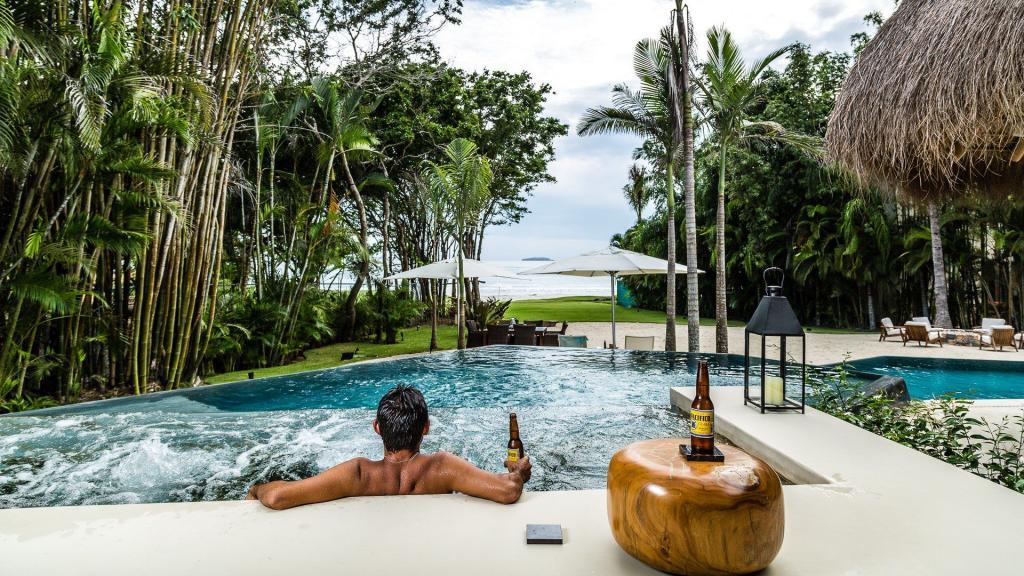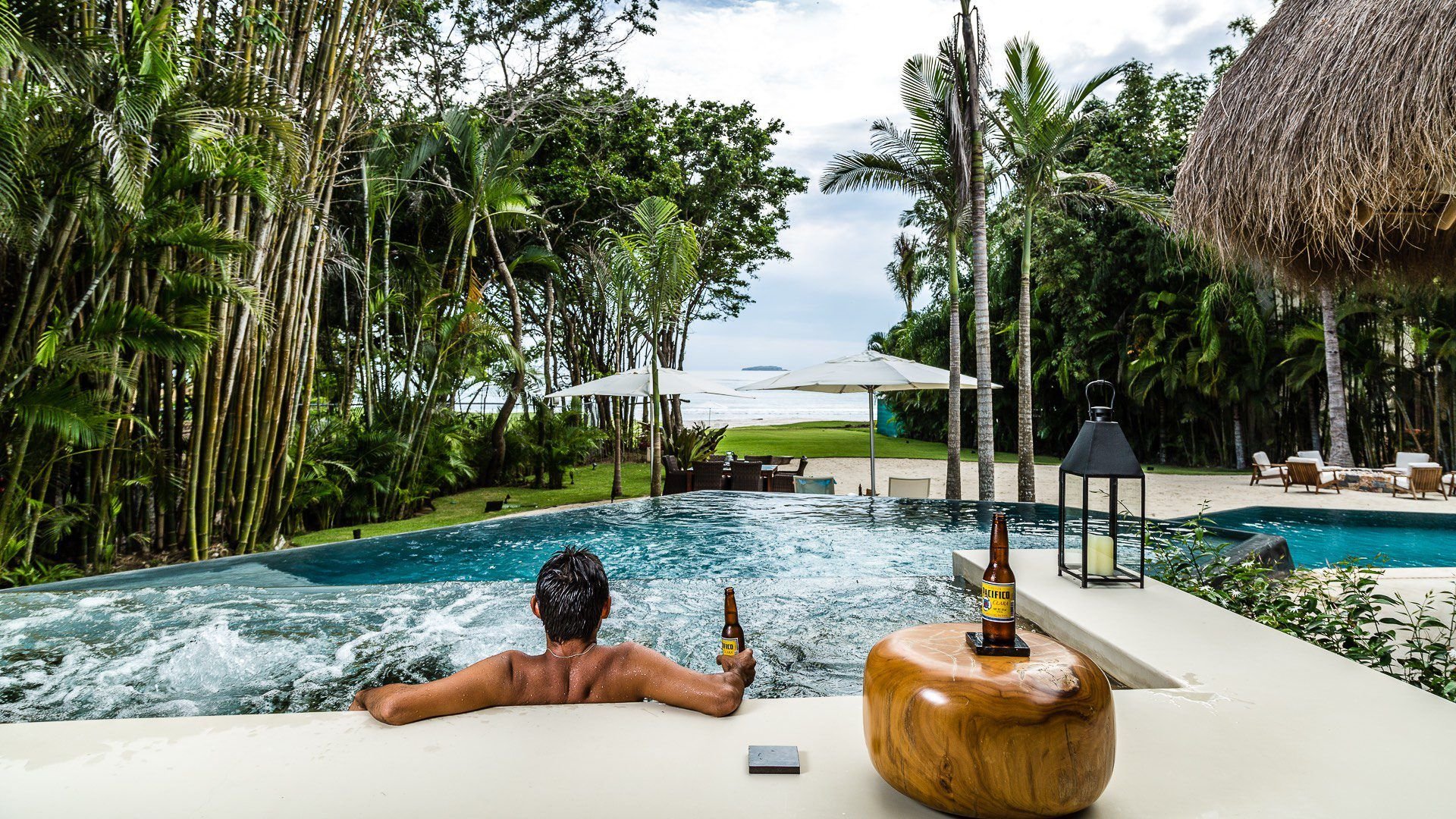 This community sits along the Punta Mita coastline and offers fascinating views of the Pacific Ocean. The exquisite beaches are accessible from home, surrounded by natural verdant greenery and beauty. It is a hidden Eden that offers spectacular views of the Pacific Ocean and beautiful white sandy beaches in their exquisiteness.
This ultra-luxurious home community offers the most beautiful vacation homes in Mexico, and well-known architects with legendary talent design all these properties.
The villas located in the Ranchos Estates offer resort-style services and are staffed to meet the guests' needs. In addition, the grandeur and spaciousness of these properties provide 12,000 feet of refined grandeur. These qualities make the Ranchos Estates a spectacular getaway for anyone.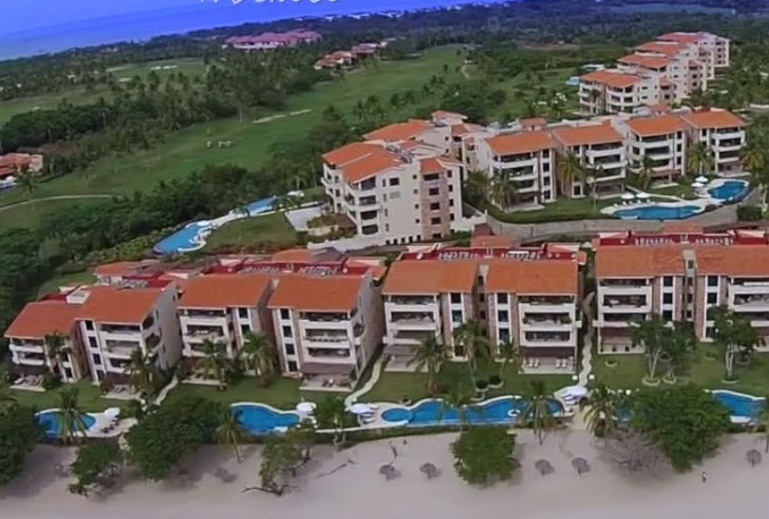 This community is the only beachfront condominium complex in the gated exclusive area of Punta Mita. It seamlessly blends the comfort of a luxurious home with the modern amenities of a condominium complex.
Each building has an elevator, its infinity pool, and beachfront access. Guests staying at a Villa Experience villa here also enjoy the use of the Hacienda de Mita beach club and its services.
Units enjoy 280-degree views of the ocean, its spectacular sunset, and the surrounding landscaped areas. However, the most attractive features of these condominium units are that they are just steps from the pool and the beautiful sandy beaches of Punta Mita. From every terrace, guests can enjoy watching surfers, paddlers, and swimmers, all from the comfort of their incomparable villa.
The Punta Mita village is also nearby, where you can enjoy a variety of restaurants and shopping areas. In each of the villas in this area, condominiums are equipped with gourmet kitchens, subzero refrigerators, wolf stoves, and every appliance you might need.
Guests also have access to golf courses, a kids club, a nearby medical facility with 24-hour service, kayaks, paddleboards, life jackets, yoga, surfboards, etc. These amenities are available to guests of the villas. However, not all estates have access to golf course play, so check the description.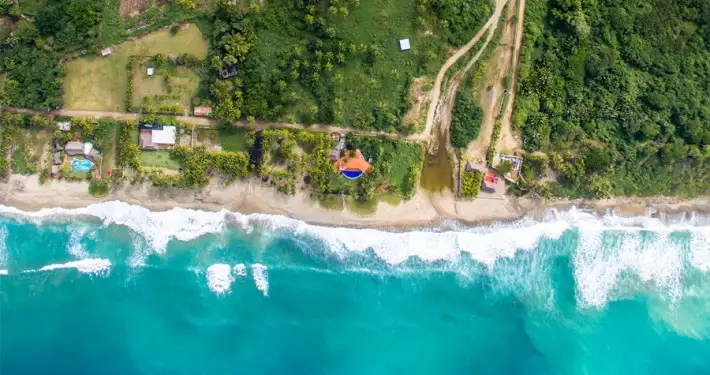 A community with majestic views of the shoreline from every one of its homes. Each home offers its own distinctly designed features, all embraced by soft, luscious trees and tropical plants.
The homes in Bahia Signature estates offer panoramic splendor and are accessible through a private, highly secured drive bordered by lush tropical plants. Next to this quiet private community sits the sumptuous Punta MitaBeach Club, equipped with pools, a restaurant, and a gorgeous outdoor bar.
As a guest of one of the beachfront homes of the famed Rancho estates, you can enjoy the Punta Mita beach club and be close enough to other areas to explore. Some nearby towns and activities include the local Saturday artisan market, the local vendors along the roadside, and Punta Mita's small quaint Mexican villages, Cruz de Huanacaxtle and San Pancho. Enjoying the drive is just part of learning about Mexican culture and the local commerce. The Banderas Bay is truly unique in all of its facets.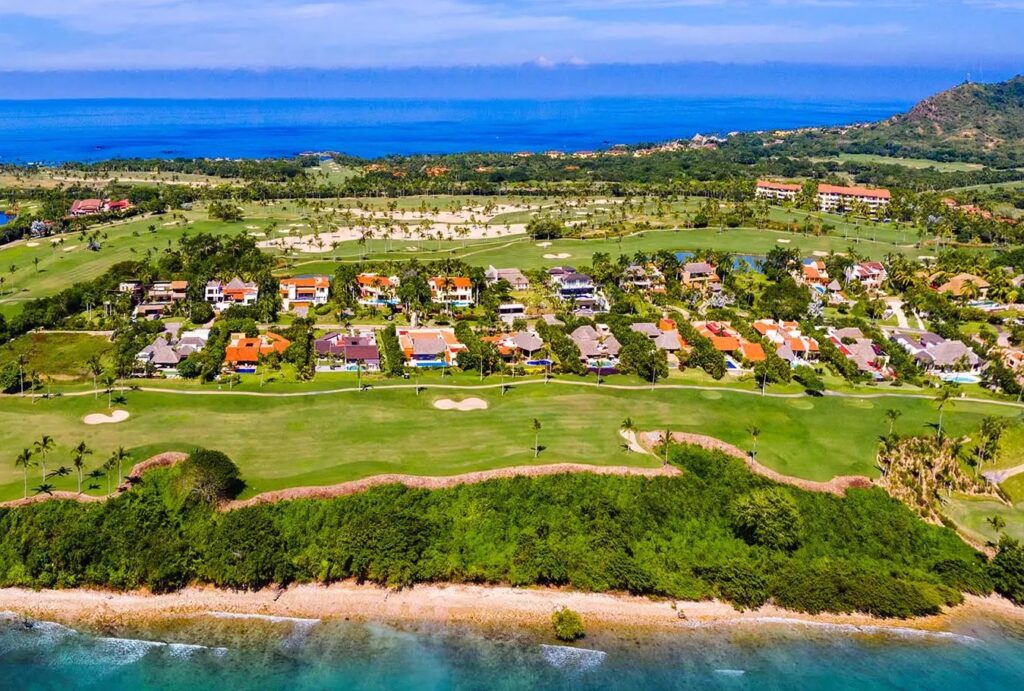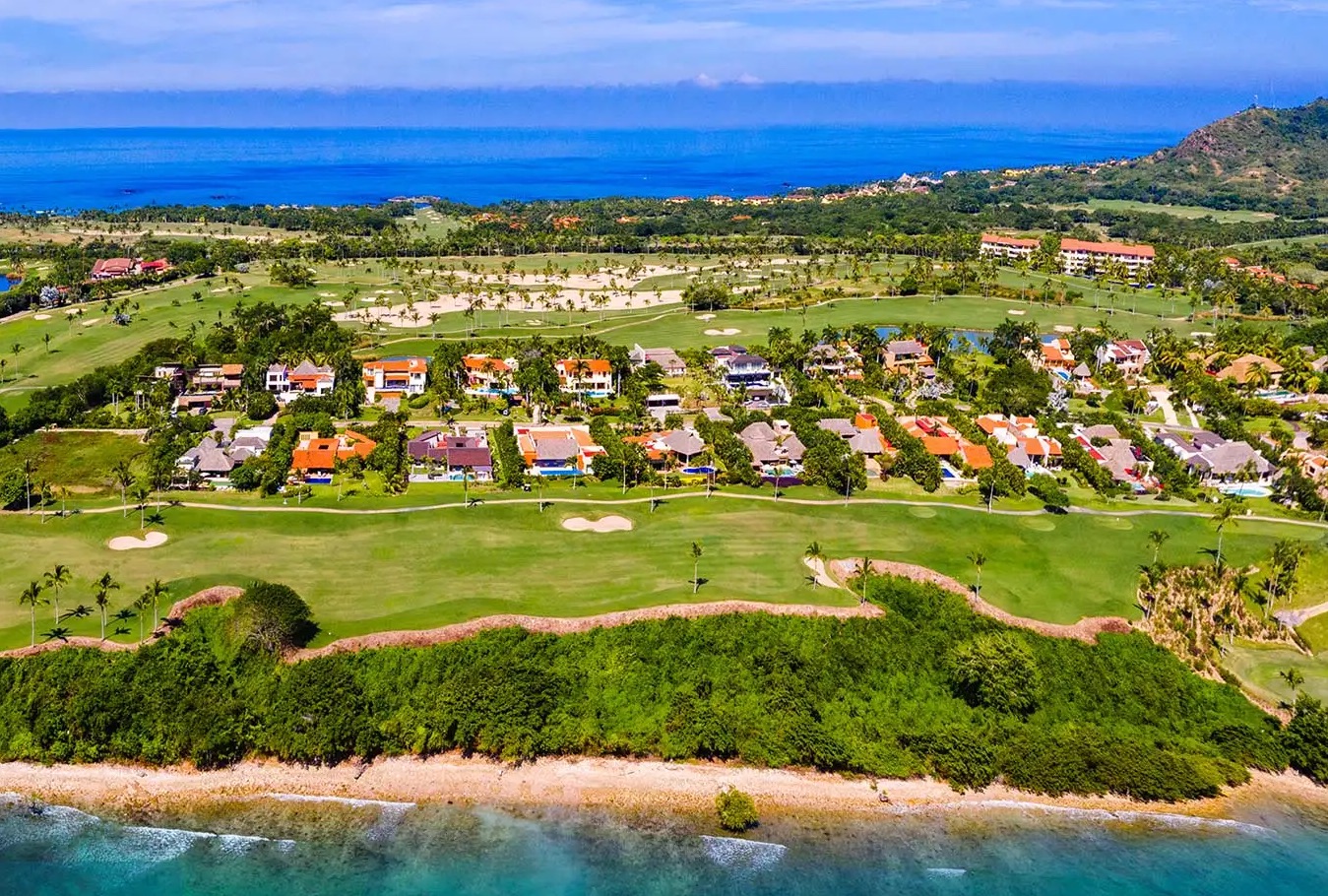 A stunning community where homes overlook the peninsula and offer a unique perspective that only the most creative architects can design. Lagos del mar sweeps you into its beautiful settings and resort-worthy amenities.
When your villa sits in this exclusive community, you can bask in the sunshine and watch the sparkling Pacific from any of your terraces. Watch the stars come out at night from your pool or hot tub. Also, you can rest easy in knowing that a concierge, housekeeper, and butler will see to your comforts throughout your stay.
All homes in this area are uniquely designed to bring the outdoors in. Living areas are sophisticated and inviting with artistic touches and handmade details like woven lounge chairs, sculpted coffee tables, etc. Many homes are traditional in style, and others have a modern, sleek design that takes advantage of all the features of the environment.
Guests have access to the nearby tennis and fitness centers and the Residents' and Upuri beach clubs. Punta Mita shopping areas and local culture are just a 12-minute drive away. In addition, the St Regis resort is only 9 minutes from this community, an ideal location for a spa treatment.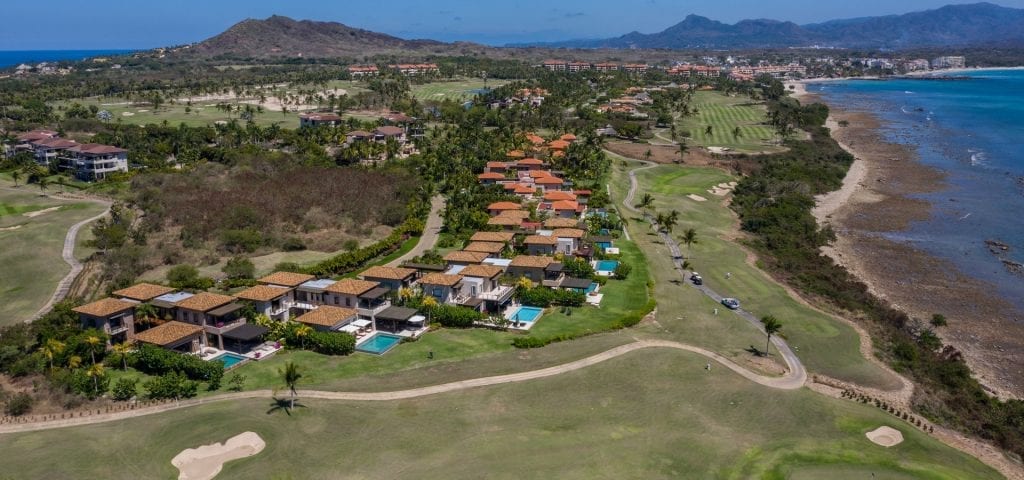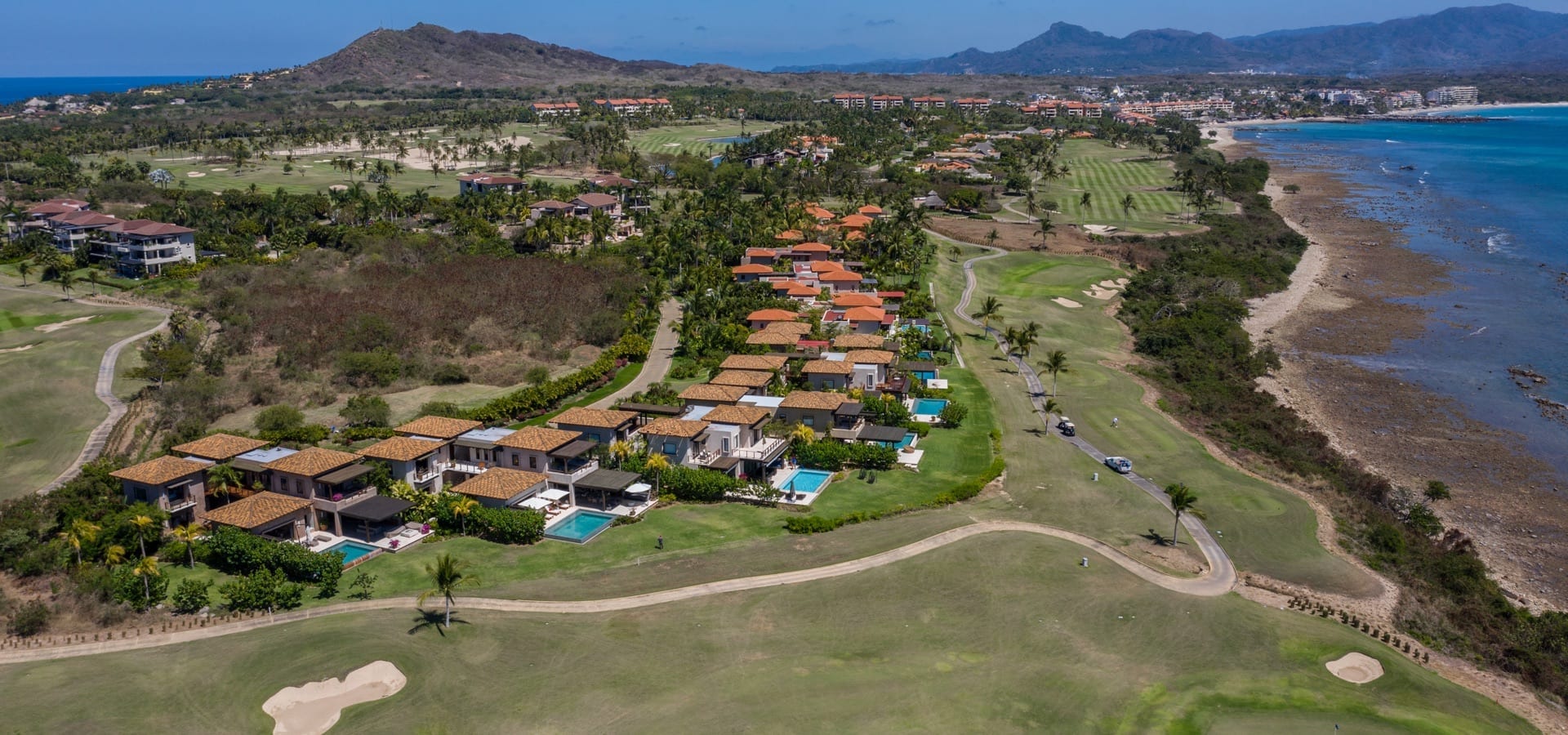 With a name that translates to "Enchanting," you can't go wrong with the El Encanto community in Punta Mita. Here you will find a compelling vision of what a villa should be like. The community speaks of warmth, relaxation, and a divine design that integrates the tropics into fantastic architecture.
Our villas located here have the most desirable views of the entire Punta Mita Peninsula and bay. Experience the natural beauty and comfort of this secluded and gated community.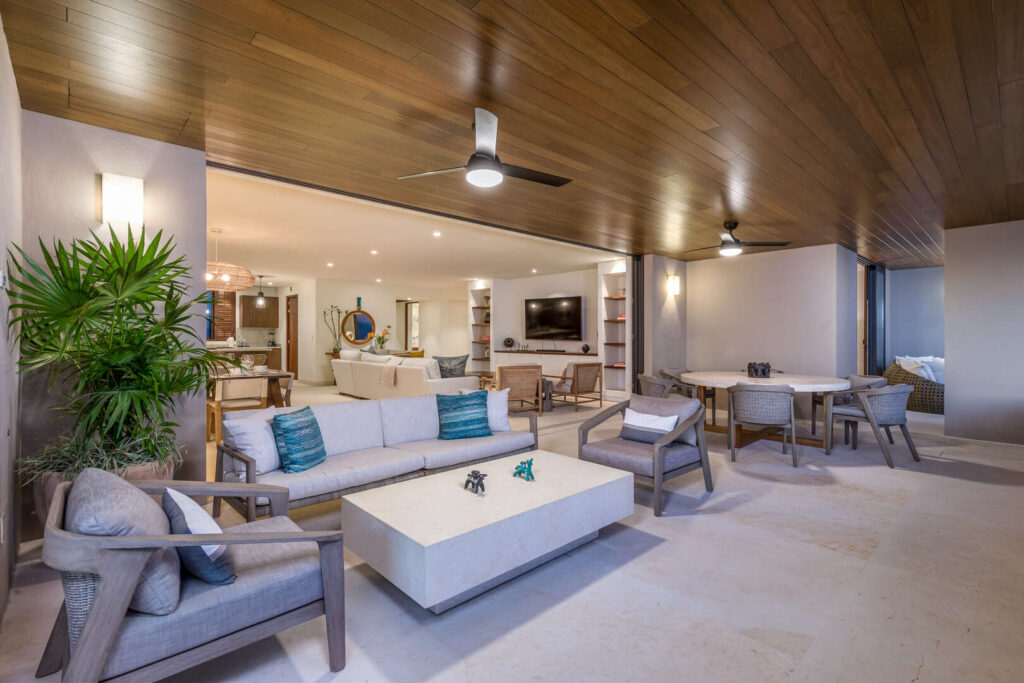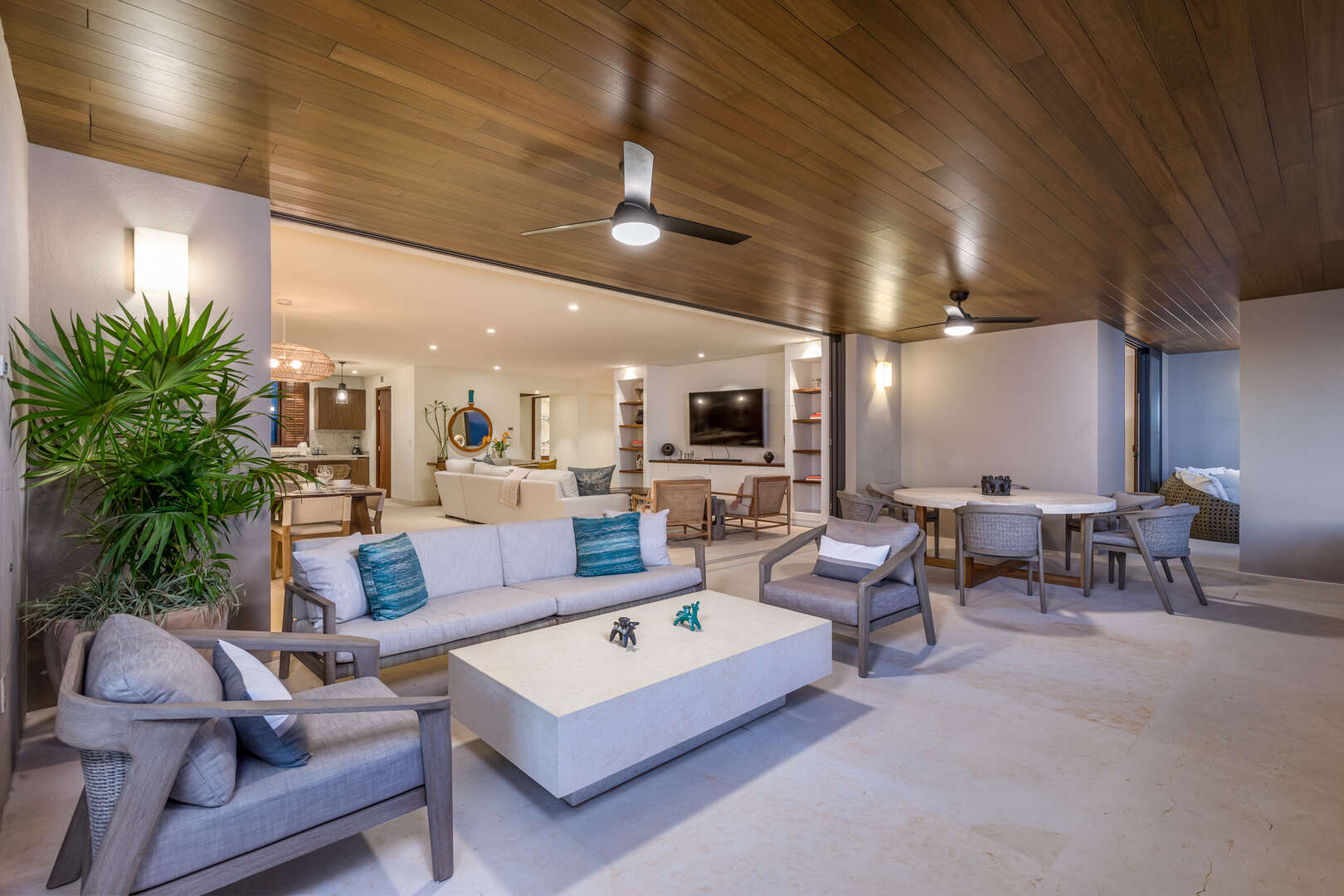 Located on the southern point of the Punta Mita Peninsula, the TAU Residences offer a private enclave of serenity and privacy. The word Tau is the Huichol word for sun. This community is one of the most recent additions to the Punta Mita private communities. It is a privileged community in a gorgeous golf course setting, all with stunning views of the Pacific and the Bay of Banderas. Keep in mind that the most beautiful time of day at the Tau Residences is sunset, as that is the moment when you can view the stunning sunset over the Pacific ocean.
An exclusive community of luxury condominiums is located in a golf-course setting with sweeping ocean views. These condominiums are known for their sunsets, as the name implies.
Guests and homeowners of TAU Residences have access to a pool and fitness center. Still, they also have access to the broader Punta Mita facilities, including two Jack Nicklaus golf courses, a tennis center, a beach club, and more.
The community is just an eight-minute drive from the village of Punta Mita and another 8 minutes to the Residents Beach Club, ten minutes from the Four Seasons Hotel. These are reachable by one of the area's golf course rentals.
The condominiums in the TAU Residences are characterized by their vast proportions and generous private infinity pool. There are three and 4-bedroom residences with en suite bathrooms and fully stocked gourmet kitchens. But guests will also feel pampered as the residences all have 5-star hotel quality comforts.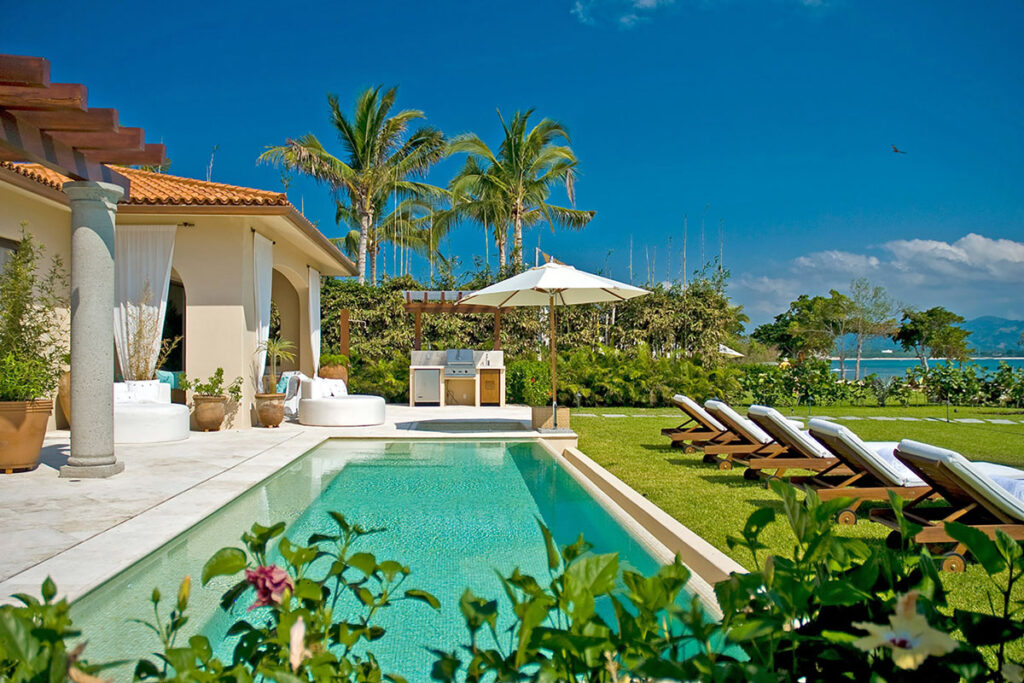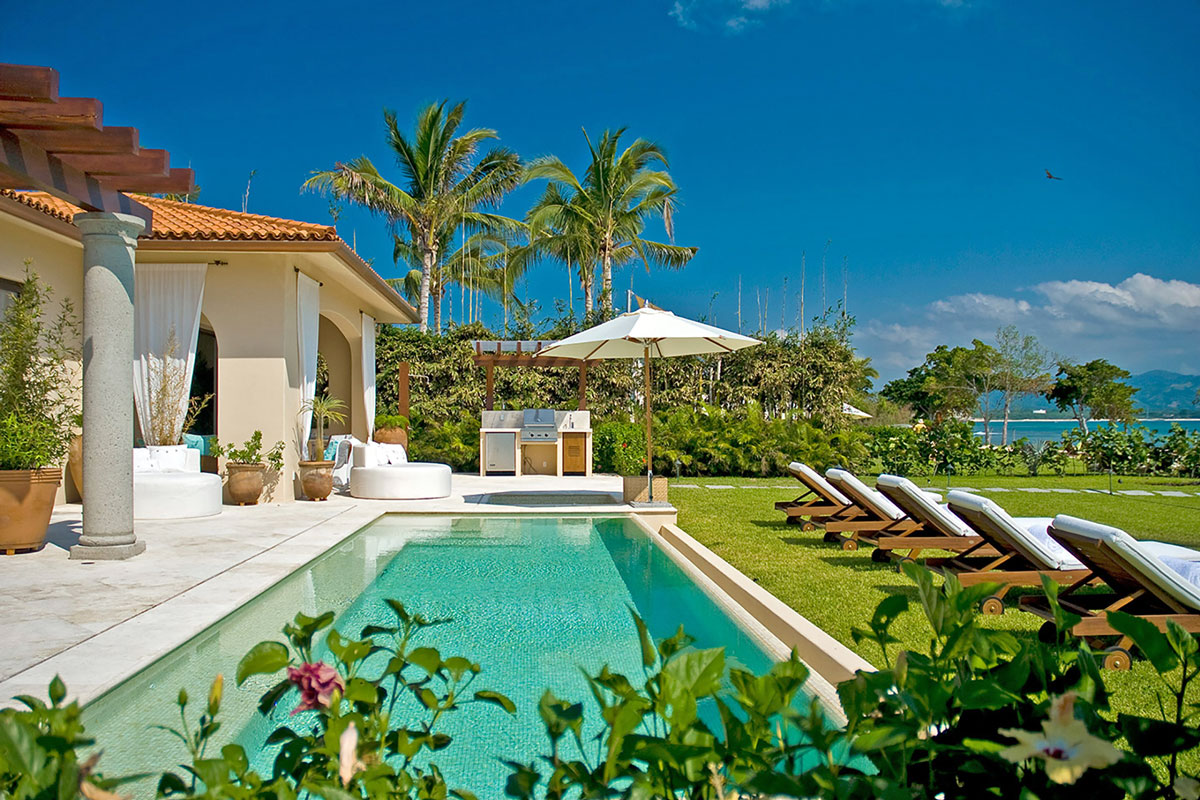 This area is probably the most coveted community of Punta Mita. There are eleven fabulous villas nestled between the two golf fairways, one being the famed Jack Nicklaus Golf Course. Each home has a private ocean view setting in a luxurious modern home enclave. Here you can bask in a modern-styled home while enjoying the playful indulgences of the tropical beach.
The luxury properties of Porta Fortuna are perched on one of the most desirable areas of the peninsula and next to the Punta Mita Pier. The properties of Porta Fortuna are highly secured with 24-hour patrols and a private gated entrance. Beyond the gates are five beachfront homes, six oceanfront villas, and 14 casitas that sit along a 3-acre stretch of the Punta Mita Peninsula.
Each residence is surrounded by tropical vegetation, manicured lawns, and a serene environment that offers the ultimate privacy and relaxation.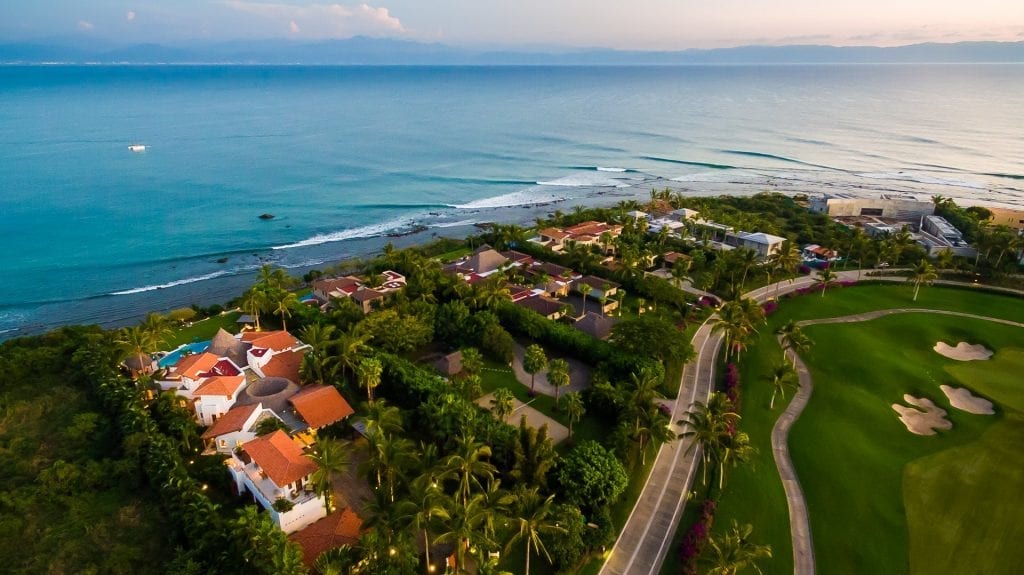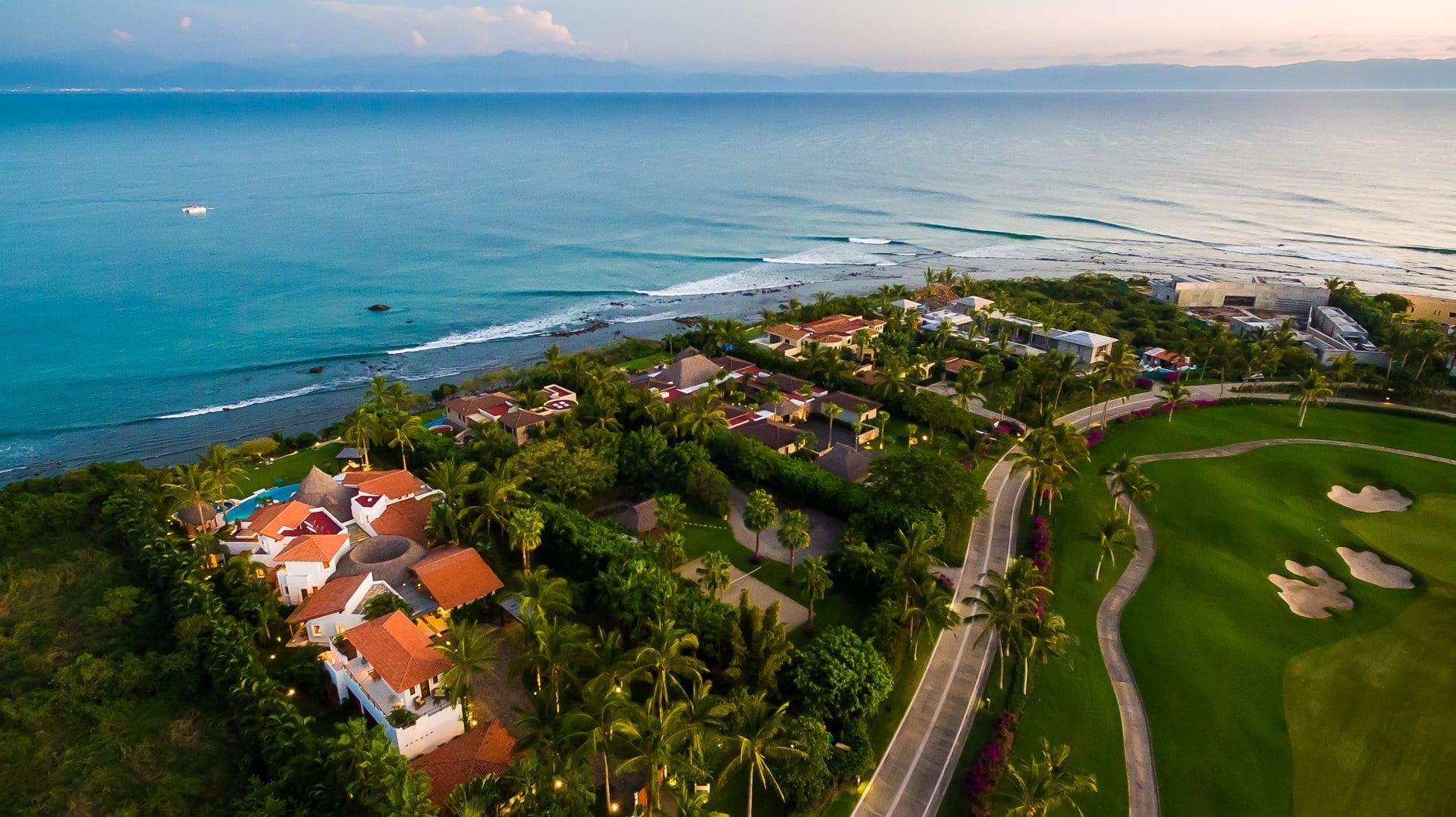 La Punta Estates is on a private point of the peninsula. It is a gated resort community with highly creative, custom-designed dream homes. These homes offer more security than the other residential communities and sit about a mile from St. Regis and Punta Mita Resort Beach Club. The Marieta Islands are visible from each house over the fairways of the famous Jack Nicklaus golf courses.
These homes are within walking distance to three excellent surf breaks called El Faro; This surfing area is only available through the La Punta Estates or the Resort Guests.
Creating La Punta Estates was to provide residents with a luxurious, private lifestyle complemented by a beautifully landscaped, sun-kissed setting that allows them to take full advantage of each moment.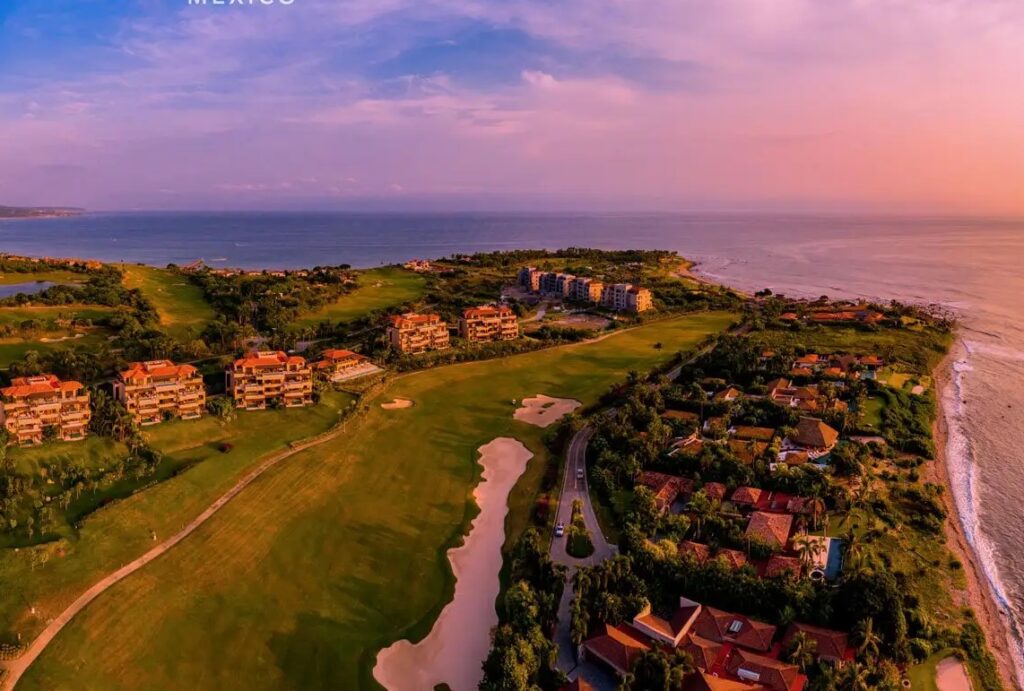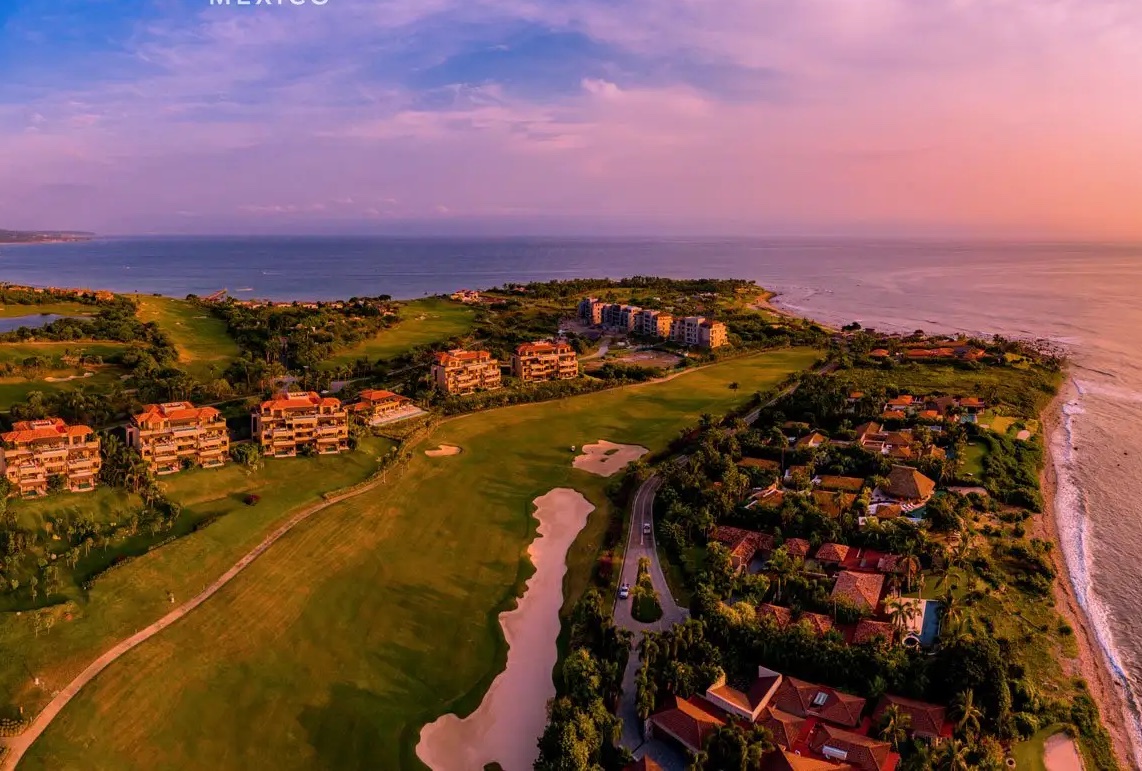 Las Marietas is perched in one of Punta Mita's most exclusive and gorgeous areas. It is the place of ultra-elite. The community is tucked into the Pacific coast on a private peninsula. It offers breathtaking views, modern homes, comfort, and sumptions living.
The south-facing villas offer views of the bay, and north-facing homes provide views of the Marietta Islands and Pacific coast.
These luxury homes can help you dive into the joy of the tropics. Swim in dreamy turquoise waters, soak up the sun and relax in your private villa while enjoying life on your terms.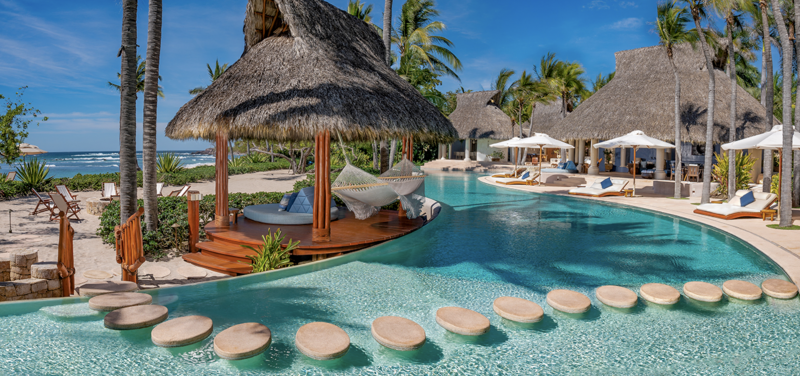 Signature Estates has three estates in an exclusive community. It is one of the most desirable areas of Punta Mita. These exquisite oceanfront properties sit between the Pacific Ocean and the manicured green area of the Signature Jack Nicklaus Golf Course. They have direct access to the beach, just steps from the door. Guests can paddle, swim, dive, and explore this small coastal area's beautiful Caribbean-styled beaches.
Guests have access to the most prestigious services, beach clubs, and dining options in this area. This community offers the best of what life has to offer, including the amenities of the Punta Mita Resort, premium spa facilities, yoga classes, tennis courts, and excellent dining and private medical facilities.
When staying here, residents can enjoy aquatic sports or leisure by hopping on a yacht and going on a dive over at the Marietas Islands. You might decide to catch the waves at El Faro, a world-class surf break with an admirable point break, one of the best in Mexico. You can lounge on a private catamaran or bike around the community and enjoy a paddleboard outing once or twice a day.
This location is known for its privacy and fabulous opportunity to relax. The tropical palms and the landscaping of each property offer a quiet repose where you can put the world behind you and relish in your newfound freedom and leisure.
Whether you want to spend your days golfing or head out to do some surfing, you might prefer to lounge around at home or on a yacht; you can indulge in it all at the Signature Estates.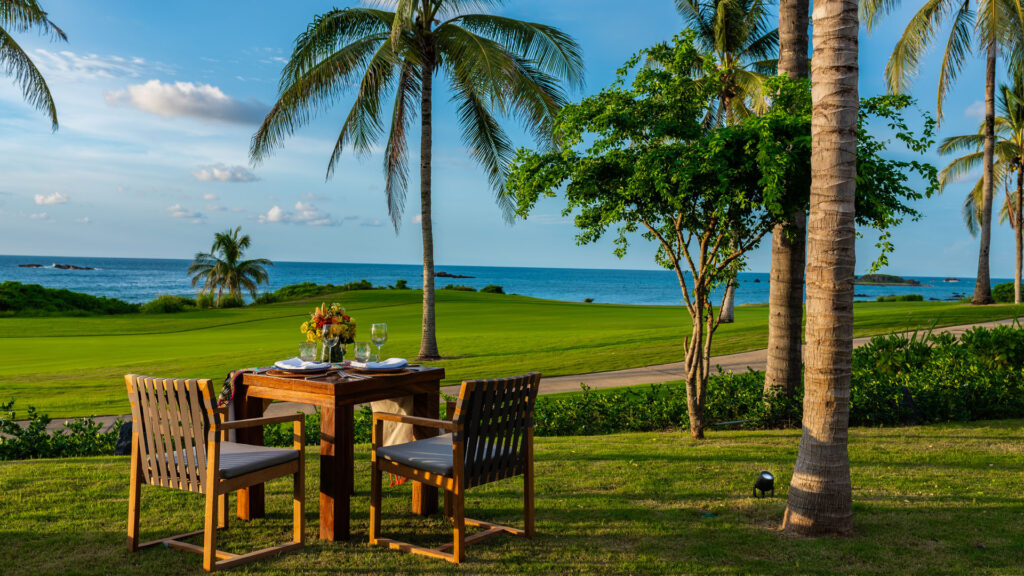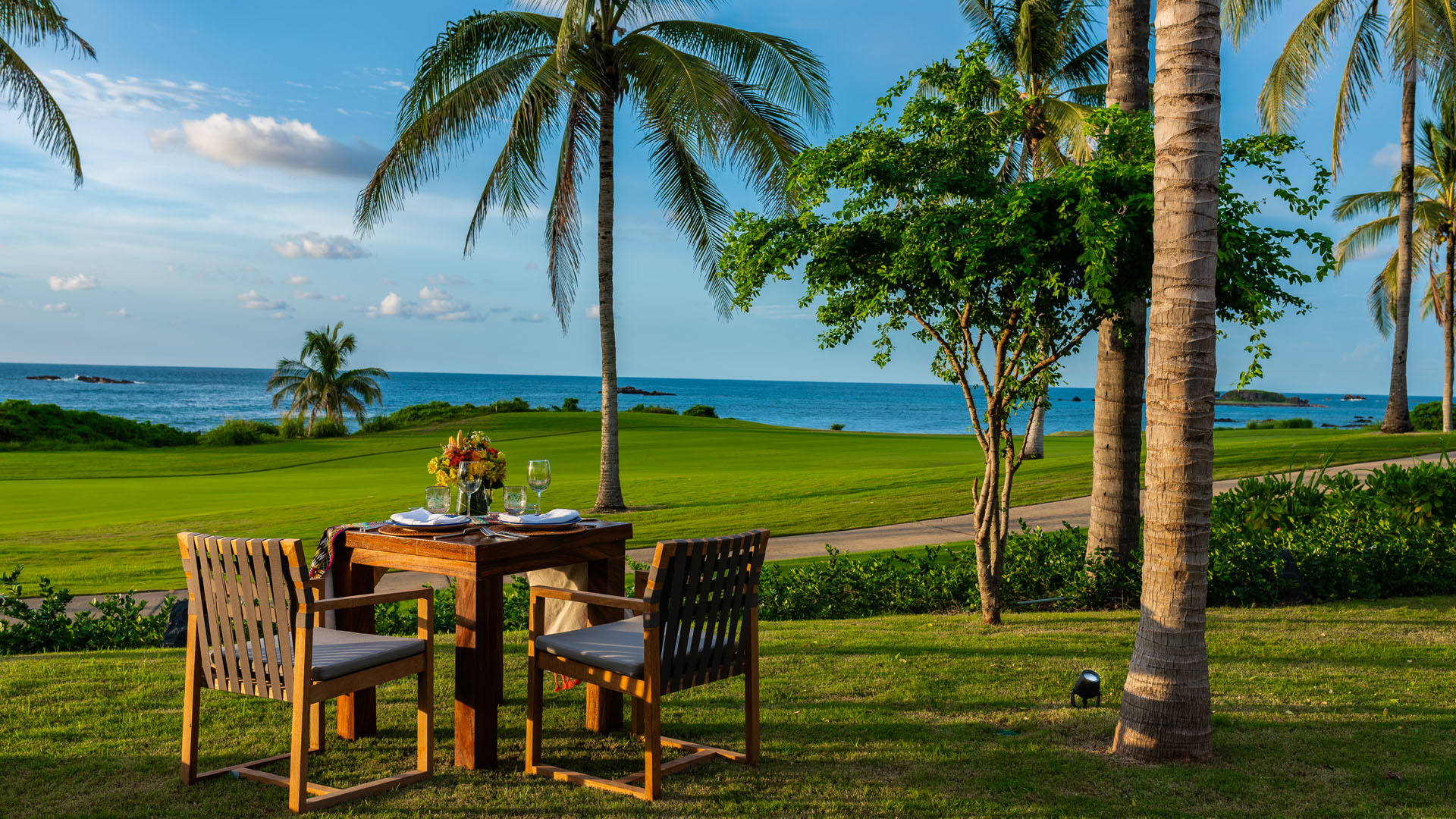 This community is a west-facing location. The homes are all designed by well-known architects and take advantage of the spectacular view of the Pacific Ocean and the incredible sunset panoramas available on this side of the peninsula. Pacifico Estates residents and guests have access to the Sea Breeze Beach Club and have discounts at the St. Regis beach facilities.
Homes are defined by the open living areas, which converge onto open terraces to take advantage of the weather and gorgeous tropical settings. These villas were designed for entertaining and extravagant living. They incorporate elegant and modern comforts with exquisite functionality. These three and four-bedroom properties offer impeccable and beautiful design and decor. They have outstanding features like wet bars, Viking barbeques, plunge pools, and Mexican-inspired interiors with first-class amenities in the beach club and golf courses.
This community offers luxury villas that sit at the center of everything. The community sits between the legendary four seasons and the St. Regis Resorts. HOmes are encircled by the fairways of the Signature Jack Nicklaus Pacifico Golf Course.
Because of its central location, guests can hop on a golf cart, access the Residents Beach Club, and take advantage of the world-class amenities and five-star dining options.
The combination of luxurious living and fine golfing blended with cultural experiences and numerous activities make the Las Palmas Community the first choice for their stay.
The community has a 24-hour staffed gated entrance, and guests can rest at ease and embrace their privacy in every area of this community. The striking views are incredible from anywhere you look. This exclusive community offers the best-hidden paradise for anyone looking to relax in peace and enjoy the finer things.
Four Seasons Private Villas and Residences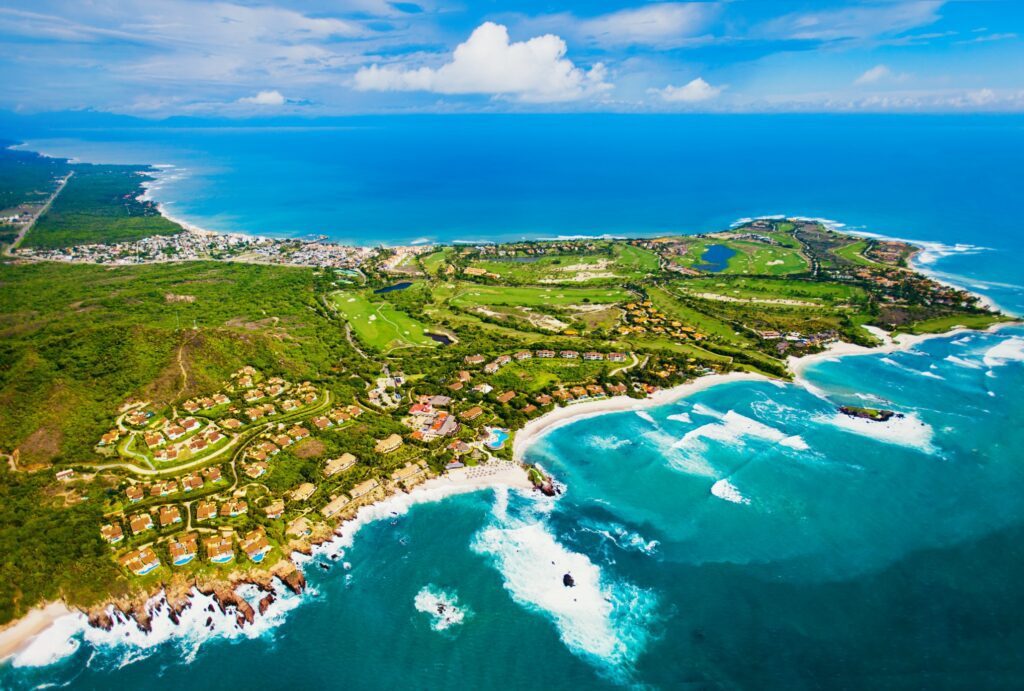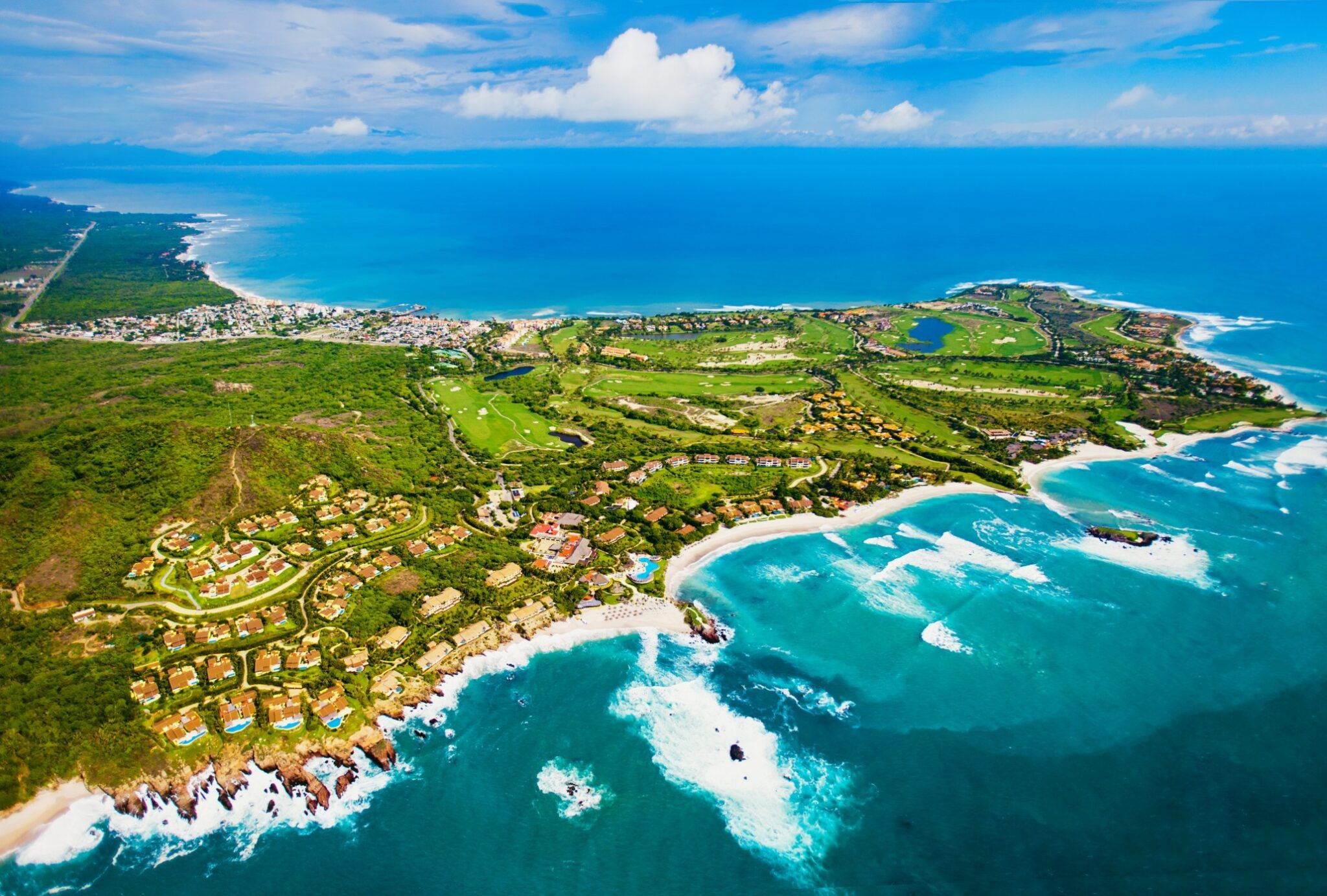 These villas are located in the Four Seasons Resort at Punta Mita. They all boast gorgeous views of the Sierra Madre Mountains, the Pacific Ocean, and the Bahia de Banderas. They are built to cater to a personalized and very luxurious lifestyle. Here guests can enjoy a full range of services and activities offered by the resort.
All homes are tastefully decorated living spaces with two to five en suite bedrooms, which blend seamlessly with the semi-tropical region. In addition, all of the vacation rentals in the Four Seasons in Punta Mita boast large furnished terraces that look out over the ocean. These are large spacious areas perfect for social gatherings and dining outdoors. 
Every villa in the community offers the Four Seasons Punta Mita experience. They retain the Four Season's reputation for luxury and elegance while combining five-star personalized service with high-class design and facilities.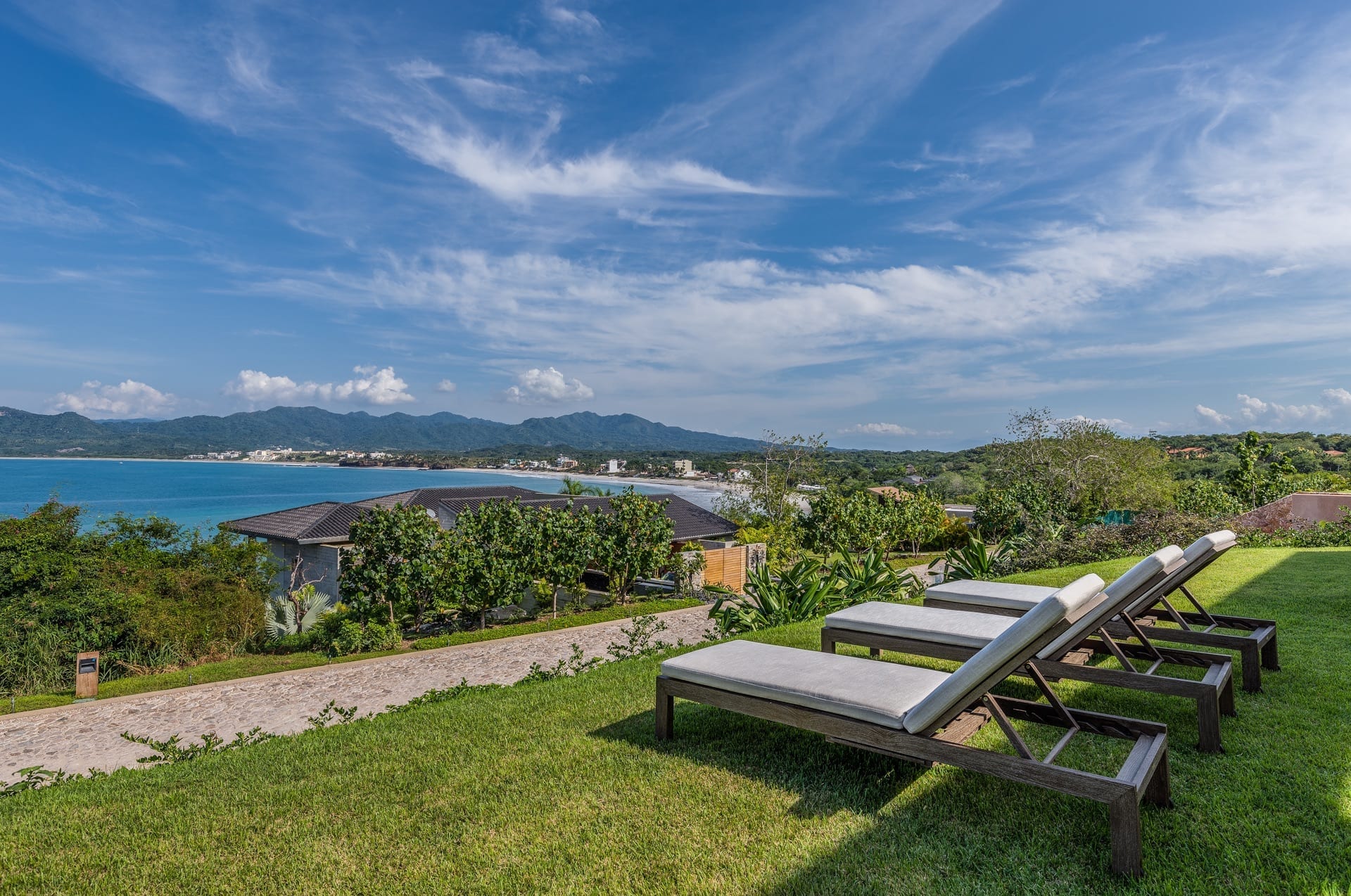 Luxury seekers covet this area because of its access to one of the prettiest beaches in Banderas Bay and because of the proximity to the nearby Pacific beaches. Guests have jaw-dropping views of Litibu Baya and Monkey Mountain. Anyone staying here becomes engrossed in jungle living but with all the comforts of home and an exclusive gated community.
At Kupuri estates, multi-million-dollar homes perch on three tiers and offer mesmerizing views of the jungle and the ocean. The sense of quietness, of peace, permeates this area connected by a sleepy road where you occasionally see a golf cart or two pass by.
As a guest of the Kupuri estates, you can take advantage of the whole of Pinta Mita. You can access the Jack Nicklaus Signature golf courses, the fitness center, tennis courts, and beach clubs.
If you love golfing, hiking, surfing, paddleboarding, scuba diving, bird watching, or just lounging in utter peace, this is the Punta Mita community you want.
This community is a gated development and offers security guards 24 hours. It is only a five-minute walk to the Kupuri Beach Club. Visitors wishing to go into the Punta Mita Village need only take a 10-minute golf cart drive to town and another 15-minute drive to Sayulita by car.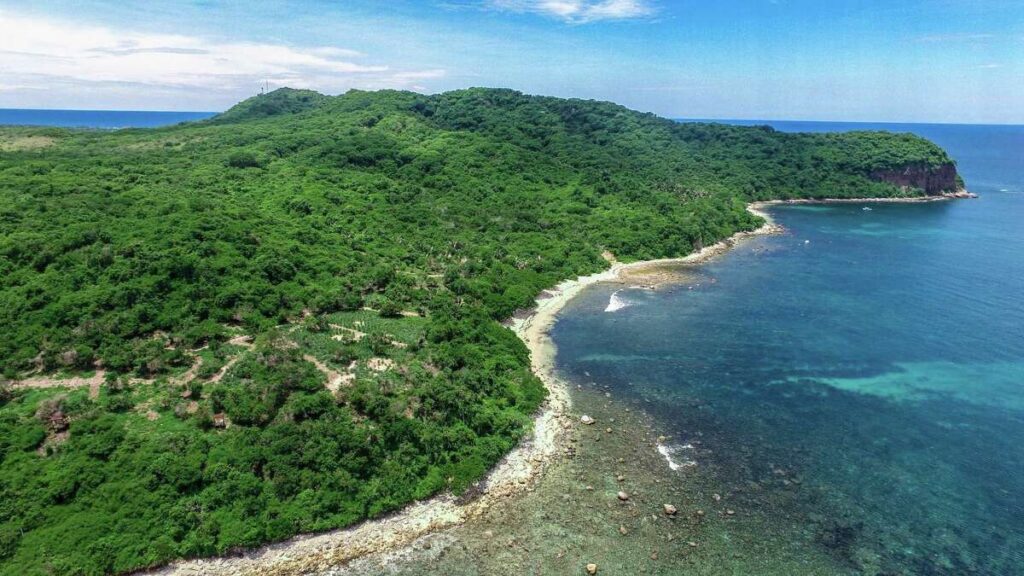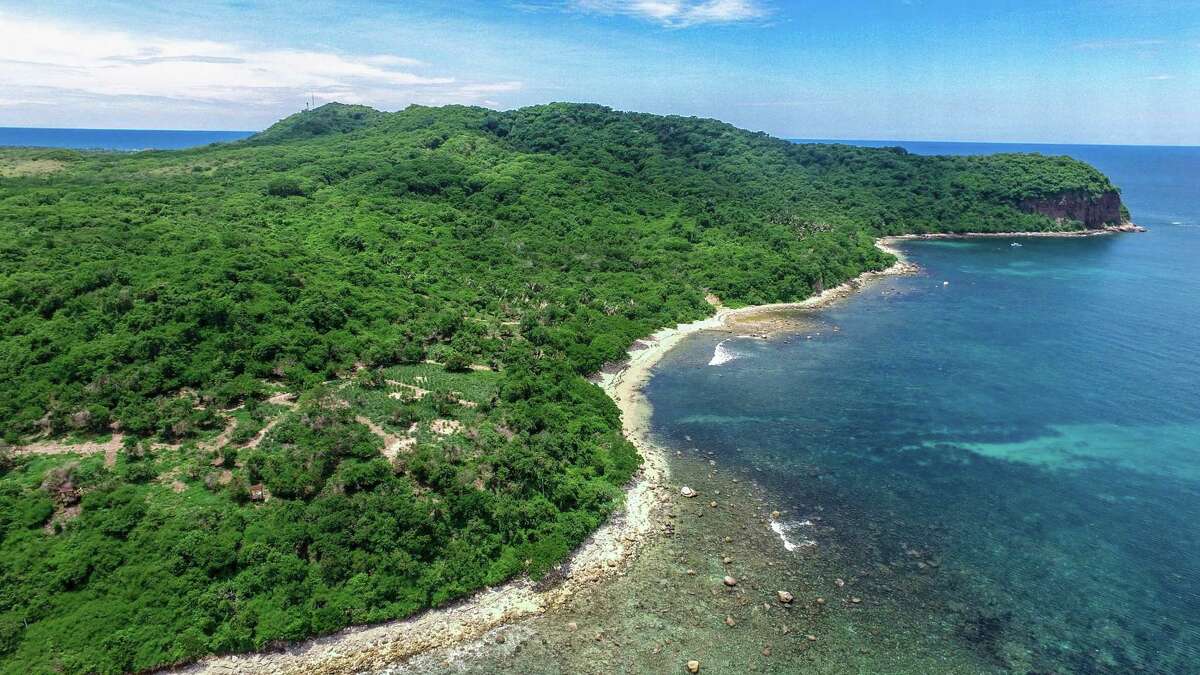 Located on Punta Mita's north-facing coast, IYARI Estates & Villas overlook Litibu Bay. A new oceanfront and hilltop villas enclave offers spectacular ocean views, gated entry, and direct access to Playa IYARI, a quiet beach with soft sands.
These villas are situated on a lush green hillside in the heart of the north side of Punta Mita. Internationally famed architect Jaime Barba designs them. Each offers an unencumbered ocean view and is known for its ideal beach, weather, and location for relaxation.
Here you will enjoy an ocean view kitchen, private plunge pool, and expansive terraces to view the ocean panorama. Iyari villas also have private entrances to Playa Iyari, only accessible to people staying in the community.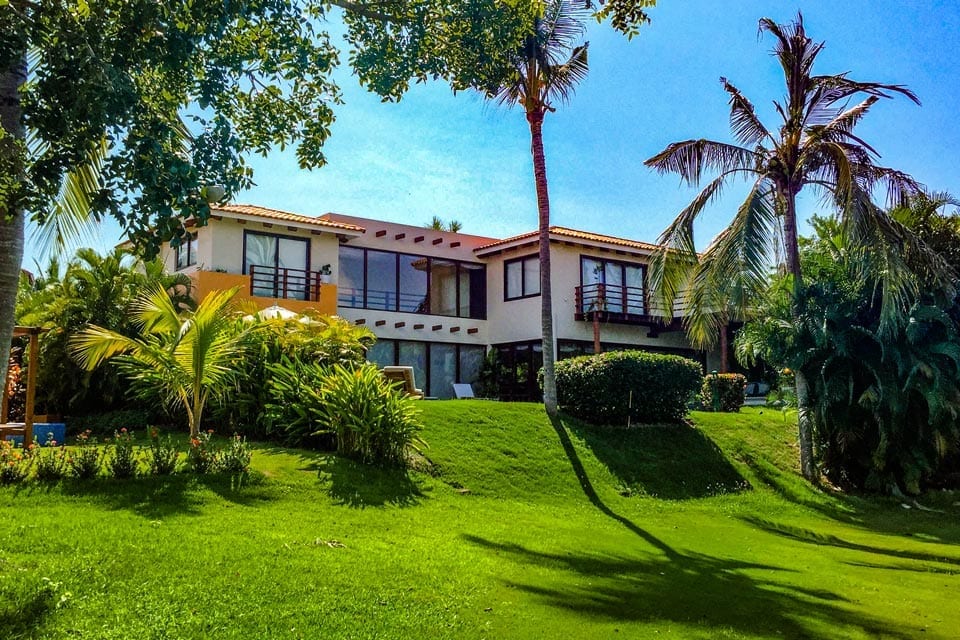 La serenata is a place where you can indulge in both mountain and ocean views, all while being just a few minutes away from first-class beach clubs, golfing, and top-tier gourmet restaurants.
If you are looking for a luxury property with spectacular views in a small community, La Serenata is ideal. There are six elegant and stylish villas with 3 and 4 bedrooms each. The villas sit along with the Jack Nicklaus Pacifico Golf Course.
The community is quiet, but it gives you everything you could ever want in a tropical home, along with one of the most incredible coastlines in Mexico.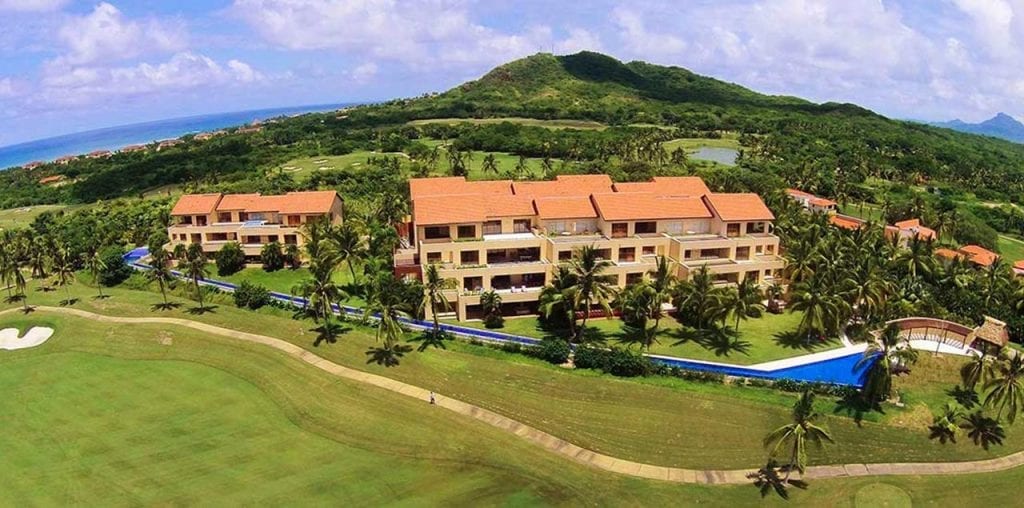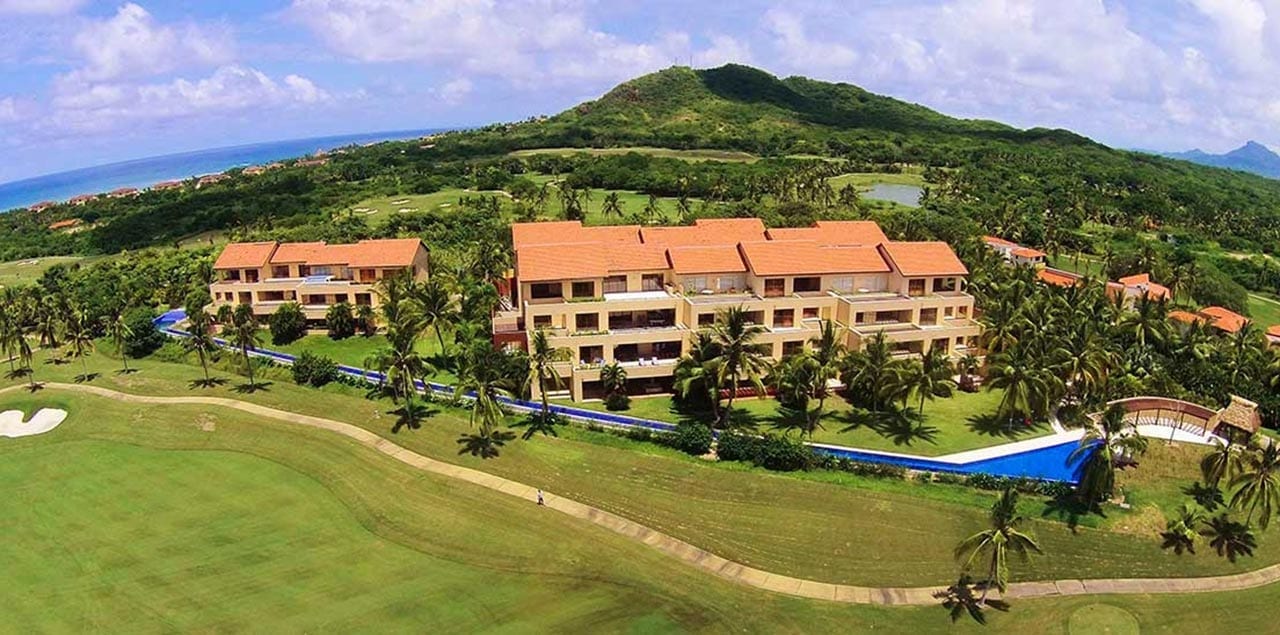 Las Terrazas offers the advantages of a condominium complex with manicured lawns, gardens, and beautiful poolside views. It is a 27-unit complex that sits on the 14th fairway of the Pacifico golf course within the Punta Mita communities. All units have an open layout offering gorgeous views of the Pacific ocean. The surrounding terraces open from the living and bedroom areas.
Las Terrazas comprises three buildings, each equipped with an elevator and designated parking space for golf carts and cars.
Two types of units make up the Las Terrazas condominiums. The two master bedrooms with an additional flex room (twin bunk beds) and 3.5 bathrooms. The other option is the three bedrooms with two master bedrooms and a guest room with one flex room containing twin bunk beds.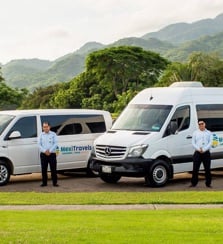 Punta Mita Concierge Services
Our dedicated concierge service helps to create tailor-made vacations for all of our clients.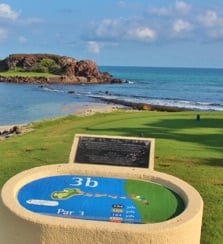 Pacifico & The Bahia Championship Golf Courses. Everything Begins at The Punta Mita Club House.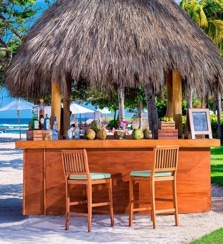 Punta Mita Beach Clubs, Spa & Kids Club
Exclusive Residents Beach Clubs including Spa Services, Kids Club and Amenities.
Book your luxury villa rental within the gated community of Punta Mita. Most of our vacation homes come with housekeeping, butler, chef, and concierge service.