Best All Inclusive Villa Rentals in Tulum Sian Kaan!
A short distance from Tulum is the Sian Ka'an Biosphere Reserve, one of the fascinating natural reserves in the world. UNESCO has recognized it as a world heritage site since 1986, when it was created as a reserve. Its name translates into "Gate of Heaven" or "the place where heaven begins." In the Biosphere, many conservation projects have taken place, and there have been notable plans for implementing policies on environmental solutions to conserve resources and wildlife. Part of this beautiful reserve is located on land, and other components are in the Caribbean sea that includes sections of the coral reef. In addition, the Sian Kaan Reserve contains 23 ancient Mayan archaeological sites, including Muyi.
Most people never get a chance to see the reserve. There are tours, but they only enter the outskirts of the Sian Kaan Reserve.
Villa Experience offers two outstanding all-inclusive villa rentals nestled in this stunning area of Sian Kaan Biosphere south of Tulum, Villa Na'iik and Casa Ikal.
Both properties were designed and built before the area became a biosphere reserve and so can offer a minimal number of people the opportunity to enjoy this incredible reserve's nature and diversity. However, these secluded, gorgeous properties are often occupied because of their natural location within the Biosphere and because of their beauty, so you must reserve them at least a year in advance to make sure either of both homes is available for your stay. The sea sits steps from your doorstep in either of these paradisiacal homes. They are the perfect place to enjoy pristine white beaches the starry night sky, and offer a place to connect with your soul.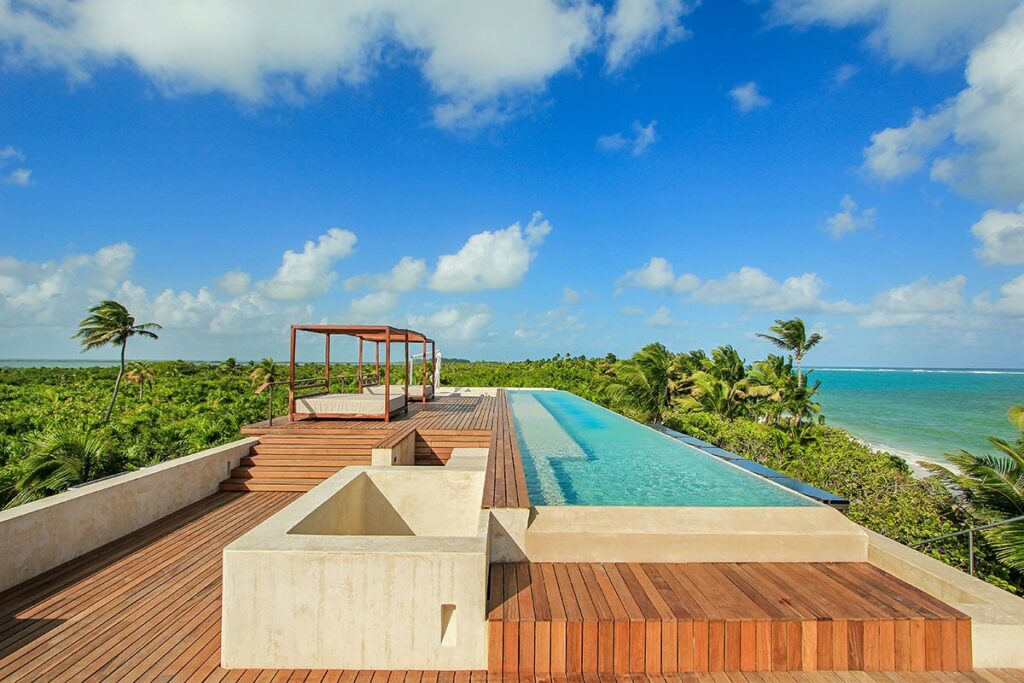 This villa sits in the middle of the Sian Ka'an biosphere, and it affords a view of the deep jungle and beautiful deserted beaches, yet you are only 10 miles from the vibrant town of Tulum. The villa and its surroundings are so beautiful you may never want to leave. The view from the rooftop terrace affords a timeless statement of the jungle's incredible views of the ocean and the sky. Explore the coral reef with the property kayak takes a boat to visit the manatees. Even a mellow walk on the white pristine and solitary beaches can be a joy.
When you are ready to enjoy the sights, your driver can take you to Tulum, where you can experience the nightlife, enjoy the restaurants, and shop to your heart's content.
Villa Na'iik offers four master suites, each with a stone tub to lounge in, or you can opt to enjoy the natural leafy open shower. Each suite has a private terrace and a magnificent view of the Caribbean sea.
You may also sunbathe on your very own secluded beach, lounge out on the rooftop with its 360-degree views, or float on a jungle river. Then head back to your house and enjoy a delicious meal prepared by your gourmet chef.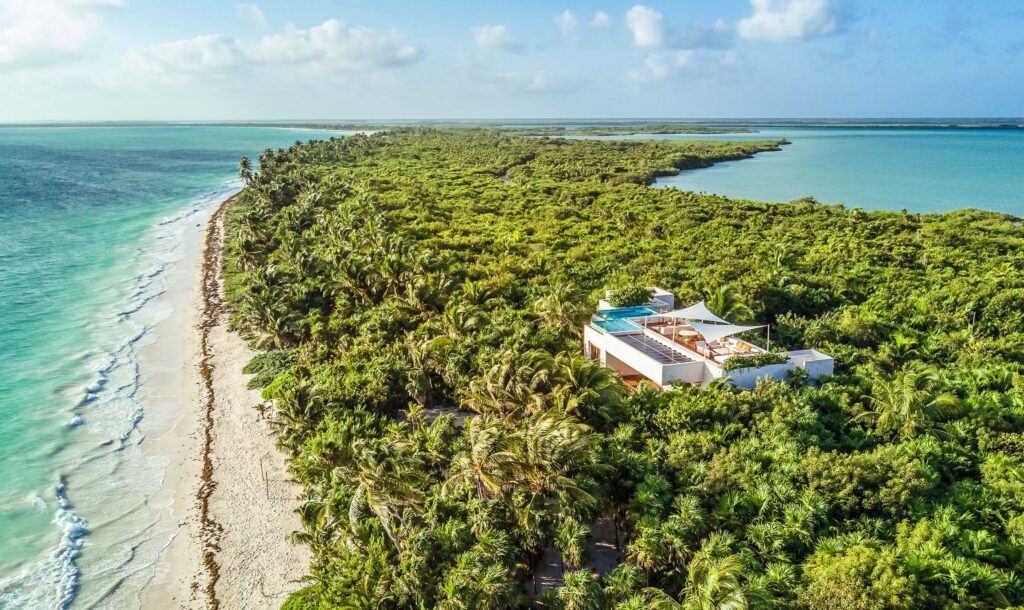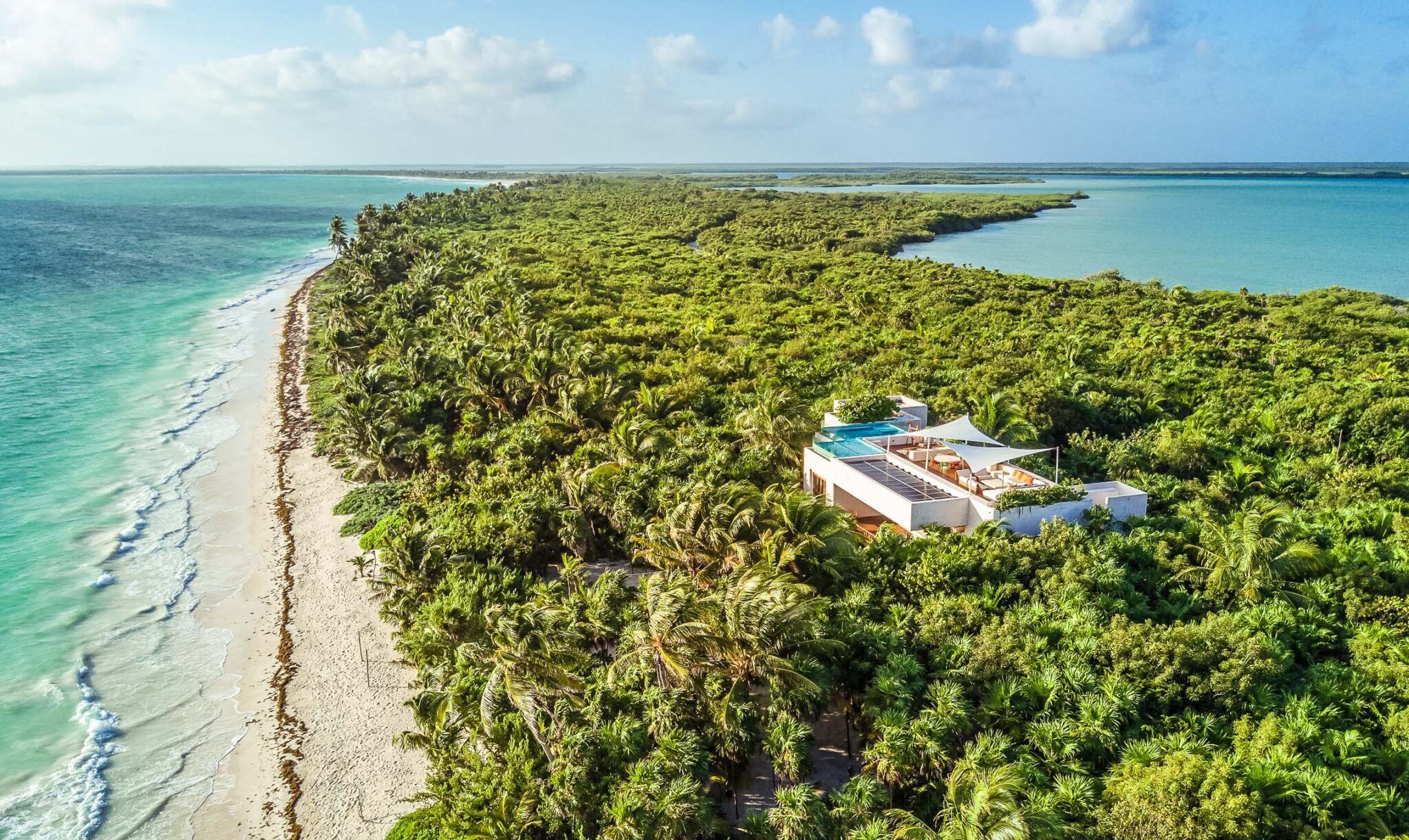 Casa Ikal is the Mayan name meaning "The Cleansing of The Human Spirit," which is why the home is designed to invoke peace and tranquility and a total communing with nature. The moment a person arrives. Our only other villa is located in the Biosphere Reserve of Sian Ka'an.
The home sits 30 minutes away from Tulum, so you can make a trip into town to enjoy the vibrant bohemian style of Tulum. The beach lies just outside the doorsteps and brings you to a marine-rich coral reef within swimming distance of the home. Turn to the lagoon, and you can enjoy a swim in clear, vibrant freshwater that leads to the ancient Mayan canals.
The home brings out a feeling of peaceful bliss, peace of mind, and freedom. It is the ideal location for guests looking to get away from it all and who want to reconnect with their spirituality.
The four-bedroom suites offer a secluded private haven, each with an original design and unique art piece created by renowned Mexican artist Diana Garcia. The decor is inspired by the biospheres' unique wildlife and infused with Mayan mythology. Every room is designed to surround guests with luxury, comfort, and wellbeing.
All suites have a King size bed and a day lounger, and each of the terraces of the suites each has a hammock and stylish lounge chairs for enjoying your day. 
Keep in mind that these homes offer a unique and distinctive experience, so they are top-rated destinations. Guests need to make reservations early to ensure the availability of either house. Contact our staff with help with your reservation.
All Villa Rentals in Tulum Sian Kaan!