Top Ten Puerto Vallarta Villas to spend Christmas & New Year!
In the past few years, it has become increasingly popular to leave the cold weather and the holiday-related stress and escape tropical destinations. While hotels and cruise lines offer an "all-inclusive" experience for the masses, a luxury vacation rental in Puerto Vallarta is quite the opposite and much more: It's an "all-exclusive," customized, stress-free and luxurious experience for the whole family at a price point that can compete with most luxury hotels.
It is the perfect getaway for the holidays, with mild temperatures, sparkling blue waters, sandy beaches, and traditional Mexican charm. But don't let the tropical setting fool you; Puerto Vallarta also comes with a bag of festive spirit. Mexicans love to celebrate, and Christmas is undoubtedly one of the most significant events. In the weeks leading up to Christmas, they attend multiple "posadas," little Christmas parties with family and friends. In early December, Mexicans also celebrate the "Festival of Our Lady Guadalupe," with nightly colorful street parades on the month's first twelve nights. So basically, the entire month is one giant party with innovative Christmas decorations and light ornaments illuminating the streets at night. Finally, don't forget to buy a Christmas souvenir from Puerto Vallarta for those who could not make the trip -at least this year.
The little shops in Old Town Vallarta offer all kinds of gifts, ornaments, and handcrafted souvenirs with a Mexican twist. If you're more into high-end shopping and fashion, you'll undoubtedly enjoy the luxury boutiques, jewelry stores, hair salons, and spas of Punta Mita and Nuevo Vallarta. When Christmas is finally here, your luxury villa is the perfect place for your Christmas party. Housekeeping will help you decorate the villa to your liking. Then, your private chef will prepare an excellent Christmas dinner for you, whether you prefer a traditional Mexican meal, an American-style feast, or something completely different.
The staff will go above and beyond to make Christmas in Puerto Vallarta an unforgettable experience. Your villa's concierge or property manager can arrange a party under the stars with live music, a bonfire, and even a private fireworks display for New Year's Eve. Your chef and his staff will arrange a multi-course gourmet New Year's Eve dinner or buffet for you, while barkeepers and waiters will make sure the glasses are always full until the new year finally arrives.
If you feel more like going out, restaurants and clubs in Puerto Vallarta usually offer all-inclusive packages for New Year's Eve, including a three to five-course dinner, drinks, and live music. The concierge will happily make reservations for you and arrange transportation, maybe in a stretch limo, a party bus, or even a party boat. After that, the sky's the limit. Last but not least, if you prefer a more authentic Mexican experience, join the street party at the Malecon, attracting large crowds of locals and tourists alike. The boardwalk is lined with food carts and street vendors offering street food, drinks, and NYE staples such as funny hats, things that make a lot of noise, and oversized sunglasses. But, of course, the highlight of the evening is the big fireworks at midnight.
As you can see, a luxury villa rental in Puerto Vallarta is the ideal getaway for the holiday season. Here are a few handpicked properties, including staff and private chef service, still available for Christmas or New Years'. Contact your local villa experts at Villa Experience as soon as possible to make reservations because availability changes quickly.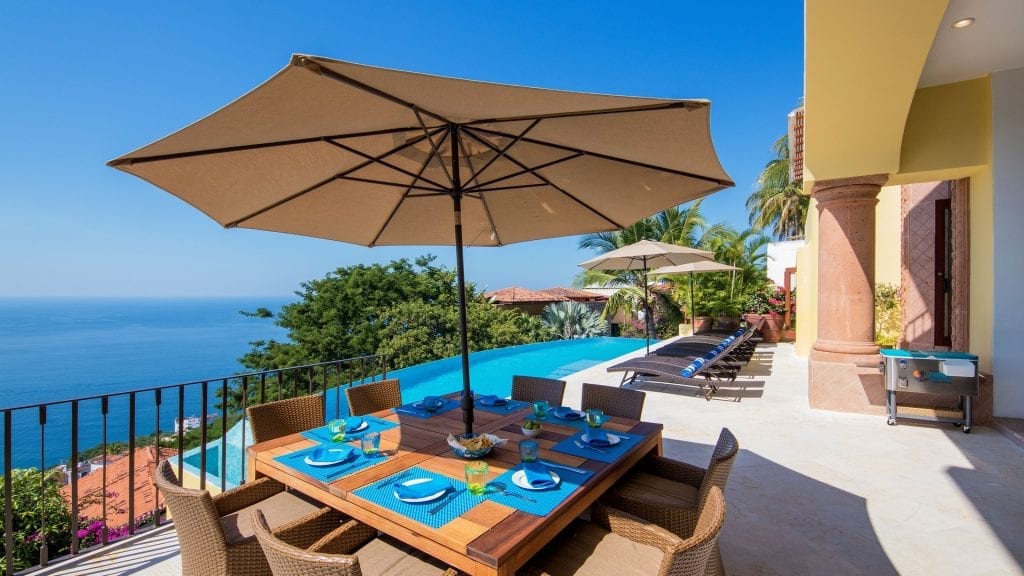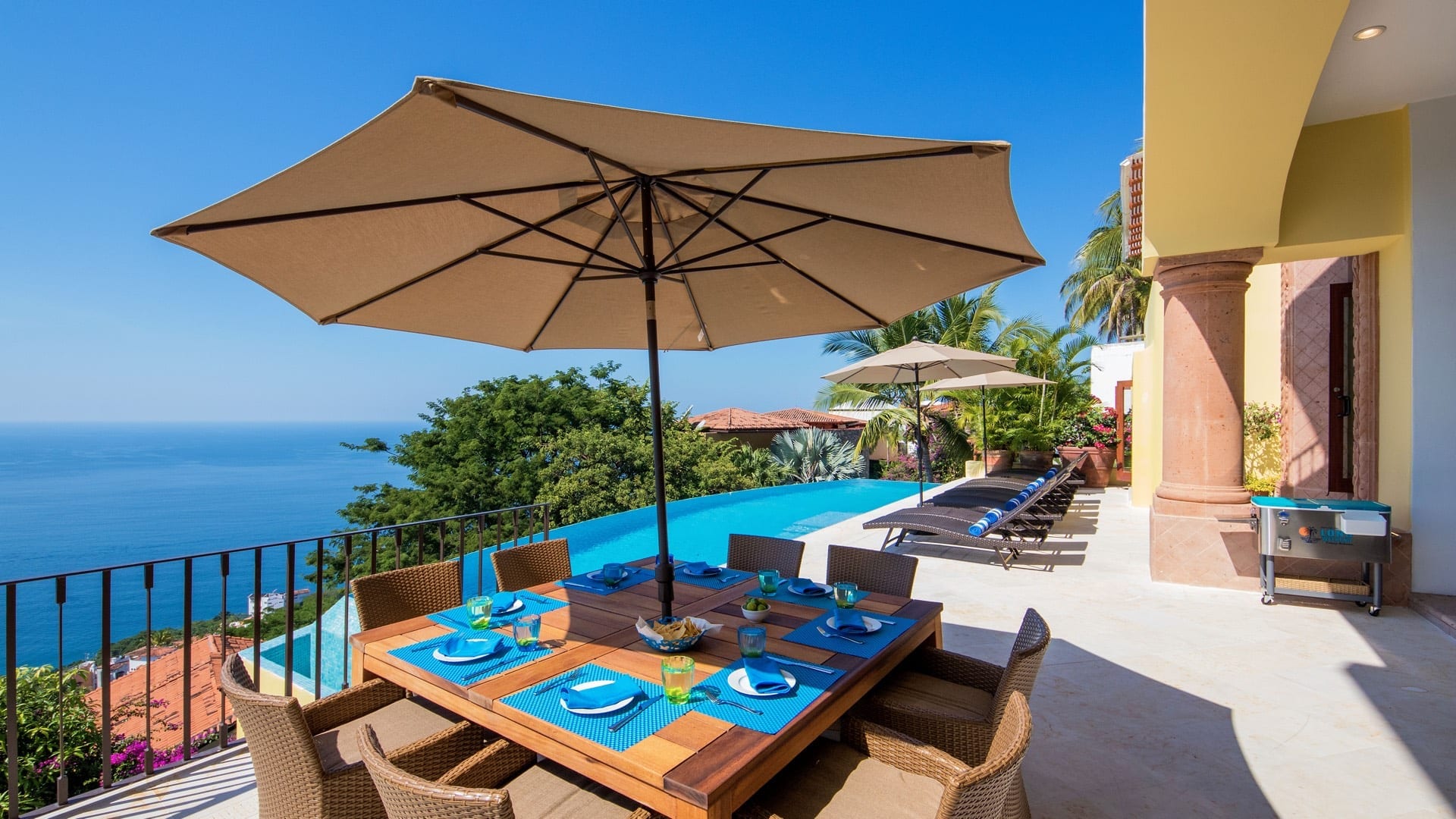 This newly constructed eight-bedroom luxury villa sits in the hills of Conchas Chinas, offering stunning ocean views and a modern zen-style interior. 
Perched in the hills of Alta Vista, Casa Ileana is located only a short walk away from Old Town, making it the perfect place to soak in all the holiday spirit Puerto Vallarta has to offer. This Tuscan-style property features five bedrooms sleeping up to 12 guests.
Imagine the whales playing in front of you, so close you can almost touch them. Or you are snorkeling from your private ocean entrance or using your kayak to explore the sights. Or just relaxing in your secluded swimming pool, sun tanning, reading a book in one of your ocean-front gardens, or from the terrace of one of your five bedroom suites, all fronting the ocean. Finally, imagine being on vacation at Villa Padre.
You will find this vacation villa 9 miles south of Puerto Vallarta's Old Town and within 3 miles of the Vallarta Botanical Gardens. Nearby you will find the Puerto Puerto Vallarta Zoo and the famous water taxis of Boca de Tomatlan. Boca de Tomatlan is the gateway to the great towns and beaches of Yelapa, Quimixto, las Animas, Colomitos, Maharitas, and others.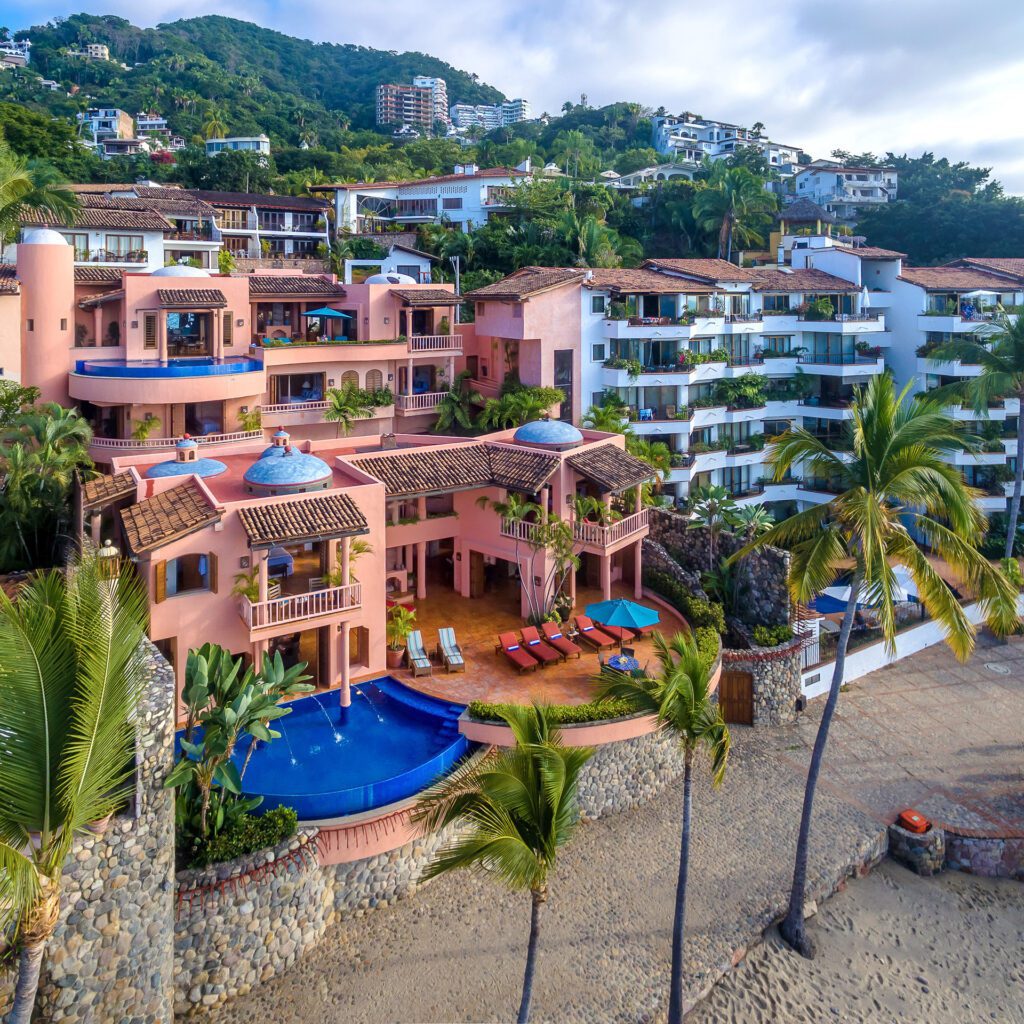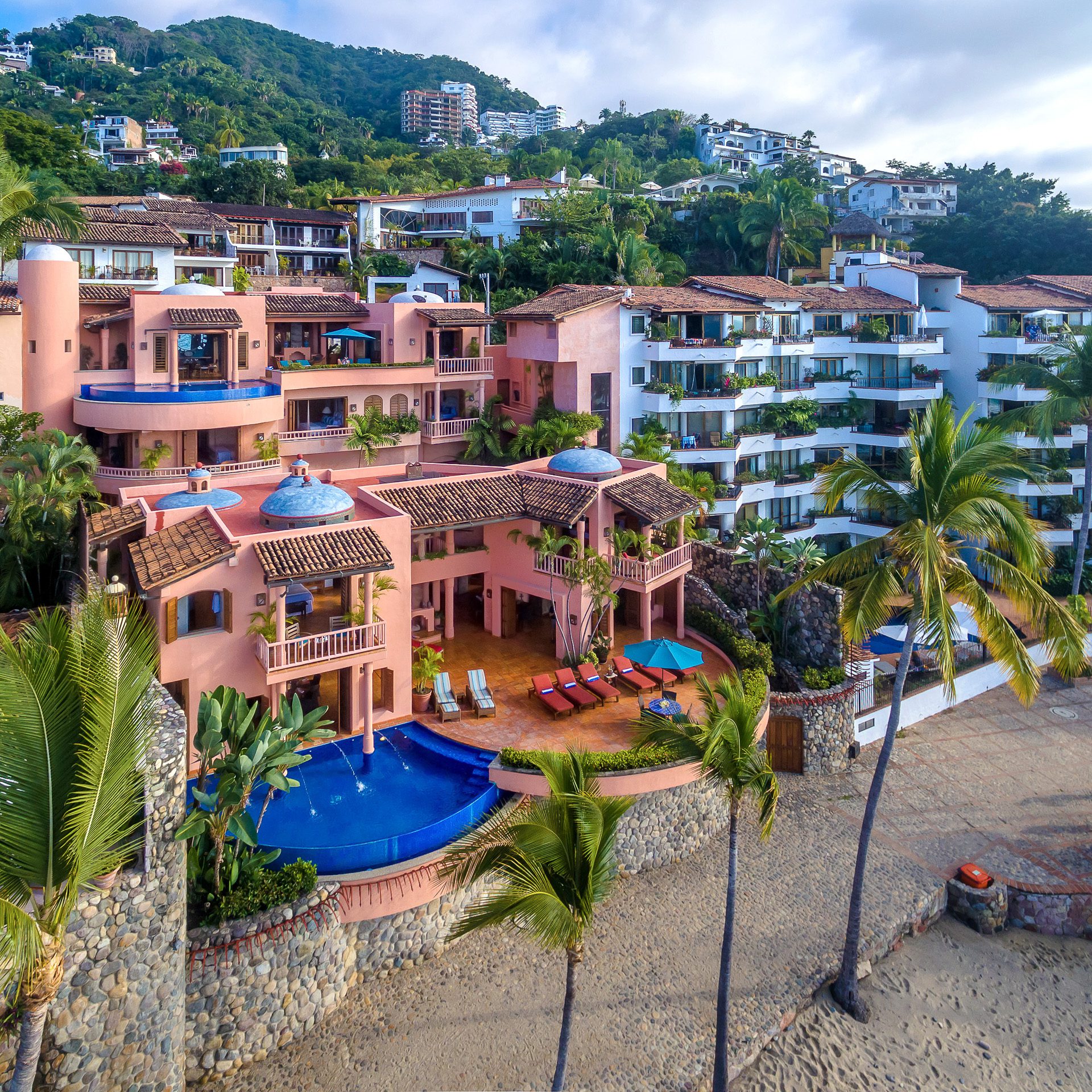 Located on Amapas Beach in the exclusive neighborhood of Lower Conchas Chinas just a mile from downtown Puerto Vallarta, Villa Marea Baja is a luxury beachfront vacation rental villa with spectacular ocean views, superb amenities, and lovely decoration and furnishings. This exquisite villa rental features five thousand square feet of interior space, four bedrooms, four bathrooms, and can sleep up to 8 guests. Villa Marea Baja is the perfect complement to its adjacent sister lodging Villa Marea Alta ('Low Tide' and 'High Tide').
If you have a large group together, they can sleep up to fourteen guests in attractive and comfortable surroundings. The three spacious bedrooms at Villa Marea Baja feature a king-size bed, air conditioning, and a large private bathroom with lovely tiles and marble.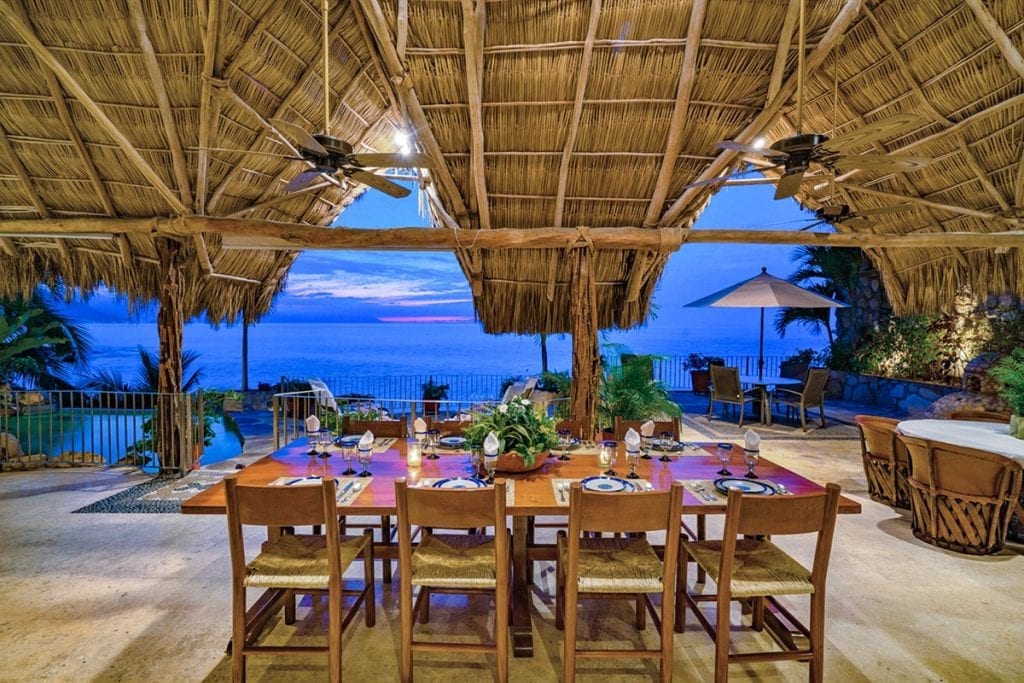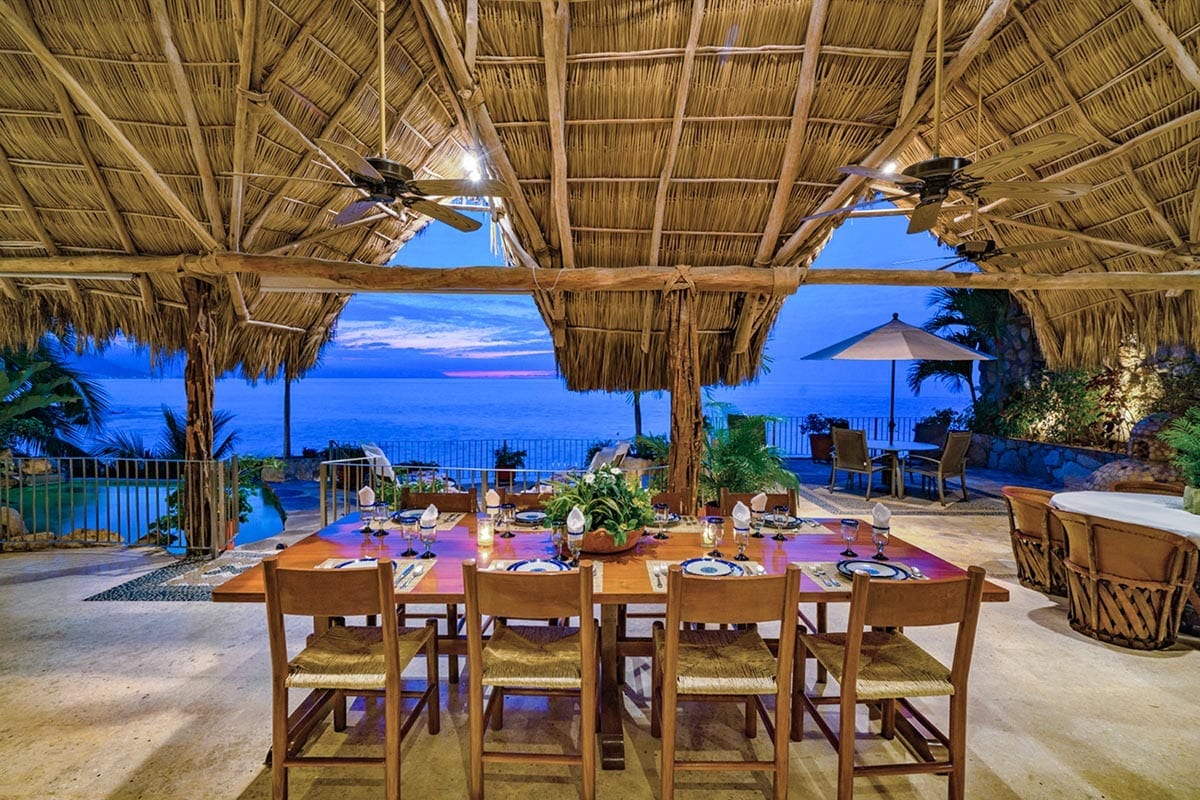 Classic luxury villa rental Puerto Vallarta on a private South Shore Beach! Casa Cosmos is a comfortable beach house just a few steps from the sand, located 2 miles from downtown Puerto Vallarta and offered as a 4, 5, 6 bedroom villa rental  & 7 bedrooms with Casita, including full staff con chef service. Casa Cosmos was built in the 1970s with a traditional Palapa /thatched palm roof soaring 40 feet above the main open concept entertaining area with living dining and kitchen opening onto the pool and terrace with a white sandy beach and the sparkling Pacific just beyond. The casa has two pools the solar heated 50 ft long lap pool, a small plunge pool, plus a rocky cave with a water slide & Jacuzzi.
Bring your best camera or cell phone to this breezy club and be ready to capture the most fantastic images. WiFi is available for you to share photos or check your email instantly. This super kid-friendly club offers a varied menu with extraordinary dishes.
*It is easier to find this club with Google Maps than on Waze.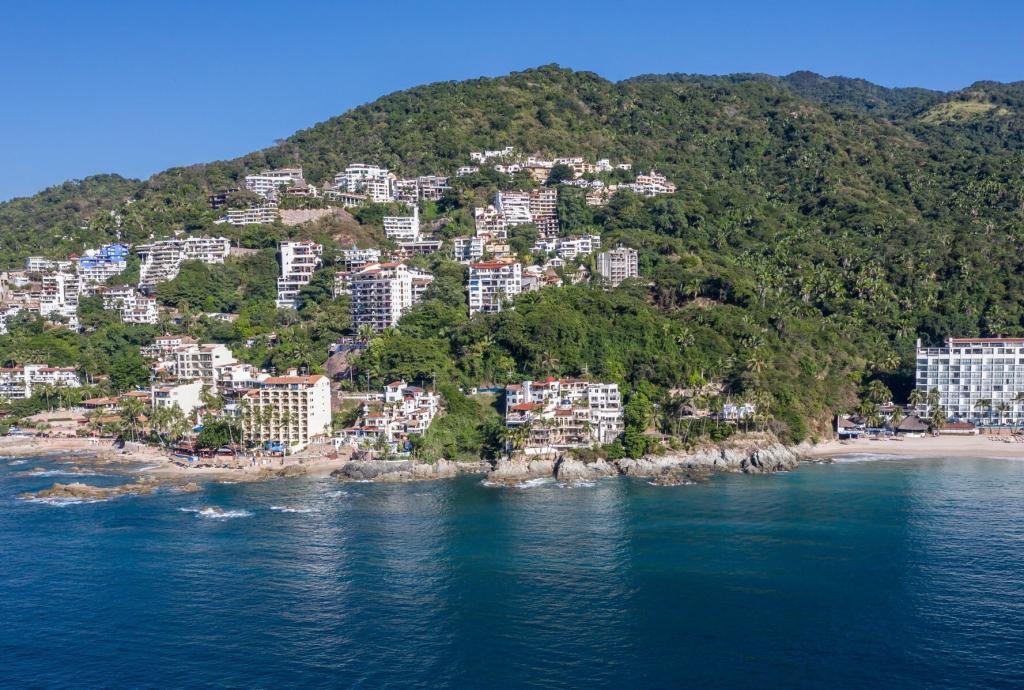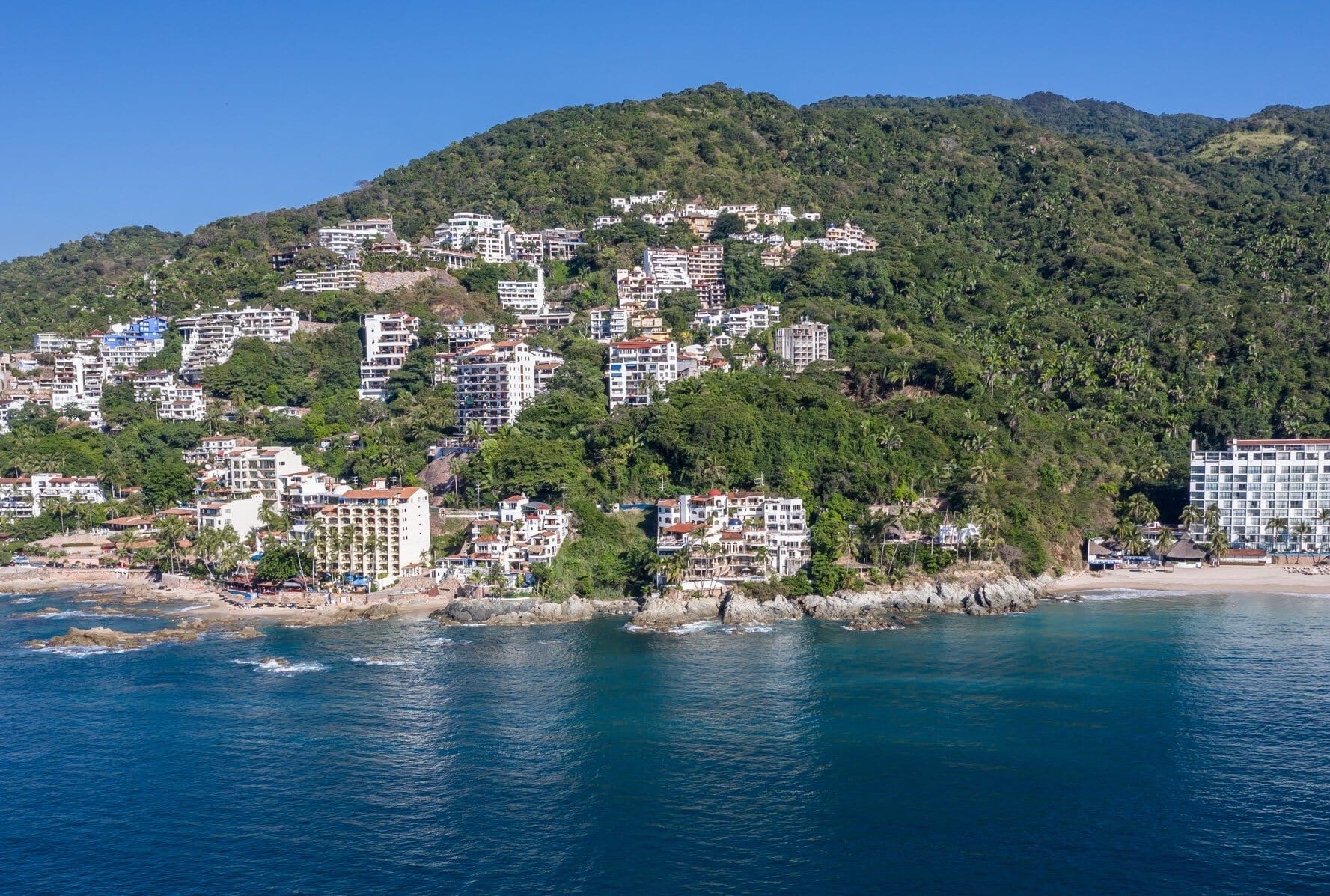 In 1981 designer Peter Bowman and his artist wife Tari, restaurateurs from California, first visited the area with their young son and daughter. Conchas Chinas acquired a secluded lot on a jungled hillside above the coast in the southern part of town. Thus was born Casa Buena Vida ( The Good Life). A four-story structure of brick and cement, the House hugs its steep site while at the same time utilizing open space to make the most of the climate, the light, and the views. Terraces on every level take advantage of the bay perspectives. Inside, time-honored Mexican design elements prevail, but with a modern twist.
A two-story pyramidal ceiling spans the living room and second—main floor bedroom, an architectural detail Bowman had seen here before. Still, in this case, the roof is rendered in brick instead of plaster and terminates in a 20-foot-high off-center skylight. Again, there are Saltillo-tile floors and barrel-vaulted ceilings, but there are also floating walkways and massive sliding glass doors.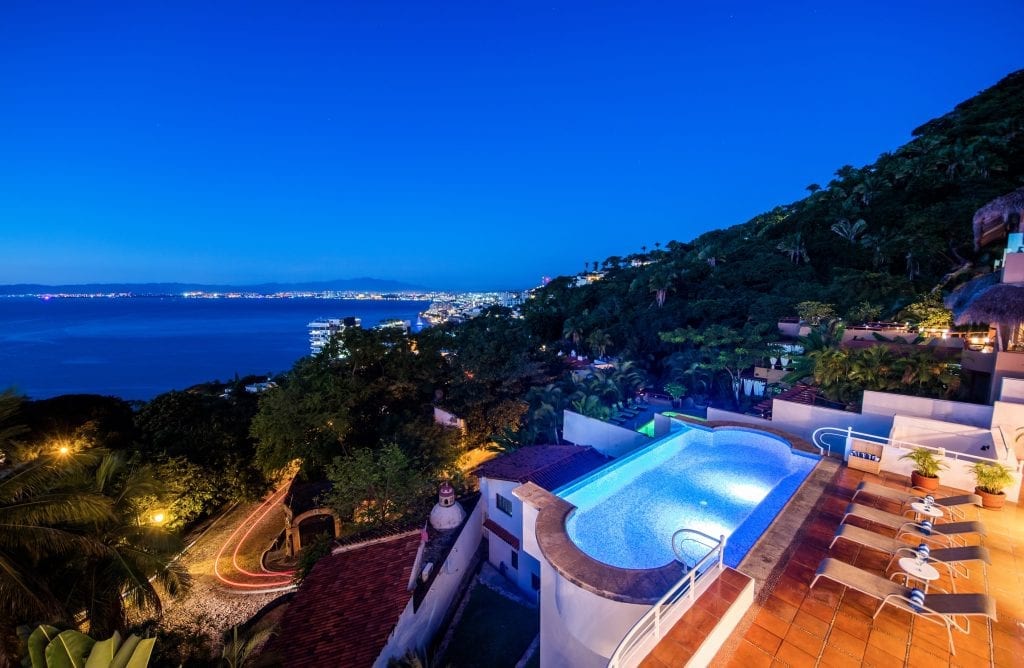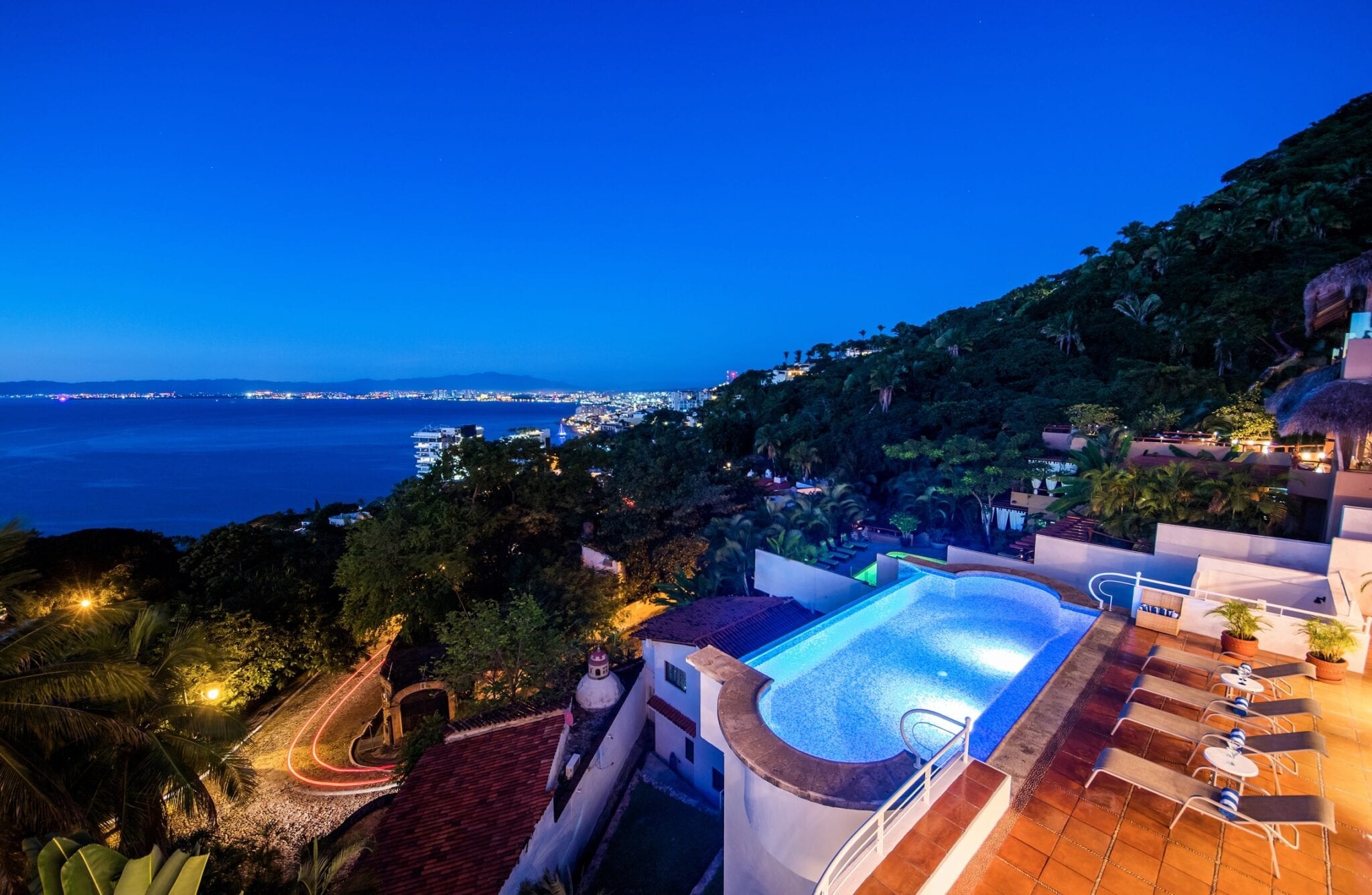 This luxury vacation rental is Casa La Palma and features a contemporary style that feels like understated elegance. Casa La Palma sets the tone for this Puerto Vallarta villa rental with the Sierra Madre Mountains in Banderas Bay's background, breathtaking views, and picturesque Puerto Vallarta.
Casa La Palma is located in the exclusive area of Conchas Chinas and just minutes into old the Romantic Zone in downtown Puerto Vallarta. This unique vacation rental features four-bedroom suites, each with private en-suite baths. Off the main bedroom, there is a twin bedroom ideal for teens or young children. This bedroom would share the main bathroom. The main level great room is a common gathering place for guests and is open to the dining room, which leads out onto the luxurious outdoor terrace and heated infinity pool. The state-of-the-art gourmet kitchen features top-of-the-line appliances. So come and relax and enjoy all the amenities and services offered at Casa La Palma and enjoy the Magic of Puerto Vallarta.
Roughly translated from Sanskrit, Suhana means beautiful, and Casa Suhana lives up to its name!  Located in the upscale gated community of San Xoaquin, just 7 minutes from downtown Puerto Vallarta, Casa Suhana will impress guests from start to finish. 
The villa offers five spacious bedrooms, plenty of outdoor living space, a contemporary style, and all of the comforts of home.  Guests will want nothing more with the entire staff, incredible views, and top-of-the-line amenities!
Villa Tesoro del Mar is a stunning eight-bedroom home tucked perfectly into the hillside of Sierra del Mar, a wealthy gated community just 12 minutes south of downtown Puerto Vallarta. The finishes and furnishings have been custom-made for the home, offering top-of-the-line comfort and a truly relaxing atmosphere. With spectacular views for miles up the coastline, this extraordinary villa is nestled into a hillside of Sierra Del Mar, an exclusive, gated community. Hidden amid palm trees and lush vegetation, Tesoro Del Mar feels like a private oasis in the jungle, yet downtown Puerto Vallarta is just ten miles south.
This property sleeps up to 16 guests and has four to 8 bedrooms with en-suite bathrooms, most offering spectacular views of the ocean below. The villa is decorated with attention to detail and custom-made furnishing; this house is one of the most luxurious Puerto Vallarta villa rentals.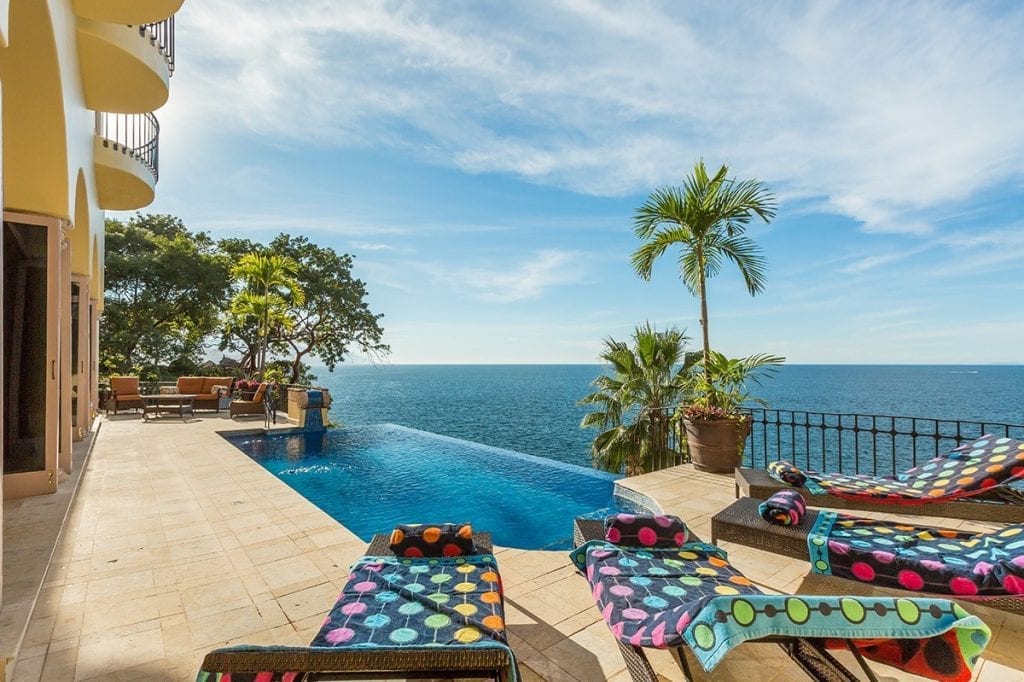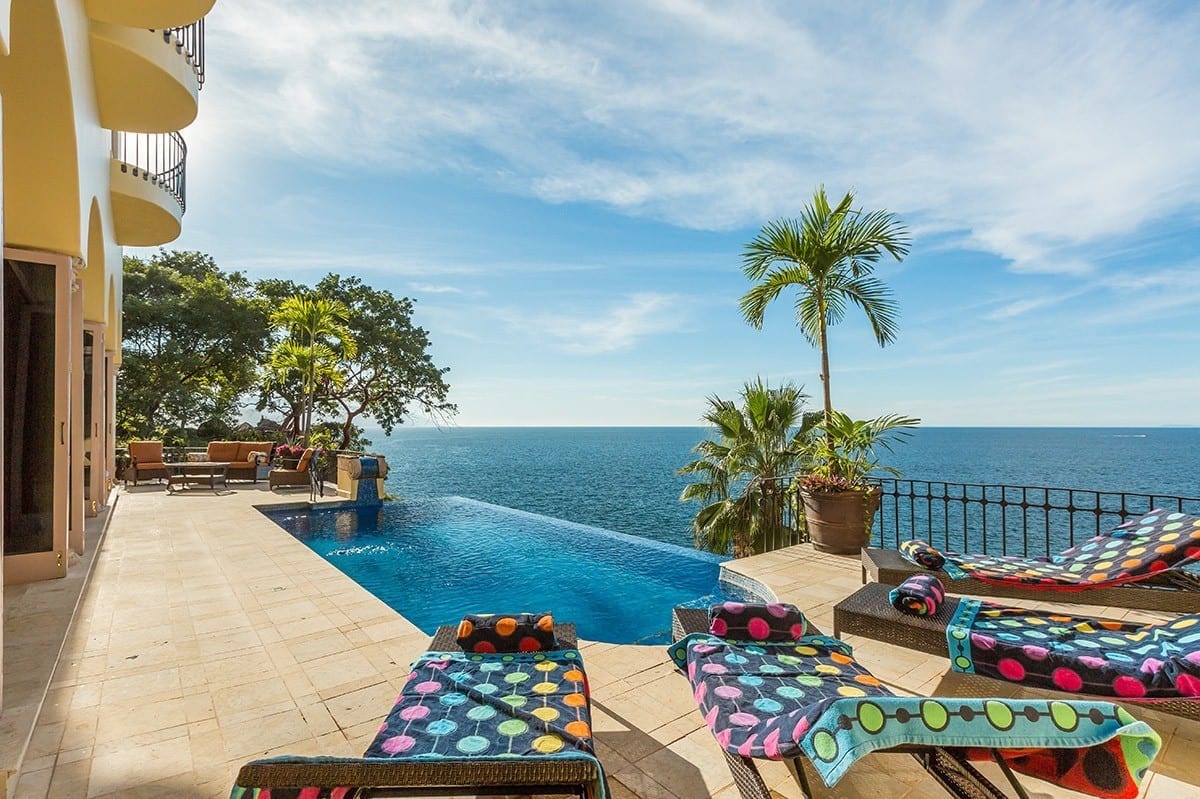 Villa Luna Creciente is a gorgeous, Mediterranean-style villa situated oceanfront in Puerto Vallarta with amazing views of the famous rock formations of Los Arcos. This incredible location has total seclusion and tranquility while still being a short distance from all the action, restaurants, and nightlife that Vallarta offers.
Our expertly trained staff will pamper you from the moment you arrive with cool towels and a welcome margarita to the time of your departure. The team includes daily maid service and a professional chef to prepare two meals per day. We also have an expert concierge ready to work with you from your book to take care of transportation, activities, and unique arrangements. You will be greeted on-site upon arrival at your new home away from home, given a tour of the villa, introduced to the staff, and answered all of your questions. Should you need anything throughout your stay, our agents are locally based in Puerto Vallarta.