Five Punta Mita Villas for Rent, Perfect for Large Family Vacation!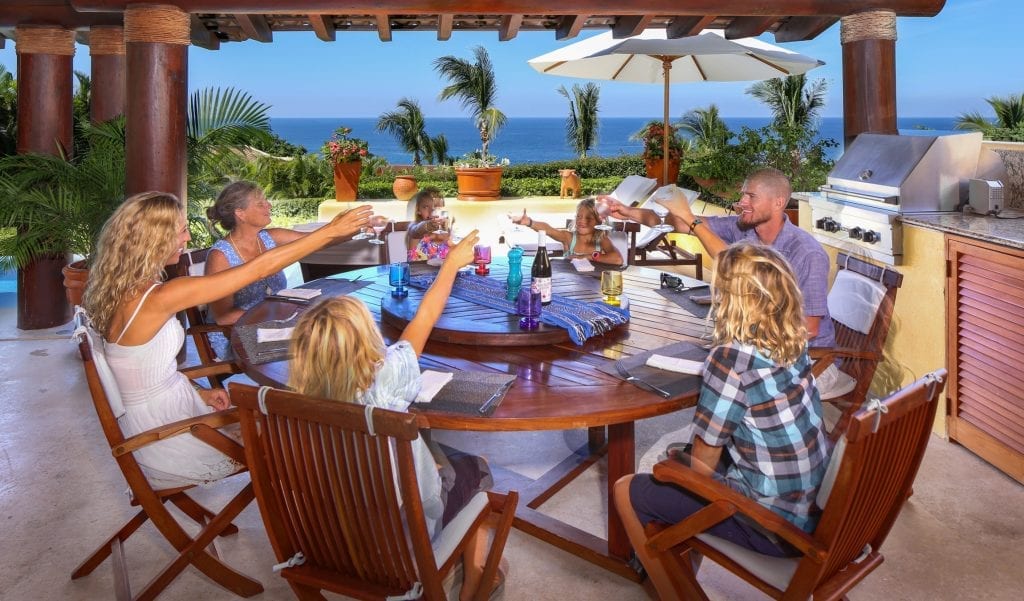 Do you think about one of the Punta Mita villas for rent? There is no better time for it. People familiar with the Puerto Vallarta and Bahia de Banderas area know that Punta Mita offers excellent options for that memorable getaway. But sometimes, a standard luxury home is not enough. You absolutely must have a large luxury home rental to meet your family or group's needs.
When looking for a villa to fit your event, retreat, or reunion needs, the larger home rentals may be what you are looking for. You may need a home with as many as nine bedrooms, especially if hosting an event or special reunion.  One of the large luxury home rentals could be the ideal accommodation for a graduation, a wedding, or any other need for a large home to accommodate a large group of people.
Admittedly, finding the perfect rental to accommodate a large crowd can be intimidating, but you have several options in Punta Mita. Here you will find a few gorgeous sprawling beach houses where guests can enjoy the seaside and other activities in Punta Mita to support you in your event.
What Is It That Large Event Homes Have in Common?
Most of the fabulous Punta Mita luxury home rentals have a more significant amount of space in a gorgeous architecturally designed setting that can give guests privacy or the social interaction they wish to have. We offer five incredibly spacious 7 to 9-bedroom Punta Mita luxury home rentals that could be the ideal location for events, families, and large groups.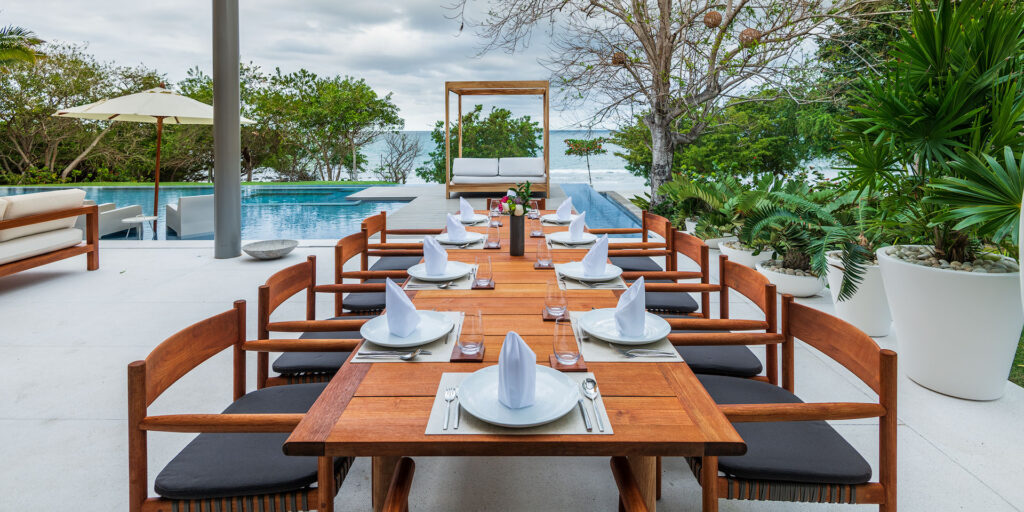 Casa Brisa , 7 Bedroom Villa Rental at Kupuri Estates!
Its beautiful space, rooms, and modern luxurious amenities will impress even those with special requirements for the home rental they choose.
Casa Brisa in Punta Mita is one of the most impressive 7-bedroom vacation homes. It has contemporary living spaces, a charming banquette space, and a triangular dining area. The kitchen has every modern amenity you would need for a large group of people.
Each of the seven bedrooms has its en suite bathroom, stand-alone shower, and a flat-screen TV. The home comfortably sleeps up to 18 people with two king master bedrooms, five king guest suites, and two bedrooms with duo bunk beds.
The home also has amenities like a fully stocked game room, pool table, shuffleboard, card table, and bar. The cinema room has a 150-inch screen, 6 TV, and a surround sound system.
Each of this home's bedrooms opens up to the gardens and the infinity pool, where you can walk a few steps down to the private beach.
The home rental services are outstanding. The home comes with a whole staff, including a gourmet chef, concierge, butler, personal driver, and house cleaner.
The homeowners give guests full access to all of the Punta Mita Beach clubs and both of the Jack Nicklaus golf courses. There are also kayaks, snorkels, and beach accessories available for guests.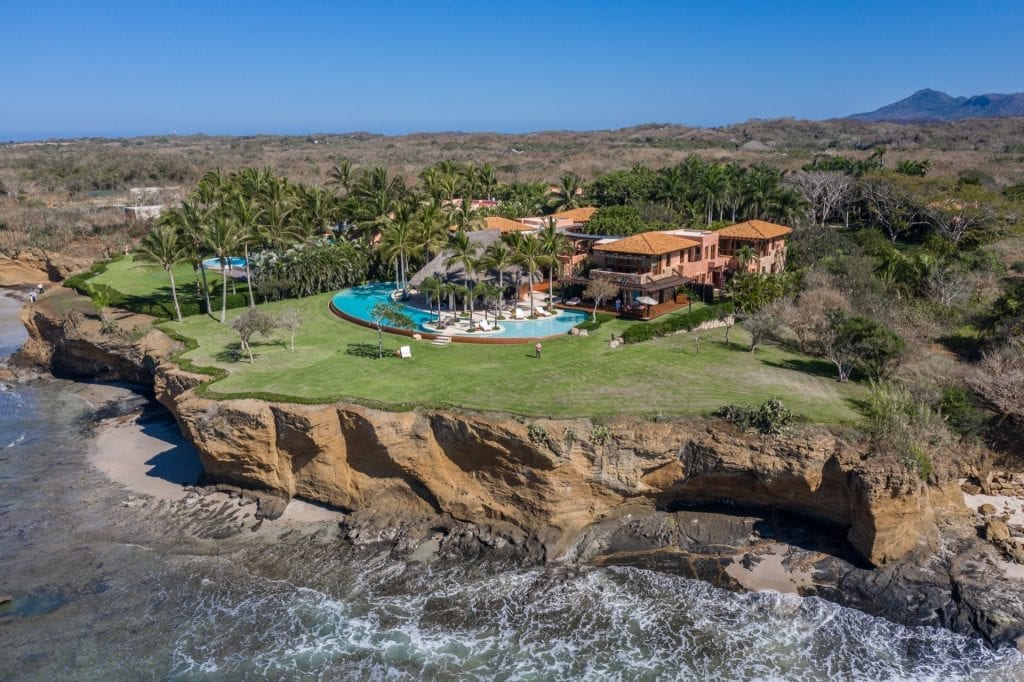 Casa Tres Soles, 9 Bedroom Villa Rental at el Banco!
Casa Tres Soles is a popular Punta Mita destination located in El Banco. The home blends rustic elegance with luxurious design, space, and amenities. This home is one of the most beautiful 9-bedroom beachfront luxury homes in the gated community of Punta Mita.
Here guests will experience an overwhelming serenity and peace that permeates this entire home, thanks to the architect has interwoven sophistication and comfort within its traditional Mexican style.   You can appreciate the genius of the design elements in every aspect of the home and see how it radiates the warmth of traditional Mexico.  
The art and handmade furnishings made by renowned and local artists give the home extra flair and beauty. It is a home surrounded by peace, tranquility, and large comforting spaces. This home embraces the stunning ocean views surrounding it on three sides. The large open floorplan gives guests the ability to move about but never overwhelms them. It is designed to provide you with vivid, expanded views of the ocean and surrounding jungle.
The furnishings, although traditional, are large, modern, and designed for pure comfort. The neutral tones of the design help emphasize the exterior gorgeous and verdant areas that Punta Mita is best known for. The focal point of this home is the way the terraces merge into the infinity pool and follow down to the beach and the ocean. It is this incredible design that will leave you awe-struck.
The large terraces float over the curving of the pool with their 160 feet infinity edge. The dining area overlooks the gorgeous Pacific sunsets and offers a quiet spot to enjoy the view.  Your group can have breakfast under the large palapa, on the sunny terrace, or in the gorgeous dining room. The layout on the relaxing lounge chairs and enjoy the comfortable feel of a heated infinity pool.
This luxury Punta Mita home rental has more than enough open space for enjoying conversation, sharing time, watching a movie, playing games, giving a small speech, and much more. And while the areas are expansive, the home never feels overwhelming, too large, or too much to take in during your travel experience. The family room is the ideal place to share time, watch a movie, listen to music or play a board game. The bar is a sculpted piece of art handcrafted from local hardwood.
This Punta Mita luxury home rental is equipped with a sauna, a massage room, and a fully equipped gym; next to the gym, guests can delight in the small entertainment room where they can spend time watching an HD movie surround sound audio.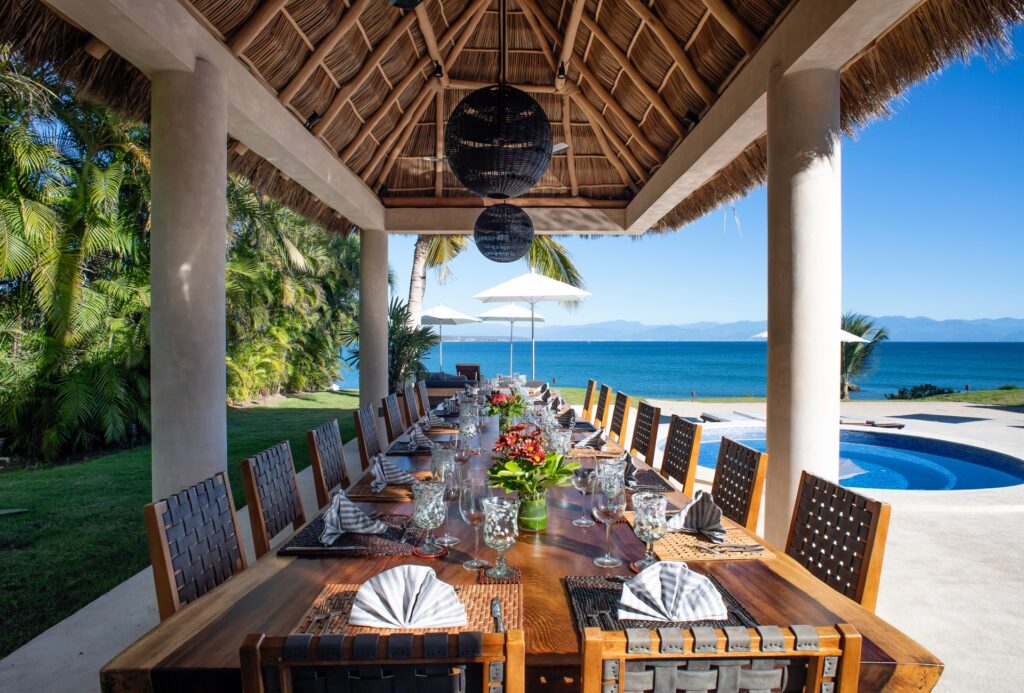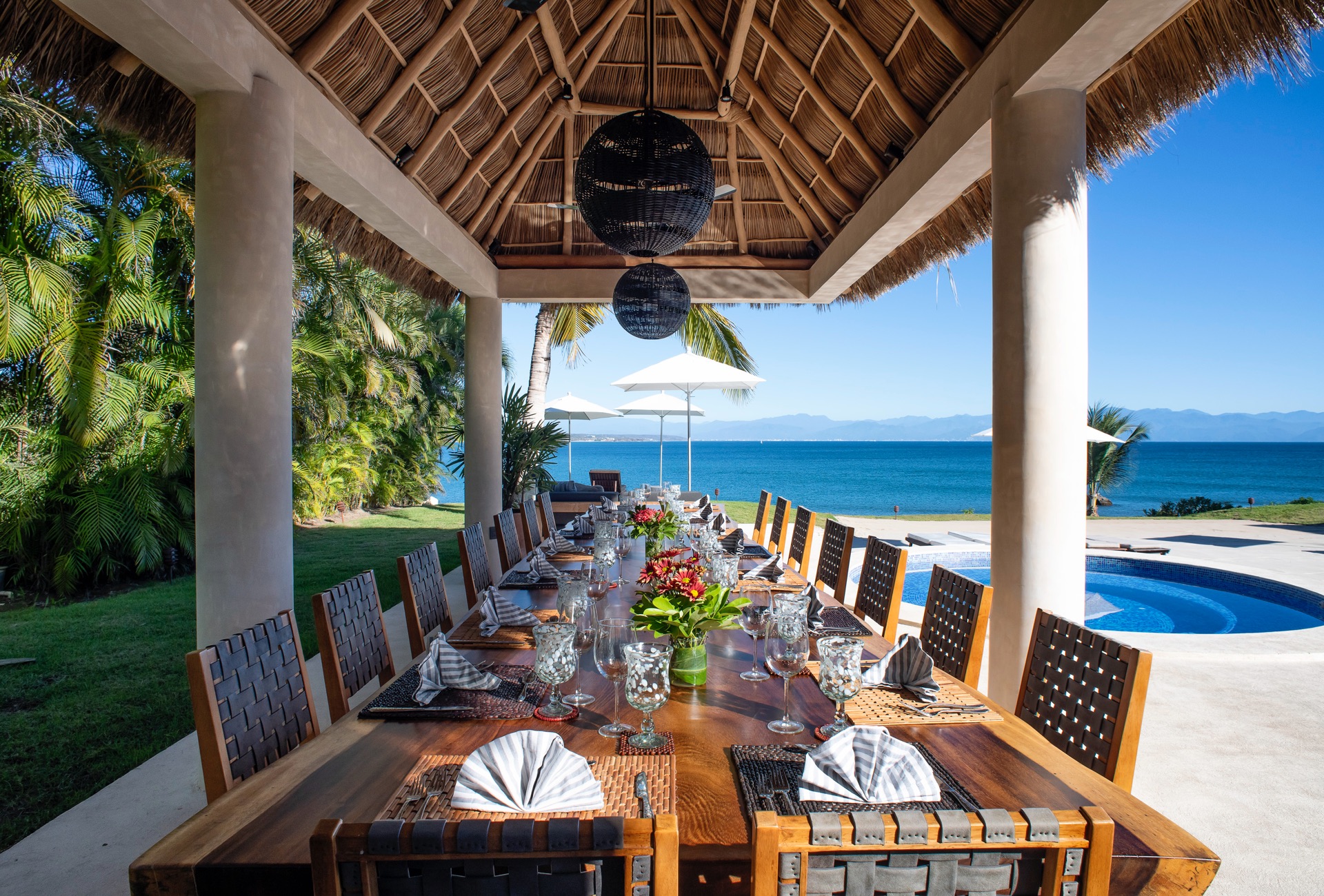 Casa del Faro, 9 Bedroom Villa Rental at La Punta Estates!
A divine luxury rental with much more to offer than you could ever imagine. Casa del Faro is one of only a few homes that excel in service and amenities worldwide.
Casa del Faro is a five-star, 9-bedroom, luxury Punta Mita rental recognized worldwide for its design, decor, and services. This lovely home makes the most of everything that Punta Mita offers. It is a home that embraces the guest in luxury and provides an incredible feeling of well-being because of its architecture and beauty. At Casa del Faro, guests are pampered by a full-time staff of 12, including a full-time chef. This is the Punta Mita home with a chef that every visitor envies.
This home is equipped with a fitness center complete with state-of-the-art cardio and strength training equipment, a business center with a computer, printer, scanner, copier, and high-speed internet. There is also a full massage room, a media room, and a surf room with boards, boogie boards, paddleboards, and kayaks.
Guests delight in the effort of the executive chef and culinary team, who create unique dishes that every guest enjoys. Best of all, the dining experience is tailored to you and each of your guests.  Sample some of the local flavors and freshest produce available in the area. Dine under the spectacular 30-foot high ceiling Palapa or even out under the sarts near the infinity pool.
When you reserve this Punta Mita luxury home rental, you allow this staff of twelve to pamper and attend to your guests' every need. Your group will delight you with food, twice-daily housekeeping, turndown services, butler services, laundry, bartending, and concierge services. Be sure to consult with a concierge who will prearrange an itinerary of activities. 
Casa El Faro sits on the world-famous surf break where you can enjoy great surf waves for surfers of all skill levels, including novices.
El Faro also has exclusive Premier Membership to the two Jack Nicklaus Championship Golf courses and the Punta Mita beach clubs, Tennis Center, Fitness Center, and the facilities at St. Regis.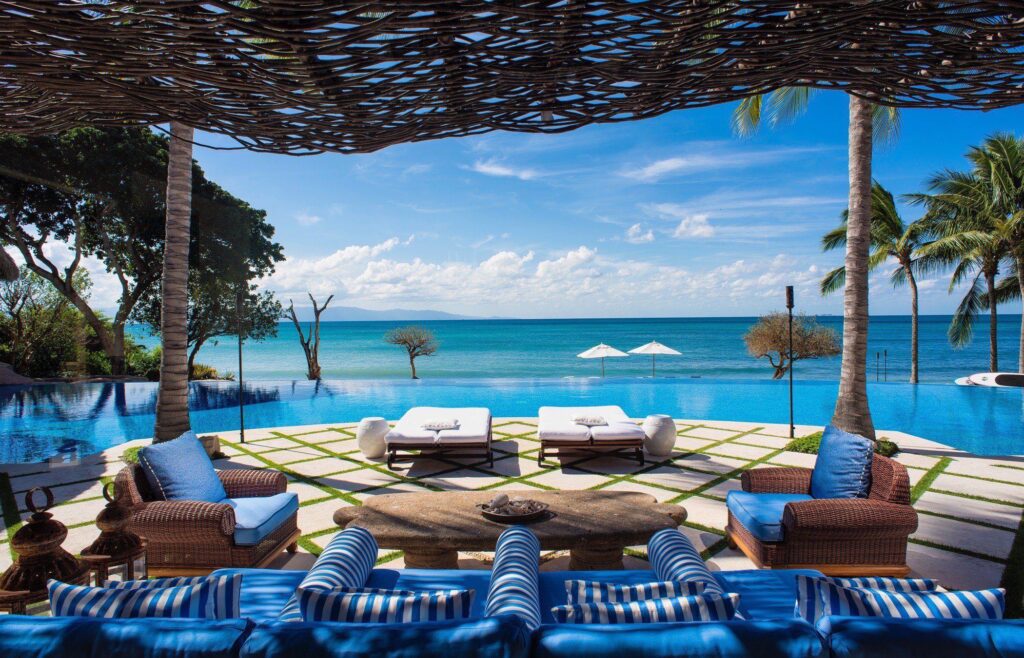 Casa La Vida Dulce, 8 Bedroom Villa Rental at El Banco
Punta Mita's natural tropical environment and gorgeous ocean views inspired this home's design. It is a uniquely situated Punta Mita luxury home rental with dramatic views from every window and every side. 
The style is a classic Hacienda-style home, so guests will feel like they have entered into the world of authentic Mexico. It is designed to take advantage of the cool Pacific breezes and bask in the sunshine of Punta Mita, a spectacular event, simply because Punta Mita shares the same point from the equator as Hawai, thereby enjoying a more temperate year-round climate.
The home is the result of an artistic approach to design, and it embraces eco-friendly sustainability while also offering every luxury home could have. The zero-edge infinity pool is an outstanding central feature of this beachside property. 
Casa La Vida Dulce sits perched in the center of one of the gorgeous beaches in the Bay of Banderas, a white sandy beach with aquamarine water of the bay lapping at its edges. The architect has taken advantage of the location allowing the doors to open and take in the breathtaking views of the beach and surrounding tropical forests of the Sierra Madre.
This world-renowned home sits on 2 acres of the most beautiful and pristine beach in the area, providing guests with direct access to this beach which is otherwise only accessible by boat or long, arduous hikes. This home is relatively new, and the landscape designers have surrounded it with an impressive array of tropical plants and flowers. The towering palm trees offer shade and rhythm that moves to the soft breezes that flow through the property. The flowering vines and shrubs offer aromatic finesse to the home, and the entire landscape provides an outstanding backdrop for this, one of the finest vacation rentals in the area.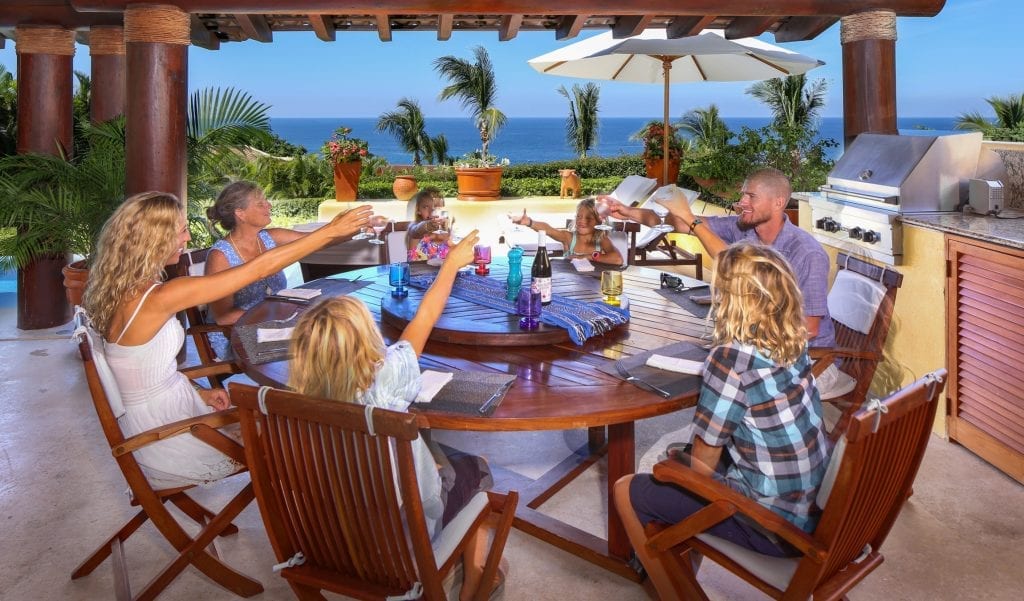 The Twin Villas at Four Seasons Resort
A Four Seasons Punta Mita luxury rental that will astound you.
The Four Seasons has always been known for its impressive array of features. More so for the Four Seasons Twin Villas. These two villas sit together and offer a full nine-bedroom availability for larger groups.
These two homes are the ultimate definition of indoor-outdoor living and are designed with both cooking and entertaining in mind. The open concept layout ensures the homes remain bright and airy and allow guest to spend as much quality time together as possible.
The  Twin Villas sit side by side, and each has four bedrooms, but when rented together, these connecting villas offer nine full bedrooms with ensuite baths.  The style is a lovely traditional Mexican style, in the form of a warm adobe and high ceilinged tiled roof.  The connecting villas open up onto a courtyard-style garden where flowering bushes and vines bring the home's tropical gardens' aromatic scent.
The design of the home is comfortable, spacious, and modern. The interior design features neutral tones, handwoven textiles, Latin art, and Mexican ceramics. The living and dining areas seat 16 people in each home with a full kitchen with state-of-the-art appliances. The ample patio and terraces expand out onto the pool.
The amenities include a laundry room, pool, jacuzzi, lounge beds, gardens, and patios. Services include daily housekeeping, towel replenishment, and breakfast with snack preparation. A private chef and or private yoga and surf instructor are available upon request.
The villas have full access to the Four Seasons Hotel amenities such as the restaurants, spa, gym, kids club, and pools. They are styled in modern Mexican architecture with stunning interiors and panoramic views.