Five Punta Mita Villas for Rent, Perfect for Large Family Vacation!
Punta Mita, a renowned luxury destination in Mexico, is home to some of the most spectacular villas for rent. Located near Puerto Vallarta and Bahia de Banderas, Punta Mita offers large luxury home rentals perfect for family gatherings, retreats, and special events. In this article, we present five extraordinary 7 to 9-bedroom Punta Mita villas that cater to the needs of large groups.
Unforgettable Getaway in Punta Mita's Luxury Villas
Casa Brisa: A 7-Bedroom Marvel at Kupuri Estates
Casa Brisa is a stunning 7-bedroom villa that boasts contemporary living spaces and modern luxurious amenities. The villa comfortably accommodates 18 people, mixing king master bedrooms, king guest suites, and duo bunk beds. The property features an infinity pool, gardens, a fully stocked game room, and a cinema room, ensuring a fun-filled stay for your family or group. The rental also includes access to Punta Mita Beach clubs, Jack Nicklaus golf courses, and beach accessories.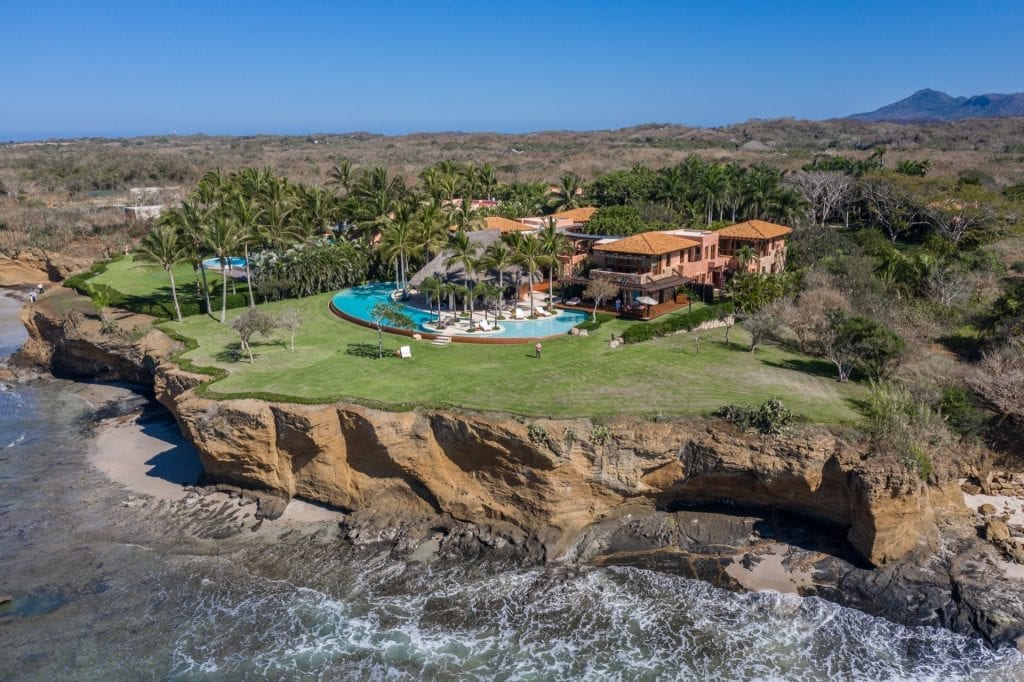 Casa Tres Soles: A 9-Bedroom Gem at El Banco
Casa Tres Soles is an elegant 9-bedroom beachfront villa situated in El Banco. The home's design seamlessly blends traditional Mexican style with luxurious modern comforts. The villa is surrounded by lush vegetation, offering stunning ocean views from its spacious terraces and infinity pool.
Guests can enjoy the fully equipped gym, sauna, massage room, and entertainment room. Casa Tres Soles is the epitome of luxury living with its serene ambiance and exquisite architectural design.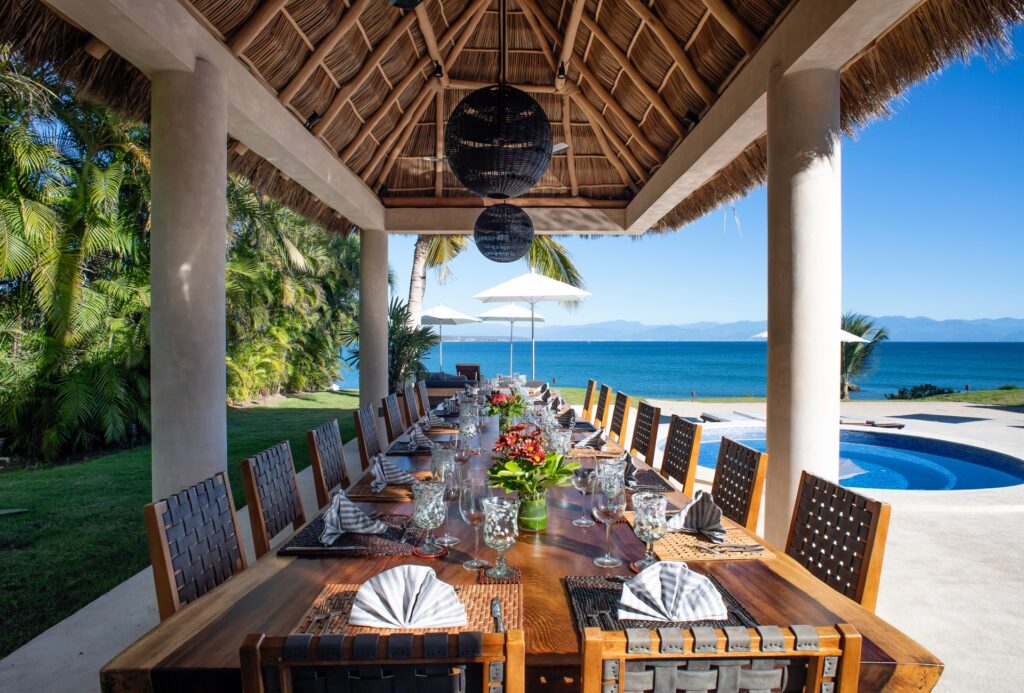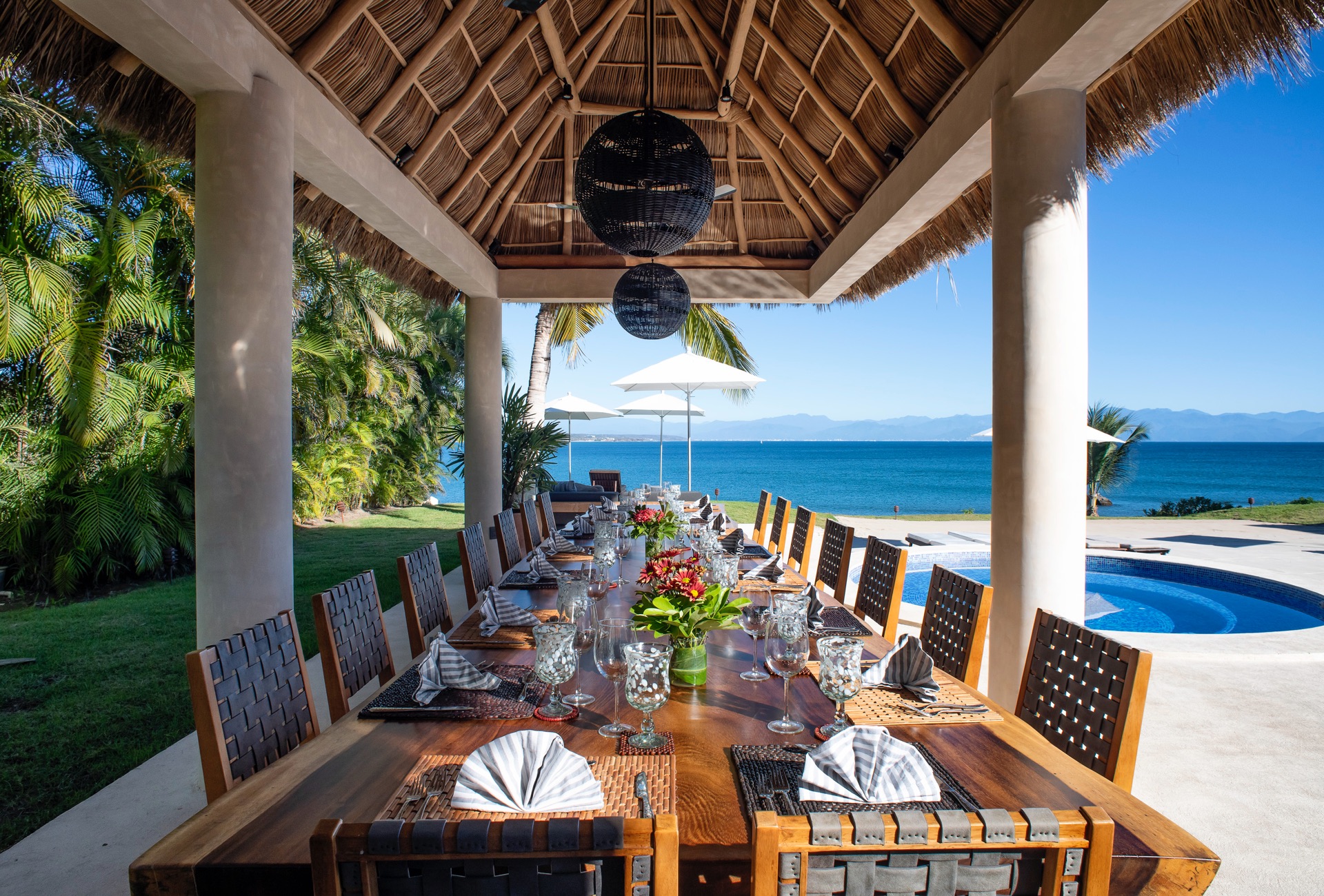 Casa del Faro: A 9-Bedroom Masterpiece at La Punta Estates
Casa del Faro is a 9-bedroom luxury villa renowned for its design, decor, and top-notch services. In addition, this exquisite property offers state-of-the-art facilities, including a fitness center, business center, massage room, media room, and surf room.
The villa's staff of 12, including a full-time chef, ensures guests are pampered throughout their stay. Casa del Faro also provides exclusive access to Jack Nicklaus Championship Golf courses, Punta Mita beach clubs, Tennis Center, Fitness Center, and St. Regis facilities.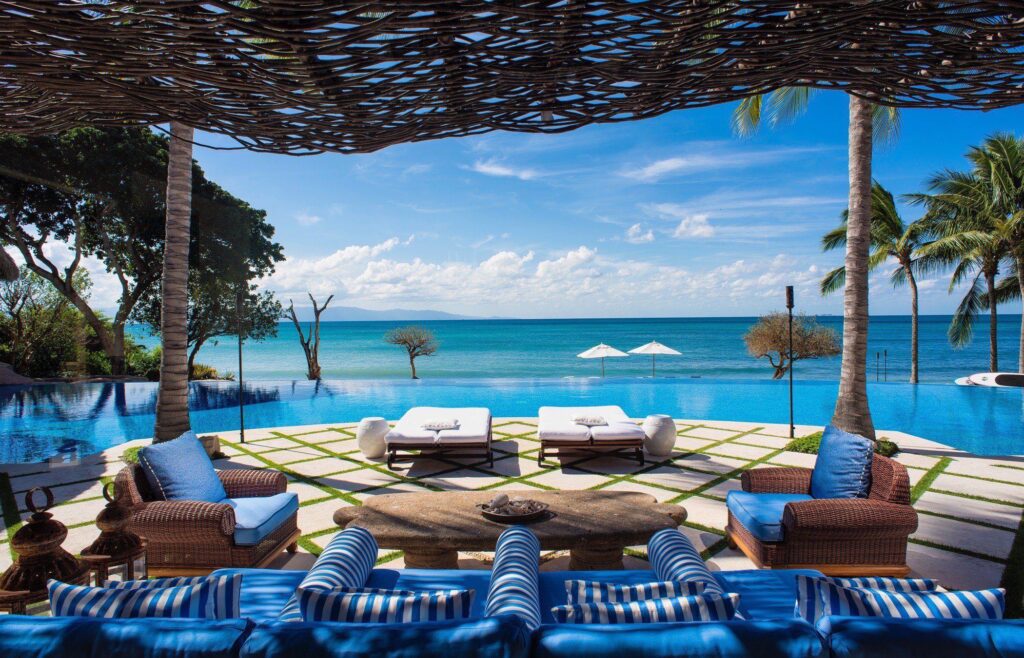 Casa La Vida Dulce: An 8-Bedroom Retreat at El Banco
Inspired by Punta Mita's natural beauty, Casa La Vida Dulce is an 8-bedroom hacienda-style villa that offers breathtaking views from every angle. The eco-friendly property features a zero-edge infinity pool and lush tropical gardens.
Located on 2 acres of pristine beach, Casa La Vida Dulce provides guests with direct access to the beautiful Bay of Banderas. The villa's artistic design and sustainable approach make it a unique and luxurious vacation rental.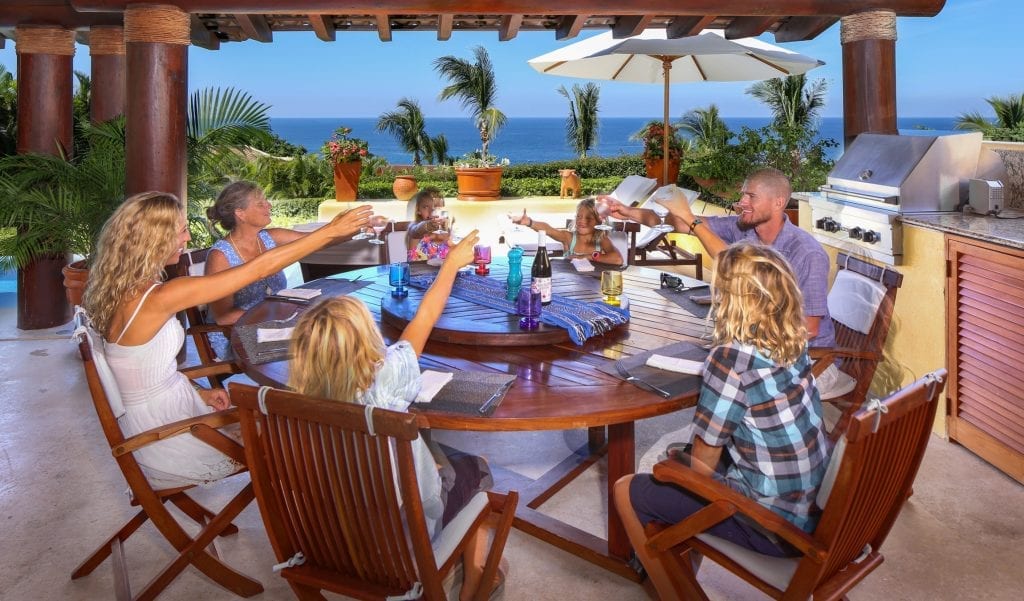 The Twin Villas at Four Seasons Resort: A 9-Bedroom Combination
The Twin Villas at Four Seasons Resort are two adjacent villas that offer nine bedrooms when rented together. These traditional Mexican-style villas feature modern interiors, spacious living areas, and state-of-the-art kitchens.
The connecting villas open up to a beautiful courtyard garden, while their amenities include a laundry room, pool, jacuzzi, and lounge beds. Guests also enjoy access to Four Seasons Hotel amenities such as restaurants, a spa, a gym, a kids club, and pools.
Experience the Ultimate in Luxury Living at Punta Mita Villas
These five exceptional Punta Mita villas provide an unparalleled luxury experience for large groups seeking the perfect vacation rental. Each villa offers unique features, top-notch amenities, and stunning architecture, ensuring your stay is memorable and comfortable.
The unparalleled beauty of Punta Mita, combined with the lavish facilities of these villas, provides the perfect backdrop for any family vacation, retreat, or special event. With access to world-class golf courses, beach clubs, and water sports, there is something for everyone to enjoy
Spacious and Luxurious Punta Mita Villas Cater to Large Groups
These spacious and luxurious Punta Mita villas cater to the needs of large groups, offering a home-away-from-home experience in a stunning tropical paradise. Indulge in the best of both worlds – the serene beauty of nature and the sophisticated comfort of modern luxury living.
Breathtaking Punta Mita Villas for Rent for Unforgettable Stays
As you plan your next large family vacation, consider the breathtaking Punta Mita villas for rent. With their spacious accommodations, exquisite amenities, and world-class services, these villas provide the perfect setting for an unforgettable stay.
Celebrate Special Occasions and Create Lasting Memories 
Whether you are celebrating a special occasion, hosting a retreat, or simply enjoying quality time with family and friends, Punta Mita's luxurious villas offer an experience like no other.
Book Your Stay and Embark on a Journey of Unforgettable Memories and Unparalleled Luxury
Book your stay at one of these extraordinary Punta Mita villas and embark on a journey filled with unforgettable memories, relaxation, and unparalleled luxury.