What makes Punta Mita Special?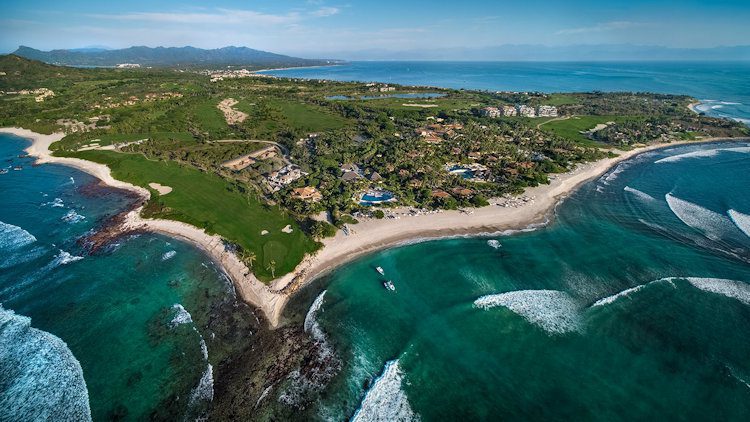 Punta Mita offers meaningful experiences to each visitor and resident. It is a multifaceted destination with unique significance to various luxury travel niches. For some travelers, Punta Mita offers the ideal settings for a chic tropical vacation; for couples, a glamorous wedding venue, for wave seekers, it is the ultimate surf getaway; and for a thriving group of connoisseurs, Punta Mita has become a golf mecca. Now, whether you are reading this article from one of our world-class hotels or a gorgeous residence within our community, chances are you are becoming acquainted with our emblematic brand of des sophistication and relaxed charm. If you are one of our passionate ambassadors, who long ago lost count of how many times you've stayed 'inside the gates, you know exactly what I am talking about. Many of our nearly 400 member families have chosen Punta Mita as their' home away from home; the sense of community begins at our Golf Club. If you are new to this community, you might be wondering, 'What makes the golf club special? What makes any golf club unique., Surprisingly, you can begin to answer yourself, What makes a golf club unique to me? What seems like a relatively simple question, at first, tends to evoke answers which are revised and rephrased multiple times: a fun atmosphere, pristine course conditions, fast greens, the ability to meet new friends, great energy, lively events, creating lasting relationships. These are all likely answers offered right away. I have engaged in this conversation hundreds of times because I am continually interested in the answers I hear. Naturally, more time and experience within the club world elicits a more nuanced response.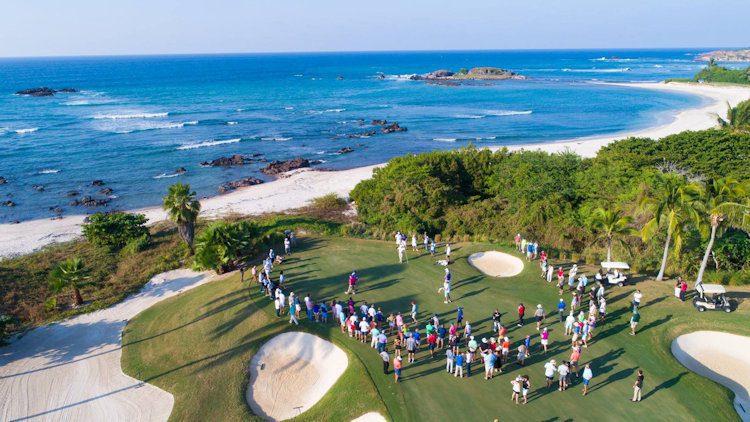 Interestingly, there is always something to learn or remember from these answers because they provide an extraordinary insight into what that person cherishes! , This topic, the intangible mix of qualities that make a golf club remarkable, is frequently discussed, sad among the ranks of private golf club members and golf club operators. The answers offered often say more about the speaker than the club itself. The qualities highlighted can be specific yet elusive, tangible but also esoteric. People might point out something as seemingly benign as a milkshake, or they may speak glowingly about exclusivity. Such a wide variety of answers hints at the reality that it is, In fact, highly unique and challenging chemistry to master. For this very reason, we celebrate and seek to emulate those rare clubs that can capture it. Punta Mita Golf Club has grown and matured over 20 years. The combination of several critical ingredients has led us to where we now stand: an inflection point of awareness by both the outside world (one could say we've been "discovered") and by a growing group of members who genuinely cherish the specified energy and sense of community they experience here. This awareness signals the beginning of a beautiful chapter for any club, a positive feedback loop, which, if given the appropriate attention and care, con elevate the community and everyone associated with it to a higher level.
Is It The Baja Fish Tacos?
With all that said, let's take a closer look at what makes Punta Mita Golf Club and the entire Punta Mita community so unique.
The Amazing "Bones"
One, if not a fascinating aspect of the Punta Mita Golf Club, is that it sits within a community that boasts a mix of stunning amenities; 5 beach clubs, restaurants, amazing views, 270 degrees of water frontage, walking/jogging paths, overall size, and grandeur; each of which could easily be the subject of their unique article in this magazine. Where else can you find all of this together? Indeed, nowhere I have seen. One of my favorite experiences is to spend the day driving friends and family around the entire property in a Mita Carts golf cart. Typically, we start by heading to Tail of the Whale restaurant for one of Chef Bertha's unique "Desayuno" specialties,* where I take advantage to show off our recently renovated Punta Mita Practice Facility. My favorite breakfast item at "TOW" is the Poblano Poached Eggs – You will thank me. After breakfast, we ride across the property to Kupuri Beach Club, proudly flaunting its irresistible serpentine pool, layered rows of beach chairs, gorgeous views of Litibu Bay, and the simply perfect palapa bars. Then, we move on to Sufi Beach Club, where I like to showcase the fascinating views of Banderas Bay, the pier, and our Punta Mita Ocean Sports floating dock. Countless tours have taught me that lounging at the Sufi pool and snacking on Chef Pato Persico's curated selection of small bites from Sufito is an experience that is tough to beat. Finally, we end the tour at Pacifico Beach Club, where we hang out at the beach, enjoy some sunset cocktails, and share meaningful connections. Every group I've taken on the above itinerary has been left amazed and wonderfully exhausted but always ready to return and do it again. Their sense of awe at the size, beauty, and understated luxury that our corner of the world offers makes my day. You must now extend the above itinerary to include El Surf Club, Punta Mita's newest beach club addition, and an experiential departure from any other Punta Mita amenity. Part Nikki Beach-Esque, part Eden Rock but uniquely Punta Mita through. A must-see for every guest. My first evening was intended to be a post-golf cocktail with Carl Emberson and Brendan Wood to see it and feel it but ended up being a leisurely reunion with several close member friends across 4+ hours (and a tequila or two), all while enjoying the ambient downbeat tunes of DJ Omar. Amazing spot.)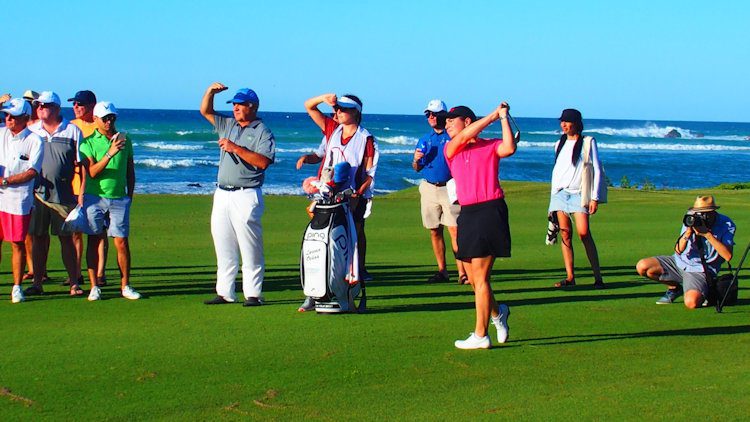 The Vibe
Writing this article, I discovered a significant insight that centers on the juxtaposition of size vs. intimacy. Punta Mita is a massive place, but it never feels that way. It feels intimate. To test this, one must visit one of the beach clubs or restaurants. Whether enjoying the casual beach energy at Mita Mary's at St. Regis or lounging at the Shack Bar at the Four Seasons, there is this incredible sense of intimacy shared among the residents and guests. Conversations are easy, introductions are breezy, and connections are relaxed and easy to find. A genuinely intoxicating atmosphere. It reminds me of my feeling when visiting Southeast Asia or other remote backpacker destinations, that sense of adventure, and the shared experience of being "in the know" about a secret spot, except we are only a three-hour flight from Denver or Los Angeles.
The Members and Our Member Events
All the above ingredients don't come to life without a great membership's participation, passion, and love. A great club creates opportunities for friendship and socializing, competition and camaraderie; however, just like a great party, it's the people who truly bring any event to legendary status, and Punta Mita members LOVE to party! They get a competitive fire to traditional golf events, like our Member-Member in November and the Tail of the Whale Member-Guest in late January. Everyone tries to add their names to one of our Club Championship trophies in early April.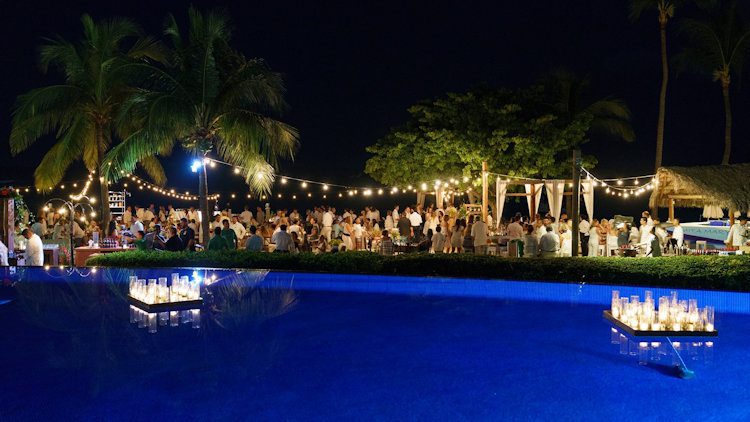 While our Punta Mita "Majors" keep improving and gaining size and stature, it might be our uniquely Punta Mita events that set us apart, like Dermott O'Flanagan's Nine, Wine & Dine, held every Sunday afternoon throughout the high season, a member favorite which now regularly sees 50-60 weekly participants. According to Mr. Flanagan, "Nine, Wine & Dine came about circa 12 or 13 years ago, essentially out of a desire to create a social event that would encourage friendships among members, develop a club atmosphere, and create some community spirit within Punta Mita." O'Flanagan continues, "Recently Robyn and Gordon Ritchie decided to tempt our pallets with their donation of a seasons' supply of the best tequila in Mexico, Tequileno (pictured with the Pope). One bottle every week for the team winning [closest to] the pin… On another occasion, the Pope was in town and, for some reason, heard about Wine & Dine and decided to join us. The photo attached shows him doing his version of Danny Boy (by the way, he is a great singer!)." This type of enthusiasm and energy perfectly demonstrates the magic of Punta Mita.
Then, there are the non-golf events like the Punta Mita Carnaval, held in late February, when dozens of costume-clad members and business partners transform golf carts into themed Carnaval "floats" to drive the "parade route;" which finishes at the driving range for drinks, prizes, and general merriment. There is also the Punta Mita Concert Series when local and not-so-local artists live for our members from a gorgeous outdoor venue with Pacific Ocean views, which also happens to be our driving range. Live music, fresh hand-crafted cocktails, and gourmet grab-and-go treats –what a cool concept! While our most widely known event does include golf, Gourmet & Golf, it is primarily a culinary extravaganza. Hosted across the entire property at venues large and small, G&G is the quintessential blend of gourmet cuisine, great parties, and, oh yeah, a massive golf tournament too.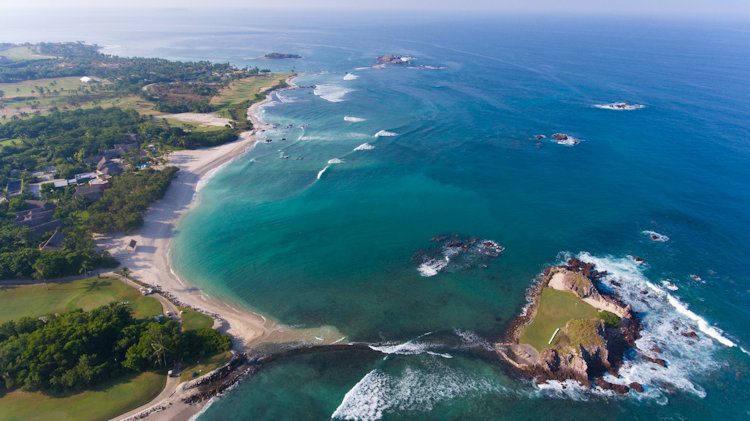 Bringing It All Together
It probably goes without saying that it takes a tremendous amount of dedication to thrive in destinations like Punta Mita. Above, I touched on the people who breathe life into all the fantastic amenities and events. Still, those places and parties would never exist without Dine's visionary ownership and their outstanding partnership with the management team at Four Seasons. Facts bring up an essential and unifying point: everyone can feel it when the magic starts to happen. The directors, the staff, the members, everyone feels the energy of a club that's getting "it" right. The staff and the whole team are focused and having fun at the golf club, the beach clubs, the events, and people who want to be part of it. It is the positive feedback loop I mentioned earlier. The ownership trusts their leaders; leaders create great opportunities. A fantastic team takes pride in their efforts and shows joy in their work. Members respond and elevate the entire affair with their own energy, dignity, and support. The best part is, it is fun for everyone involved. Now, you have some insight into what I think "makes a golf club special." If you have not done so already, you should Make Punta Mita Your Home!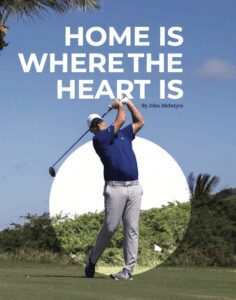 Director of Golf at Punta Mita Golf Club since 2017. Before joining the Four Season's Punta Mita team, John spent many years in Vail, Colorado, where his wife Jackie was born and raised and married in 2011. While Ohio and Michigan count as home, John has spent significant time in San Francisco, Florida, Colorado, and Mexico. John's email is [email protected]