Luxury Vacation Villas in Amapas, Puerto Vallarta!

Each of our Amapas villa rentals comes fully equipped with everything you need to enjoy your vacation. Villa Experience offers luxury villa rentals in Amapas, Puerto Vallarta, Mexico. In addition, our private villa rentals include a chef or cook service, butler, housekeeper, and on-site concierge.
Chef, Housekeeping, Butler & Concierge Included
The Ultimate Villa Experience
One could say that Amapas is the twin sister of Conchas Chinas. Located just north of Conchas Chinas, this is one of the most up-and-coming neighborhoods in Puerto Vallarta. It has become a hotspot for real estate investors and has filled itself with shiny new properties in the last few years.
Just like her sister's neighborhood, Amapas features parts with direct access to the beach and some sections on the Sierra Madre hills, which means that it has that mountain-beach duality that makes Puerto Vallarta so alluring. Amapas has the perfect location, as it is within walking distance of where all the action happens in town. Still, it's also secluded enough to enjoy some peaceful, relaxing times.
In Upper Amapas, you will find a couple of great gourmet restaurants with stunning views of the bay, while in Lower Amapas, there are some of the best beach clubs in town and access to the most popular beach in town Playa Los Muertos. So you have mountains and beaches, action and peace, brand new luxury condos, and old-school traditional villas with colorful Mexican style. And it also enjoys the best sunset views throughout Banderas Bay.
No wonder it has become one of the most sought-after luxury neighborhoods in Puerto Vallarta. A favorite of American and Canadian retirees has also developed a strong sense of the Expat community, mixed with the rich Mexican culture's local traditions, which results in an extraordinary atmosphere.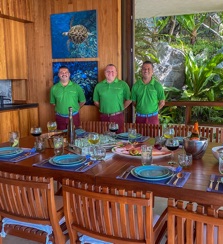 Description of the staff members and services at the Puerto Vallarta villas.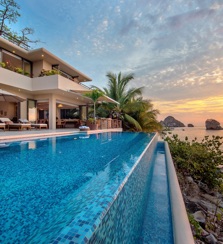 Most common questions about luxury villa rentals in Puerto Vallarta.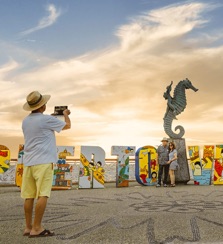 How to take advantage of the Villa Experience concierge services & benefits.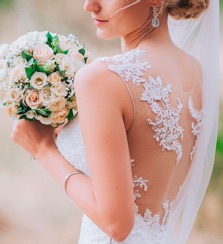 When having a wedding or event at a private villa in Puerto Vallarta, terms and conditions.
Frequently Asked Questions
Puerto Vallarta has become a trendy destination, and flight deal websites offer many cheap flights to Puerto Vallarta (PVR) from many different cities in the US. There are direct flights from Los Angeles, Austin, and many other major metropolitan areas. The best part is finding flights for under $200 to Puerto Vallarta.
The number of companies that offer flights to Puerto Vallarta continues to grow. There are better options, direct flights to and from the USA made by top airlines like American, Spirit, United, and Delta.
Delta had also added several direct flights when they did not even have a single flight just a few years ago. Delta now has a new route from Kennedy International Airport (JFK) to Puerto Vallarta (PVR).
JetBlue Airways also adds a new service from New York to Puerto Vallarta. This new direct flight began in February and connected the Kennedy International Airport (JFK) with the Licenciado Gustavo Diaz Ordaz (PVR) airport in Puerto Vallarta.
Now more than ever, there are many new options for flights to and from major cities in the US.
Green jungle hills tumble along Puerto Vallarta's romantic zone towards the sea. Villas sit as lovely dots of color up the mountain or along the coastlines, located in neighborhoods like the Romantic Zone, Gringo Gulch, Conchas Chinas, and South Shore.
Most of our villas are in the south of Puerto Vallarta. Some areas are exclusive, with homes in secluded spots or gated communities. Homes are in this area because of the upscale neighborhoods and safe locations. These areas are also closest to some of the gorgeous beaches in the area.
The South Zone has some of the most luxurious villas, homes, and condos. They are situated exclusively to take advantage of the soft jungle breezes and gorgeous, precise water beach settings unique to Puerto Vallarta.
South Vallarta can be far from downtown, but that also means it is secluded, safe, and far from the town's revelry. Even so, there are many transportation options you can take. You can use Uber or Taxis to get you out of your exclusive neighborhood and into town when you want a day to enjoy the sights and feel of the city.
While visiting all the beaches in Puerto Vallarta and the Bay of Banderas can be truly exciting, the attractions found in the south include Mismaloya, Los Arcos, the hidden beaches of Las Animas, El Caballo, Madagascar, Quimixto, Majahuitas, and Yelapa. A few other attractions in this area include the Botanical Garden, the river sanctuary El Eden and the zoo.
The neighborhoods in the south are luxurious. They cater to families with small children and older couples. They are also idyllic for newlyweds, romantics, and people who want to get away from it all.
Many of our villas are in Conchas Chinas and along the southern shores. Some have views of the ocean. Others are oceanfront. We even have luxury villas in the Amapas area.
That's not to say we don't have villas throughout Vallarta, but finding the perfect location is a matter of choosing the pla