Cozumel Island Experience - The Top 4 Private Villa Rentals on the Beach!
If you want to immerse yourself in the laid-back Caribbean lifestyle, Cozumel should be on your list of places to visit this year. The vast island has everything you could ever desire: a hot climate, sparkling turquoise waters, authentic Mexican food, and friendly locals. Despite being located just 20km east of Playa del Carmen, it feels like a world of its own. The following list of villas is among the best on the island. Each showcases its personality and energy while offering services and amenities that will make your getaway the experience of a lifetime.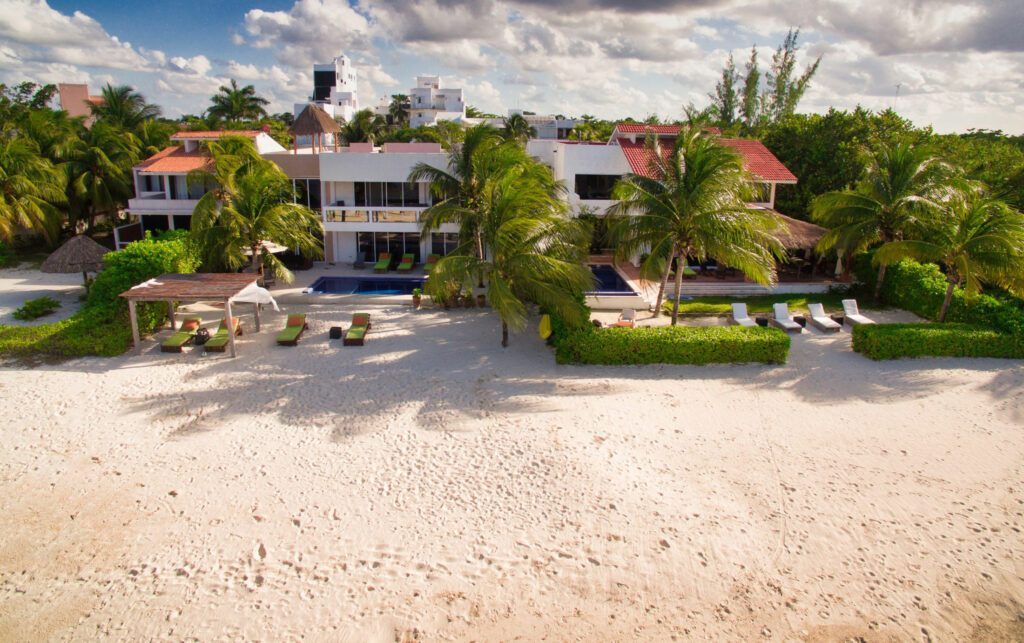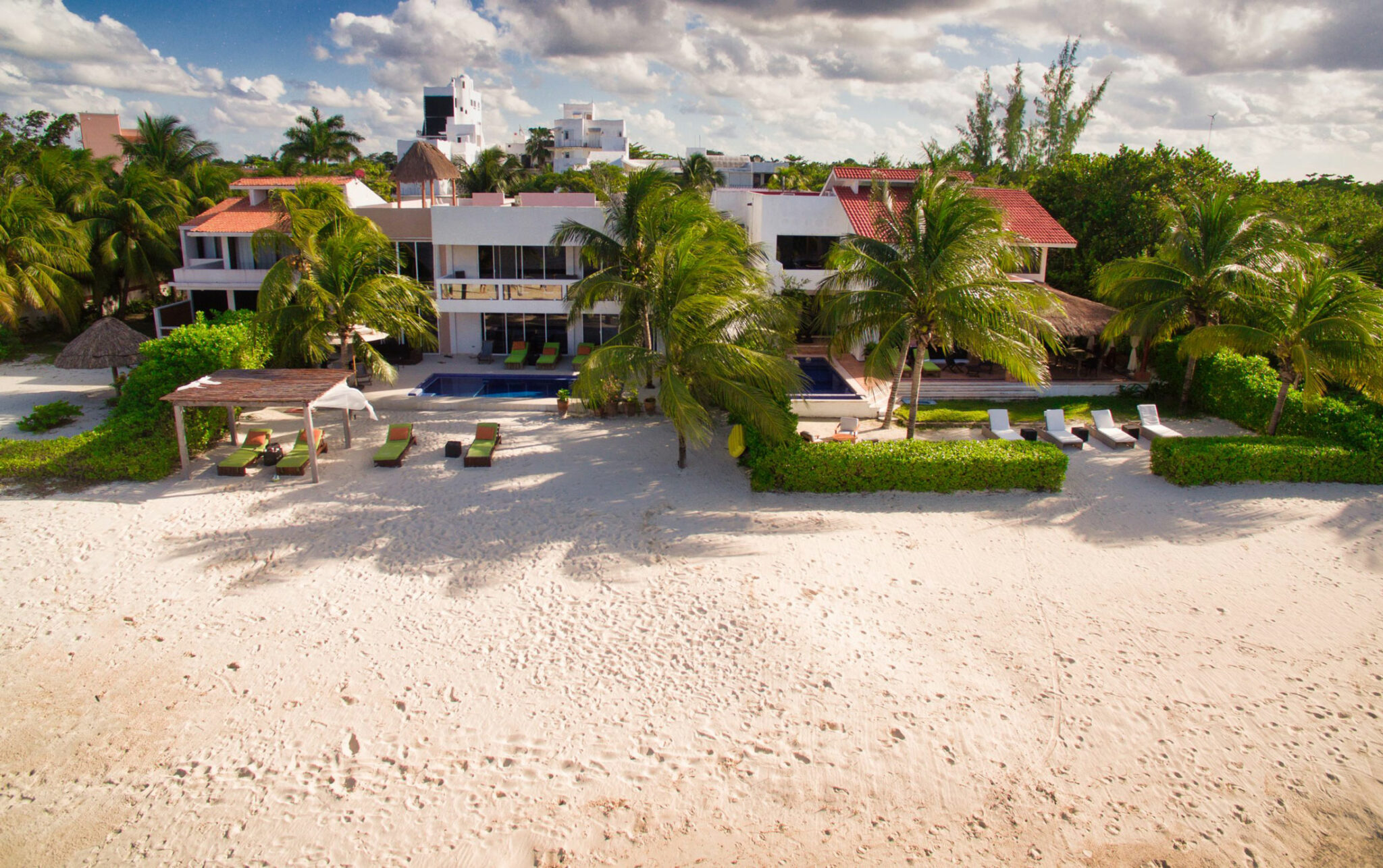 Villas Solil: Villa Grace & Villa del Sol
Villas Solil features two gorgeous adjacent homes in the exclusive Country Club Estates. Located on the northern coast of Cozumel, they're just 3 miles from Cozumel's town center. The homes sit on a secluded, white-sand beach while still, only a 5-minute drive away from restaurants, shops, and entertainment options. They are independent of one another yet close enough for a single group to travel together. If both villas are booked, they can accommodate up to 22 guests with ample space for large gatherings and special events.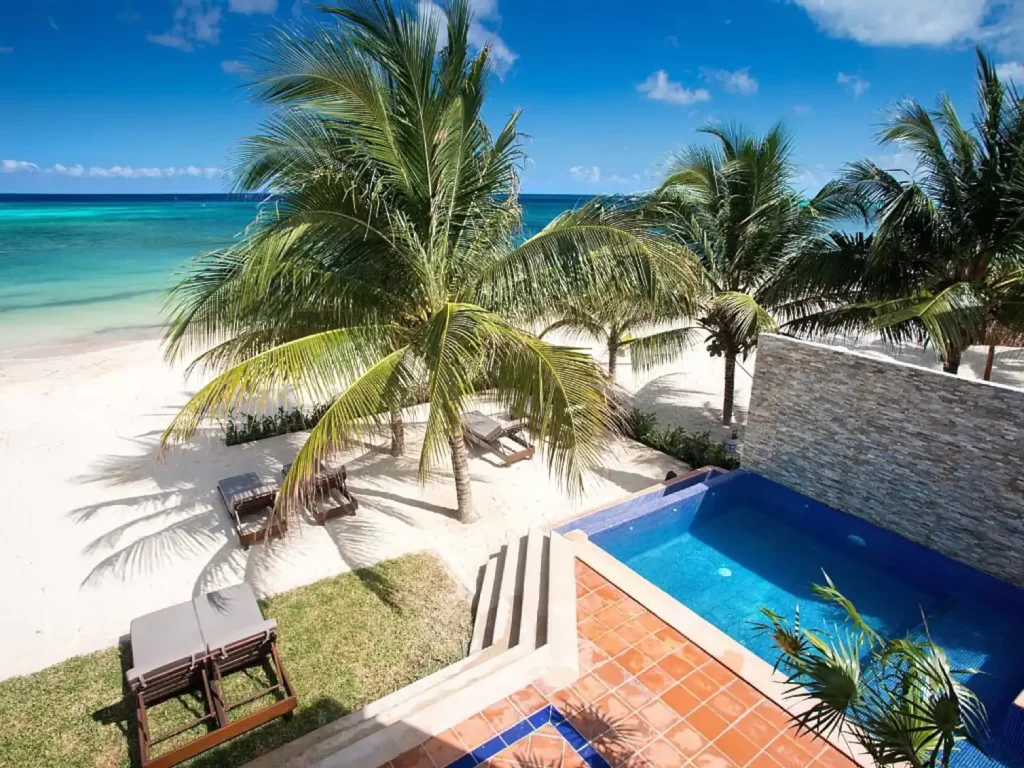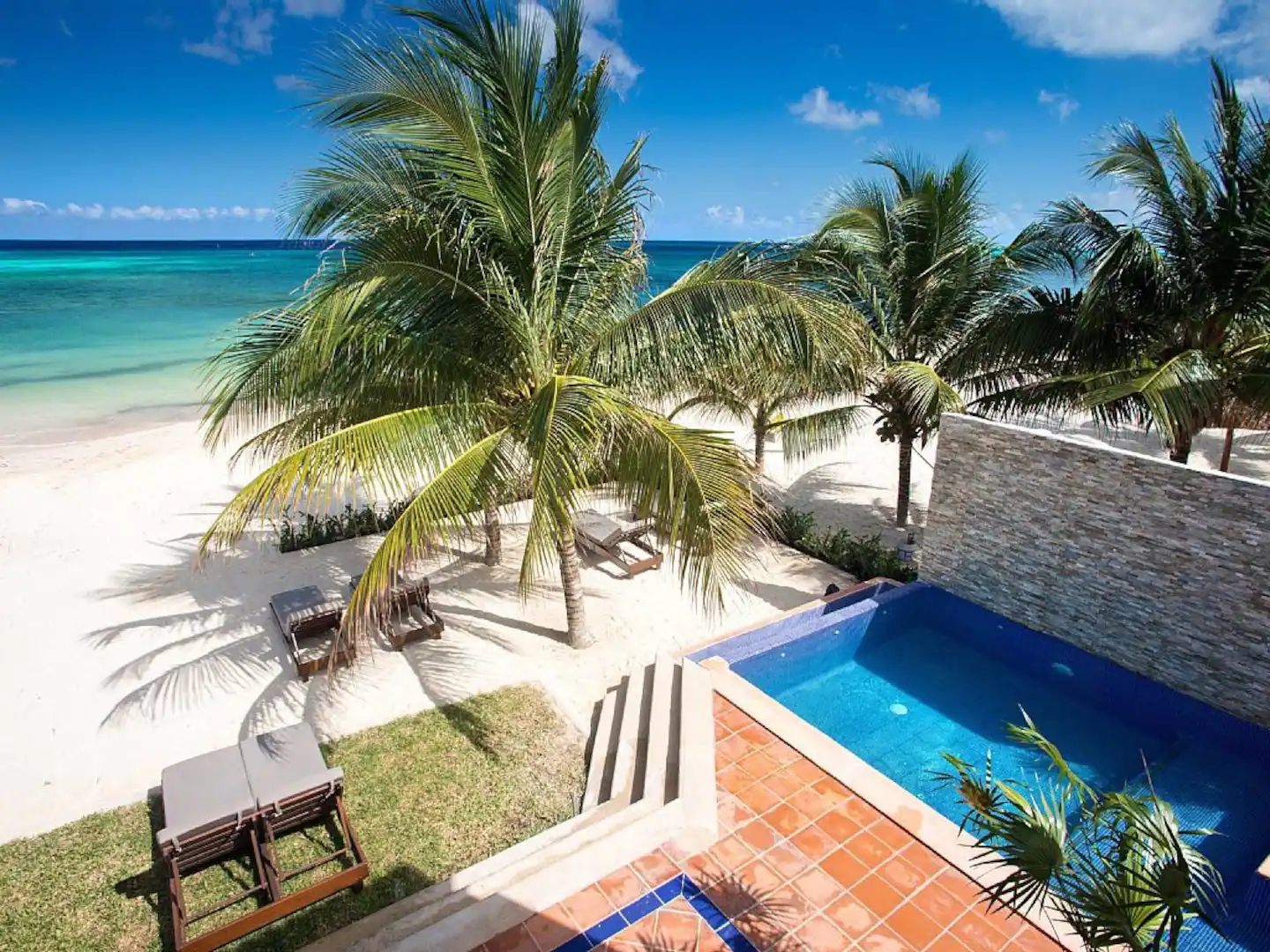 This magnificent two-story private oasis offers impressive views with a stylish interior that's both chic and cozy. With five spacious bedrooms and 5.5 baths, it's the perfect residence for families, friends, or couples on vacation. The living and dining spaces open up to a sprawling patio with the oceanfront steps away. The open-plan living room highlights modern decor combined with locally sourced wood and stone to create an airy, elegant space. An indoor garden with a beautiful skylight helps merge the natural landscape with the gorgeous interior.
The dining room is equipped for large group meals and a more intimate, casual dinner on the patio. Almost every room in the house offers floor-to-ceiling ocean views, including the bedrooms, which boast incredible ocean-facing balconies. Each suite includes a private bathroom, ceiling fans, and air conditioning. The expansive beach just outside stretches a long distance, where guests can relax on the luxurious lounge chairs or embark upon a magical sunset walk. Most of the time, the beach is empty, which contributes to the privacy and exclusivity of this villa. The combination of the perfect location and the spaciousness, luxury, and attention to detail in each room helps evoke a feeling of complete relaxation.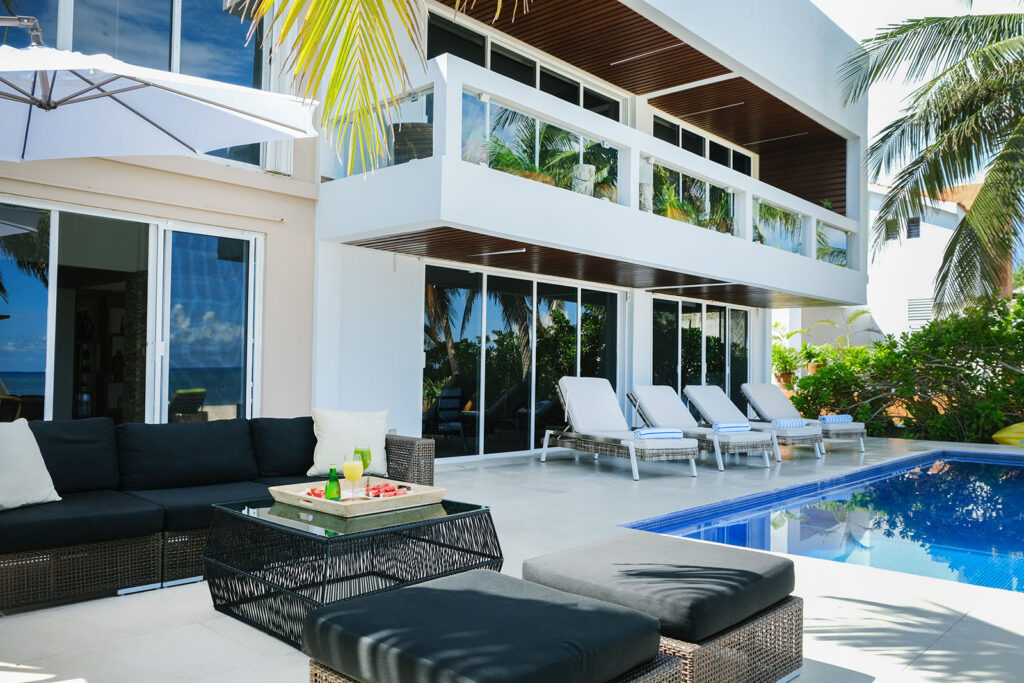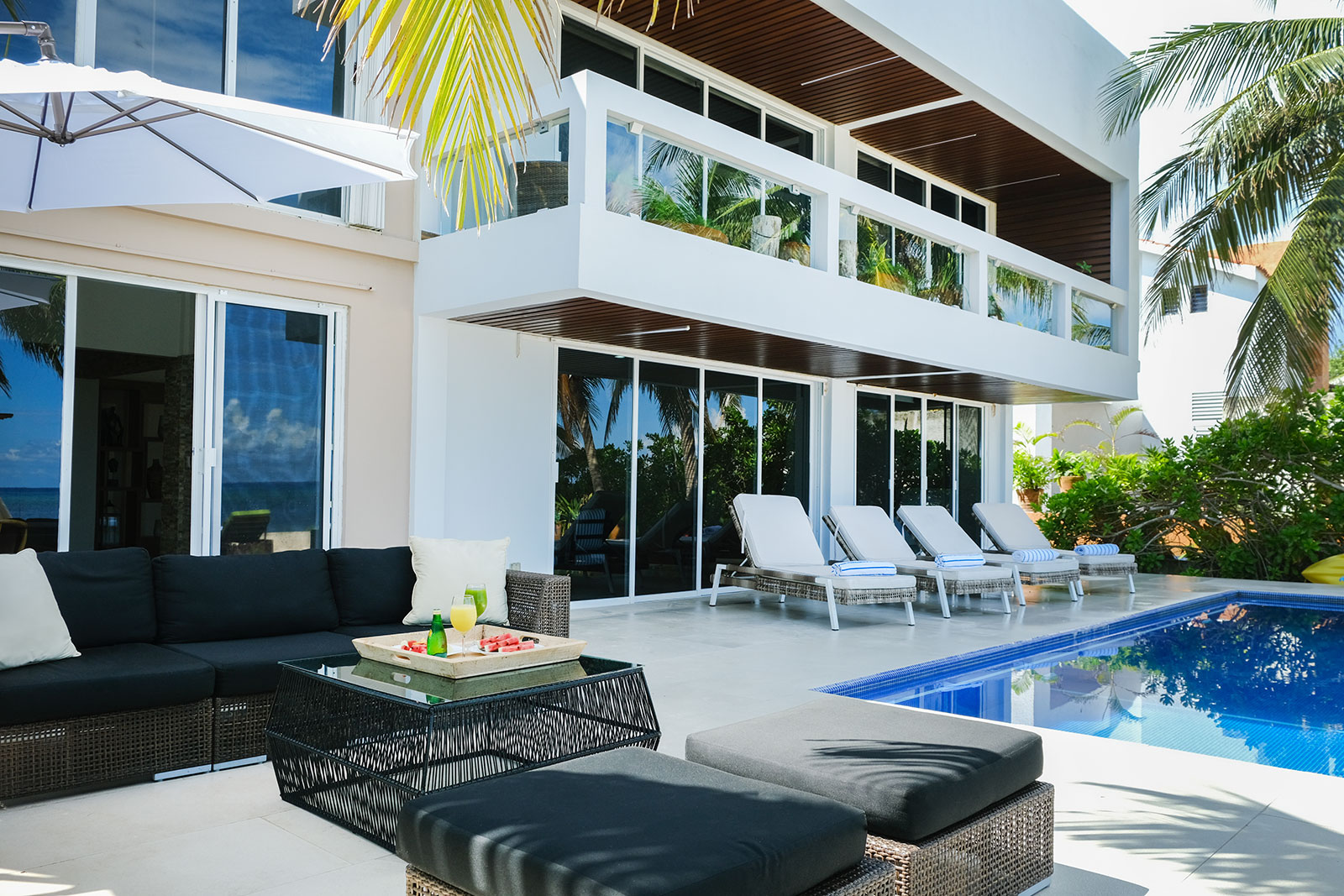 Villa del Sol is the newest addition to the collection of villas on the island. With the same high quality as Villa Grace, this residence offers complete serenity with a calming, seaside location. This majestic, modern home is nestled on a sandy beach and offers four spacious bedrooms and 4.5 bathrooms. Outside, you'll find an incredible oceanfront patio alongside a brand-new infinity pool area that extends the entire length of the home. Furnished with ultra-comfortable, cushioned lounge chairs and an outdoor dining table, guests can relax and enjoy a casual meal.
The villa boasts fantastic ocean views from virtually every room, from the expansive living and dining areas to the fully-equipped kitchen, bedrooms, second-level terraces, and the rooftop palapa patio area. An open and airy floor plan on the main level invites guests to mingle between the living area, dining room, and kitchen as sliding doors open the site to the seaside patio. Every four bedrooms of this house highlight comfortable Ashley memory foam mattresses, luxury bamboo linens, and private ensuite bathrooms. This property is a slice of paradise that can accommodate 12 guests (8 adults and four children) for a pampered, relaxed, and rejuvenating experience.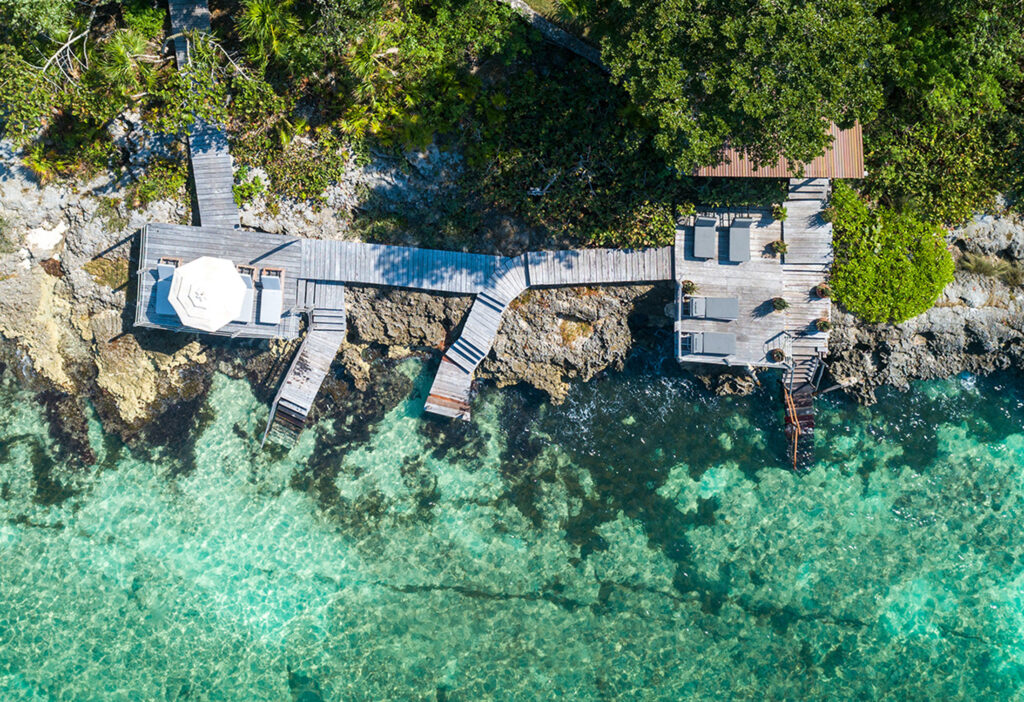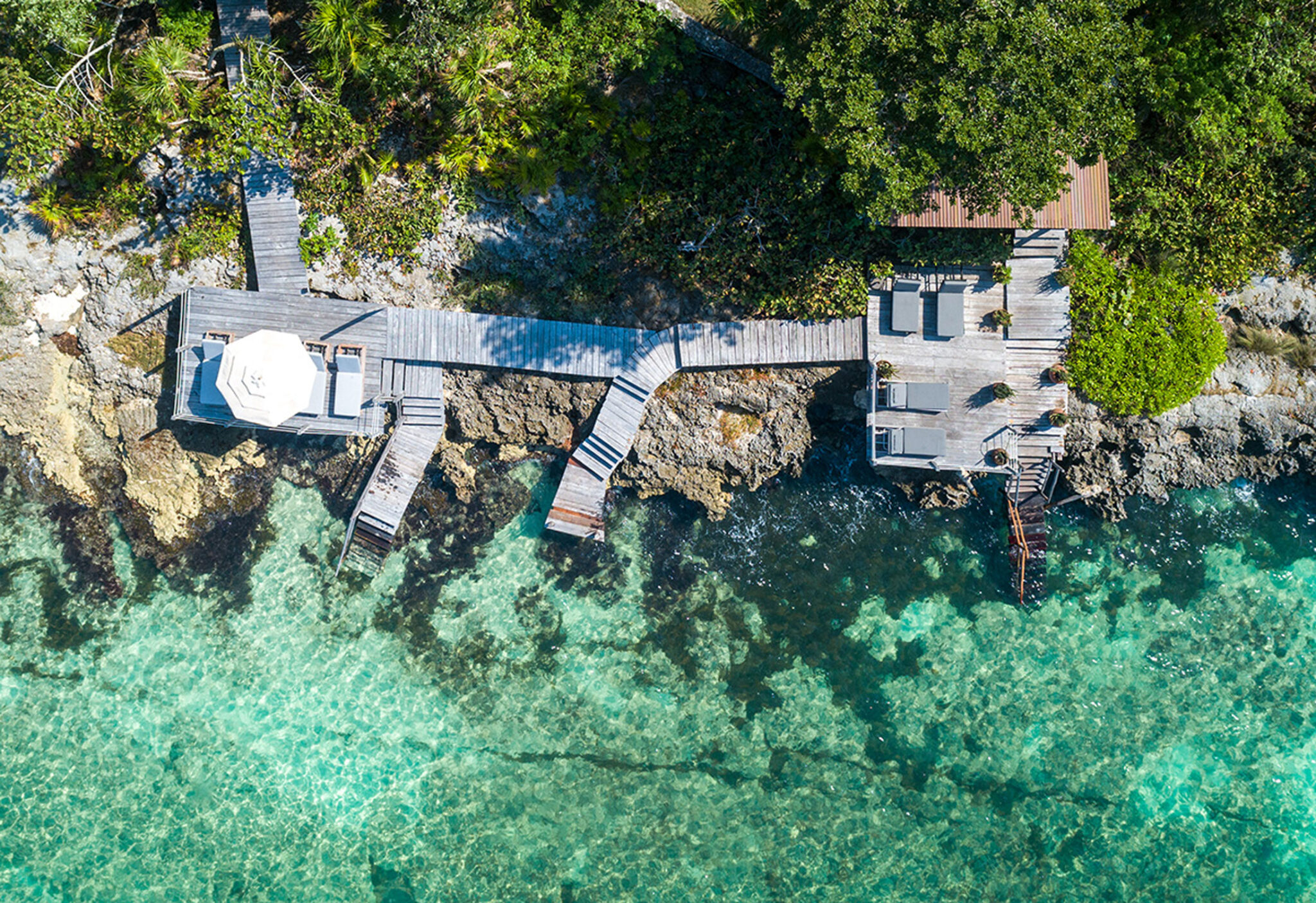 Villas Alma: Villa Sara & Villa Eden
Villas Alma is the fusion of two magnificent beachfront homes that can accommodate up to 22 guests (20 adults and two children). Overlooking one of Cozumel's best snorkeling spots, these impressive villas can be found on Cozumel's west coast, about a 20-minute drive south of the town center. Surrounded by tropical greenery, they boast an incredible stretch of private coastline with two swimming pools surrounded by luxurious outdoor furniture from Bali. As guests enter the gate, they are greeted by a vast, lush garden with palm trees and island greenery. Villa Eden is situated to the left, while Villa Sara is to the right. Despite being two separate villas, they are both open to the backyard garden, pools, and wooden decks on the coast as shared spaces. You may rent the villas individually or together.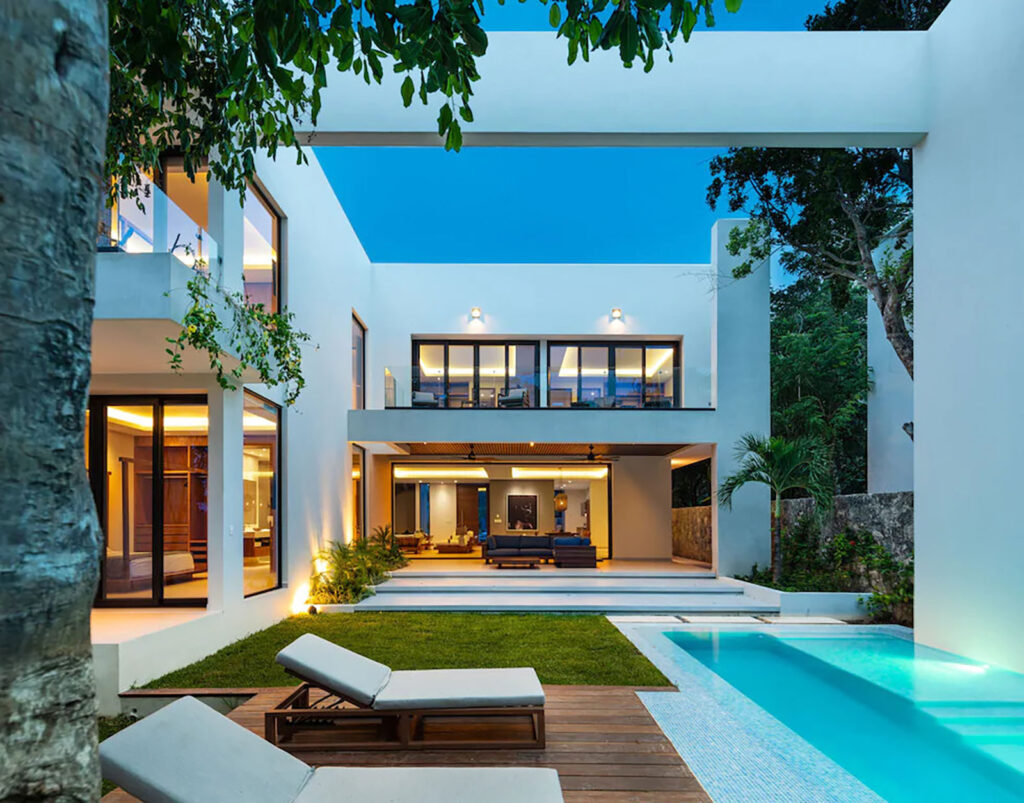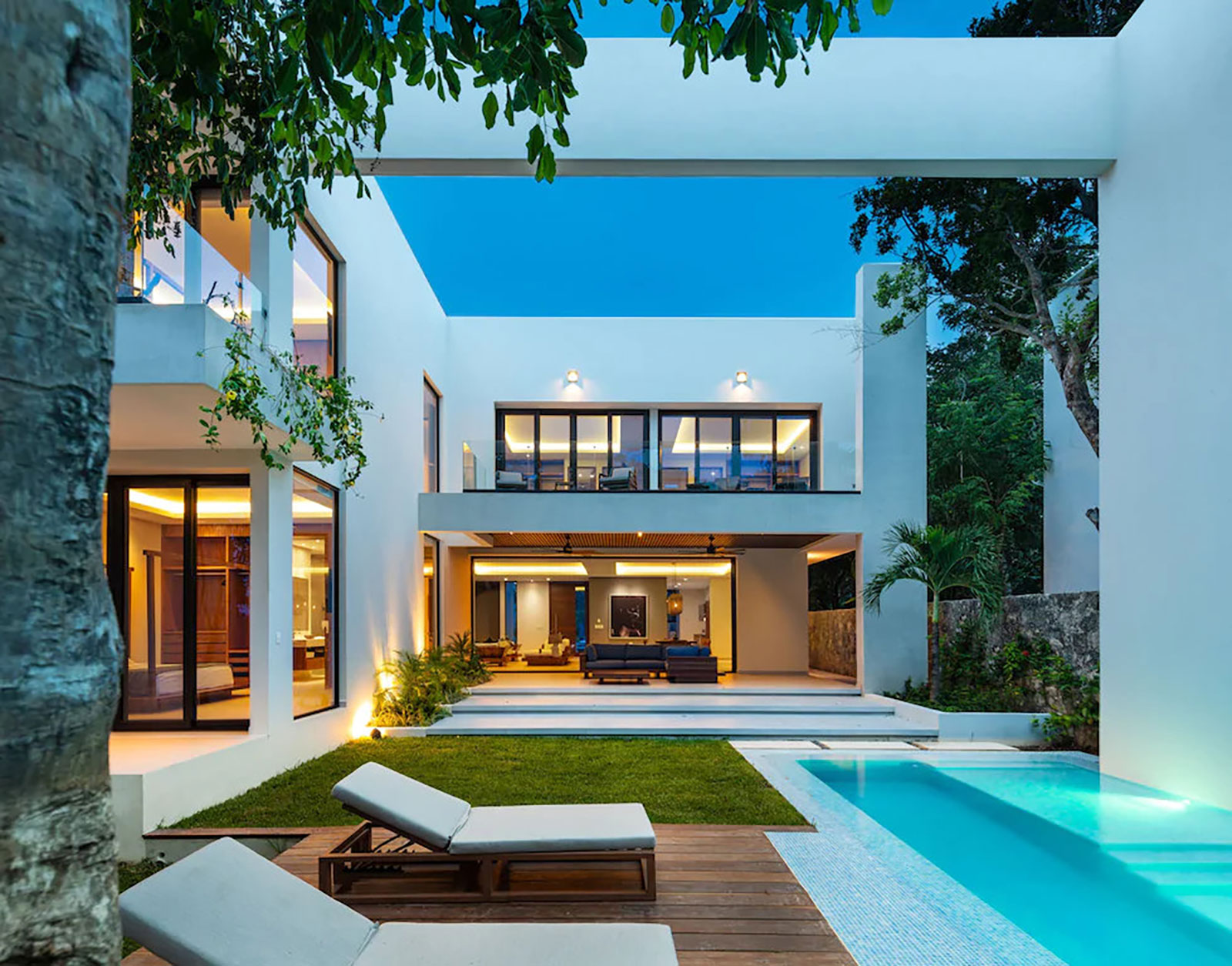 This 7,000-square-foot villa is brand-new and unlike any other on the island of Cozumel. It showcases an expansive, 50-foot infinity pool as the centerpiece, with a wooden deck that faces the lagoon-like Caribbean Sea. Outdoor and indoor spaces highlight fantastic jungle and ocean views from every point. The architecture is exquisite, with open and airy rooms styled with custom-made designer furnishings and contemporary chic decor.
The living/dining area features a vast open-plan complete with locally-sourced hardwood furniture, creating a natural yet elegant feel. There are five oversized bedrooms, all of which have ample patios with garden and ocean views. Also included in each suite are private, spa-like bathrooms with marble or wood accents (some with soaking tubs) and comfortable king or two queen beds. One main suite is located on the first floor, while two more are located on the second floor. Amenities include a dive boat pickup nearby, satellite TV with US channels, a gas barbeque grill, daily maid service, a washer/dryer, and more.
This spacious, modern, cozy villa offers many options to savor the incredible Caribbean Sea views. A furnished, two-tiered deck right on the ocean shore provides an open-air area for tanning and a shaded area with a table for casual meals and cocktails on the water's edge.
Two sets of stairs lead down to the ocean, where there are brilliantly colored tropical fish in the crystal-clear water. You can find outdoor patios just off the dining area through sliding glass doors and one under a palapa near the oceanfront-view jacuzzi. The rooftop terrace features a garden, an observation area, a wet bar, lounge chairs, and a table, making it the perfect spot to soak up the palm-fringed coastline. In addition, the lush backyard highlights a stunning 40-foot swimming pool that overlooks the ocean.
Inside, the villa is adorned with elegant lines, a contemporary yet warm design, and an emphasis on light. Massive windows showcase the breathtaking views while allowing substantial light to shine through. The floor plan is open and inviting, with high ceilings in the living room and a handsomely-crafted stone wall. The dining room features a solarium-style top, creating an environment where guests feel like dining outside in a tropical garden overlooking the Caribbean.
This beach house has five spacious bedrooms in residence. They offer stunning ocean views with king beds, private ensuite bathrooms, air conditioning, and private balconies/patios. Two bedrooms are on the ground level, while three are on the second level. Daily housekeeping is included, and other services are available upon request (private chef service, private boat tours, etc.). Villa Eden is a fantastic choice for a private retreat with friends and family or a romantic getaway.