Tulum Wedding Villa Rentals on the Beach!
Are you looking for wedding villa rentals on the beach in Tulum? Would you like to have a special event or anniversary with friends or family?
You will find the Mahayana beachfront villas right in the heart of the hotel zone, on the Tulum beach strip, where all the action is. The natural beauty of Mahayana Beach Villas and the white sandy beaches are the perfect venue for intimate celebrations, beach weddings, and events.
We offer you five private beach villas with two well-designed swimming pools; Casa Bonita, Casa de las Palmas, Casa Mandala, Casa Gaia, and our newest addition, the Electic Treehouse. This beach house compound can have enough space to sleep up to 25 guests.
​
The entire property is suitable to host events between 20 and 60 guests. In addition, wedding ceremonies for up to 120 guests are allowed. Usually, when booking an event or wedding with us, we require you to book all five villas and a 4-night minimum stay.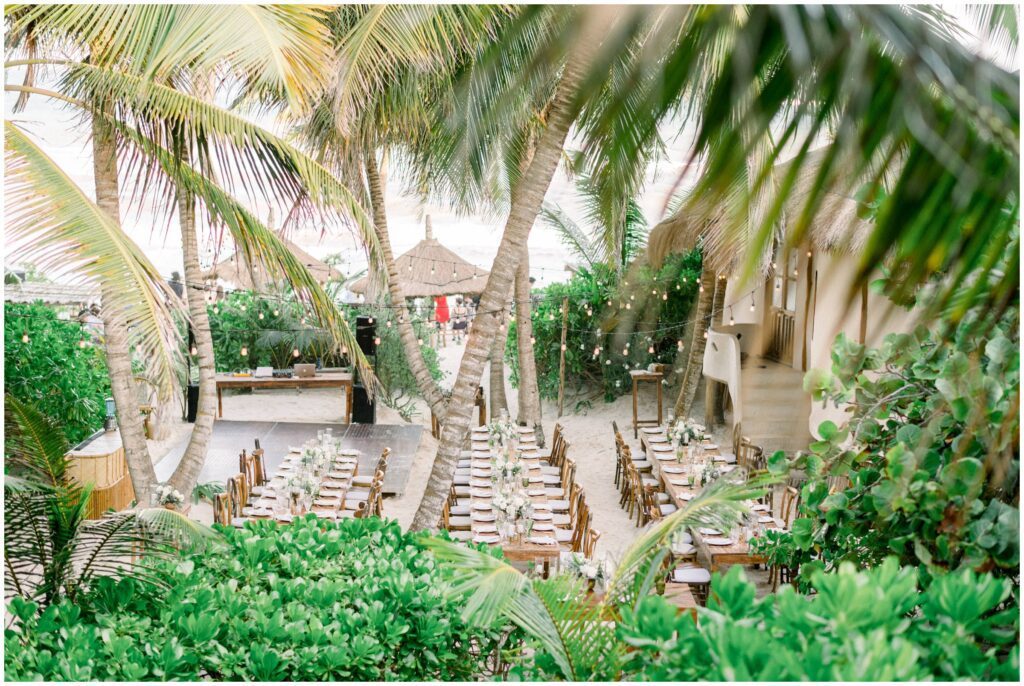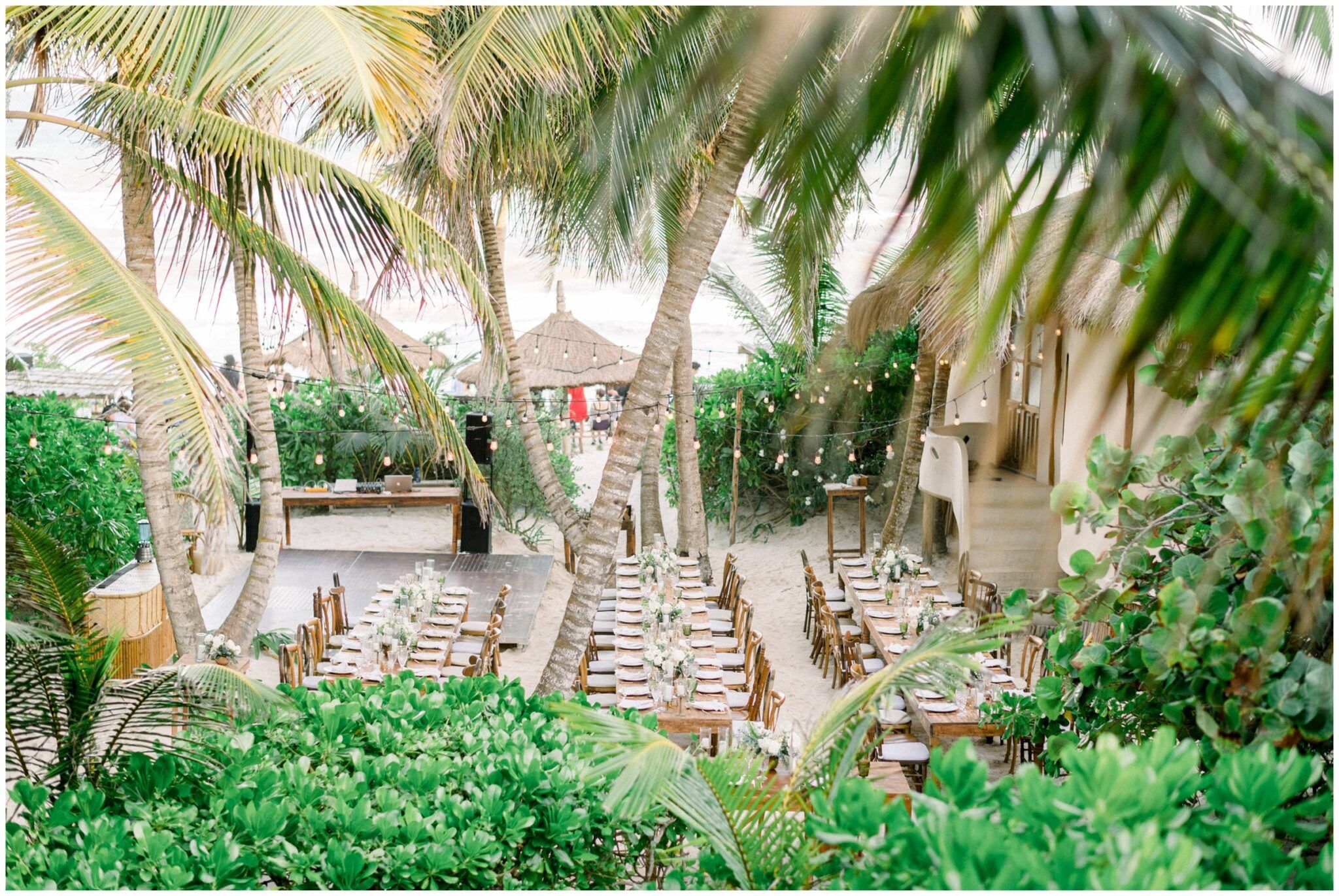 Five Tulum Beach Villas, ideal for Weddings & Events! Discover the unparalleled degree of creativity and design of Mahayana. Unveil the transcendental essence and design of the Mahayana Homes, the new trend in private residential rentals by the beach. This extraordinary retreat is located very close to Tulum's famous strip, at a prime beachfront location where you'll hear the relaxing sound of the waves and have a great ocean view with a whole perspective of the area.
Mahayana showcasing four remarkable properties and a smaller beach treehouse model, these properties have been a hot item from day one. With most units sold during the pre-sale phase, the unprecedented demand surprised everyone. Yet visitors eager to stay and experience a Mahayana beach home can still do it as a vacation rental. Bingo!
From the conception of the Mahayana Homes, the dynamic team of architects was obsessed with perfection. The result was a masterpiece, a spacious area where nature blends in with the properties in a barefoot, fresh environment. The compound has an extensive beachfront pool with every contour and pure organic design dripping from every piece of furniture inside and out the rooms, offering 5-star level amenities like quality bathtubs, super high-speed internet, leading brand kitchen appliances, and supreme comfort bedding. 
Besides having an ocean view, you'll also be just a bike ride from popular restaurants and beach clubs, as the properties sit close to the local chain of boutique resorts. They allow you to tour the beautiful area that continues to attract tourists from all over the world. Unchain your emotions with the powerful melody of the ocean breeze.
The Mahayana Homes enjoy a privileged location in the Riviera Maya, with quick access to numerous private beach clubs and fascinating archaeological sites. In just 7 minutes, you can go into the village of Tulum and explore the local markets. In addition, you can easily spend a day or two touring the towns along the Caribbean coastline. They are primarily small picturesque towns with walkable white sand beaches. If you like to explore other cultures and contribute to the local economies, this could be a great opportunity. There are plenty of things to see and buy in every town. 
The Mahayana Homes sit at La Guadalupana beach, facing the turquoise blue waters of the Riviera Maya and the lovely breeze of the Caribbean. It is a unique place with stunning scenery and one of Mexico's best beaches. We are only a phone call away, give us a call and take a dive for the extraordinary!
Mahayana Beach Homes bring to you all the comfort and luxury you're used to in a very original presentation. You'll find a richly decorated beach home with local ornaments, AC in every room, exquisitely covered terraces, fabulous furniture, top-notch kitchen appliances, top comfort bedding, Nespresso machines, robes, sunbeds, and full access to the beach straight from the complex. 
Not only will you enjoy the amenities and lifestyle of Mahayana, but you'll also get a personalized service while you stay in a safe area with 24/7 operated security. We will customize our services to your needs and demands. So check out our gallery and decide which property is the right fit for your family or group of friends.  
Other services include airport transportation, housekeeping, a personal concierge to book all your activities and buy your groceries, a private chef, and even a masseuse. Some of these services may come at an extra cost, but we'll make sure to let you know what the rental includes and what comes at an additional price. 
Activities
Tulum and Riviera Maya enjoy a bountiful display of natural features, including islands, rivers, jungles, sinkholes(cenotes), lagoons, and several famous beaches. These assets provide for several fun activities such as scuba diving, parasailing, snorkeling, sport fishing, trekking, and horse riding, to name a few. You can also visit the Tulum Archaeological Zone, which dates back more than a thousand years. And well, yeah, let's not forget about the city nightlife, as you'll be close to all the action. You can also set a day apart to tour the art galleries and delight in the rich cosmopolitan gastronomy the city has to offer.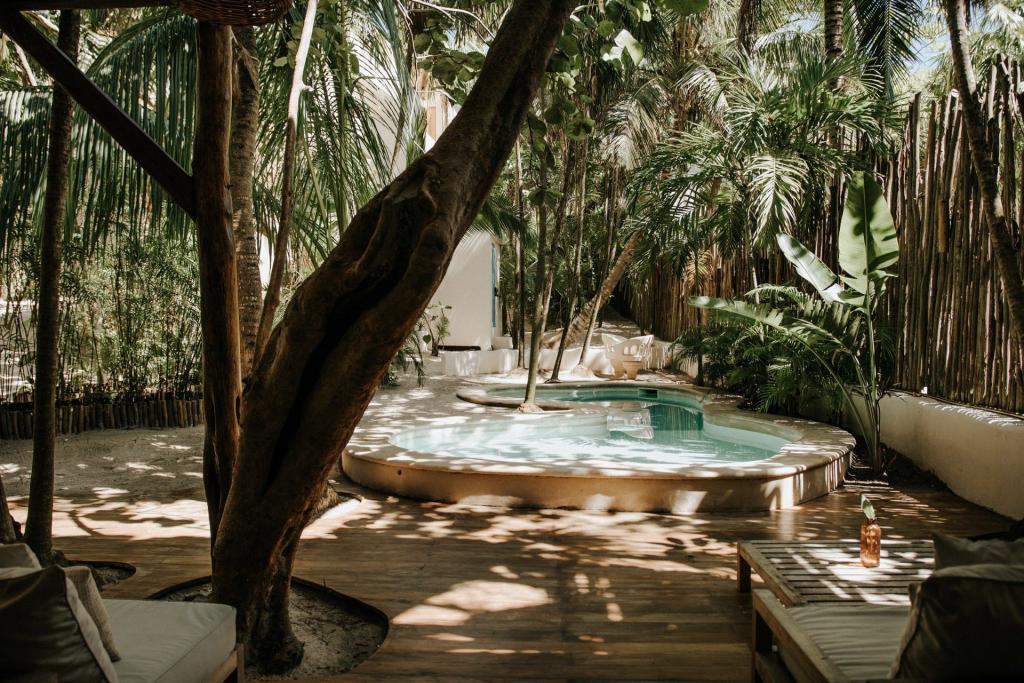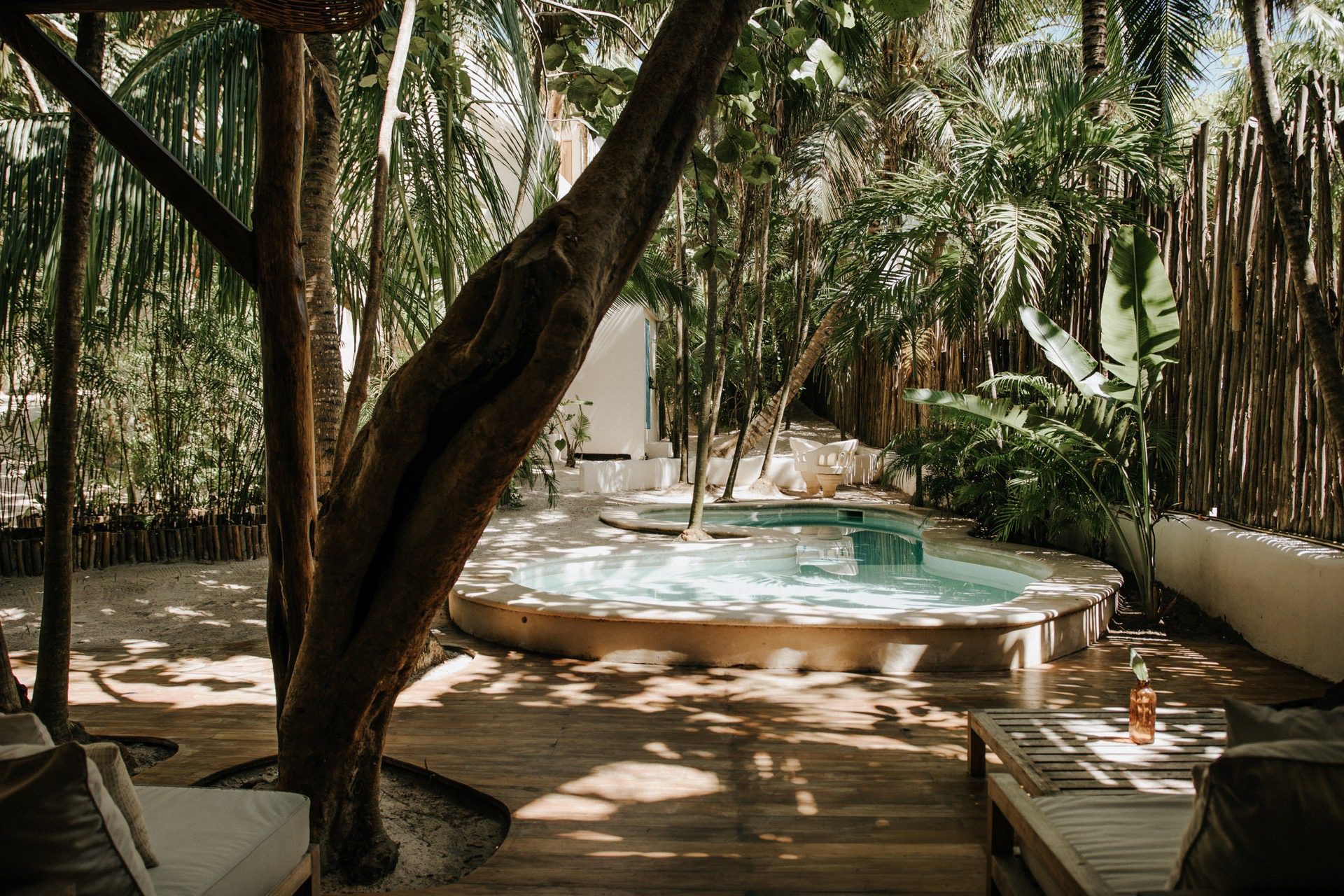 Tulum, where life becomes spectacular!
The highly-rated Casa Mandala is a three-bedroom oasis with a private pool just a few steps from the shallow turquoise waters of Tulum.  You will find this wonderful place in an exuberant, beautiful setting ideal for celebrating weddings! But, if you are not heading in that direction, you can still come here to celebrate life.
This fully equipped property comes with a king-size bed and two queen-size beds, each in a separate air-conditioned room with organic design, natural touches, and local ornaments. All of these particular elements make the overall design very fresh and exquisite. Additionally, all the property's charm comes with a bundle of amenities like high-speed internet, comfortable beds, cooking utensils, a stove, a refrigerator, and a coffee machine, to name a few. So you'll get the whole enchilada for your money.
The open concept distribution of space within the property allows the ocean breeze to flow, keeping the tropical ambiance. The dining area indoors extends to the living area outdoors, where there is a wooden deck and gorgeous sofas to enjoy a great evening with drinks and snacks. A large private pool sits next to the deck, and the beach is 15 steps from the swimming pool. It is that fantastic!
As for entertainment, there is plenty to see and do in Tulum. Especially since you'll be in a boutique hotel zone where restaurants, famous beach clubs, and nightclubs abound for all to enjoy, that's right. However, gardens surround the Mahayana beach homes and lush vegetation; they are also a stone's throw from all the local activity of Tulum. So don't miss any of it; feel free to ask your Villa Experience concierge to book any action for you. They will be more than glad to assist you. So give us a call today and take advantage of our great deals; a Villa Experience agent will be ready to book your next vacation.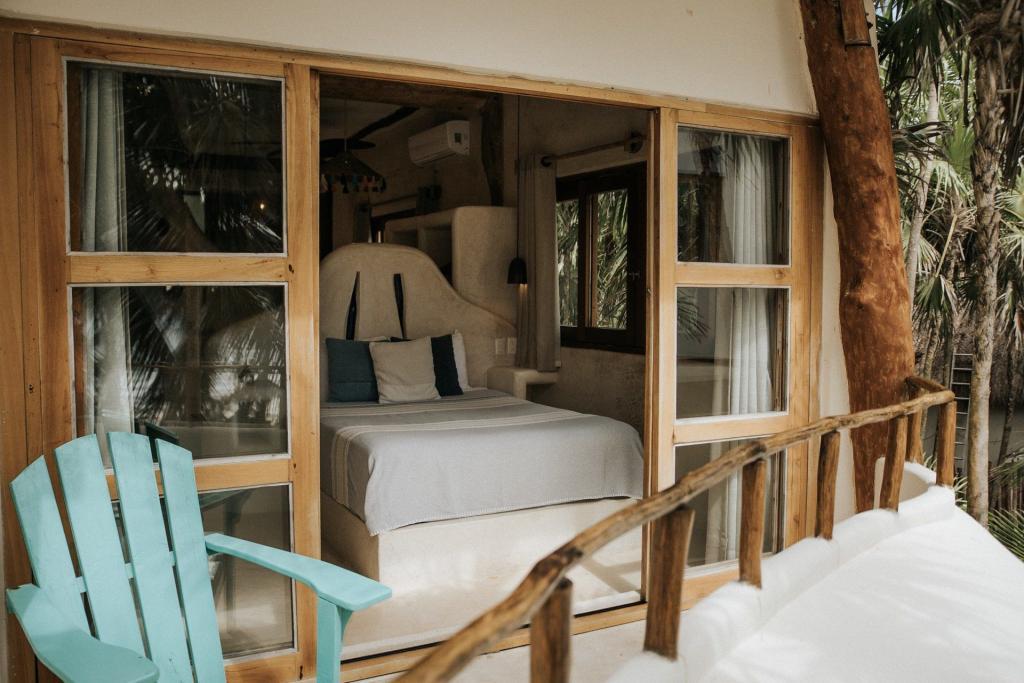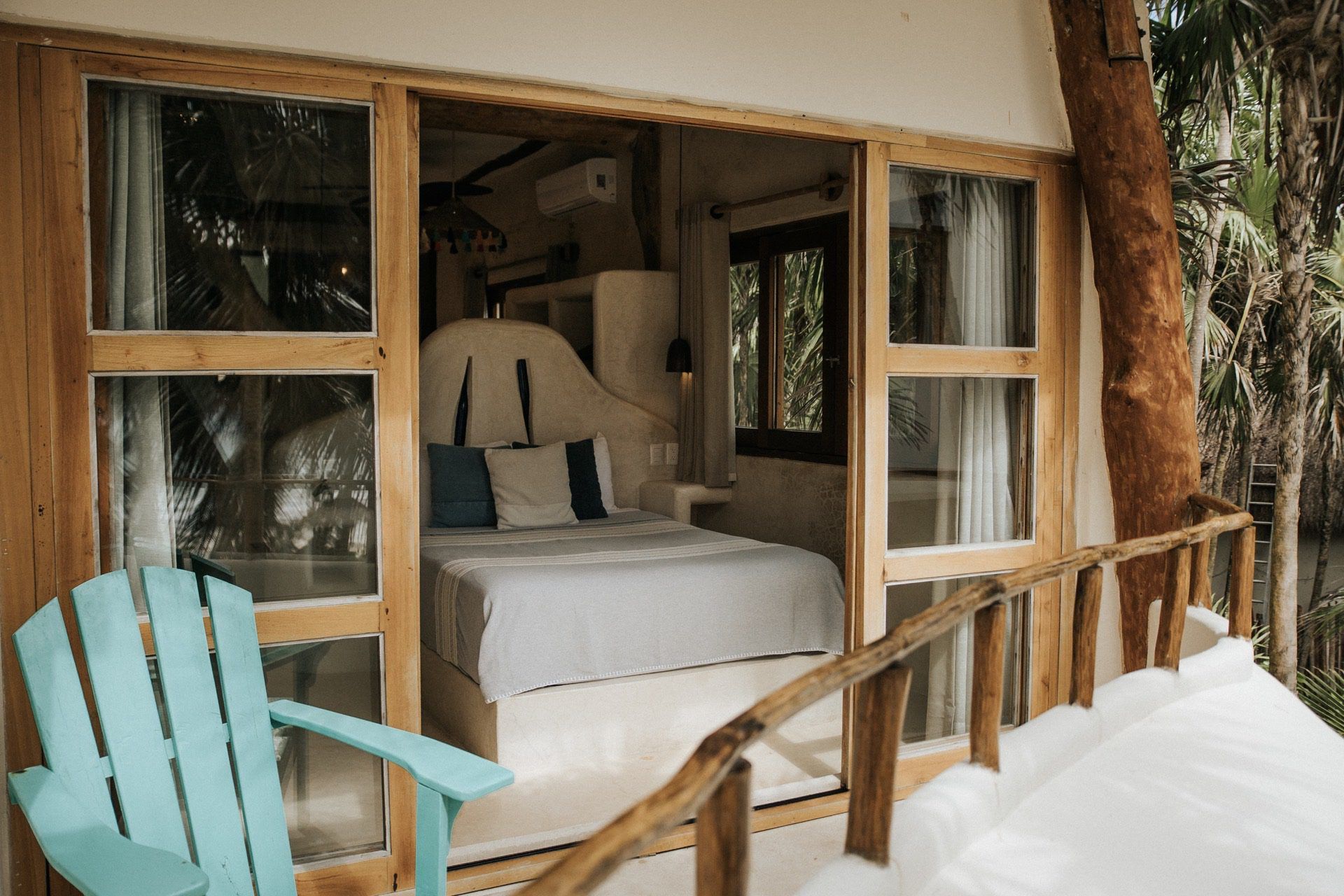 Where all the fun is happening every day, year after year, our guests keep telling us how much they love the properties at Mahayana and giving us the most honest, extraordinary reviews on social media. That is pure music to our ears and a dream come true, as that was the plan from the moment we began promoting these rentals worldwide at Villa Experience.
It's not hard to fall in love with a magical place like Tulum, where the white, fine sand beach and the turquoise water of the ocean are as unique as the Mayan ruins and pyramids along the coast. Once inhabited by Mayan astronomers and curanderos, this peninsula is paradise by all means. A luxury item sought after by selective travelers from all over the world.
Casa De Las Palmas is our largest house at Mahayana, with four full bedrooms and a spacious second-floor terrace for you to socialize or have a good time. So get here with your crew or family and have a memorable vacation. The organic design of the property is just so genuine, so natural, including exotic woods, clay articles, and local fabrics that are just a gift to see. So if you like what you see on our gallery, we are almost sure you'll love it when you get here.
We offer this welcoming property with numerous amenities like fine linen, customized furniture, AC throughout, artistic floor tiles, sunbeds, and all the necessary kitchen appliances for you to cook great food or have someone do it. The rooms have two king beds and two queen beds; there are also some bunk beds, providing space to sleep up to 10 people. The rooms also have ensuite bathrooms for your comfort, and the fiber optic WiFi is excellent to work inside and out of the house. This key feature makes the Mahayana homes the ideal retreat for digital nomads.
And as for fun things to do, places to eat, nightclubs and shops as well as water activities. Well, you'll be in the middle of it all. It's just a matter of whether you head for the beach or step into town. That easy, we promise you'll have one of the best vacations ever.
Waste no time and give us a call today; we are ready to provide you with the best service ever.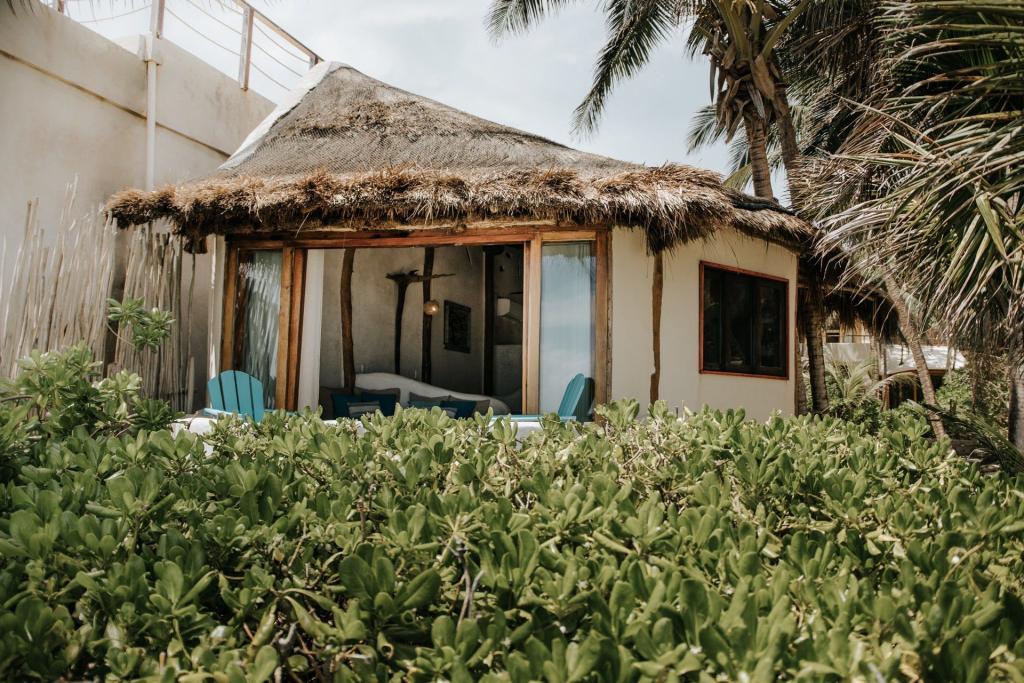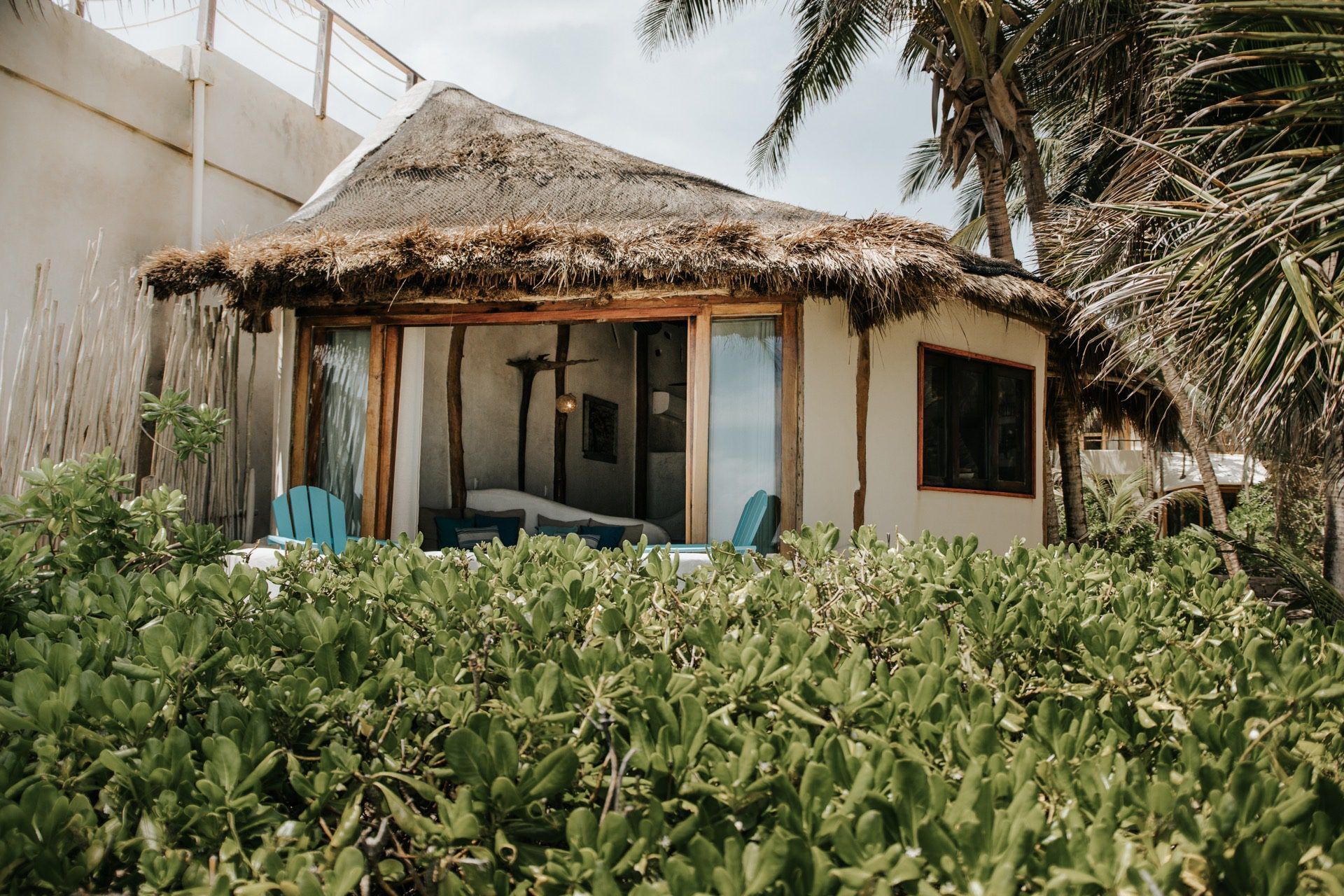 Come and live your love story in this romantic setting!
You will have an unforgettable vacation at Casa Gaia, unique as in Frank Sinatra's song, and we mean it. The unbelievable beauty of this property is worthy of great music or a great movie. Come and live your own story here any time of the year. The Riviera Maya has sunny days year-round for you to enjoy for as long as you want. And Tulum is the ultimate paradise for those looking for a great getaway on the beach.
Casa Gaia has a natural, sublime design particular to the Mahayana homes. It is a one-bedroom dream house right on the beach, ideal for honeymooners or couples looking to renew their love in a particular place.
This charming property has a meticulous interior design, handmade furniture, vaulted ceilings, and local ornaments. Casa Gaia has a spacious living area that opens up to a balcony with a 180° view of the Caribbean. The villa is very close to the shore. As soon as you open the doors, you hear the sound of the ocean and feel the breeze caressing your face. As dreamlike as it sounds, it is all authentic. We always hear from our guests how one vacation here is never enough.
You are only a phone call away from having the vacation of a lifetime; let's do it!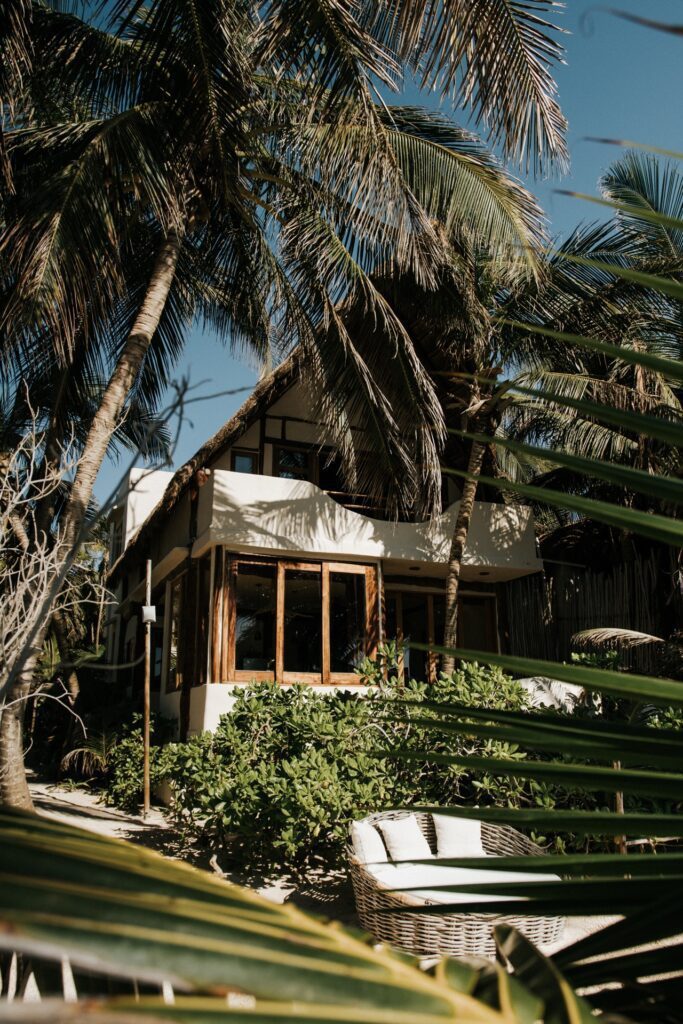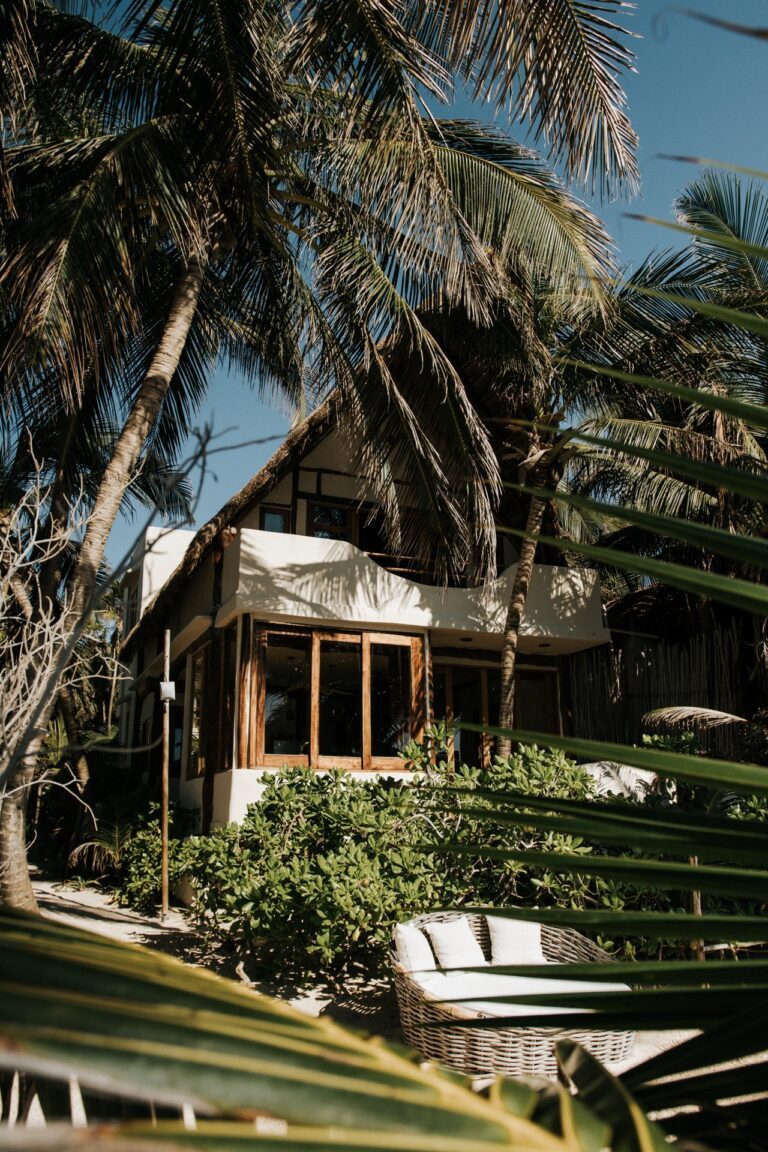 Celebrate life's splendor at Casa Bonita by the Sea.
Imagine waking up to a bright morning at Casa Bonita and stepping out right onto the beach with your cup of coffee or tea! Imagine the feeling of just being able to contemplate the powerful beauty of the Caribbean Sea, listening to the sound of waves, feeling the warm breeze on your body, and the soft sand under your bare feet. Get away from the routine and have a suitable space to clear your mind. It is all possible in Tulum, the ever-popular destination in Riviera Maya.
Casa Bonita is also part of the beachfront estate of Mahayana Beach Homes and four other properties. They are all equally beautiful with distinct differences in size and design, yet they all share majestic gardens, tropical trees, and a beachfront location where you can have fun day in and day out. Remember, there is no such thing as harsh winters here. Instead, it is all sunshine, beach, and fantastic food and drinks.
Staying at Casa Bonita will be a great experience; it has three spacious bedrooms, two with king-size beds and one with a queen-size bed. The airy rooms have AC, ceiling fans, and a very original interior design with fine woods and clay finishings. The large living area is an open concept, ideal for entertaining family or friends and becoming the perfect host or hostess. In addition to this, you'll find all things necessary like kitchen appliances, a stove, a fridge, and leading brand toiletries in the bathrooms, along with quality towels for all the guests. And just in case you need to keep checking your email or doing some work online, we have added a very reliable optic fiber WiFi service.
Activity-wise, there are many things to see and do, from random shopping of local crafts to fine dining and visiting archaeological sites to having a grand time at the local nightclubs. So bring your best moves to the beach and be ready to have a lot of fun. And if you're a big fan of water activities, you'll also have plenty of activities to choose from, like scuba diving, parasailing, kayaking, and more. In addition, we have boogie boards, kayaks, and SUP's at the property for you to use.

We are waiting to hear from you; give us a call today and book your next vacation. We still have some dates available for the season.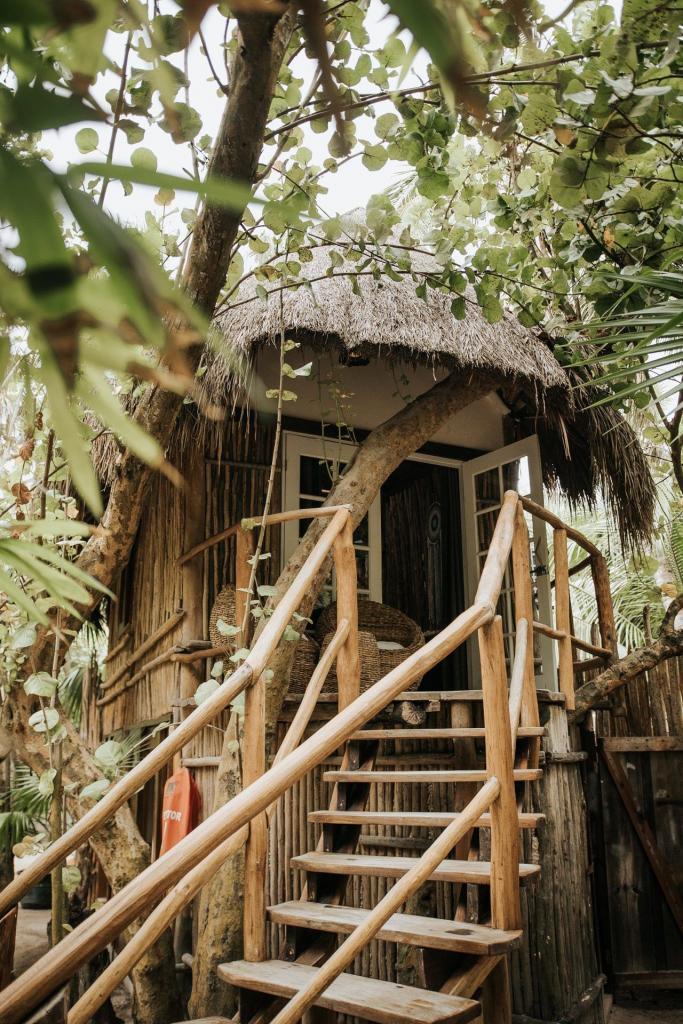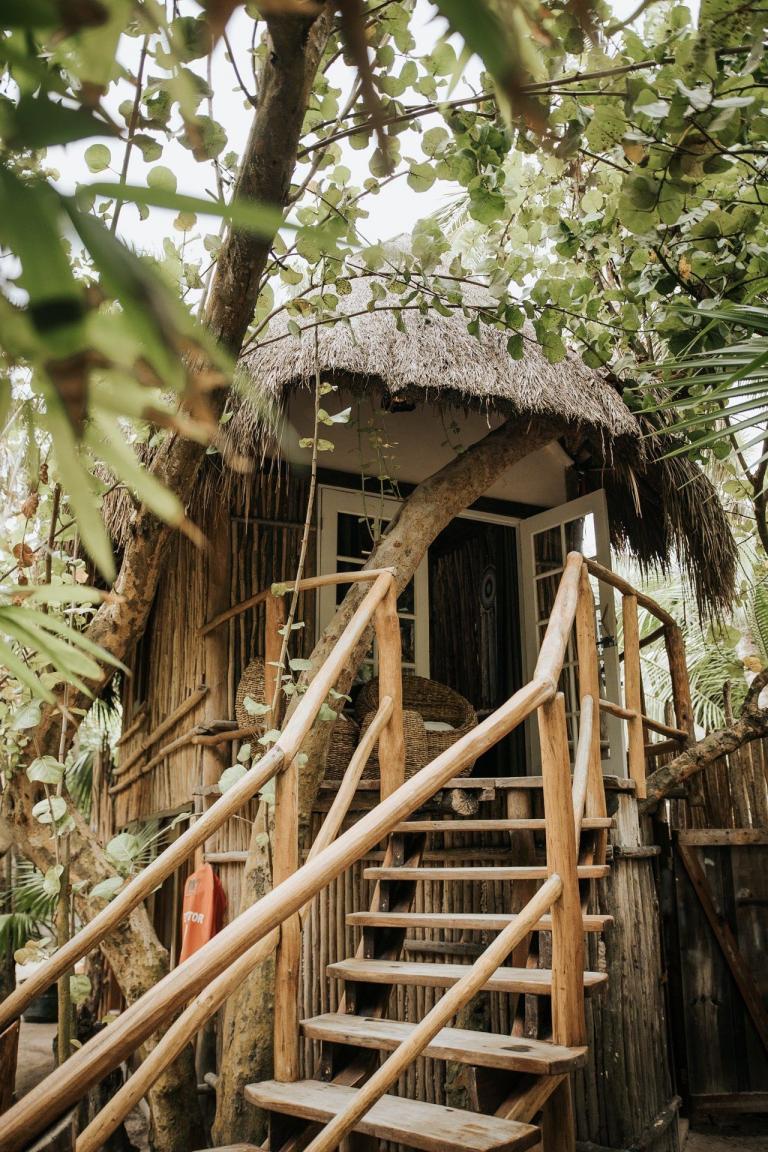 Vacation where life blooms and shines year-round!
We can find poetry in nature if one appreciates to perceive it in all its beautiful ways. The Eclectic Treehouse at Mahayana reunites you with nature in such a powerful way that is beyond words. This unique treehouse has all the attractive facets and a postcard-perfect image, instantly seducing adventurous travelers to inhabit it for a long, relaxing vacation on the beach. The surrounding gardens, curvy palm trees, and the absolute beachfront location are as accurate as you will see in our pictures.
As the latest addition to Mahayana, the Eclectic Treehouse describes it as a couple's cozy nest, a lovers' paradise, and perhaps a retreat for those looking to get away from the busy world and find their inner selves. It is a one-bedroom, two-level unit with a vaulted palapa ceiling and an open concept between the living and dining areas. You won't believe how great it is as you look at it from the outside. But once you climb the stairs from the sandy exterior and get in, you'll be surprised by the level of detail that went into making such a lovely place.

Tulum: where the music of life takes on a different, catchy tune!
This romantic home comes with all the necessary amenities for a short and extended stay. It has AC and ceiling fans for your choice of ventilation, but you can also open the windows and enjoy the natural weather. However, we must let you know in advance that, due to the specific design of the eclectic treehouse, some of the noise from nearby clubs and traffic filters into the house. But if you are a heavy sleeper or are used to camping and the outdoors, this won't be a problem.
Our Event & Wedding fees are the following: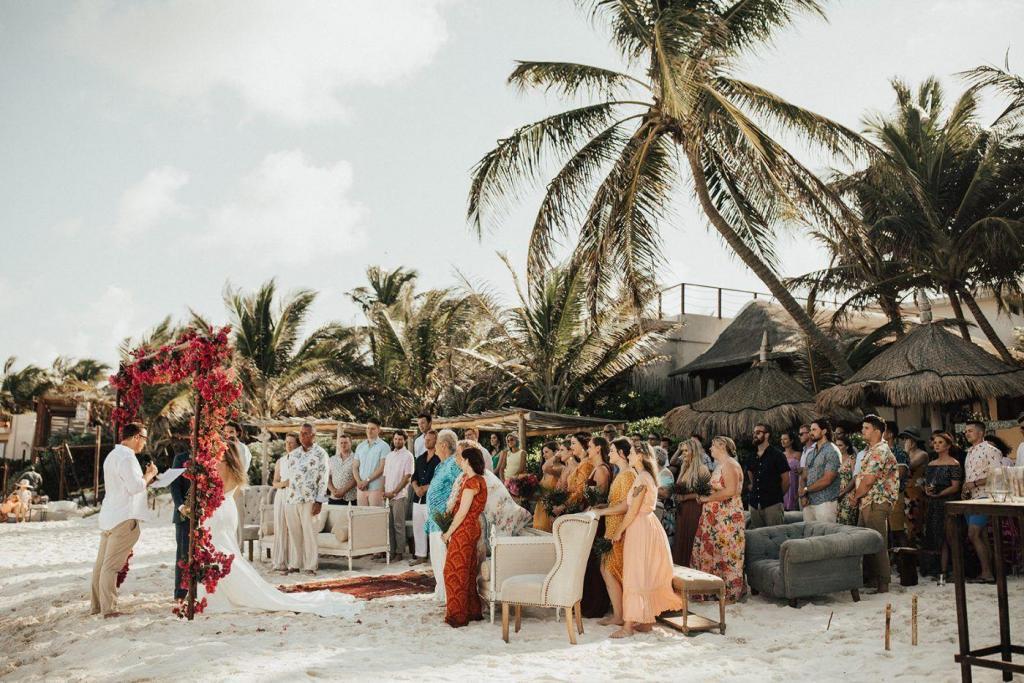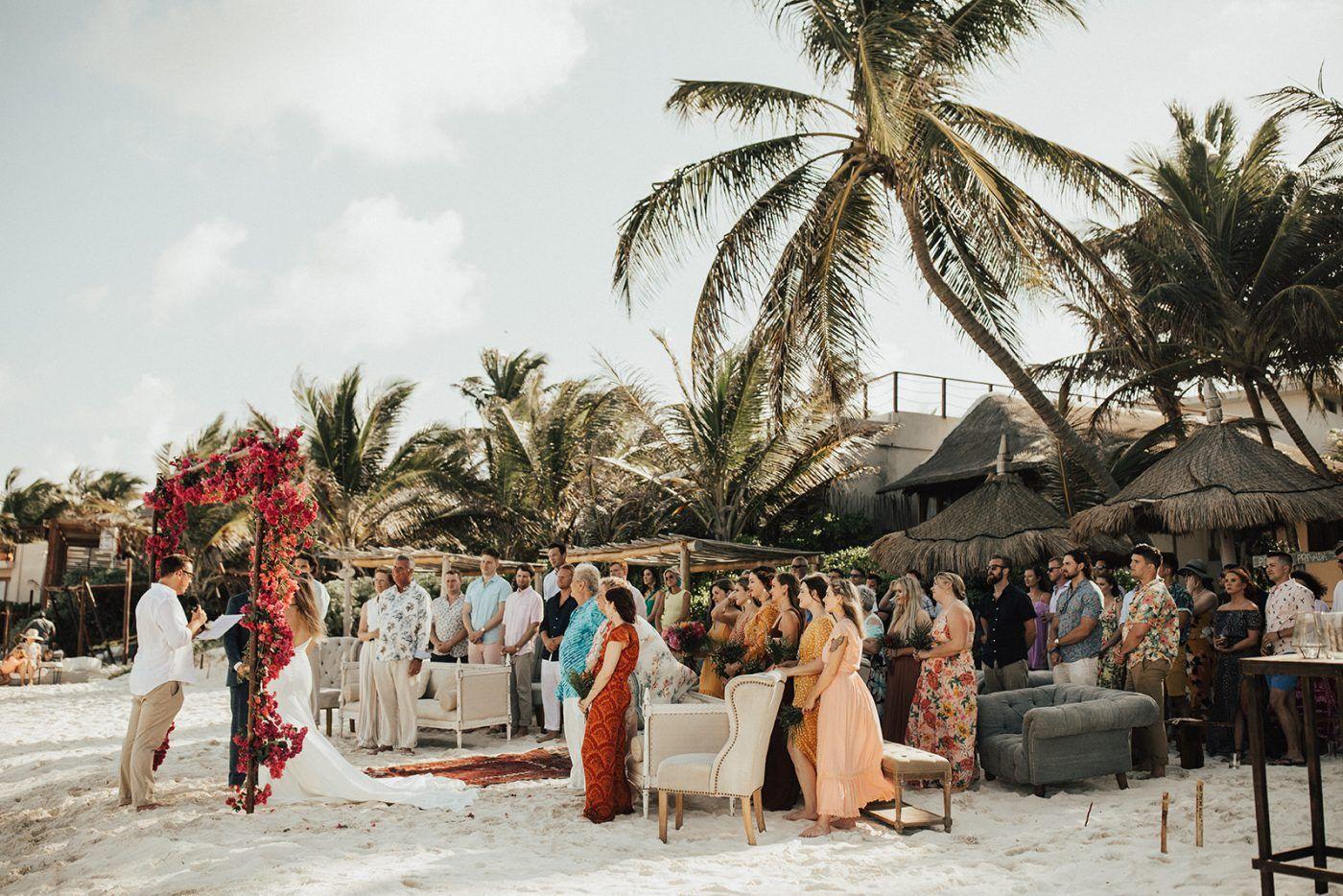 $2500 for a wedding ceremony + reception. 
$500 per additional event. 
Prices do not include the cost of permits or vendors. We only allow authorized event planners and vendors. Please ask us for a list of recommendations!