Riviera Maya Wedding Villas on the Beach
Mexico's beautiful Riviera Maya is home to the resort towns of Playa del Carmen, Puerto Aventuras, and Tulum. It is known for some of the most beautiful beaches globally, crystal clear waters, year-round sunshine, its lush tropical landscapes, and the ancient Mayan ruins. So it's not surprising that the area has also become increasingly popular for destination weddings in the last few years.
What are the types of wedding ceremonies?
No matter if you prefer a civil ceremony, a traditional Catholic wedding, or even a formal, spiritual Mayan Ceremony – Riviera Maya offers it all. A luxury villa is the perfect setting for your dream wedding and, at the same time, sleeps your wedding guests in style. An estate will surpass every five-star hotel for luxury, privacy, personalization, and service at a surprisingly reasonable price point. At Villa Experience, we have a portfolio of magnificent properties suitable for weddings.
Villas feature private suites with en-suite bathrooms, generous and well-designed indoor and outdoor common areas, swimming pools, magnificent ocean views, tropical gardens, and perfect service with house staff and private chefs. Expansive terraces and outdoor lounge areas at the villas are ideal for romantic wedding ceremonies with up to 250 guests.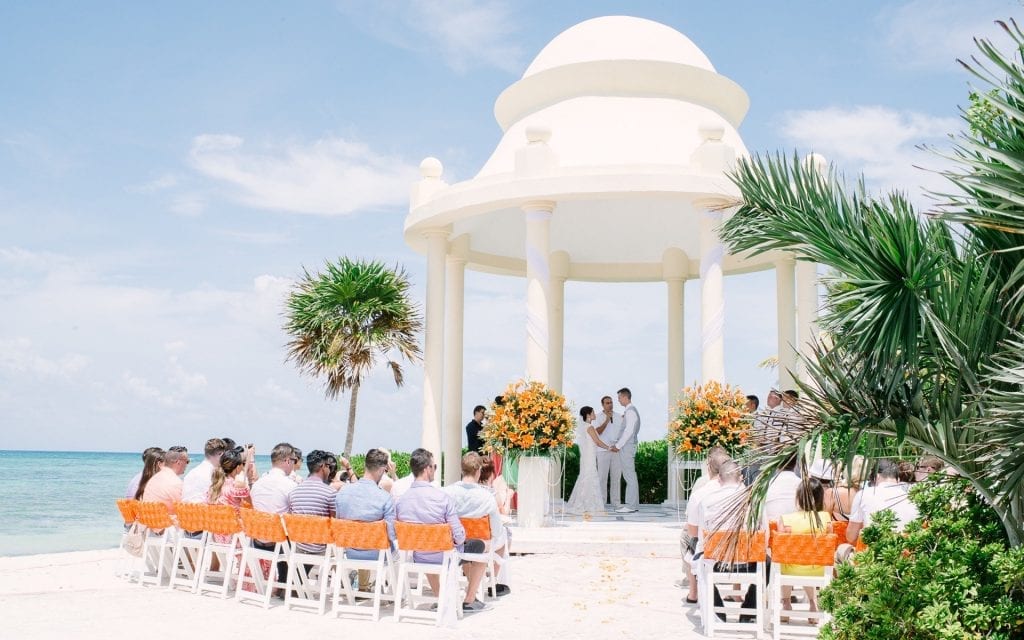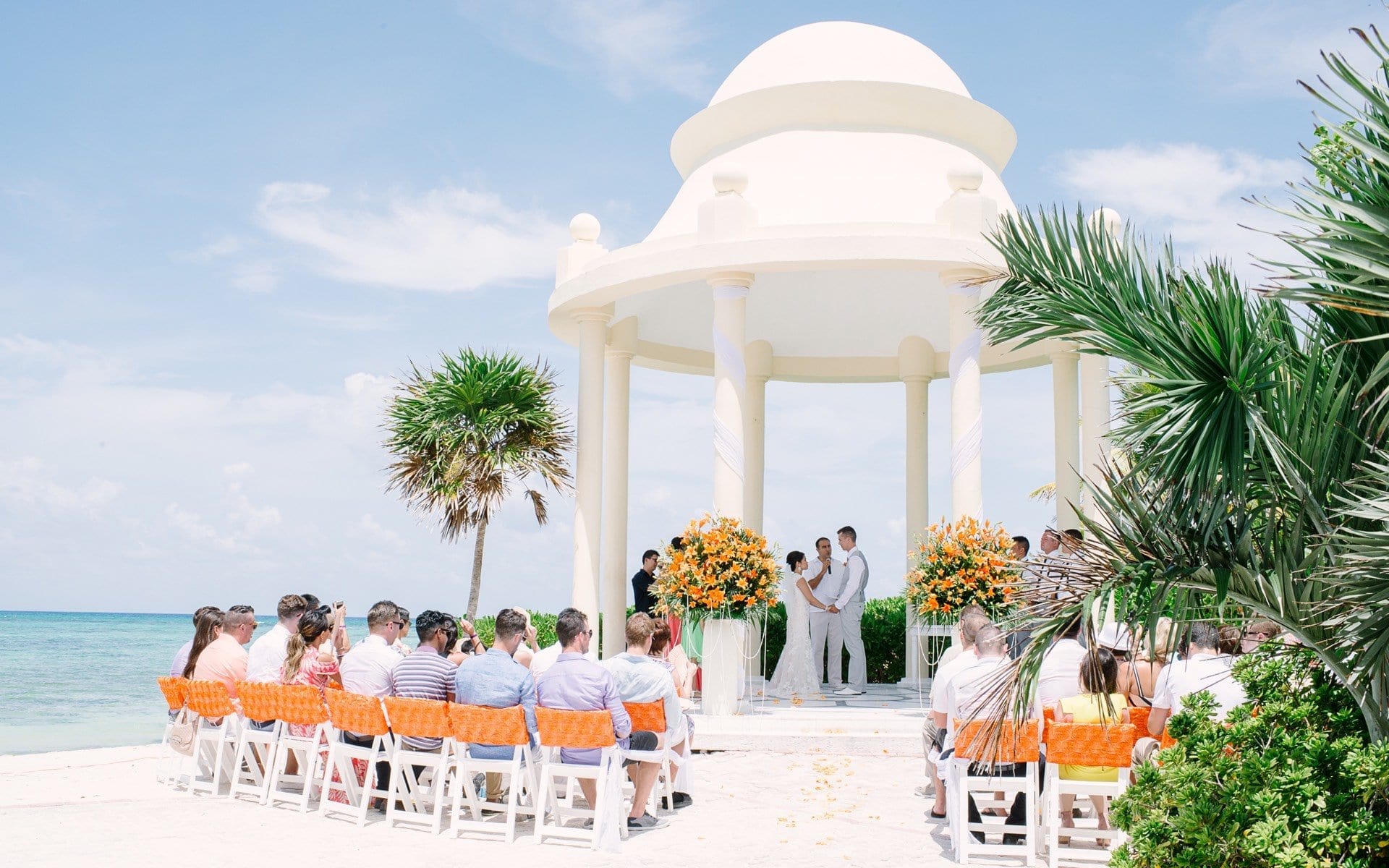 Private villas for Weddings & Events
Our destination experts work with the best wedding planners, local authorities, caterers, chefs, floral decorators, and photographers in the Riviera Maya. We are committed to setting the stage for a perfect wedding and an unforgettable experience for the bride and groom and their guests. We are also connected with the most experienced and creative wedding planners to organize the perfect wedding for you. They will take care of every aspect of the wedding, such as catering, decoration, transportation, entertainment, legal paperwork, etc., to ensure a stress-free, memorable, ultra-luxurious experience for the bride and groom and the groom guests. While a luxury villa is a perfect location for a wedding ceremony, the area also offers many romantic venues for a ceremony outside the villa:
Mile-long, pristine beaches along the whole Riviera, romantic churches and restaurants in Playa del Carmen, or ancient Mayan ruins in Tulum, to name a few options. Riviera Maya also offers tons of activities for the wedding guests, such as spa days at luxury hotels, premium shopping, fine dining and nightlife, fishing trips, golf or sightseeing trips to the ruins, and the rainforest – possibilities are endless. Villa Experience and its local partners have planned almost 400 weddings at luxury villas all over Mexico. Villa Experience and its local partners have planned nearly 400 weddings at luxury villas all over Mexico. We give you a small glimpse of our selection of Riviera Maya wedding villas frequently booked for celebrations and events.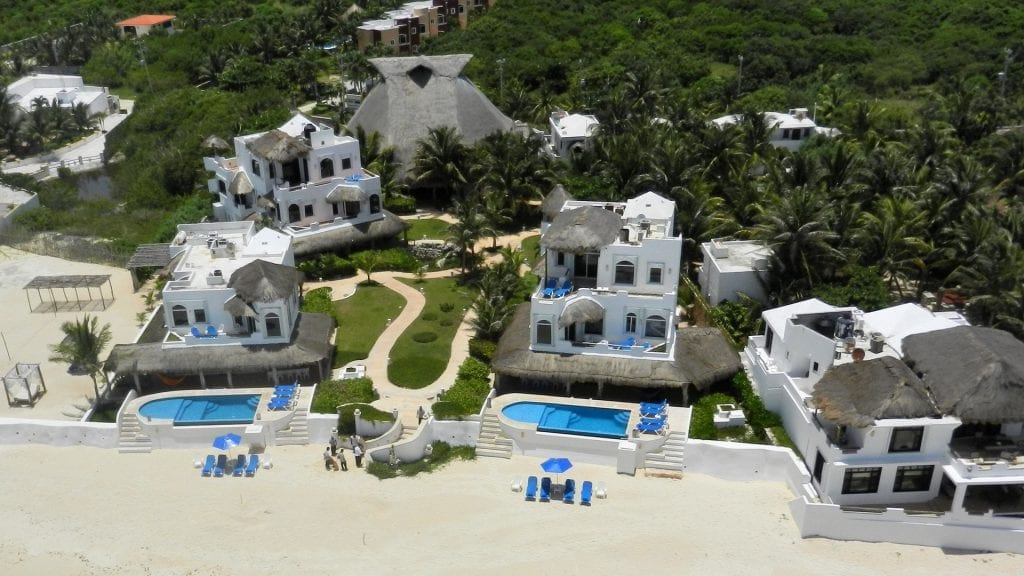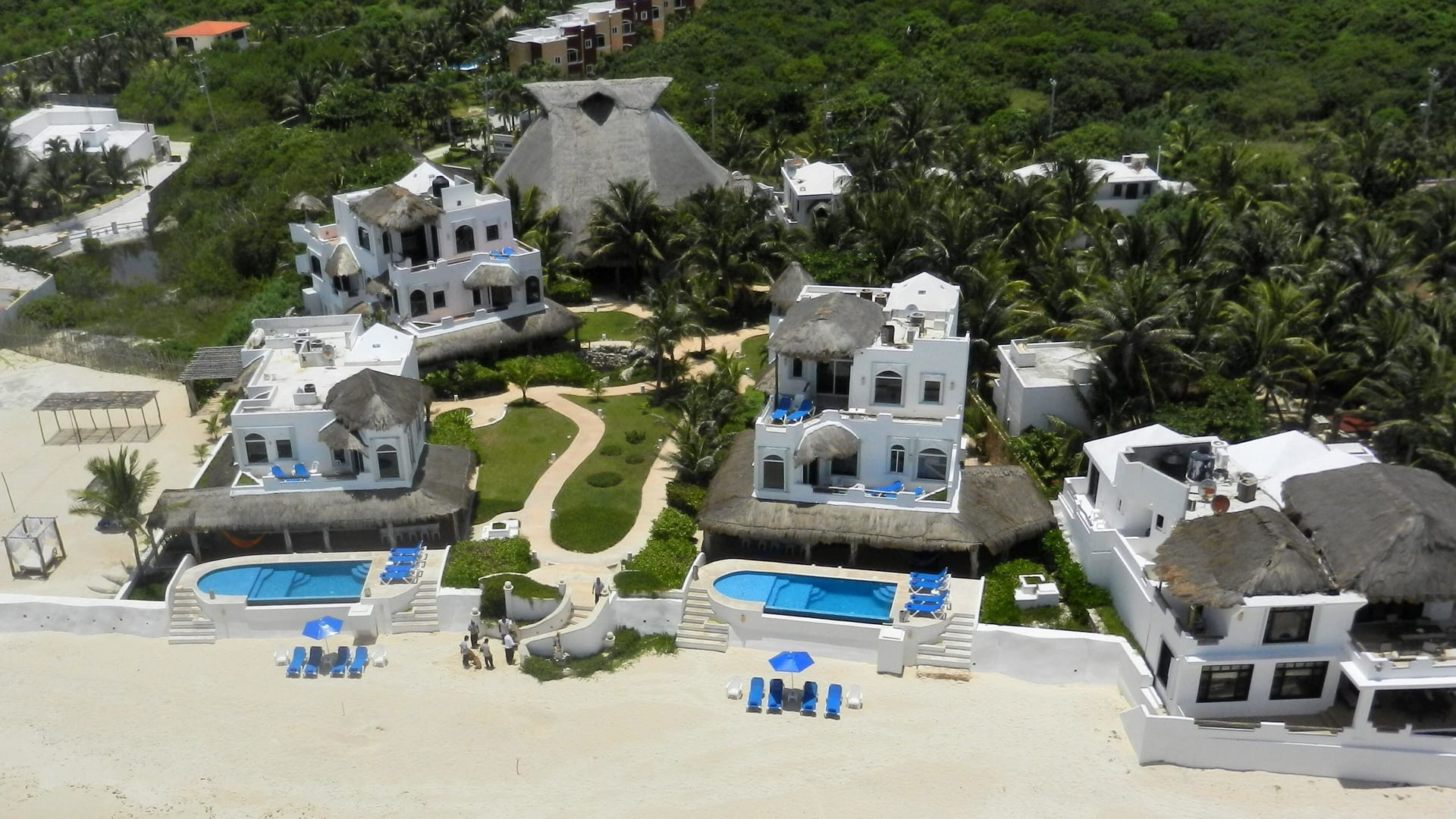 Hacienda del Secreto Weddings
Hacienda del Secreto is a luxury villa-style beachfront estate that can accommodate 59 people. In addition, we can organize group outings and tours. Each home is an independent, gorgeous villa that comes with its staff. There are two venues; Hacienda del Secreto's Palapa Papa Jack and the Palapa Mariposa; they are available to host exclusive events for up to 200 guests. Hacienda del Secretos's unique beachfront location is perfect for family reunions, weddings, anniversaries, parties, and corporate retreats. At Palapa Papa Jacks' we have amenities like a professional sound system, wireless microphones, and cable TV.
Our wedding planner can assist with everything related to your destination wedding. From Mexican marriage licenses to the minister, DJ or band, flowers, decorations, fireworks, catering, you name it. In addition, outside wedding and event coordinators are welcome, especially for those couples who have already pre-selected their wedding planners.
In addition, Hacienda del Secreto is also perfect for other group events, such as family reunions, corporate retreats, class reunions, anniversaries, or other fantastic celebrations. You dream it, and we will make it happen. Wedding and special event prices are dependent on services and the number of guests. Don't hesitate to get in touch with us for more information. For a printout brochure of our service, please click here.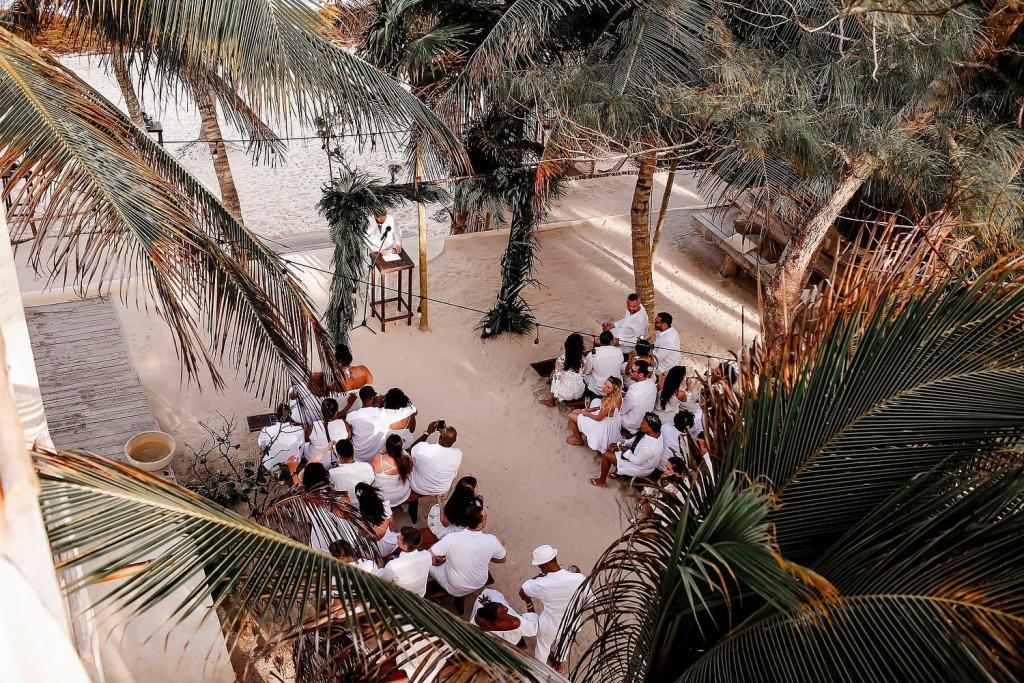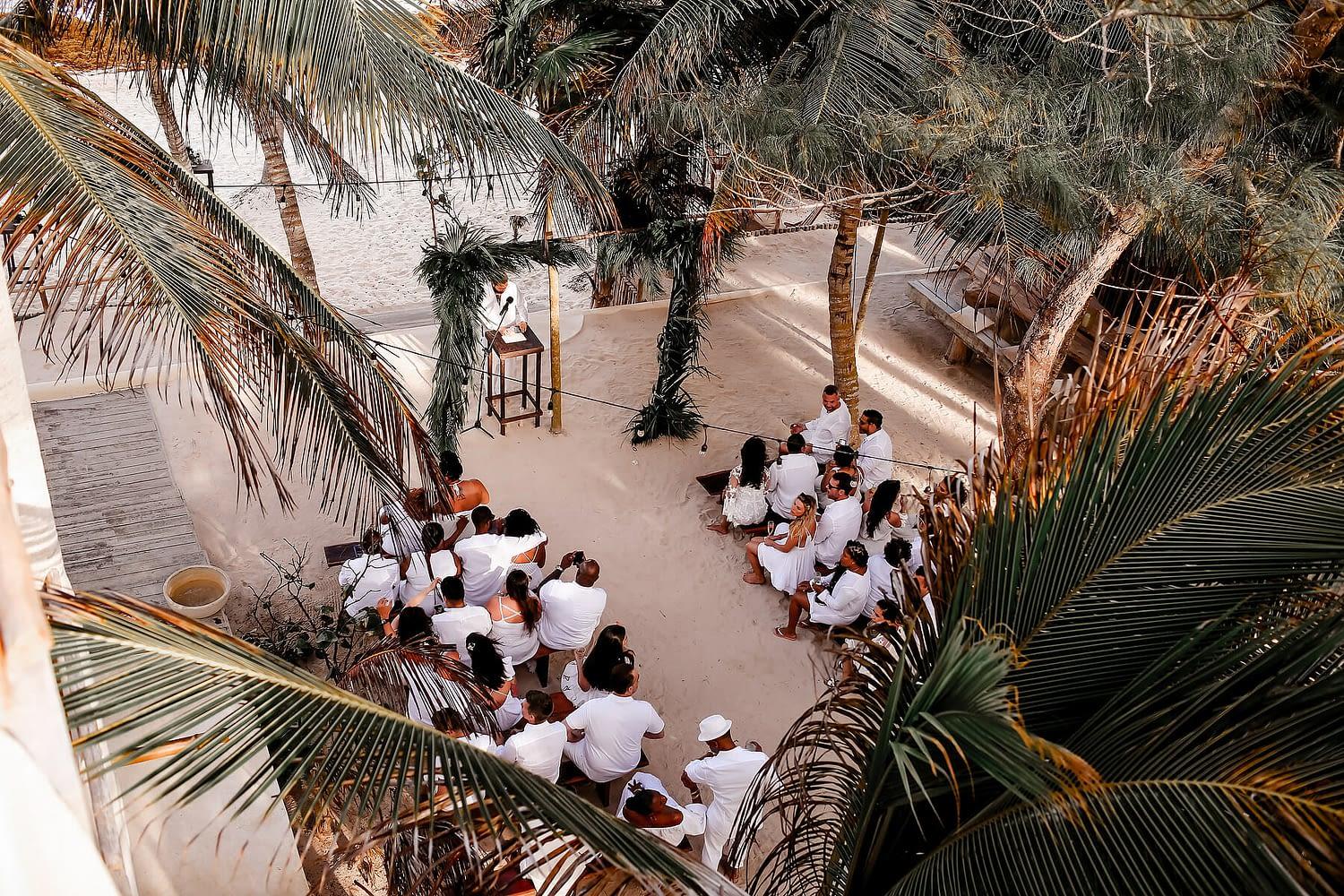 Zorba Tulum Beach Weddings
You are to rent the entire property in the Tulum beach hotel zone. The Zorba Estate accommodates up to 44 guests. We offer five luxury beachfront villa rentals, a luxury penthouse, multiple swimming pools, an expansive rooftop terrace, food & drinks onsite, luxurious amenities, and professional staff. The Zorba Estate has a total of eighteen Bedrooms. All bedrooms, except for one, have private ensuite bathrooms.
Wedding and Event Guidelines:
The property is ideal for events between 30 – 100 guests, but we allow a maximum of 120 guests upon request. 
When renting Zorba Estate for an event, we will require a minimum stay of four nights.

Accommodations and venue only.

We only allow authorized planners & vendors. Would you please ask for our list of preferred planners? 

All events must be preauthorized. 
 Venue fees apply for Weddings + Events:
$3000 price for the wedding (ceremony & reception) or first event. 

$500 for each additional event, such as a Welcome Dinner, Beach Club Day, or Brunch.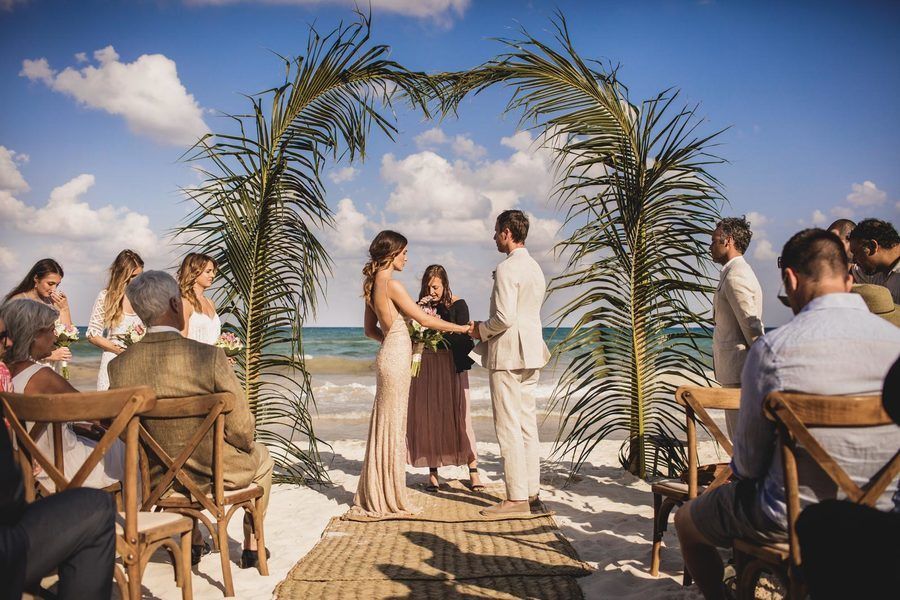 Mahayana Tulum Beach Weddings
You will find the Mahayana beachfront villas right in the heart of the hotel zone, on the Tulum beach strip, where all the action is. The natural beauty of Mahayana Beach Villas and the white sandy beaches are the perfect venue for intimate celebrations, beach weddings, and events.
We offer you five private beach villas with two well-designed swimming pools; Casa Bonita, Casa de las Palmas, Casa Mandala, Casa Gaia, and our newest addition, the Electic Treehouse. This beach house compound can have enough space to sleep up to 25 guests.
​
The entire property is suitable to host events between 20 and 60 guests. In addition, wedding ceremonies for up to 120 guests are allowed. Usually, when booking an event or wedding with us, we require you to book all five villas and a 4-night minimum stay.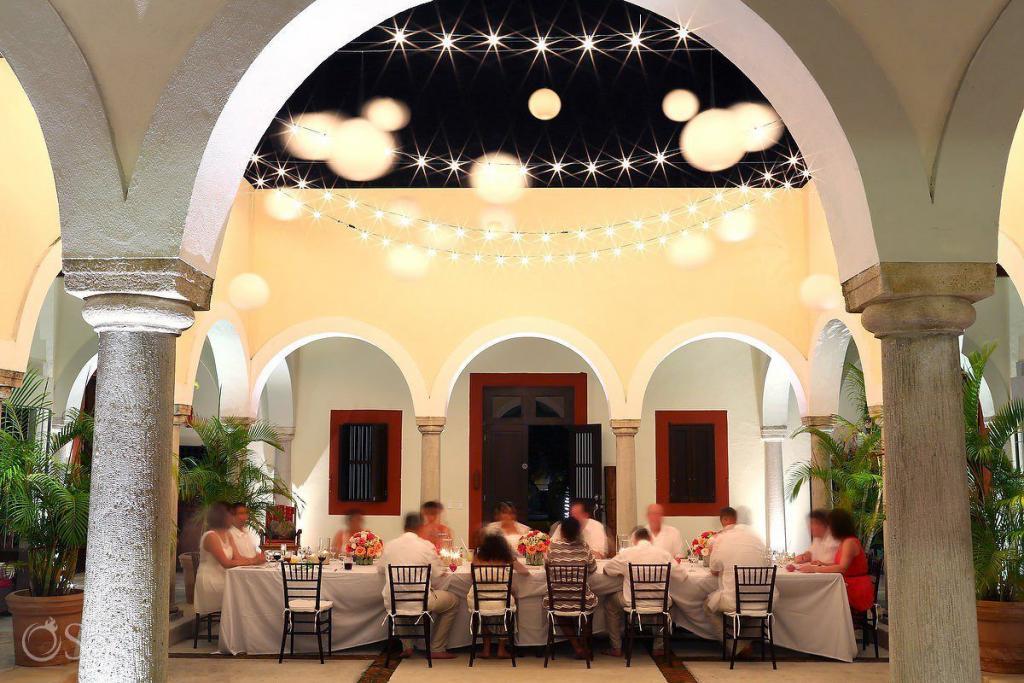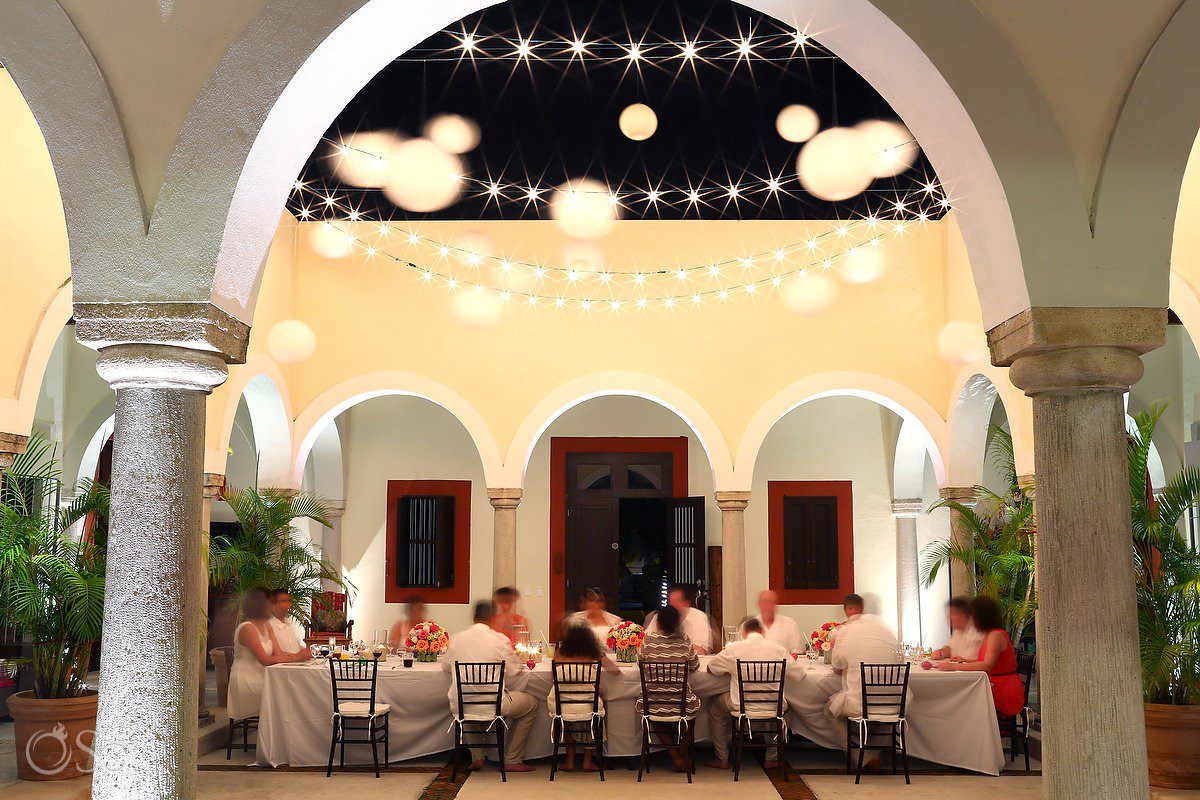 Riviera Maya Hacienda Weddings
The Riviera Maya Haciendas are three large beachfront properties in a gated neighborhood in Puerto Aventuras. This secluded retreat is abundant with enchanting coastal sights and modern, comfortable amenities. Riviera Maya Haciendas can accommodate weddings with guest lists of up to 150 guests and offers a variety of wedding sites to couples.
This venue exudes tranquility and romance, from private sandy beach ceremonies to lavish garden affairs. Couples can choose from indoor or outdoor event spaces for any wedding celebration they have in mind—numerous places around the property offer picture-perfect backdrops for photoshoots. The outdoor areas include romantic courtyards, luxurious poolside settings, and open-air patios.