Destination Wedding in the Riviera Maya
Planning Your Destination Wedding at A Private Villa in The Riviera Maya!
Any of our Villa Experience luxury villas may serve as the perfect venue for a small intimate wedding, a special event, or to house guests for a more significant event.
The Riviera Mayan villas offer their unique backdrop and engaging architectural artistry to create a special place for a foreign destination wedding
When planning your event in the Riviera Maya, you will need to decide whether any particular villa is the ideal location or whether you need a larger venue. Of course, the decision depends on the number of wedding guests and the type of wedding event you want. Regardless, we are here to help you prepare for the big day. Just fill out our form to help you with your event needs. 
As we have helped many guests plan their events successfully, we have created a few steps to follow when renting your Riviera Villa for a wedding or a unique event.
Choose The Date Carefully!
Although the Riviera Maya does not have a substantial rainy season, it can get wet, and we wouldn't want a shower to spoil your special day. The rainy season in the Riviera Maya begins in August, continues through to the end of October, and is also considered the Hurricane season. Even so, the Riviera Maya has been hit by only a few hurricanes.
The late summer is also the hottest time, and it is the season when the ocean is warmest. Warm water conditions provide seaweed with the best conditions to grow, and this natural phenomenon is sometimes overabundant in the summer months on the Riviera Maya.
Of course, the benefit to having a summer wedding is that you can take advantage of low season rates on our villa rentals. 
Whether you choose a beachfront ceremony, something in the villa, or rent a large estate, there is magic in the Riviera Maya. Each villa will vary in the number of people it accommodates, so you will want to have at least a basic idea of the size of the group you are expecting.
A beachfront wedding might be a good idea, but you will want to find a quiet beachfront villa and remember that the beaches in Mexico are publicly owned. We know all of the beaches in the Riviera Maya and can advise you on the advantages and disadvantages.
Most villas will allow for a one-day event, but they may require an additional fee which usually amounts to the amount a night would cost. This cost is in addition to the conventional 3 to 5-night stay stipulated in the description. You may need to consider having an additional villa or venue to accommodate friends and family.
The villa will also come with a security deposit which is fully refundable upon your departure, providing everything is in order and there is no damage. The warranty is usually refunded 2 to 4 weeks after release.
Planning a wedding can be overwhelming so you may need a local wedding planner. We can help you find a wedding planner to take care of the details, which might include:
Additional staffing needs like caterers, bartenders, and wait staff.
Table and chair rentals
Photography and entertainment options
An event planner remains onsite on the day of your event and will coordinate all staff and vendors. As a result, you and the property owner will have peace of mind, and everything will run smoothly.
Consider The Villa Amenities!
The luxury villa in the Riviera Maya is only equipped to handle the guests staying at the villa. You may find there are some restrictions regarding outside visitors, so be sure to check with our concierge service to make sure you have permission to have visitors. Keep in mind that some additional fees could apply.
If outside guests are not permitted to visit the property other than on the day of the event, you might create group activities where you can enjoy each other's company.
In addition, note that most villas are in residential areas, and there may be noise restrictions for the estate. For example, some villas require you to keep the noise down after 10 pm.
Are you ready to find the perfect Riviera Maya villa for your wedding or event? Then, contact us to get started. Please fill out our wedding inquiry form and as much of the questionnaire as possible to match your needs to the perfect villa.
What Other Restrictions Are There?
Once you have selected a villa, we can forward the property's wedding policies. You can review them to see if they meet your needs. Otherwise, you can choose another property as the policy changes depending on the property owner's requirements.
Do I Need a Wedding Planner?
It depends on the size of the ceremony and the details you need. We can recommend an event specialist to help work out the details. For example, if you have a large wedding party, you may need an event planner to find a venue, plan the dinner menu, find entertainment, etc. On the other hand, if your event is small and will only involve guests staying at the villa, you may need the concierge and house staff to help with the planning.
Are There Legal Requirements for Getting Married in Mexico?
Your wedding planner and the concierge can help answer these questions. In general, though, it is easier to take care of the legal requirements of marriage in your home town before departure. Therefore, we recommend you have a legal civil wedding before leaving your country and plan the reception and symbolic ceremony here in the Riviera Maya.
Is a Destination Wedding Affordable for Guests?
One of the most significant benefits of a destination wedding is the people you want to be there. Your best friends and family will attend. On the other hand, people who are not vested in your event will not make an effort to come. Besides, planning your event a year in advance gives guests time to plan and save. A destination wedding is often more affordable than a more traditional wedding.
Can We Rent More Than One Villa?
Many villas are located in the same neighborhoods, and the properties are often within walking distance. It is prevalent for large groups to rent more than one villa to help house friends and family. In some cases, our Riviera Maya villas are large enough to have as many as 39 bedrooms available by using more than one villa. In addition, guests deciding to stay in a hotel will find access to the villa for the ceremony quite easy as most hotels are within a short cab ride from the properties.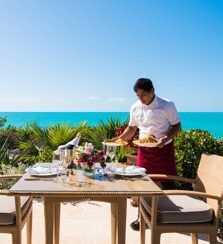 Description of the staff members and services at the villas.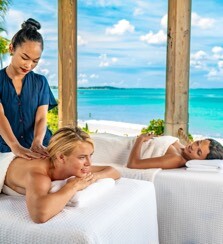 How to take advantage of the Villa Experience concierge services & benefits.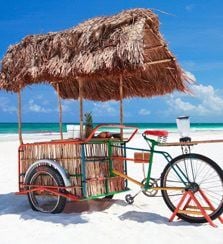 Most common questions about travel to Riviera Maya.