Live Like a Celebrity: Eco-Friendly Villa Rentals on the Beach in Tulum!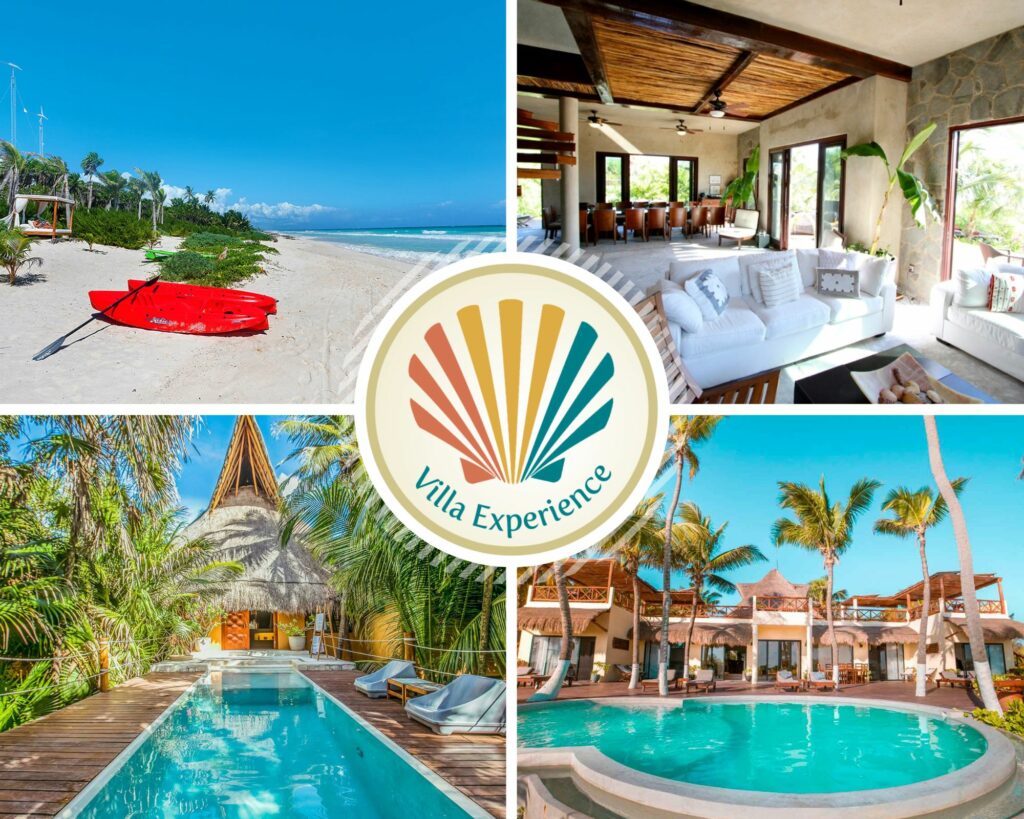 Tulum is an utterly stunning tropical paradise home to palm-fringed beaches, crystal clear, dazzling ocean waters, and exceptional year-round weather. With booming tourism and development, eco-friendly accommodations have become a recent trend to help preserve the unique and fragile ecosystem in the area.
When guests decide to book an eco-friendly villa in Tulum, they can look forward to an extremely luxurious experience where they can reconnect with nature, pamper themselves with an upscale yet laid-back vibe, and indulge in glamorous self-care all while simultaneously maintaining a sustainability mindset. Check out our top 5 eco-friendly villas on the beach in Tulum for your next dreamy holiday getaway.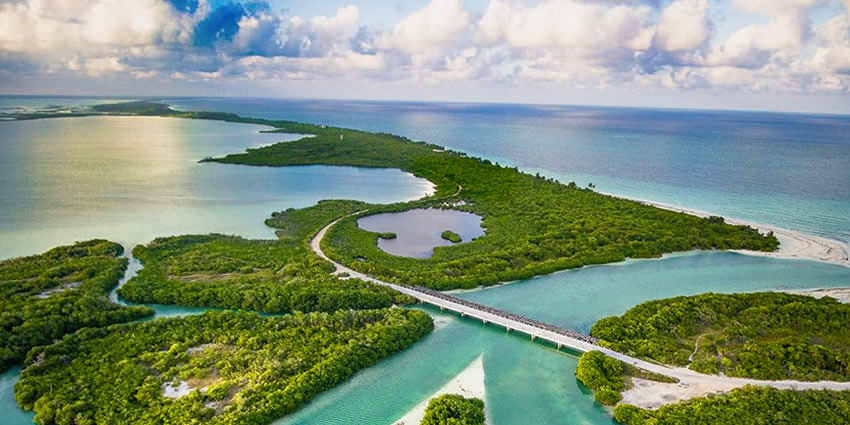 Our top 5 eco-friendly villas on the beach offer the perfect blend of contemporary design, comfort and sustainable practices. These villas feature private pools, spacious outdoor areas, and breathtaking views of the Caribbean Sea while incorporating eco-friendly practices such as solar power, rainwater harvesting, and organic gardens.
Each villa is fully equipped with modern amenities and staffed with dedicated personnel to ensure a truly memorable vacation. Enjoy the serenity of the Caribbean while being mindful of the environment, indulge in the natural beauty of Tulum and make your next holiday getaway an unforgettable one. Browse our selection of eco-friendly villas now and start planning your dreamy holiday getaway in Tulum today!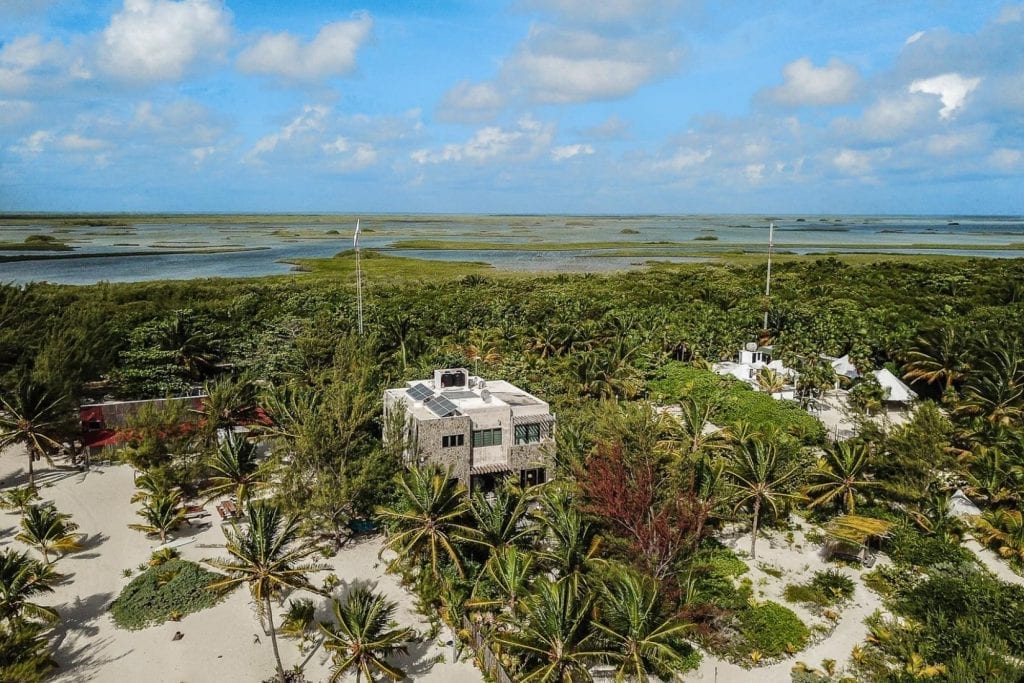 This spectacular estate is nestled on a pristine, hidden, white-sand cove overlooking the Sian Kaan Biosphere Reserve lagoon. Surrounded by lush, untamed jungle vegetation, this serene, natural haven fosters a sense of complete relaxation and tranquility.
Offering unparalleled seclusion and privacy, the prime location provides convenient access to activities and attractions within a short drive. Casa Maya Kaan has two levels and an open concept with a generous living space that celebrates the tropical indoor-outdoor lifestyle.
There are three fabulous bedroom suites, each with a private bathroom and a fourth deluxe ensuite double bedroom with an independent entrance. Finely decorated in traditional Oaxacan style, the spacious and air-conditioned rooms and suites provide an appealing and intimate nest for the distinguished guest. Furthermore, there are seven glamorous bell tents located right on the beach. Each tent is equipped with a queen-sized mattress, crisp white linens, blankets, and decorative pillows.
Maya Kaan includes over 360 square meters of casual living space with an exquisitely crafted wooden deck terrace that can accommodate up to 40 guests for a simple lunch or a tropical evening meal on banquette seating and tasteful textiles. A serene oasis is formed on the property with airy gardens and shade from swaying palm trees. At dusk, candles and fairy lights gently illuminate the grounds, creating an unforgettable dreamscape.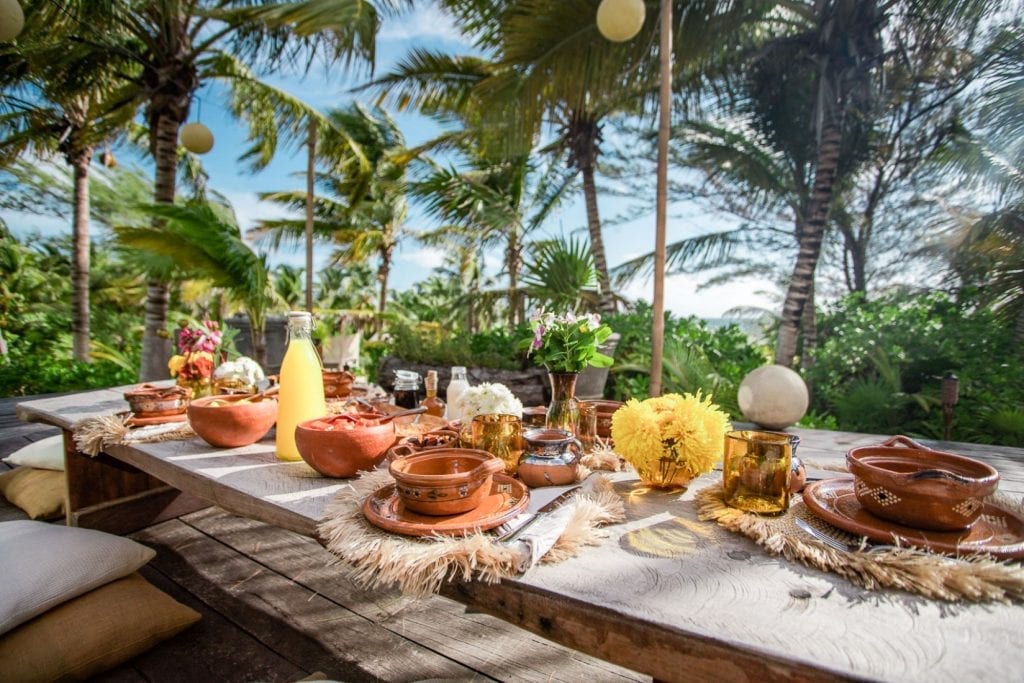 Daybeds and private gazebos await those who spend time relaxing by the ocean on the white sand beach. Indoors, the large living area boasts a free-flow environment with a fully-equipped, open-designed kitchen and dining tables that accommodate up to 14 guests. Designed with organic elements and traditional Mayan artifacts, there is an emphasis on the ambiance of the natural flair and energy flow throughout. The villa's design and amenities create a harmonious integration of the elements in the natural surroundings with a combination of high-end comforts and traditional Oaxacan decor.
The friendly and attentive staff at Casa Maya Kaan provides a personal, exceptional experience that nurtures the mind and body through new experiences and a retreat indulgence. The private chef service crafts delicious, nourishing, healthy food while catering to all health and dietary requirements. As a result, guests receive a truly memorable dining experience with an eclectic mix of culinary traditions and the best from the land and sea.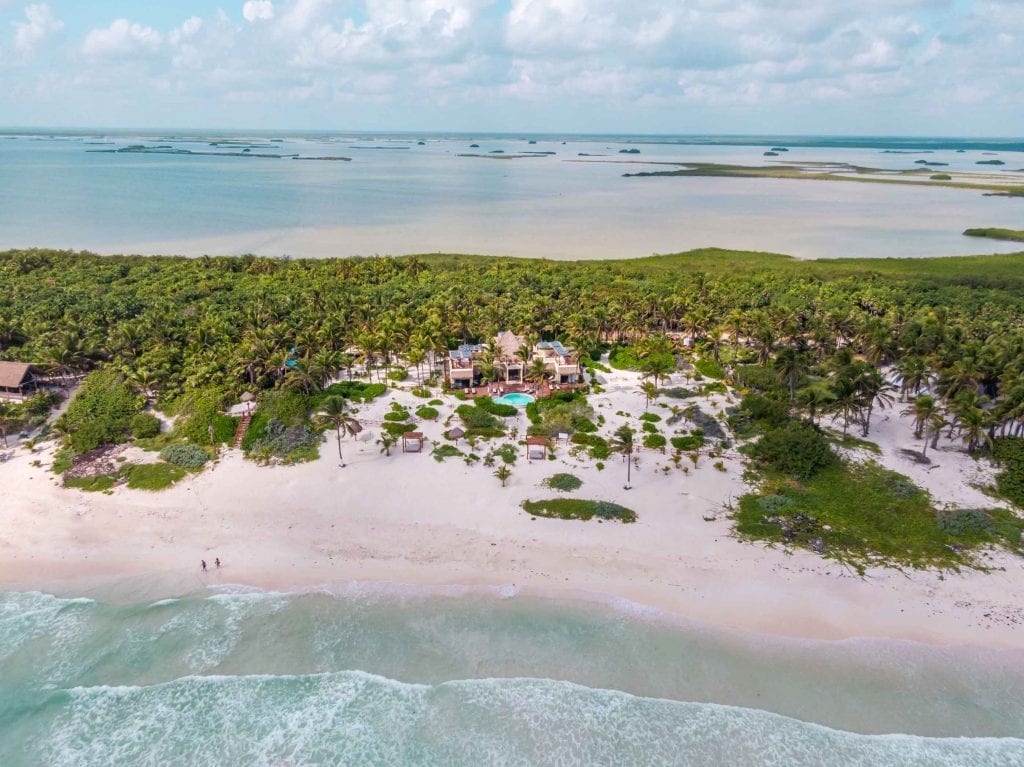 Villa Playaakun is a little piece of paradise located at the Sian Ka'an Biosphere, just 30 minutes from Tulum town and 10 minutes from the Tulum hotel zone shops, restaurants, and bars.
Surrounded by coconut palms and lush vegetation, this villa sits on a pristine, Caribbean beach in the front with a calm and serene natural lagoon in the back. Built according to strict Ecological Building Standards, all electricity is sourced from solar panels with a backup generator used in extreme circumstances. Three filters are used to treat organic waste on-site, while recyclables are separated and utilized as organic food for plants.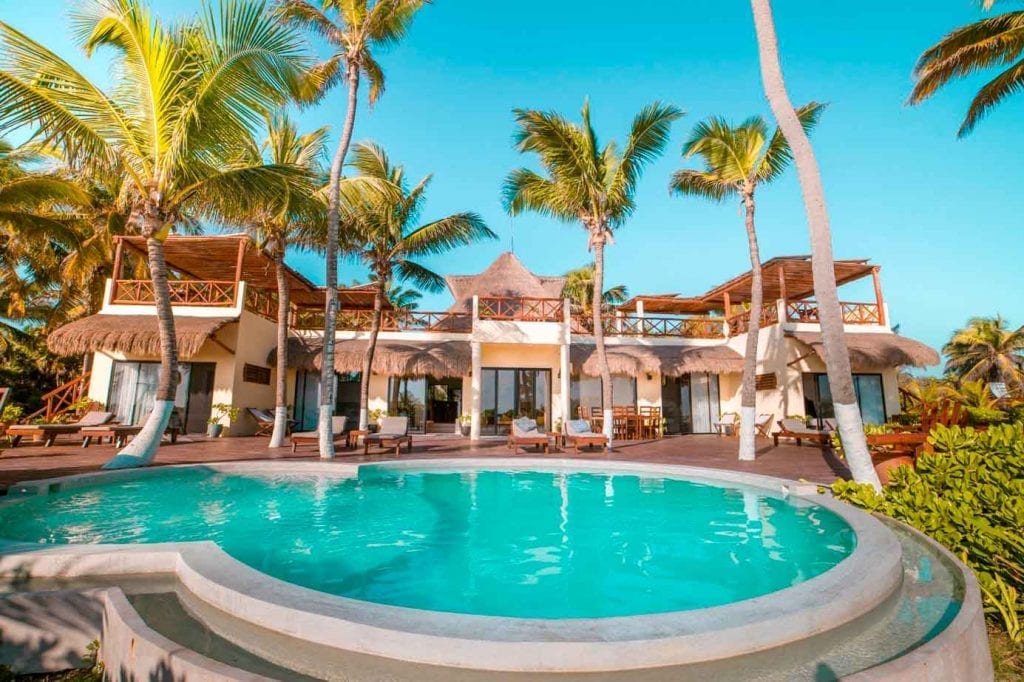 The property fosters a sense of calm, space, and contemplation with clean-cut, minimalistic decoration and the open nature of the living spaces. This villa is designed to accommodate 8-10 people (14 with special requests) and boasts five ensuite bedrooms.
All bedrooms come with a king-sized bed, Egyptian cotton linens, air-conditioning, and an ensuite bathroom with a seating area. Four bedrooms have uninterrupted sea views with direct access to the private beach and decked site: perfectly manicured beach garden spaces, a large decked room, and an infinity pool invite total relaxation.
A magnificent rooftop lounge area runs the entire home, providing extra private outdoor space with the most amazing views of the sea and sky. Indoors, guests will find an ample, open-plan living space that overlooks the dunes and pristine beach, a fully-equipped kitchen, and a TV room. Villa Playaakun is fully staffed, including private chef service for all meals, snacks, and drinks (alcohol charged separately).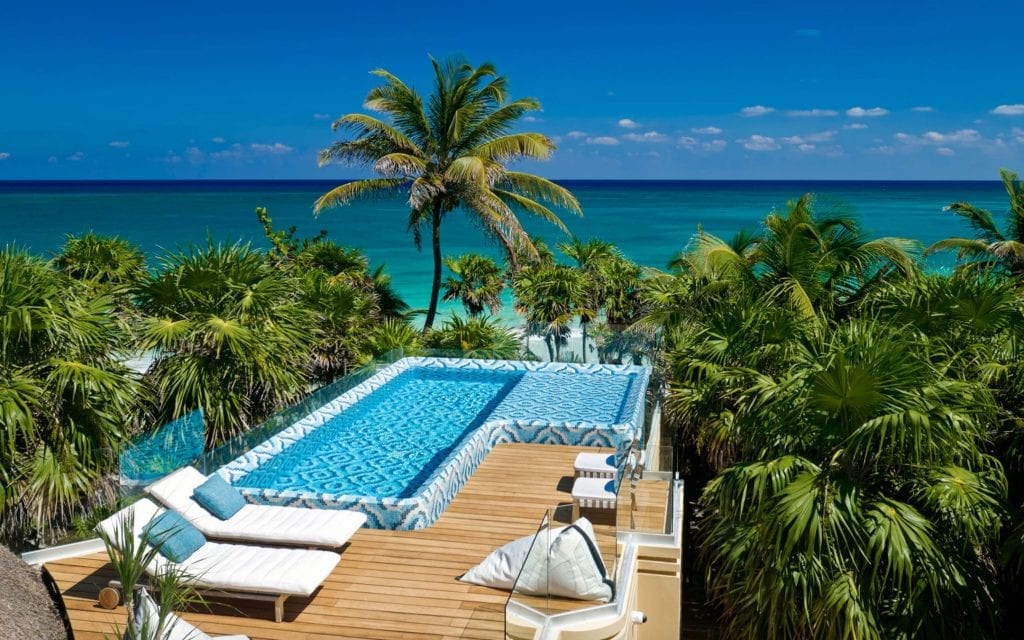 This breathtaking villa is nestled on a jungle dune 7km into the Sian Ka'an Biosphere Reserve between the Caribbean Sea and the emerald-green Campechen Lagoon.
With 100 meters of private beach, it feels worlds away while still being close to the offerings of Tulum and the Riviera Maya.
As one of the most picturesque and romantic homes in the area, it boasts pure comfort and unparalleled privacy in an integrated environment. Designed to be a low-impact home, it draws almost all of its energy from the environment with solar, wind, and rain. With no "grid," guests are provided all the modern amenities while completely immersed in nature.
Contemporary Mayan luxury can be seen throughout the home, with the heart of the house being a spacious living area under a grand palapa roof. Windows on all sides open up to the relaxing ocean breeze and ever-changing hues of blue and green.
The villa features five luxurious bedrooms with a large, separate master casita. The master casita boasts a tremendous private rooftop area with magnificent views of the lagoon, making it the perfect spot for sunbathing, birdwatching, or stargazing. In addition, you can find two lovely guest bedrooms on the opposite side of the house. Each one opens up to a tranquil deck area with direct access to the rooftop pool. The exquisite dining room faces the ocean, connected to the oceanfront deck and well-equipped kitchen.
Outdoors, guests will find ample space to relax and recharge with a gorgeous oceanfront deck and various living and dining areas that overlook the white-sand beach and brilliant Caribbean waters. Casa Yakunah includes private chef service for all meals (including snacks), all non-alcoholic beverages, daily housekeeping, daily linen service, a housekeeper, and a gardener.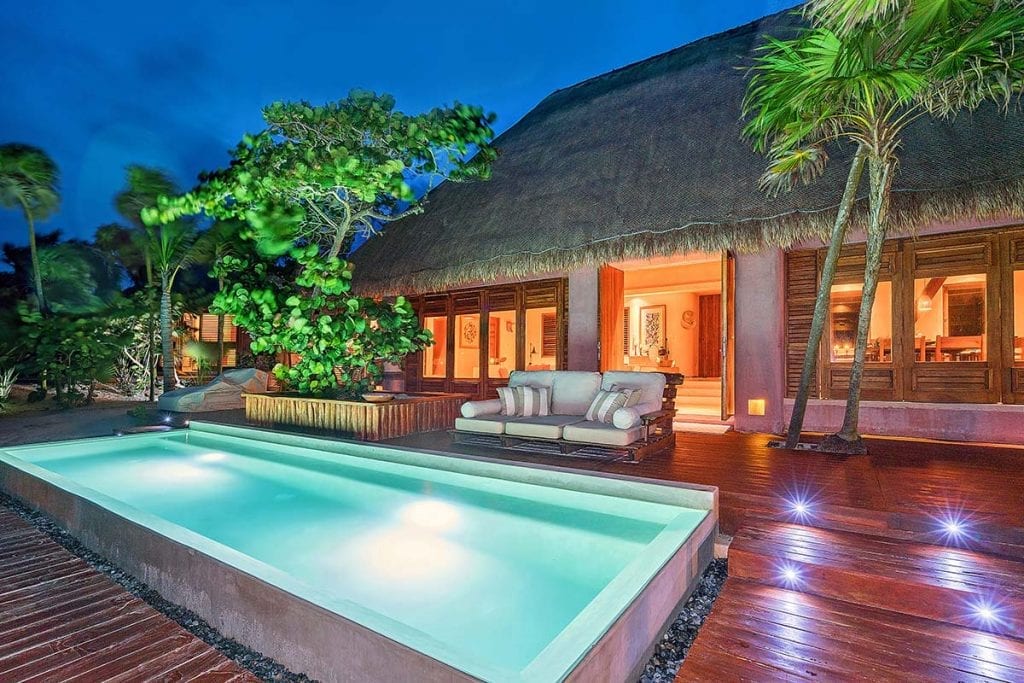 Casa Cantarena is a newly-constructed beachfront villa in the Sian Ka'an Biosphere. With a calm lagoon to the west and a pristine, Caribbean beach to the east, it invites total relaxation and access to world-class fishing and memorable boat tours through the lush mangroves. While it offers exceptional privacy, it's close to the Mayan ruins, popular restaurants, and eco-friendly attractions.
Built in contemporary Mayan style, this home offers all modern conveniences while remaining friendly to the environment. Solar and wind power are used in the house, with the option for a backup generator if needed. A fresh-water pool surrounded by comfortable, covered sunbeds, lounge chairs, and umbrellas creates the ideal space to unwind while embracing the perfect ocean views.
Complimentary kayaks and snorkel gear are available for guests who wish to explore the brilliantly clear waters at their doorstep. After a day full of adventure, relax in the spectacular rooftop hot tub with a cocktail in hand as you embrace the star-filled sky.
The home's design features soft shades of sand, coral, and turquoise to create a serene feel, while the showers are adorned in stone and wood to give the bathrooms a true spa quality.
Four bedrooms and four bathrooms are strategically located between the main level and the spacious loft, providing accommodations for up to 10 guests on the property. The two master suites are located on the main story opposite ends of the villa, offering guests additional privacy.
You can also find a guest suite with two full-sized beds and a private bath with a glass shower on the main level. The remaining guest suite is in the loft, making it a popular room for children or teens in the group. The great room runs parallel to the pool and beach, which features high ceilings, an exposed thatch roof palapa, and floor-to-ceiling glass doors that open to the deck.
A home theater provides the perfect setting for family movie nights, while the well-equipped kitchen features everything necessary to prepare delicious meals. A private chef is at your service to create a personalized menu to your liking from the freshest, seasonal ingredients. In addition to a private chef, this villa also includes the services of a butler, a housekeeper, and a house manager. For those traveling with young children, a qualified nanny may also be secured.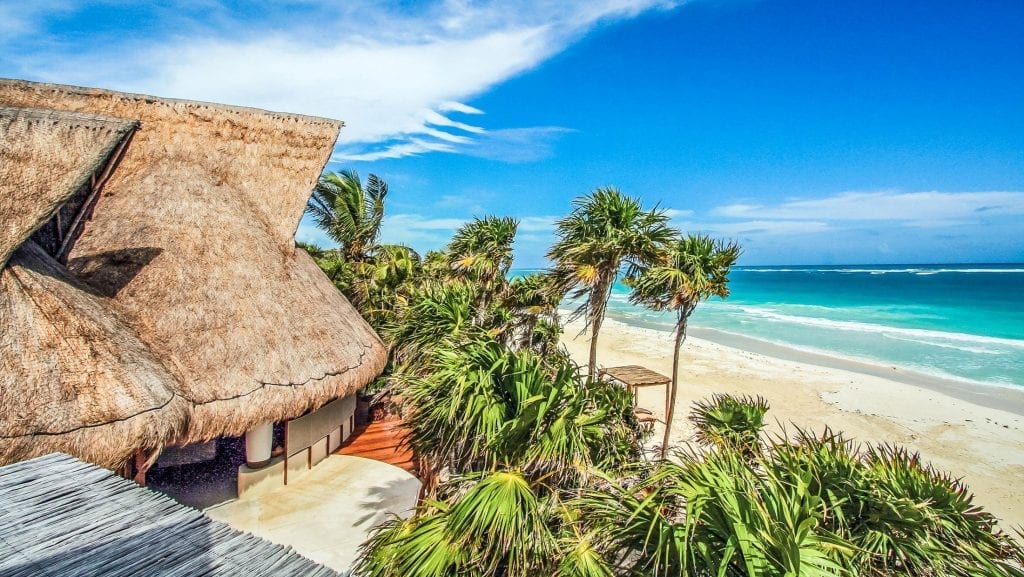 Located in the heart of the Sian Ka'an Biosphere Reserve, Casa Nalum sits on 2-acres of land and rests along the pristine, white-sandy beaches of the Mexican Caribbean. As an auto-sufficient, zero-carbon property, Casa Nalum is powered by the sun and wind with an ultra-silent backup generator. Well-known for its beauty, prime location, attention to detail, and personalized service, this home creates a heavenly stay for all who visit.
With a contemporary and warm design, the home features rich wood throughout that's offset by cool marble floors. The main living area sits under a giant, round palapa roof, creating high ceilings and airy space. With imposing wooden doors, much of the site is open to the fresh, Caribbean breezes. As the center of the house, it features a large sofa where guests can play table games, watch movies on the 120″ cinema screen, listen to music, or enjoy the majestic views. A fully-equipped kitchen and a large dining area are just off the living room.
The rooftop offers a serene terrace with a cozy lounge area and a thatched wood palapa, perfect for enjoying a morning coffee while watching the sunrise. This villa can accommodate up to 10 guests with five air-conditioned bedrooms (1 loft bedroom with ladder access) that are adorned with Mexican furniture and accents. Spacious terraces connect the bedrooms and other living spaces to the lush gardens and pool areas. The master boasts an ensuite bathroom, a king-sized bed, a private balcony, chairs, and a hammock.
The services of a full staff are included with the rental of this property, catering to your every need without being intrusive. This includes everything from personalized meal planning, activity arranging, meal preparation, and much more. Memorable culinary experiences are a priority at Casa Nalum, with cuisine being based on a Mexican-European mix and using only the freshest ingredients.