Concierge Services Los Cabos
Booking a property with us automatically qualifies you to enjoy our exclusive Villa Experience Personal Concierge service which will guide you through the length of your stay in Cabo and help you make the most of your vacations. At Villa Experience, we know that the overall quality of our guest's vacations depends not only on the quality of the properties booked, but also about the array of services received during their stay, and that's where our Personal Concierge service makes all the difference.
Our concierge will work with you to create a personalized itinerary for the duration of your stay. Your personal concierge will make sure every detail is in order to ensure you have a hassle-free and memorable visit. Then, they will greet you at your luxury villa, make sure you are comfortable in your beautiful residence and will remain at your service throughout your stay.
Time is a luxury, and we know that while on vacation, as little time as possible should be spent worrying about the little things. Our dedicated team of not only professional concierges but butlers, housekeepers, chefs, and groundskeepers will ensure that everything is taken care of, so you have more time to enjoy the relaxed Mexican lifestyle.
From your transfers from Los Cabos International Airport to the nourishing meals you will enjoy each evening, your Villa Experience concierge service can take care of it. Experiences make a vacation, so why not let your concierge plan an excursion for you? Perhaps a day of sports fishing, which Los Cabos is so famous for. If a quiet evening enjoying fresh Mexican seafood at the Cabo San Lucas marina sounds more appealing, your concierge can make a reservation. No task is too little or large for that matter. Our luxury villa rentals are the perfect setting for a special occasion. Whether you're planning a family reunion, destination wedding or retreat, the Villa Experience concierge service can help to make your dreams a reality.
Pre-Arrival Planning
Even before you arrive at your destination we'll be preparing everything to enhance the quality of your stay with us. A series of customizing options are available for you to enjoy your villa, including the groceries and drinks you would like to find in your fridge once you get there. Special requests can also be arranged, so feel free to ask.
Airport Transfers
Your Personal Concierge will make arrangements to transport you from Cabo International Airport to your villa. We have a variety of vehicles to choose from, including luxury vans and SUVs. Transfer fees vary according to the number of passengers and the location of the villa.
Meet & Greet
From the moment you step a foot on your villa, we'll be there to welcome you and show you around the property. We will also introduce you with the staff that will be serving you during your stay and to hear your plans for your vacations, in order to see how can we help, getting tickets or booking tables for example.
Spa Services
Cabo is widely recognized as an outstanding wellness destination. World-class Spas have been set at every major resort and we can arrange Day Passes or book specific treatments for our guests. Another option would be to have a wellness professional visit you in the comfort of your luxury villa.
Special Requests
We can prepare your villa to fit your specific needs and special requests. Think of a romantic setting for a big proposal night, a birthday party, or even a wedding. We have host corporate retreats, family reunions, and even baptism celebrations. We know the best service suppliers in the area and can guide you through the process. Just let us know what you have in mind and our staff will be happy to help. Additional fees may apply.
Tours & Activities
Because we understand that an essential part of your vacations happens outside your villa, we'll help you get the best tours and deals for all the stunning attractions both in Cabo San Lucas and San Jose del Cabo. From the best golf courses to the most amazing tours through the desert, your Personal Concierge will be there to guide you through the wide variety of options and choose the right one for you.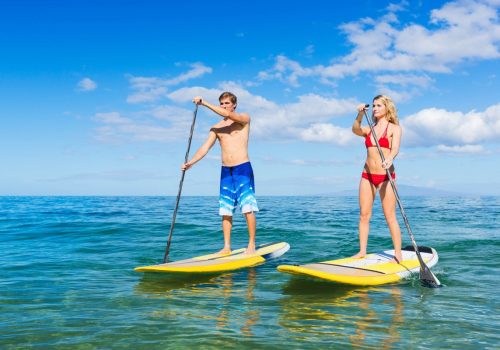 Water Sports
Jetski, parasailing, snorkeling, glass bottom boat, scuba diving, kayaking, SUP boards and many more water-related activities are available in Cabo. The area is the meeting point between the Pacific Ocean and the Mar de Cortez, which creates plenty of opportunities for water sports enthusiasts. Tell us about your preferences and we'll get you the best deals.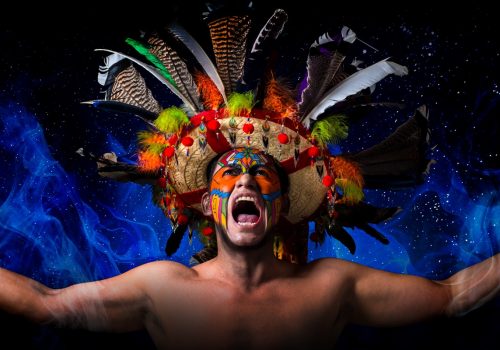 Culture
Culture in Los Cabos, an area comprising Cabo San Lucas and San Jose del Cabo, can be found in the multiple festivals taking place all year around. Events such as Los Cabos International Film Festival, San Jose Jazz Weekend, or even the GastroVino Baja Food & Wine Festival. Also, from November to June, takes place the San Jose del Cabo Art Walk every Thursday. Then, of course, you can plan a visit to Todos Santos, Baja's Culture Capital and an oasis for artists and culture lovers. Located just 45 minutes away from Cabo, Todos Santos is home to multiple art galleries, famous Hotel California, and a series of festivals all year round that include Art, Film and Music Festivals.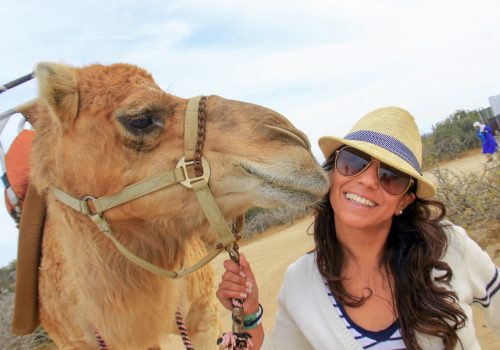 Adventure
Find yourself driving an ATV through the magnificent desert of Baja, or flying through an impressive web of zip-lines. Either way, you'll discover why Cabo is a favorite of adrenaline junkies, there simply are too many things to do. How would you feel about a camel ride safari? Or a mountain bike adventure tour? Cabo also offers whale shark encounters, and what is maybe the oldest tour in Baja, the whale watching excursion. Trying bungee jump or exploring the Wild Canyon are also adventure possibilities in the area.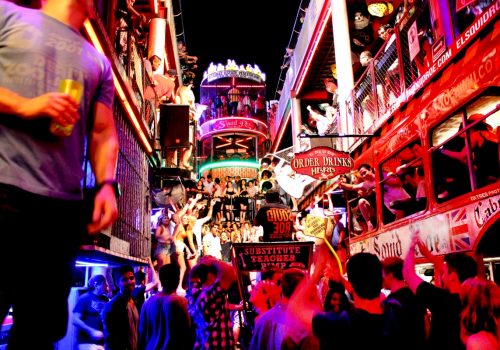 Nightlife
Cabo's nightlife has a well-established fame. However, things have changed with the years. Nowadays, El Squid Roe and Cabo Wabo headline the scene, with Mandala Pink Kitty and Happy Ending Cantina, not too way behind. Cabo's nightlife has something to offer to all different tastes, so please don't be afraid to ask what kind of fun you are looking for and we'll try to get you to the best nightclub for your tastes.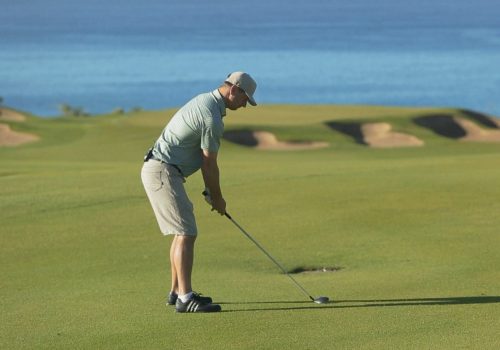 Golf
If you've ever been to Cabo, you know that this place just loves golf. There are so many golf courses in the area that it's hard to keep count. With green fees around $250 USD, the issue here is not if you want to play, but where you want to play. The scenery is spectacular offering a gorgeous blend of deep blue from the sea, beige and brown from the desert and lots and lots of green. Quivira, Cabo del Sol, and Diamante are some of the best rated, but we have got to the point where all of this has become really subjective and each player has its own favorite golf course.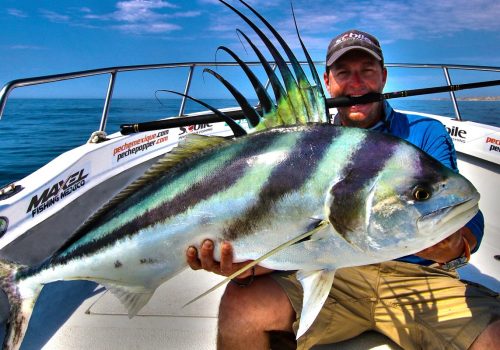 Fishing
Fishing connoisseurs have long held Cabo as an outstanding fishing destination. Especially from November to February, the waters around the end of the Baja Peninsula offer a spectacular mix of fish being Stripped Marlin the main catch, but also with lots of specimens of Wahoo, Yellow Fin Tuna and Dorado. Spearfishing has become trendy in the area, in case you want to try something new and different this could be the way to go.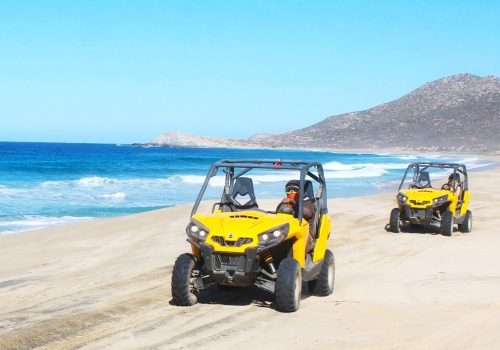 Private Tours
We can also arrange a series of private customized tours according to your specific needs and requests. These tours may require a bit more of preparation, so it's always good for guests to communicate those needs in advance in order to be able to design the right kind of tour for you.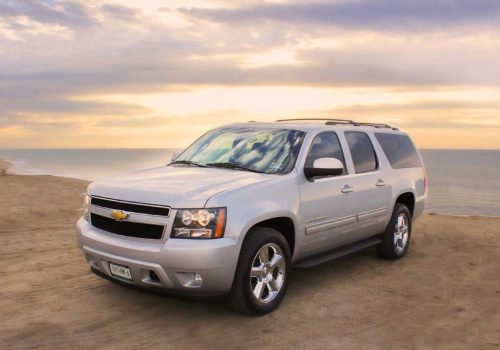 Car Rentals
Sometimes the best way to go is to simply rent a car and discover what the region has to offer. How would you feel about traveling through Baja's desert in a Jeep? We'll find the best deal for you and your friends, so you can enjoy the freedom that only driving around can provide.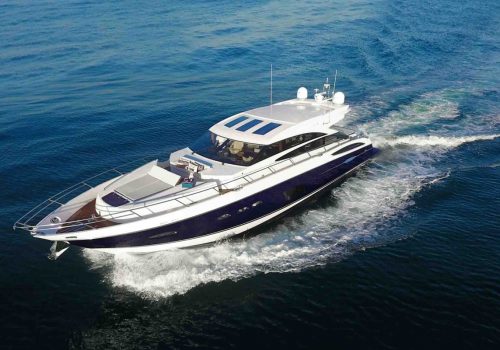 Yacht Rentals
The fascinating thing about Cabo is that it is the meeting point between two different seas, the Pacific Ocean and the Sea of Cortes. The best way to make the most of this extraordinary wonder of nature is to simply get on a yacht or catamaran and spend a day out in the sea with drinks and buffet included. Your Personal Concierge has the best contacts in town to make it happen.
Contact Us
At Villa Experience, we know that a 5* luxury vacation takes precision planning. And planning the perfect vacation doesn't end once you've made your Villa Experience reservation. Here at Villa Experience, we're committed to providing a tailor-made vacation that helps you to truly enjoy your time in Mexico. We know that in order to do that, you'll want to explore like a local while being treated like a VIP. Villa Experience's concierge service will help you do just that.