Los Cabos Wedding in Private Villas - FAQ's
Los Cabos, Mexico is a picture-perfect locale for any type of celebration, whether it be a birthday party, holiday party, anniversary or wedding.
With gorgeous private villas, incredible beach resorts and breathtaking natural scenery, your special day is sure to create life-long memories. When you team up with Villa Experience, planning your destination wedding or special event is easier than ever! Keeping your unique style, vision and budget front and center, our professional team of friendly, talented experts will assist you in finding the perfect Los Cabos venue in addition to helping plan all the important details.
This can include anything from personalized catering, entertainment, flower arrangements, decor, photography, cakes, accommodations and much more. And the best part? When the wedding celebration is all over, all you need to do is simply relax as you're already in one of the most spectacular honeymoon destinations in the entire world.
Why Choose a Private Luxury Villa for your Wedding?
Whether you want an extravagant wedding or a small intimate gathering, we can help you celebrate this special event by locating the perfect villa.
Why Choose a Destination Wedding?
Wouldn't it be wonderful to have the wedding of your dreams in a place where everyone can celebrate and rejoice in the new family union? Villa Experience villas are the ideal location for a wedding, celebration, or event you are planning in Los Cabos.
A Cabo Villa is a perfect place for a celebration because of its unique setting and architectural design. Our villas help you focus on and personalize any celebration.
There are many decisions involved in creating the perfect wedding event, but if you want a truly memorable experience, a Los Cabos wedding is the option to choose. Having a Cabo destination wedding in a luxurious villa gives you time to bond with the new family members. Spending those few days together in a beautiful home will create memories that last a lifetime. 
Your Los Cabos wedding can be as luxurious or as simple as you desire. When you have a destination wedding, you can enjoy both the celebration and a wonderful vacation at the same time.
Choose A Cabo Wedding Date Carefully.
You should think carefully about your wedding date when deciding whether or not to have the wedding in Cabo. As a general rule, the high season is from November through May. Remember that marriage during these months will mean you encounter more crowds in venues, restaurants, and beaches. In addition, you must realize that the perfect villa may be challenging to find during the high season and will come at a higher rate than in a shoulder or low season.
If you choose a summer wedding, consider the Los Cabos rainy season as we do get rain in the summer, and sometimes these rainstorms can become tropical storms. Therefore, summer weddings in Los Cabos will need ample indoor space if guests need to get out of the rain.
Selecting The Perfect Wedding Venue in Los Cabos
Whether you want a beachfront wedding or something in the beautiful desert surrounded by ocean views, Los Cabos is a perfect place for everyone.
Every villa is different and accommodates a different number of people. So you should have an approximate wedding party attendee list so we can help you find the estate with the size you need, find two adjoining villas, or locate villas that are within proximity. It would be best if you also had an idea of the number of guests you would like to have stayed at the villa where you plan to host the reception or event.
If you wish to have a beachfront wedding, keep in mind that beaches in Mexico are federally owned and are not private. However, there are specific beaches that have more restrictive access than others. At Villa Experience, we are familiar with the beaches and recommend the best beach for your event.
Can I Rent A Los Cabos Villa for Just One Night?
Villa rentals require a minimum stay of 3 to 5 nights. However, the fee only applies to guests staying at the villa. If you plan on celebrating an event, you need to talk to our staff. Usually, a one-night additional fee applies for the celebration, and of course, it depends on the size of the group and the villa's specific regulations.
Here is an example: If you rent a six-bedroom villa but plan an event for 60 people, the estate will require an event fee to cover the cost of clean up, maintenance, etc.
In these cases, you need to fill out our wedding request form and explain the details of your event as much as you can. When you add as much detail as possible, we can help you with an adequate proposal for your needs. We can also contact a qualified wedding planner to help with your wedding plans if requested.
How Many Guests Can a Cabo Villa Accommodate?
Most villas can accommodate between 60 to 100 guests. Larger homes may be able to accommodate as many as 150 people. Of course, some resorts and venues can hold groups of 200 and more. Before renting a villa, you should know the approximate size of your group so we can find the perfect estate for your needs.
How To Find The Perfect Villa?
Start planning for your wedding at least a year in advance. Search through our listings, and you may even want to contact one of our customer representatives to help you find the perfect villa for your needs. Of course, if you don't have a whole year and are flexible, we can help you plan your event within a shorter time frame.
Can We Rent More Than One Villa?
Many villas are located in the same neighborhoods, and the properties are often within walking distance. It is prevalent for large groups to rent more than one villa to help house friends and family. In some cases, our Los Cabos villas are large enough to have as many as 20 bedrooms available by using more than one villa. In addition, guests deciding to stay in a hotel will find access to the villa for the ceremony quite easy as most hotels are within a short cab ride from the properties.
What Type of Noise Restrictions Are There?
At Villa Experience, our properties are privately owned. They are located in private and exclusive residential areas with zoning and noise regulations, so residents need to quieten down by 11 pm.
What Other Restrictions Are There?
Once you have selected a villa, we can forward the property's wedding policies. You can review them to see if they meet your needs. Otherwise, you can choose another property as the policy changes depending on the property owner's requirements.
Do I Need a Wedding Planner?
It depends on the size of the ceremony and the details you need. We can recommend an event specialist to help work out the details. For example, if you have a large wedding party, you may need an event planner to find a venue, plan the dinner menu, find entertainment, etc. On the other hand, if your event is small and will only involve guests staying at the villa, you may only need the concierge and house staff to help with the planning.
Are There Legal Requirements for Getting Married in Los Cabos
Your wedding planner and the concierge can help answer these questions. In general, though, it is easier to take care of the legal requirements of marriage in your home town before departure. Therefore, we recommend you have a legal civil wedding before leaving your country and plan the reception and symbolic ceremony here in Los Cabos.
Is a Destination Wedding Affordable for Guests?
One of the most significant benefits of a destination wedding is that the people you want to be there will be. Your best friends and family will attend. On the other hand, people who are not vested in your event will not make an effort to come. Besides, if you plan your event a year in advance, you give guests time to plan and save. A destination wedding is often more affordable than a more traditional wedding.
Should We Plan on A Trip Before The Wedding to See the Venue?
If you work with a wedding planner, our concierge, and our Villa Experience staff, there is no reason to make a memorable trip to see the wedding venue. On the other hand, if you want to experience Los Cabos on your own without needing to worry about guests, then Cabo can offer a perfect romantic getaway for a few days.

If you decide to come to arrange the wedding personally, we can coordinate the villa, itinerary, and transportation. The cost of viewing properties and transport is $100, which will later be applied toward your final rental property.
What Are The Cancellation Policies?
At Villa Experience, our deposit and cancelation policy is standard for most home vacation rentals. Deposits are nonrefundable unless your original reservation can be re-booked minus a 20 percent facilitation fee. To avoid experiencing financial loss, we recommend you purchase trip cancellation insurance. A company we have worked with before is travelguard.com. However, it would help if you bought your policy no later than 14 days after your deposit date to cover the cancelation costs.
Outside of the wedding event, there may be restrictions regarding outside visitors to the villa. To be considered an outside visitor, guests must not sleep in the estate, and the owner or property manager must grant permission for these external guest visits. In some instances, additional fees may apply. For this reason, we suggest some activities take place off the premises so you can enjoy your group without restrictions.
Keep in mind that there may be noise restrictions, and a villa may require quieting down at 11 pm. These restrictions also apply to live entertainment activities such as live music, DJ, and fireworks. If you want an event that goes later in the night, let us know to recommend villa alternatives with fewer restrictions.
Can I Cancel My Reservation?
Each property is privately owned, so you need to review the cancelation policy in the rental agreement. In general, you may cancel with 70 percent of the rental price; 30 percent remains as the facilitating fee, providing we can re-rent the property for the actual rate on the exact dates. The only exception is Holiday reservations which are non-refundable.
We suggest you buy travel insurance upon making your reservation, so if you need to cancel, your insurance provider can reimburse the money you have already paid for your Los Cabos trip.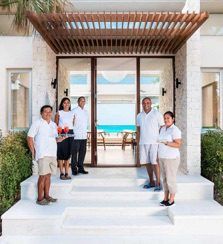 Description of the staff members and services at the villas.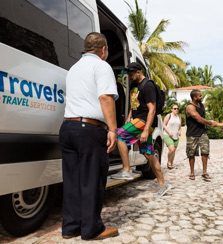 How to take advantage of the Villa Experience concierge services & benefits.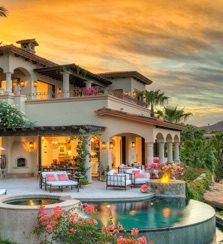 Most common questions about luxury villa rentals in Los Cabos.