Los Cabos Villa Rental Faq's
Frequently Asked Questions!
Find answers to some of the most common questions guests have had about Los Cabos luxury villa rentals.
How Do Winter and Summer Season Rates Change?
Los Cabos has a high and low season. The high season runs from November to April, and the low season runs from May to October. During the Winter season, luxury rental rates are higher, and holiday time has the highest rates.
We have a general  5-7 night minimum stay during this season, except for Christmas, New Years', and Easter, when we have a  minimum seven-night stay. Of course, we have exceptions, and sometimes we have discounted rates available for last-minute visits. But in general, you should reserve a few months in advance.
All luxury villas in Cabo are private and do not share common spaces with other non-guests unless a specific property states that these amenities are shared.  
 Note: Rates are subject to change and remain unconfirmed until a 50% deposit is received.
Each property is unique and privately owned, so that any villa may have specific guidelines and special requirements.
Local taxes are not included and are quoted per night in USD. (Some villas have a "per room" price but not a per person rate.)
How To Make a Reservation?
Reserve your Los Cabos property and send an inquiry to our reservation agent, or you may call us to confirm your requirements. Upon making your reservation, you need to review and sign the Villas Experience rental agreement. We require you to sign the deal via a signature application or physically. We offer you a courtesy hold of 48-hour to give you time to get the document returned to us. Once you sign the rental agreement and if you need a few extra days on hold to make your deposit, we can keep your reservation for up to 5 days. Keep in mind that your reservation is not confirmed until we receive a 50 percent deposit.
Villa Experience accepts all major credit cards and bank wires, you can't mail a check by postal service. Up to 24 hours after receiving your deposit, we will confirm your payment and make your reservation. Your final balance is due 60 days before your arrival, except Holiday reservations, which are due 90 days before your reservation.
Once you make your reservation, we will send you the arrival information, villa address, map, phone number, and any additional information you may need within 24 hours of payment. Our team will also connect you with your private concierge to help you create the luxurious experience you want.
What Tasks Does the House Staff Do?
We provide housekeeping and personalized concierge service with every reservation. Your concierge is an expert on the area and will be available to help you make all of the necessary arrangements for your trip, prior to your arrival. Some homes will offer chef services.
If the chef service is not included in the rental additional services such as chef, butler, etc can be arranged through the concierge at an extra cost. When requesting a chef or cook service, the chef normally prepares two or three meals a day unless other arrangements are made before your arrival.
Additional costs apply for further meal planning, shopping, or needs. You choose from the menu your staff members offer you 24 hours before your next meal. A member of the staff or the concierge service makes the purchases for which you reimburse the staff member (groceries & cab fare) upon presenting the receipts.
You can make this Reimbursement in either dollars or pesos. Some villa rentals already include a chef or cook service; please ask the reservation manager for details.
Note: Staff members cannot accept checks or credit cards
When Should I Make the Villa Reservation?
It depends on the type of villa and the size of your group. If you have a significant event or group, you may want to make your reservation early. We suggest about a year in advance.
Smaller groups should try to reserve at least nine months, especially if you plan to visit in the high season.
Note: Holiday reservations for Los Cabos (Thanksgiving, Christmas, New Year, and Easter weeks) require an early reservation as properties tend to fill up. At any rate, if you do not see a property that fits your needs, please get in touch with us. Often we acquire new properties just before the holidays.
How Does the Security Deposit Process Work?
In Cabo, luxury villa rentals require a security deposit until after your stay is complete. We do everything possible to refund this deposit 15 to 30 days after completing your visit. The security deposit refund method used will depend on making the deposit. If you made a direct deposit or paid by check, we will send a refund check, and if you paid with a credit card, we will refund the deposit to your credit card.
What is The Staff Schedule?
As a general rule, staff members arrive an hour before serving breakfast and leave after serving dinner. Their schedules usually run from 8 am to 7 pm. However, we understand that guests may have a special event and need staff members at other times. By making prior arrangements with your concierge, we can accommodate your needs.
What Are Your Tip Suggestions?
Gratuities are not included in the Cabo luxury home rental, and the staff greatly appreciates them. We recommend a $10 to $15 tip per day for each guest. The tip is split evenly between staff members at the end of your stay. The house will have envelopes available for tipping.
What If Someone Has Food Allergies?
Many people have allergies, and we accommodate any special request. Our chefs can accommodate special requests and make unique dishes for vegans, vegetarians, or people with food allergies. Please inform us upon confirming your reservation to communicate your needs with the house staff.
What If We Don't Need the Staff All Day, Every Day?
Your luxury villa in Los Cabos is your home away from home. You are in charge of the smooth running of your household. You can request that staff members come in later or leave a little later. Keep in mind that most staff members take the bus home in the evening, so they should go by 7 pm.
Alternately, if you make arrangements with the concierge, staff members can stay later for special events, provided you cover their cab fare.
How to Get to The Villa from the Los Cabos Airport?
Cabs and vans are available from the Los Cabos airport. In addition, our concierge can arrange for you to be picked up by private transportation if you wish. The price of a personal vehicle has a minimum $60 transportation charge or a $15 per person cost.
Remember that drivers must be paid in cash, either in Mexican pesos or the equivalent in US dollars. Although rental cars are available in Los Cabos, we don't recommend them as transportation is relatively inexpensive, and your concierge can quickly locate a cab for you.
What To Expect Upon Arrival?
House staff members will be available to greet you. Upon arriving, you will receive light appetizers and drinks. Most guests specify their request for their first dinner and breakfast before their arrival.
The staff will make the necessary purchases, giving you food and drink upon arrival. You can reimburse them for their costs when they present you with the receipts.
Staff members are usually off on Sunday. If you arrive on Sunday, you can request something simple like fresh sliced fruit, a veggie plate, Guacamole, and chips to be left in the refrigerator. The property concierge can also make other arrangements for you beforehand.
What Travel Documents Do I Need for Los Cabos?
You will need a valid passport and a No Covid Test for international travel. The CDC advises you to be fully vaccinated to travel, but it is possible to travel without being vaccinated.
Minors traveling with both parents will be given a tourist card by the airline. If the child is only accompanied by one parent or is traveling alone, they will need notarized permission from both parents. Be sure to contact your concierge to work out these details a few weeks before your arrival.
Are Wifi, TV, and Media Players Available at The Property?
Most of our Los Cabos properties have these things. However, if any of these features are essential to you, please confirm availability at the time of your reservation. Then, call us to ensure the home has everything you require.
Our Cabo properties have filtered water systems or purified water bottles for guests. The staff uses purified water to cook, ice, and wash fruits and vegetables.
When traveling, we suggest guests take probiotics for two to three weeks before traveling to prepare their digestive system for any slight change in food.
Can I Cancel My Reservation?
Each property is privately owned, so you need to review the cancelation policy in the rental agreement. In general, you may cancel with 70 percent of the rental price; 30 percent remains as the facilitating fee, providing we can re-rent the property for the actual rate on the exact dates. The only exception is Holiday reservations which are non-refundable.
We suggest you buy travel insurance upon making your reservation, so if you need to cancel, your insurance provider can reimburse the money you have already paid for your Los Cabos trip.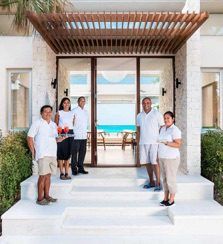 Description of the staff members and services at the villas.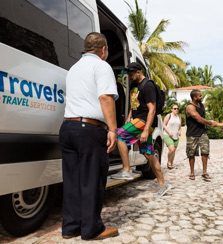 How to take advantage of the Villa Experience concierge services & benefits.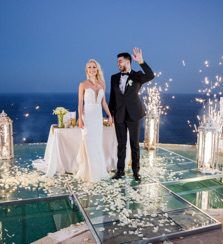 Terms and conditions when having a wedding or event at a private villa in Los Cabos.