Escape to Paradise, CASA MAYA KAAN
Luxurious Sanctuary in the Heart of Sian Ka'an Biosphere!
Casa Maya Kaan is a luxurious sanctuary outside Tulum, in the heart of the Sian Ka'an biosphere. This private residence offers breathtaking views of the pristine white-sand coves and the emerald Sian Ka'an lagoon. The untamed and lush jungle surrounds the property, providing a perfect balance of shade and natural beauty. The location is secluded, making it the ideal getaway to rest, connect and enlighten.
The property's design and amenities seamlessly blend with the natural surroundings and feature high-end comforts and charming traditional Oaxacan decor. The four elegant bedroom suites, ten glamorous bell tents, and friendly living and dining spaces make it the perfect setting for joyful gatherings, family reunions, private and company retreats, and exclusive weddings.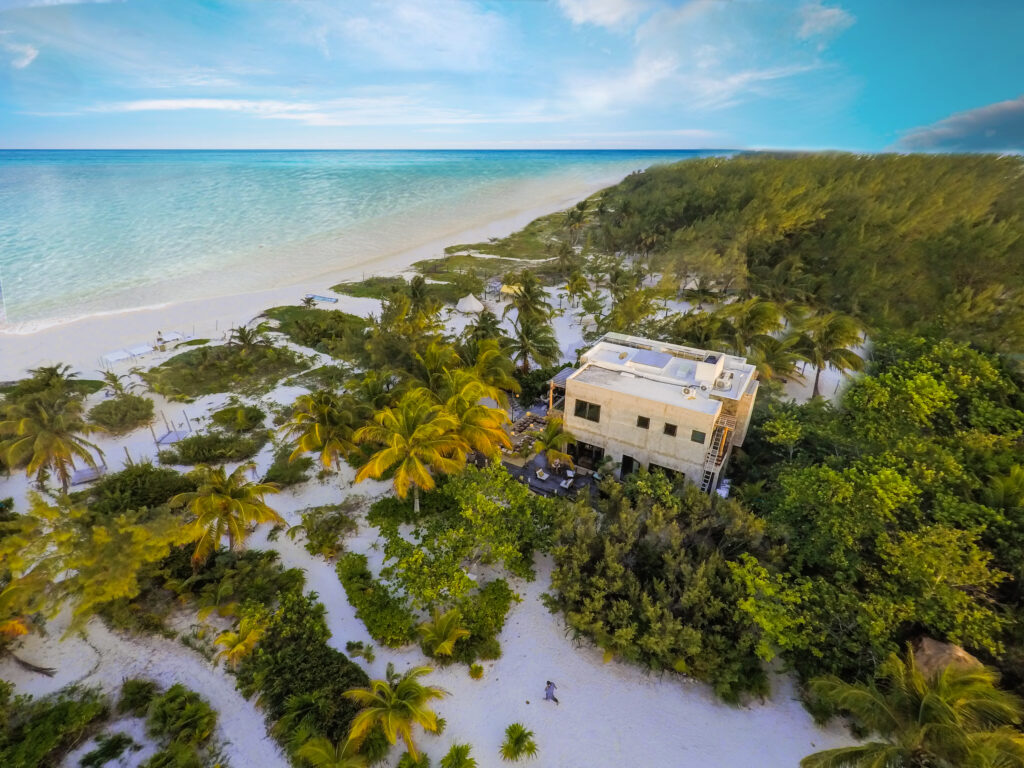 Onsite activities include kayaking, paddle boarding, snorkeling, and racket ball. Guests can also participate in yoga, Temezcal, breathwork sessions, ice baths, sound healing, and intimate concerts. We can also arrange tailored itineraries for visiting ancient Mayan pyramids and for boat tours to see the native animals, birds, and sea creatures of the reserve. The property also offers earth spa packages for added relaxation.
The property also offers a fully equipped kitchen, but guests can opt for an in-house chef and kitchen staff. The chef prepares all meals daily, either customized to your requests or through a fixed menu. Soft drinks and alcoholic beverages are not included in food prices and are charged separately.
Please note; The ten bell tents on the property can be rented upon request and are not included in the price. Also, there is a separate fee for groups to have weddings, parties, and other events. A USD 2000 security deposit is also required. Contact us for more information on organizing your stay at Casa Maya Kaan.
Exterior, Bell Tents & Beach
Can I host my Yoga retreat at Casa Maya Kaan?
Yes, Casa Maya Kaan is ideal for hosting a yoga retreat. The property's natural surroundings provide a tranquil and peaceful environment for yoga practice. However, it is essential to note that there may be a separate fee for groups to have events, and you should contact the property for more information. Also, a $2000 USD security deposit is required.
How about having a wedding at Casa Maya Kaan?
Casa Maya Kaan is a perfect location for an intimate and exclusive wedding. The property's design and amenities seamlessly blend with the natural surroundings, providing an idyllic and romantic setting for your special day. The property and the beach provide an ideal place for a wedding ceremony and reception, and the staff can help to organize everything from catering to decorations and entertainment.
Sian Ka'an is a UNESCO World Heritage site and one of the world's most unique and rare wilderness sanctuaries. The biosphere reserve encompasses over 1.3 million tropical forests, mangroves, lagoons, and coral reefs. It's home to many flora and fauna, including endangered species such as the jaguar, manatee, and sea turtle.
The Sian Ka'an biosphere is also known for its spectacular natural beauty. Visitors can explore the crystal-clear waters of the Caribbean Sea, home to the second-longest coral reef in the world, and spot a wide variety of marine life, such as dolphins, stingrays, and colorful tropical fish. In addition, the lush jungle surrounding the property is home to hundreds of bird species and a paradise for bird-watching enthusiasts.
The biosphere is also home to ancient Mayan ruins and is a destination for eco-tourism and adventure activities. Visitors can explore the reserve's diverse ecosystems by hiking, kayaking, or taking boat tours to visit remote cenotes and ancient pyramids. The Sian Ka'an biosphere is a hidden gem and a must-see destination for nature lovers and adventurers.