5 Reasons why Choose a Private Villa Rental Over a Hotel!
The vacation rental industry is going through a boom that projects to get only bigger and better. Luxury private villas are the most dynamic segment of that industry and the main reason for that boom. But why have private villas become so attractive for today's travelers? Here are some reasons why private villas are better than hotels:
No matter how luxurious a hotel is, you will always share its facilities with many strangers. A private villa usually comes with a private pool just for yourself and your people—no more uncomfortable scenes while wearing a bikini. In a villa, you can feel at home and use every facility anytime you want without waiting for your turn. In an estate, you can be yourself, and nobody will bother you. There is a reason celebrities love private villas.
It just doesn't matter how luxurious a private villa is; it will still offer a better deal than most hotels. A villa price comes together as a whole; you won't get charged by rooms used or by meals eaten. Of course, please fill as many rooms as possible, as the cost gets spread among more people. But comparing the price of an upscale resort for say 3 nights and at least 3 rooms, plus meals, with the price of a luxury villa for 6 people, will always be favorable to the villa deal. And as more people you include in the villa package, the cheaper it gets.
Have you ever been to an all-inclusive resort where facilities and nature are excellent, but the food is simply ordinary? That's the game's name for all-inclusive hotels, even though nowadays they try hard to call themselves with some ridiculous euphemism like 'endless privileges' or 'gourmet program.' Whenever you have a large kitchen cooking massive amounts of food for many guests, the quality of the food served can't be the same as the one served at a private dinner for eight people. Private villas provide personal Chefs who know the area and get fresh ingredients specifically selected according to their guest's tastes.
Private villas usually come with Chef, maid, chauffeur, and a handyman/concierge/butler (the guy who knows a guy and gets everything guests may need). You get a staff of 3 to 4 people to cater to the needs of your group of 8 to 10. That's a rate of nearly one staff person per 2 guests. Now, think about how's that rate going to most hotels, and you'll understand why private rentals are in a worldwide boom. The level of personalized service available at private villas is something that hotels can't compete with.
Private villas these days provide stunning luxury facilities and amenities. From ocean-looking infinity pools to all kinds of tech gadgets, or from upscale outdoor BBQ sets or Jacuzzis to top-notch brands of toiletries, villas offer an individualized kind of luxury unavailable at large hotels.
Each villa is unique, with a distinctive style and a personality of its own. Hotels can't provide that individualized kind of experience.
Los Cabos Villa Rental vs. Hotel Experience!
A Los Cabos getaway should be a memorable experience, and one of the most critical aspects of an unforgettable experience is your accommodations. Therefore, you should consider renting a luxury villa from Villa Experience for your Los Cabos visit.
A Cabo villa rental gives you all the space you need to enjoy your stay. A villa offers everything you could ever want for comfort and luxury while on vacation. But it also provides a wonderfully intimate setting for single or couples. A private villa gives you and your guests time to bond and enjoys the spacious living areas together for family events. It can offer you a place to enjoy the company of others but also give you the privacy and intimacy you crave when you steal away to your bedroom or one of its comfy hideaway spots.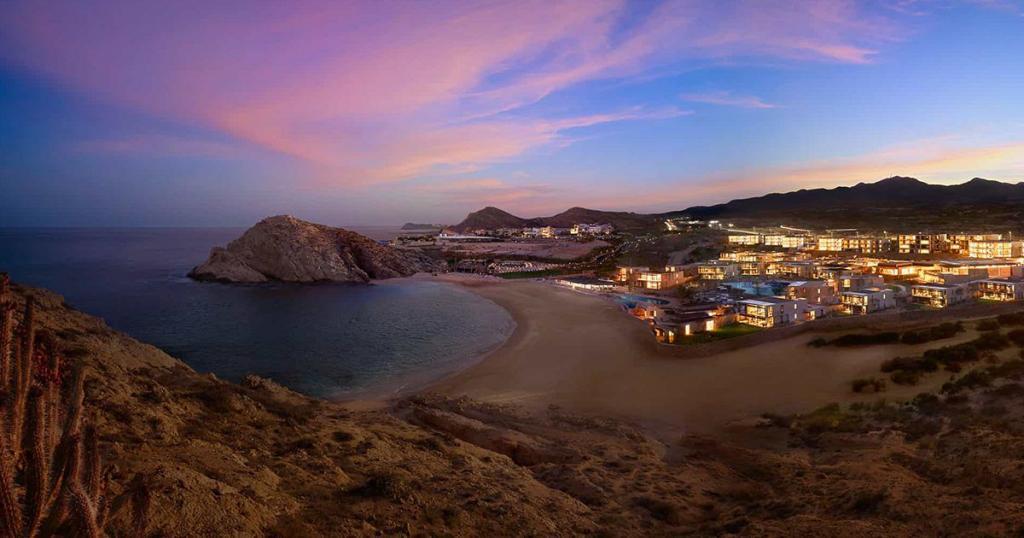 Allow yourself to be pampered by the locals when you stay at your own private vacation home. Each villa comes with a local staff whose job is to ensure you have a lovely time. You will be delighted by the tasty treats created by your chef. You will enjoy walking through the beautiful, clean house with unobstructed views that housekeeping takes care of. When you are ready for a drink, your barman will be waiting with one in hand.
Our Los Cabos luxury villas can meet your need for relaxation and privacy in every way possible, something that even the most refined hotel cannot do. Remember, no matter how exclusive a hotel is, it receives hundreds of guests daily who want the same service and attention you want. Unfortunately, the service staff at a hotel is always over-stressed and overworked, so they cannot give guests the quality of service they deserve.
On the other hand, a luxury villa offers a private staff that caters solely to you during your stay. They work hard to make your vacation as pleasurable as possible by catering to your every need.