Sayulita vs. Puerto Vallarta - Let's Compare the Difference!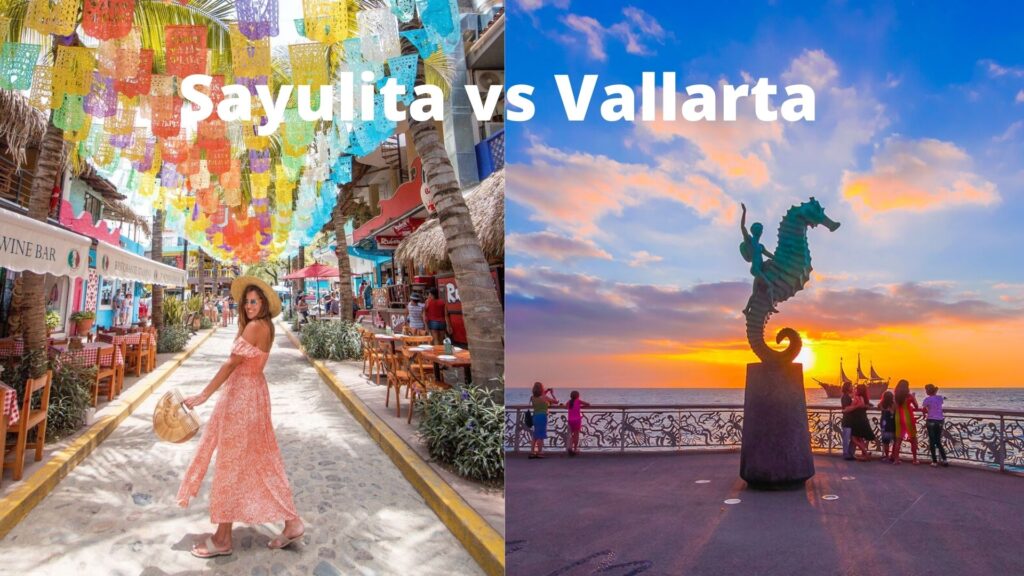 Finally, you've decided to visit the beaches of Mexico's west coast. Congratulations! Awaiting you are sandy beaches, fantastic food, beautiful jungles, and various activities. Choosing where to stay and whether to stay in Sayulita, Puerto Vallarta, or Nayarit can be confusing. So if you are asking yourself, "Is Puerto Vallarta or Sayulita better for me?" Let's compare the two and see which you like more.
A Quick Guide of Sayulita Vs. Puerto Vallarta
Sayulita is much smaller compared to Puerto Vallarta, with about 298,000 residents. Sayulita only has about 2,000 residents, while Puerto Vallarta has more than 300,000 people. So, Puerto Vallarta has more city-like amenities, venues, beaches, and restaurants to visit. In contrast, Sayulita is tiny, but that may be what you are looking for, as every inch is walkable.
Distance from Puerto Vallarta to Sayulita
Sayulita is not that far from Puerto Vallarta, and Google does say that it is only 42 kilometers or about 30 miles away. But it is not the mileage that counts; it is the drive time that matters here. Drive times will differ depending on traffic. You can expect drive time to be about an hour and twenty minutes and sometimes even more. The best way to get to Sayulita is by taxi or renting a car. However, if you are willing to hop on the bus, you can expect to be at your destination in about two hours.
Arriving at The Airport
Getting to Puerto Vallarta from the airport is a relatively short drive of about 30 minutes. However, it is a little longer to Sayulita, but not so wrong either, as the airport is on the Nuevo Vallarta side of town, meaning it is closer than downtown Vallarta and is only about an hour and 10 minutes drive away.
To get to Sayulita from the airport, you will need to take a taxi or get a private driver to pick you up.
Sayulita is small and has a population of about 2,000 people, while Vallarta has more than 300,000, and you can tell the difference right off. Sayulita only has two roads that run parallel to the ocean, and only four blocks are the tourist downtown area. In contrast, the downtown boardwalk of Puerto Vallarta is about a mile long. Several beaches border Puerto Vallarta and Nuevo Vallarta, but you will need to take a taxi to access these.
Furthermore, Puerto Vallarta heads south on highway 200, and you can visit many different beaches along the way. Some of these are Quimixto, Boca de Tomatlan, Mismaloya, and more. Unfortunately, Sayulita only has two or three beaches, all within walking distance.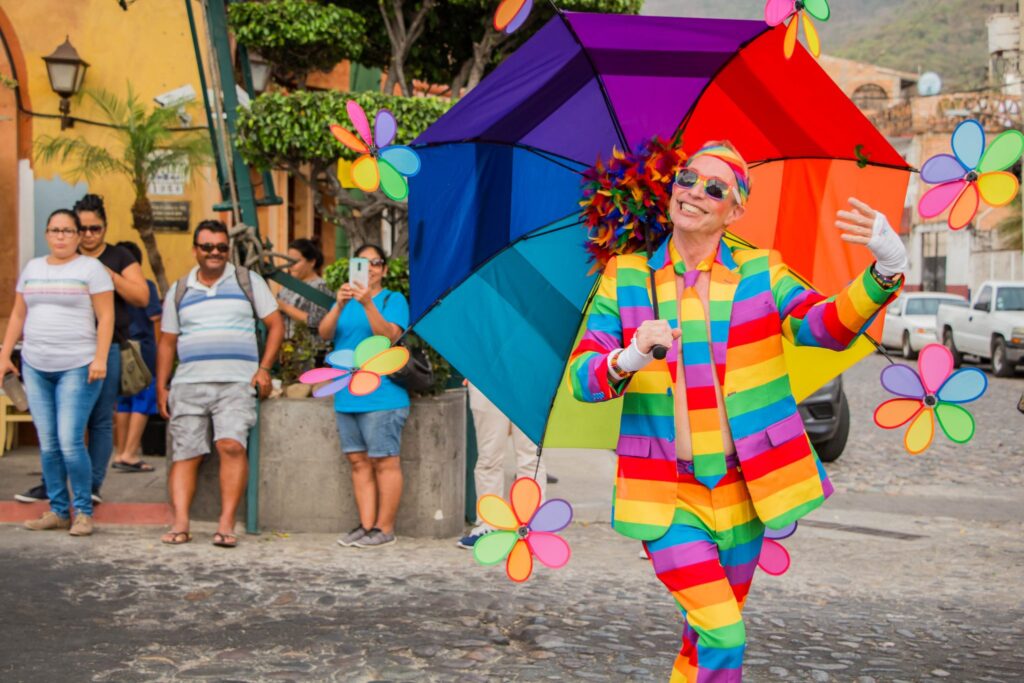 Retirees And The LGBTQ Community
It's a funny combination, but yes, there are more retirees and members of the LGBTQ community in Puerto Vallarta than in Sayulita. So if you are one of these two groups and want to meet like-minded people, Puerto Vallarta has more. That's not to say Sayulita doesn't welcome retirees or members of the LGBTQ community. No. Sayulita welcomes everyone, and lately, we have seen more people from all walks of life, so you can find friends here no matter what your age.
Sayulita is not cheap. It is expensive. Nevertheless, backpackers, hippies, and artists like the Sayulita area because of its bohemian and artistic vibe. The art in Sayulita is colorful, young, and earthy, whereas Sayulita is more of a showcase for famous artists. So if you are looking for a hip, healthy lifestyle type of environment, you should visit Sayulita.
Puerto Vallarta Has More Beaches
If you love to see the different beaches, Puerto Vallarta has many options. There is more coastal space in Puerto Vallarta, and visitors can see some of the best beaches in the area, but they will need to go by taxi, car, or bus.
Some of the most popular beaches are:
Playa de los Muertos
Playa Conchas Chinas
Playa Las Gemelas
Playa Yelapa
In contrast, Sayulita only has two beaches, the main Playa Sayulita and Playa de los Muertos. You can visit other Nayarit beaches like Nahui, Punta Mita and San Pancho from Sayulita though. However, you will also need to visit these areas by taxi or car.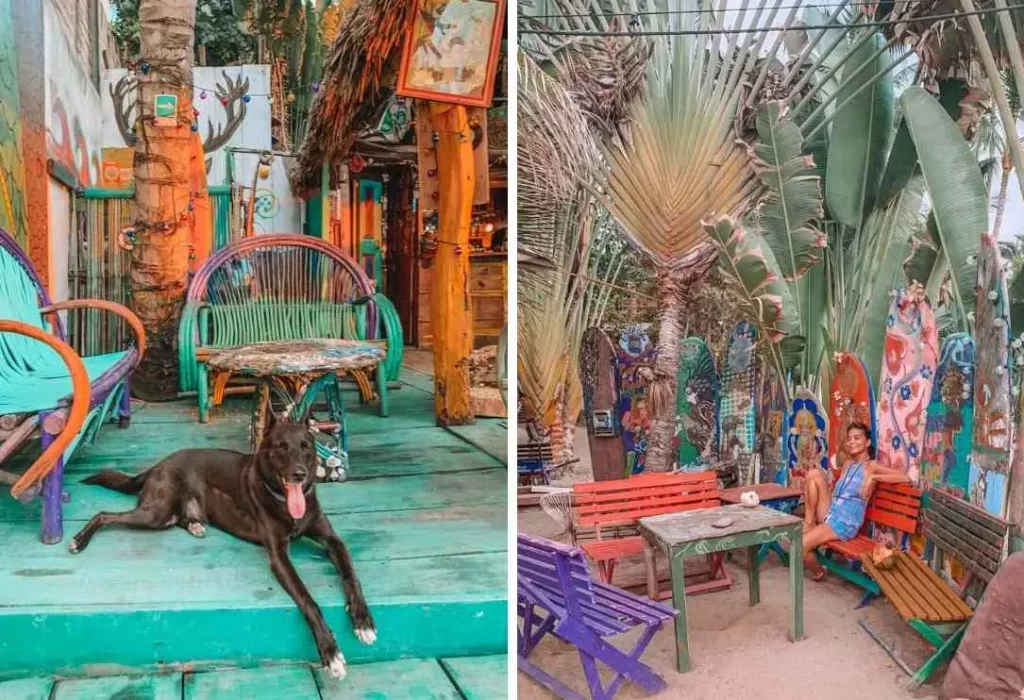 Sayulita Is a Dog Lover's Haven
If you compare Sayulita to Puerto Vallarta, you will not think of animals, but you will see a big dog culture in Sayulita. The SayulitAnimals helps spay and neuter and offers dog and cat rescues.
Winter is a popular time for many people to spend in Sayulita, and people bring their dogs along. Some foster through SayulitAnimals or take care of one of the street animals. So if you are in Sayulita, you can expect to see dogs walking with people, playing on the beach, or sitting with someone in a restaurant.
In contrast, there are fewer dogs out and about in Puerto Vallarta.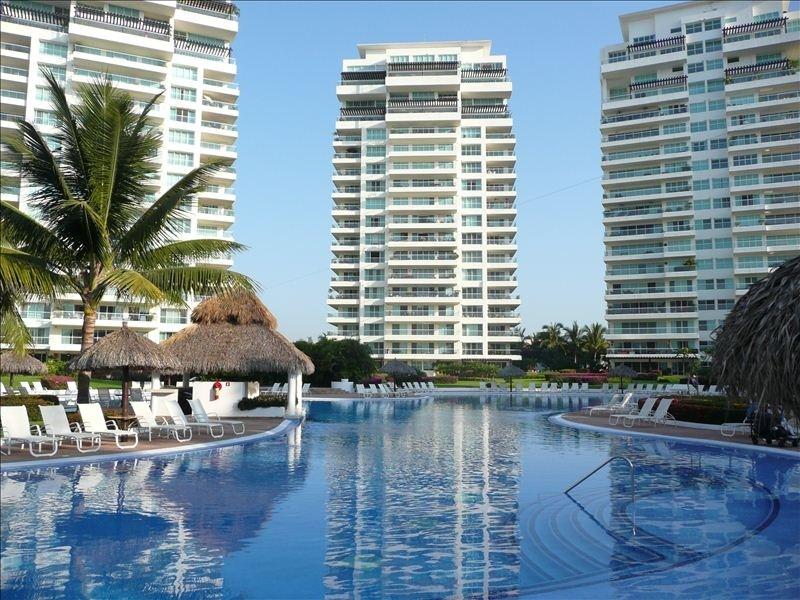 Puerto Vallarta has high-rise condos, and if you are comparing photos of one place to another, you can tell which one is Puerto Vallarta from the high-rises.
In contrast, Sayulita does not have high-rise buildings, and most buildings here do not go more than three or four stories high.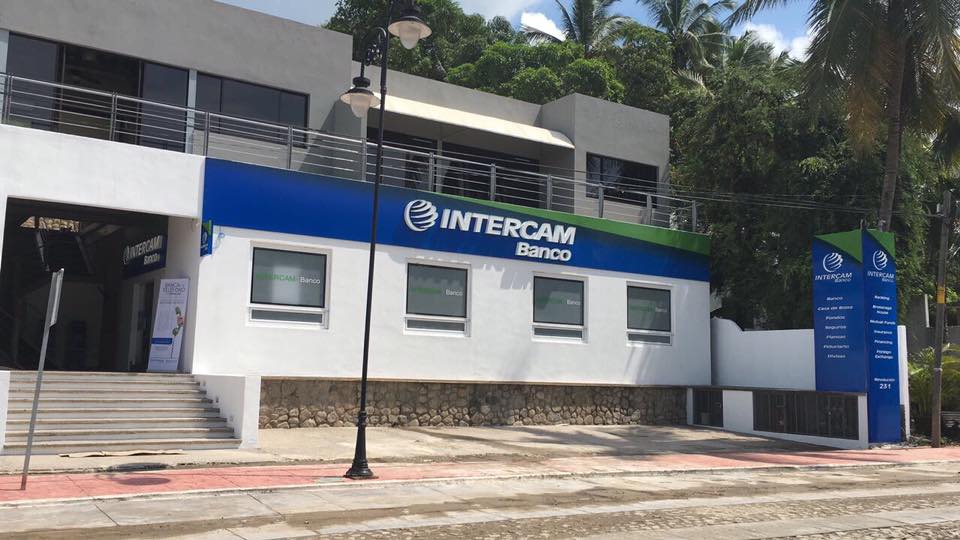 Sayulita only has one Intercam Bank, which sits outside of town, near the bus station. There are another two or three ATMs in town. Some sit in shops and others outside. You should probably ask at one of the bars or restaurants which is the one closest to you.
Credit Cards Are Not Accepted As Much in Sayulita
Many restaurants and shops do not accept credit cards. So you will need to use the ATMs or take pesos with you. In contrast, most shops and restaurants in Puerto Vallarta accept credit card payments.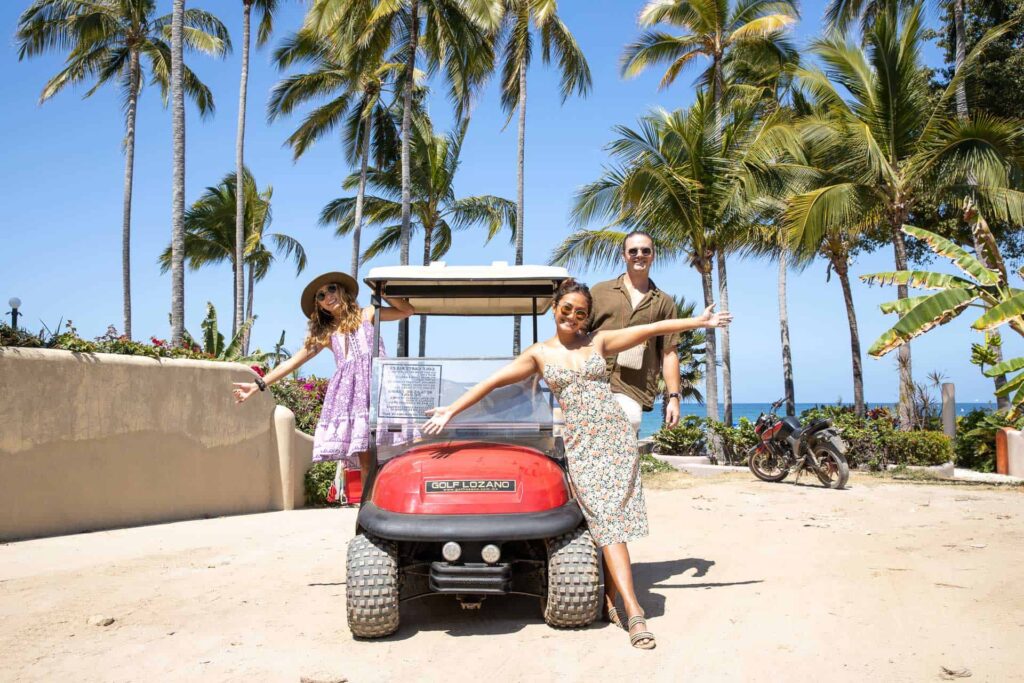 Sayulita Is Best Explored By Foot or Golf Cart
Sayulita is so small that it is not worth having a car here. It is too difficult to find a parking space. But if the steep hills are too much for you to handle, you can rent a golf cart for the day. It is a fun way to explore the streets of Punta Sayulita and the back roads of Sayulita. In Puerto Vallarta, you need to use a vehicle on your trip. YOu will need to use a taxi, Uber, or bus to get to your destinations.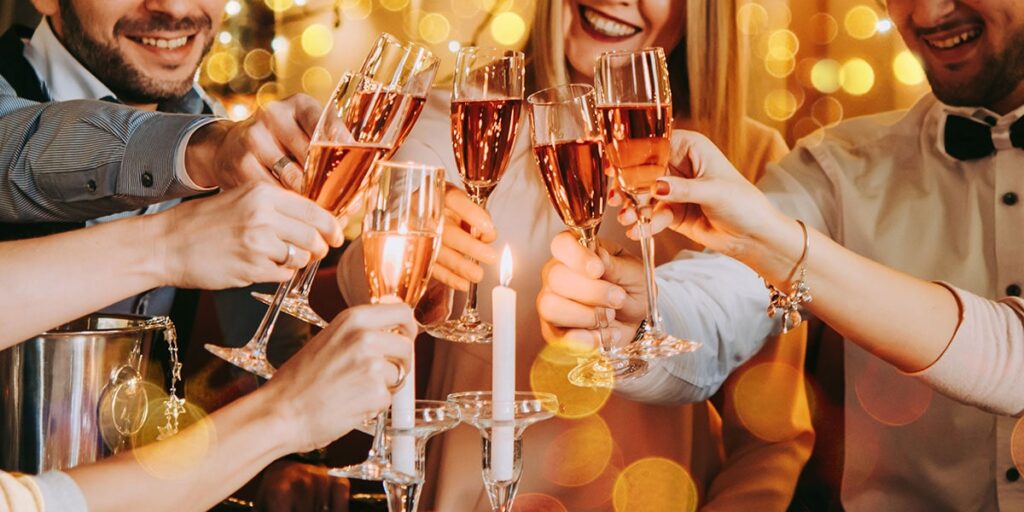 The Elegant Parties Are in Puerto Vallarta
Sayulita and Puerto Vallarta are both party towns. But the venues in Puerto Vallarta are stylish, elegant, and enormous. The dance floors are tremendous, and you may want to try the Mandala club to see what it's like. Night clubs line the Malecon in Puerto Vallarta, so it is easy to club hop, and parties go on well into the early hours of the morning.
In contrast, the bar scene in Sayulita is more laid back and informal.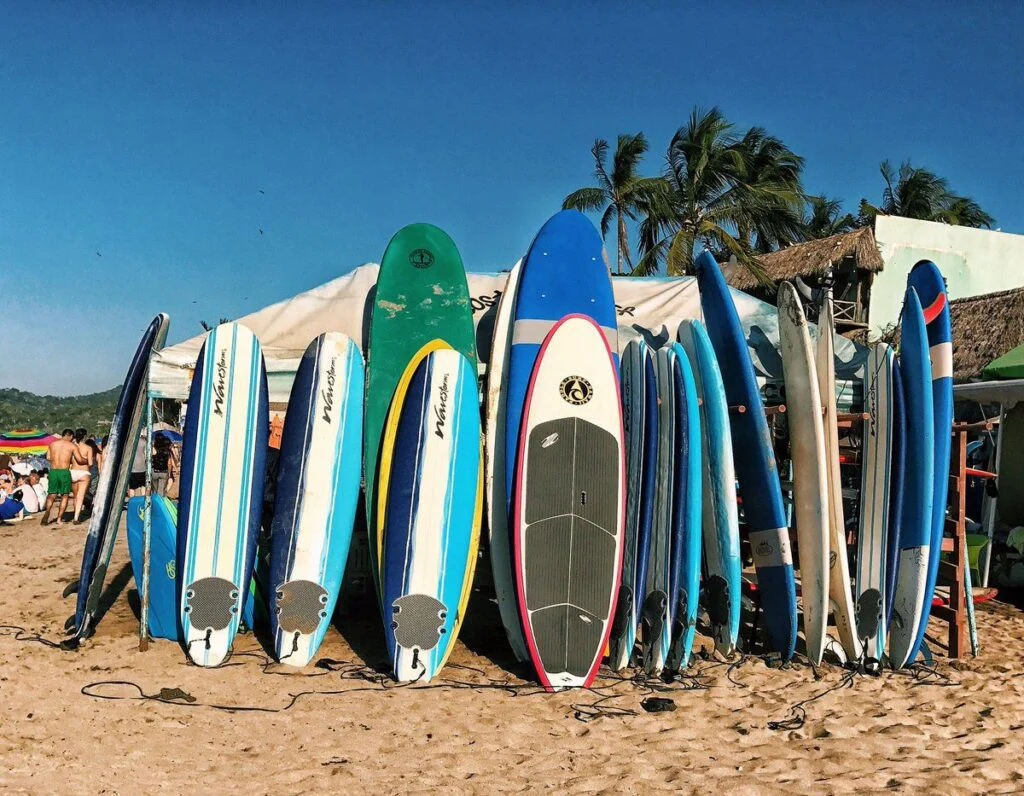 Surfing is Better in Sayulita
If you are a surfer, there is no comparison. Sayulita is the better option. Puerto Vallarta does not have any waves because it is a bay. In Sayulita, the waves are not ideal for the experienced surfer but fun for beginners to intermediate surfers.
There is no shortage of businesses offering lessons, and you can rent a surfboard right on the beach. Head to the south side to get the smaller waves if you are starting. This is where most of the surfers congregate. Towards the center, the waves are better for intermediate surfers and more challenging.