Ten Proposal Ideas; Best Places for an Epic Engagement in Riviera Maya!
The Riviera Maya is one of the gorgeous coastlines in the entire world. With 85 miles of pristine beaches and crystal clear, turquoise Caribbean waters, it includes the highly desirable cities of Playa del Carmen, Puerto Aventuras, Akumal, and Tulum. With just a short flight from the United States or Canada, you'll arrive in a lush jungle paradise with cenotes, Mayan ruins, and luxurious accommodations. No wonder the area has become a top destination for all things romantic, including weddings, anniversaries, and marriage proposals!
So, maybe you've already got the ring in hiding but still haven't ironed out all the details of how you will pop the big question. With the following ten epic proposal ideas in Riviera Maya, we guarantee that it'll spark you with excitement and inspiration to make your big day unforgettable.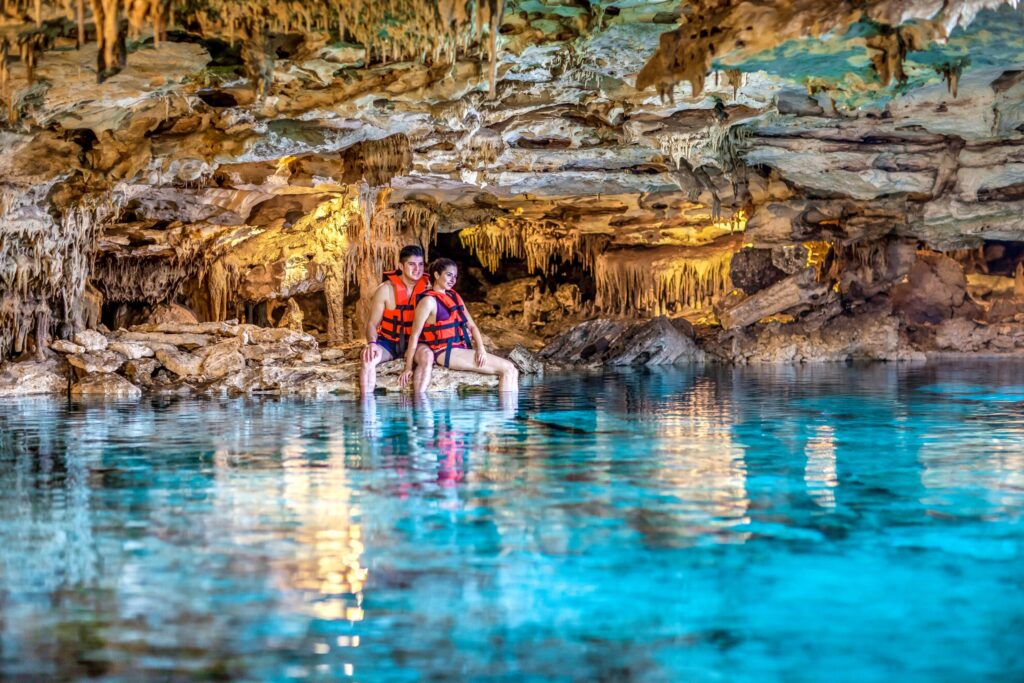 For an exotic yet relaxing paradise proposal venue, check out Ecopark Kantun Chi, just 20 minutes from Playa del Carmen. Situated in the tropical jungle of Riviera Maya, you'll find this fantastic eco-park with five unique cenotes and an underground river. Visitors are captivated by the tranquility, mystery, and beauty of the crystalline waters, the surrounding jungle flora, and native fauna.
Follow the jungle trails to experience the crystal clear water caves full of life and natural charm. Take a swim in the beautiful waters and explore the underwater river's impressive speleothems (stalactites, stalagmites, columns, anti-stalagmites, curtains, and helictites). Indulge in some delicious Mayan cuisine at the on-site restaurant, Lol-Ha (Water Flower), and then take your partner down to Cenote Zihil Ha, where you have already set up the romantic ambiance with candles and flowers. Ask your partner to spend eternity together under the gorgeous palapa overlooking the breathtaking garden and surrounding tropical vegetation.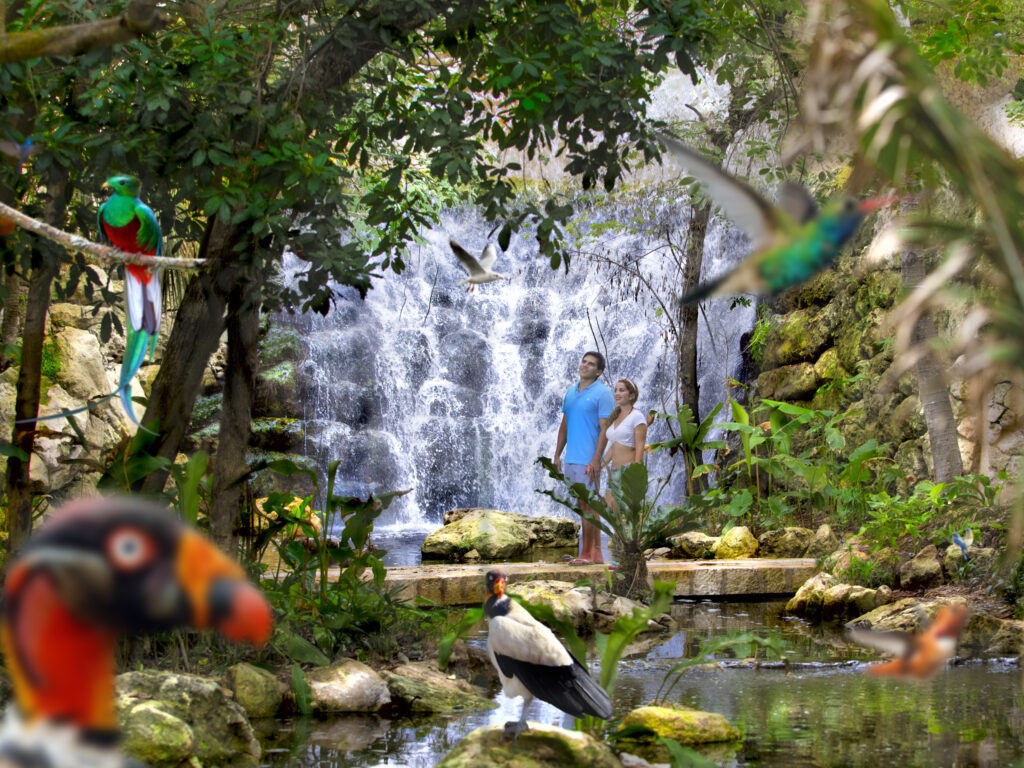 9. Butterfly Pavilion at Xcaret Park
Xcaret Park is a beautiful nature park in Playa del Carmen with more than 50 natural and cultural attractions. It is located in the Mayan jungle and includes underground rivers, cenotes, and a small inlet where the Caribbean Sea enters the land. Spend the day soaking up the sun adventuring along the tropical jungle trail before heading out to the Xcaret beach, natural pools, or inlet. Explore Mayan culture with traditional Mexican dance and the Xcaret Mexico Espectacular presentation.
After a full day of fun activities, relax with a 5-course wine tasting event at the Xcaret wine cellar, and work to the Butterfly Pavilion. As one of the largest butterfly pavilions in the world, over 20 species are reproduced and on exhibit here. Embrace the romantic and memorable ambiance created with lush jungle greenery and hundreds of butterflies flying about. As butterflies often symbolize long life and undying love, allow this magical environment to inspire your proposal speech as you ask your partner to spend eternity with you.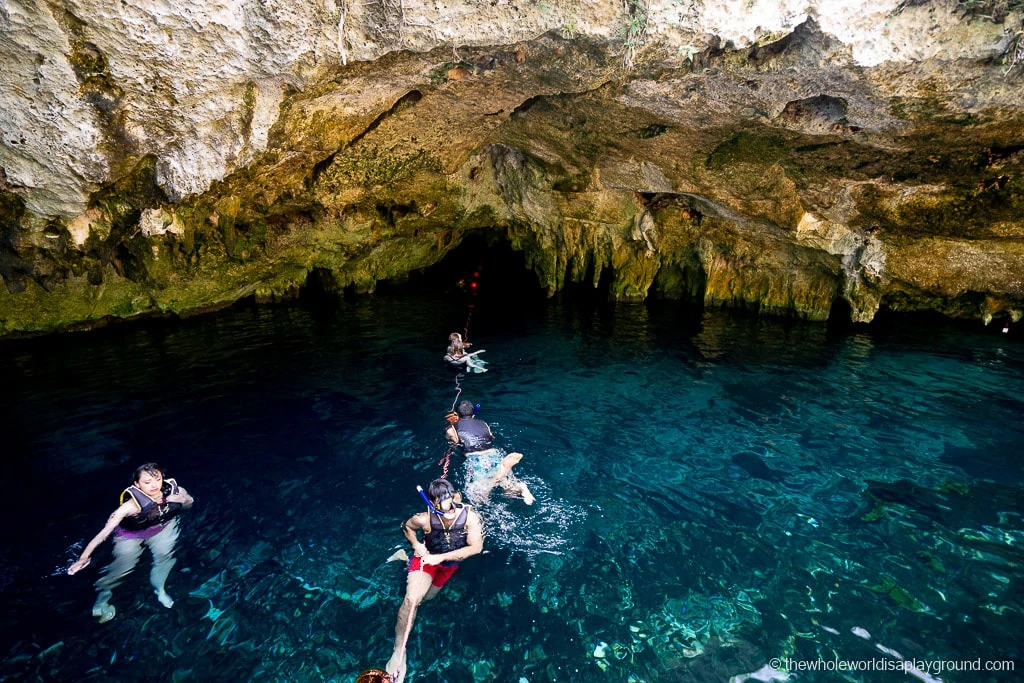 Visiting the El Gran Cenote is often mentioned as one of the best things to do while visiting Tulum. It is one of the most famous cenotes in the Riviera Maya, with several open-air cenotes, caves, and caverns connected by wooden boardwalks. You can find it just a few kilometers from Tulum on the way to Coba.
The entire place is a dream for visitors with its crystal clear turquoise waters, luscious jungle vegetation, and incredible rock formations. The cenotes are ideal for snorkeling as they are abundant in marine wildlife, including various fish species and even turtles. Relax and sunbathe on the clean, mowed lawn or lay in one of the hammocks in the shade. Due to the calm nature of the waters, they're perfect for cooling off after time spent in the hot Mexico sun. Find a secluded spot in this picturesque garden of Eden paradise, and get down on one knee!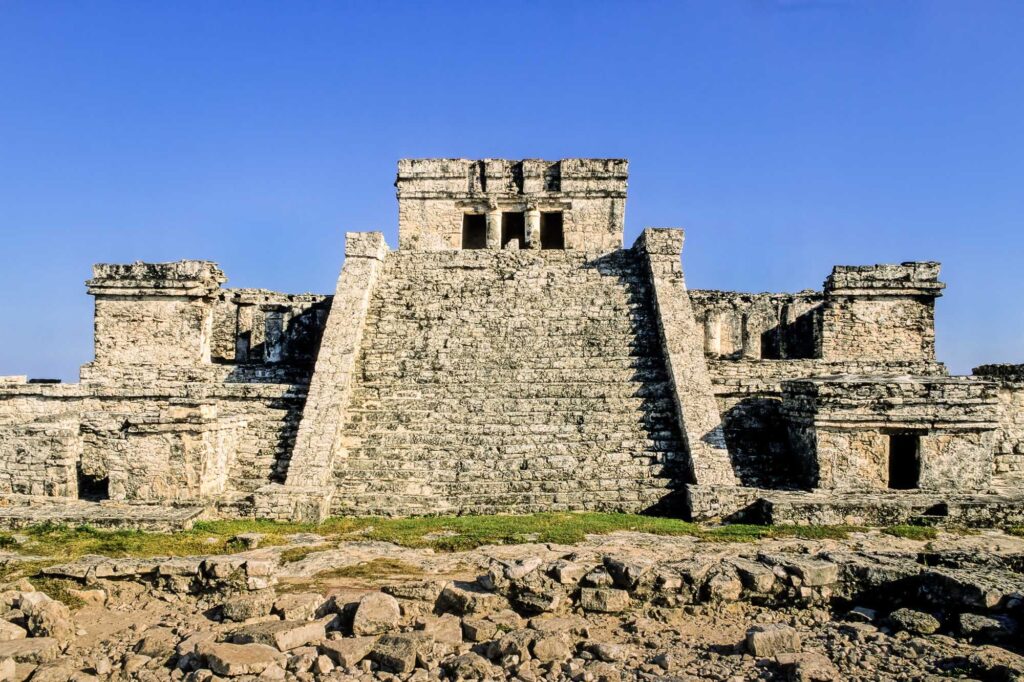 El Castillo (the castle) is one of the most romantic places in Tulum. This archaeological site was built atop a gorgeous seaside cliff, overlooking the central plaza on one side and the Caribbean on the other. Being the tallest and most imposing structure of the Tulum ruins, it served as both a temple and a lighthouse. The spectacular views from the castle provide a stunning backdrop for the big moment.
While climbing the structure itself is no longer allowed, you may climb the steep wooden staircase that leads to one of the best beaches in Tulum. Swimming at the foot of a Mayan pyramid is undoubtedly a one-of-a-kind, unforgettable experience.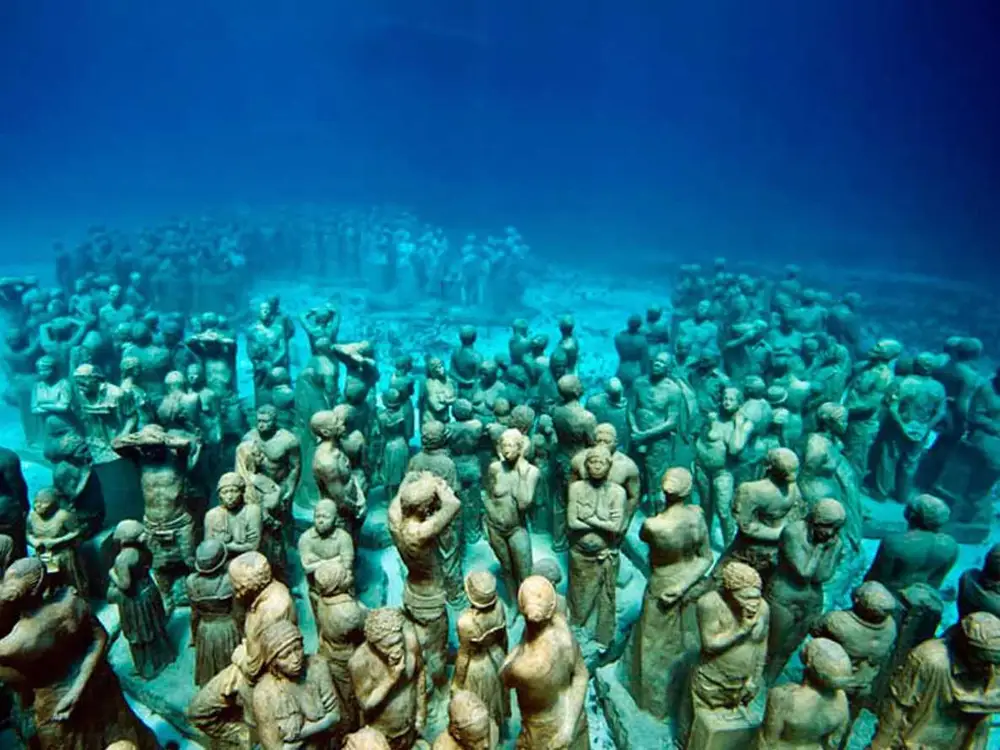 6. MUSA (Museo Subacuático de Arte)
For an epic yet unique proposal idea, propose underwater at the Underwater Museum of Art! With more than 500 life-sized sculptures submerged between 10-20 meters of water, you can use scuba, snorkel, or even paddle around in a glass-bottom boat! Plan for an unforgettable engagement with a hidden sign where your significant other will be as surprised as much as they are full of pure joy.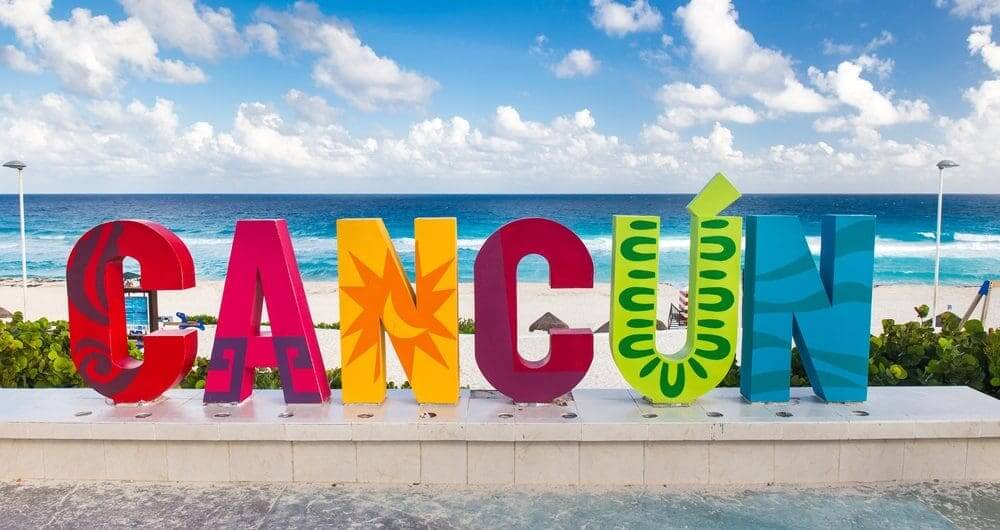 If you're looking for a quiet, more intimate setting, Playa Delfines (Dolphin Beach) is the perfect locale. Also known as El Mirador (The Lookout), this beach is located on the stretch commonly known as Cancun's hotel zone. It is exceptional, though, because there are no hotels, restaurants, stores, or anything else built on the beach. You can rent palapas, umbrellas, and chairs for shade, but other than that, it's calm and serene. Use your creativity to plan an unforgettable teepee picnic complete with cozy pillows, candles, elegant wine, and your favorite music that brings back memories of all the fantastic times you shared while dating. Catch one of the breathtaking sunsets this beach is known for and celebrate your new engagement.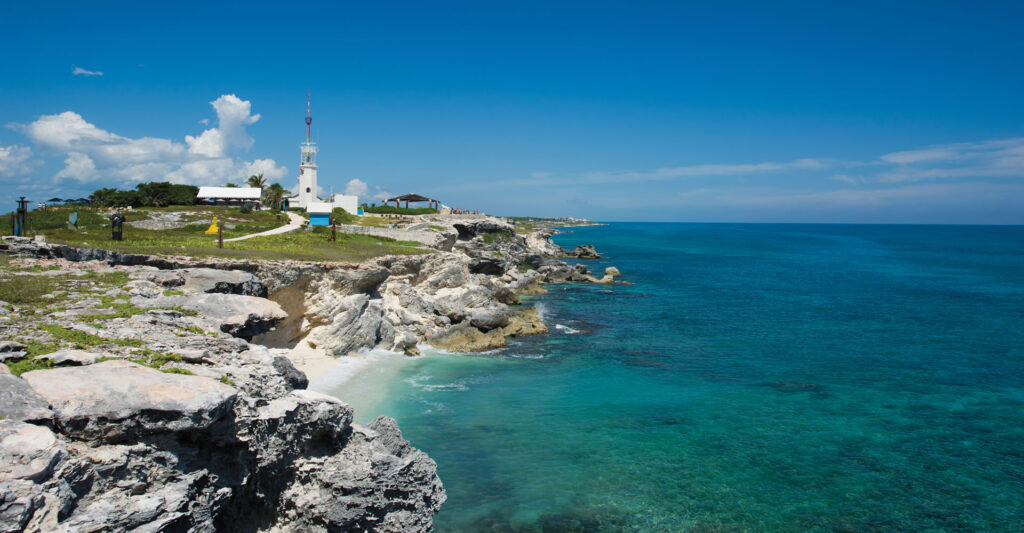 4. Punta Sur, Isla Mujeres
Plan a day trip or weekend getaway to majestic Isla Mujeres. Sitting 8 miles off the coast of Cancun, you can access the island with just a 20-minute boat or ferry ride. The entire island is a gorgeous, romantic hidden paradise with secluded beaches and some of the most magnificent natural scenery you'll ever experience. 
Head to Playa Norte (North Beach), where you can spend the day relaxing at one of the many beach clubs, enjoying a delicious cocktail and fresh seafood under a palapa. Ranked as one of the ten best beaches in the world, it is undoubtedly one of the most beautiful places in Mexico. Its palm-tree-lined, pristine, white sand combines with shallow, crystal clear Caribbean waters to make the perfect intimate setting to share your love and plans for the future. The water is so calm and clear; it gives you the feel of a gigantic pool. With minimal waves, it's the perfect place for snorkeling or paddleboarding.
While at Isla Mujeres, you don't want to miss Punta Sur. Punta Sur is where nature blends with art as it combines impressive views, sculptural masterpieces, and the remains of the Temple of the Goddess Ixchel (the Mayan goddess of abundance, love, and fertility). It is located on the southern part of the island and is the highest point, reaching 20 meters above sea level. Each morning, Punta Sur receives the first rays of sunlight, which you can admire from the gorgeous cliffs that provide breathtaking views of the Gulf of Mexico, the bay of Cancun, and the bay of Isla Mujeres. Arrive first thing in the morning to indulge in the warm rays as you experience the quiet serenity of this magical spot and get down on one knee. Following this fairytale engagement, take one of the paths descending the cliff to the seashore.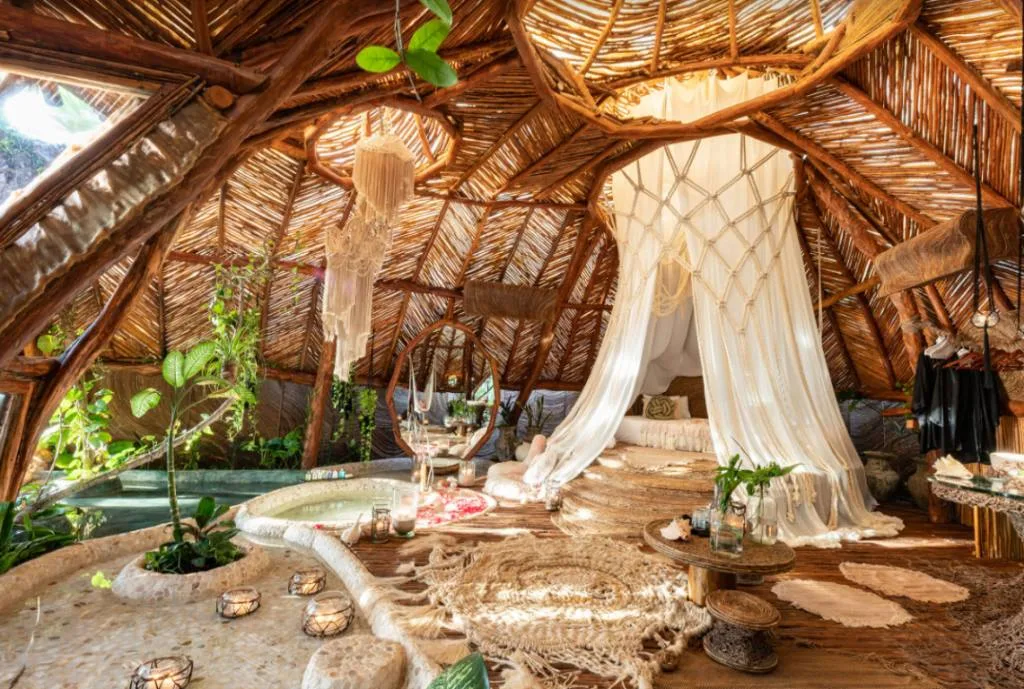 What's more romantic than spending an entire day pampered with your significant other while completely immersed in nature? At Eco Spa, you'll experience various areas ranging from designated pools, natural springs, and other features throughout the surrounding jungle. Traditional remedies and treatments are used, making it an intimate and ultra-relaxing experience.
Upon arrival, they'll welcome you with an ancient ritual for spiritual balance. This Mayan foot-washing practice uses an infusion of healing herbs to create a balance between clients and a place of healing. Participate in a traditional rebirth Temazcal (a type of sweat lodge) followed by a couple of therapeutic massages complete with cupping and hot stones. Embrace the relaxation and healing as you commit to your partner with your entire mind, body, and soul.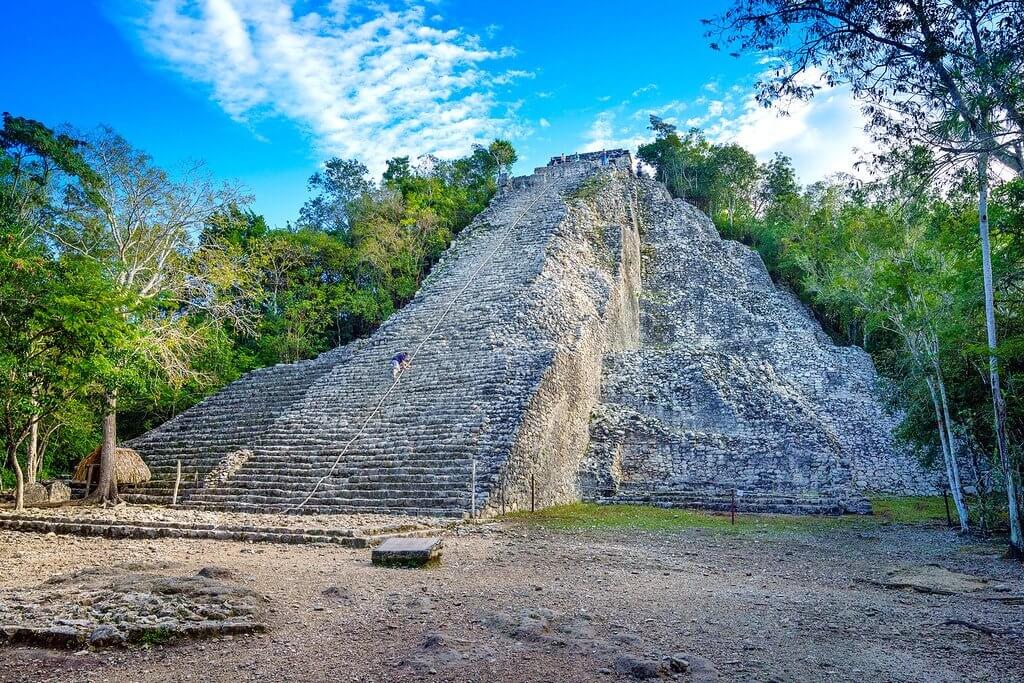 Coba is one of the most well-known ancient Mayan sites in the Yucatan Peninsula. It is located just 45 minutes outside Tulum, next to several crystal lakes. You can find the ruins in the middle of the wild jungle with dense overgrowth and abundant wildlife. Being one of the least excavated and reconstructed, the Coba ruins hold an incredible amount of history with Sacbe (stone highways), the ancient Nohoch Mul Pyramid, the Coba group (a complex of structures including a church and a ball court), the Coba Stalae (stone slabs that contain drawings and glyphs), and three surrounding cenotes.
The ancient Nohoch Mul Pyramid stands at 137 feet with 130 steps to the very top. Although challenging, the climb is well worth the sweeping, panoramic views of Lake Macanxoc and Lake Coba in the distance. Breathe in the fresh jungle air as you relate each step in your climb to pivotal moments and obstacles in your relationship, ultimately reaching a place of peace and beauty.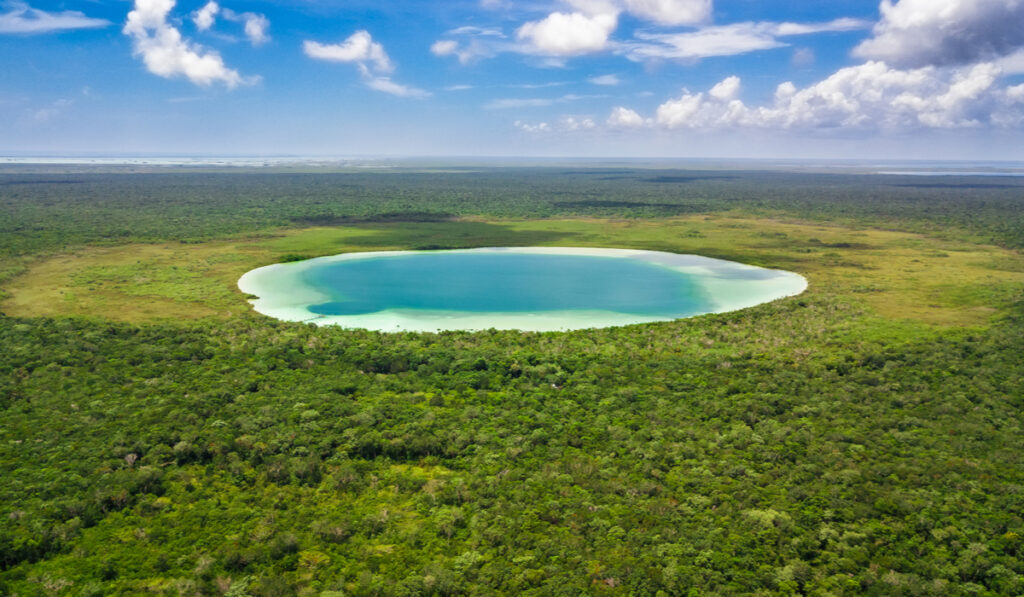 Meaning "Yellow Earth" in Mayan, the Laguna Kaan Luum is a mysterious lagoon with an 82-meter-deep cenote in the middle. The entire lagoon is surrounded by luscious, thick, tropical jungle and features stunning clear blue waters. Despite being located just 15 minutes south of Tulum, it's a hidden gem and not very well-known by anyone except the locals. As it is not a commercialized attraction, it is not overrun with tourists and offers a unique opportunity to embrace the beauty and serenity of nature.
Surprise your significant other with a morning picnic, including their favorite foods and champagne. Enjoy swimming and lounging around in the shallow, crystal clear waters as you enjoy the tranquil ambiance. Then, rent a kayak and head out into the seemingly endless lagoon for an intimate setting where you ask for their hand in marriage. 
The Riviera Maya offers equal parts adventure and relaxation with some of the most romantic places in the entire world. The whole area offers several choices: fascinating ruins to explore, crystal clear, turquoise Caribbean waters to swim, and breathtaking views to capture. With an abundance of thriving natural life, you'll find rich, tropical vegetation and native wildlife everywhere you look. So whether you want to explore and create an adventure for your big day or relax and enjoy, there are undoubtedly many picturesque places to choose from. So make your dream engagement a reality by choosing Riviera Maya.