All About Planning a Pet-Friendly Vacation in the Riviera Maya, Mexico!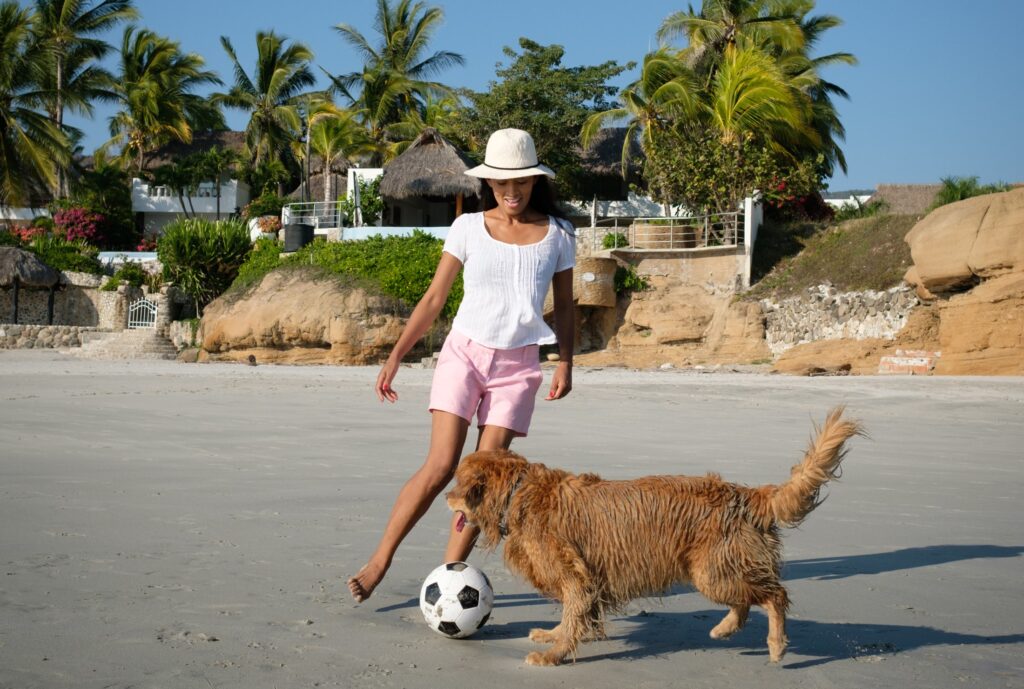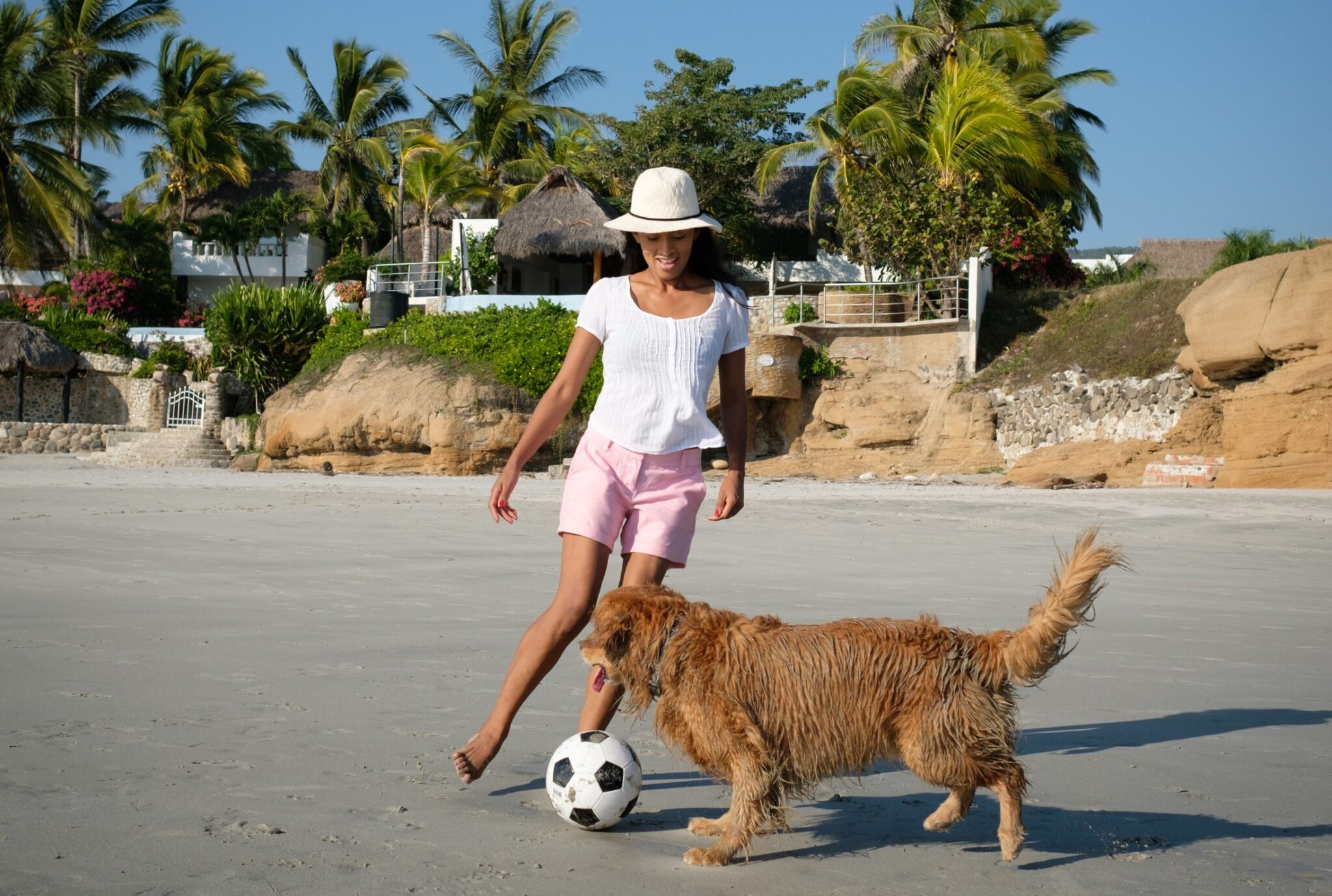 Approximately every two out of three homes in America include a pet. With the love, laughter, and companionship they bring us daily, it's no surprise that most people consider them faithful family members. Over the last few years, pet-friendly spaces have been incorporated everywhere.
You'll find that patios, restaurants, cafes, retail stores, breweries, and even office spaces have opened up to the inclusion of our furry friends. The same holds for many places in Mexico. As an already very welcoming country, it's recently expanded its pet-friendly options to cater to tourists and their pets.
The Riviera Maya is not only one of the gorgeous tourist destinations in Mexico but also one of the most pet-friendly. With designated services, accommodations, and beaches, the Riviera Maya is the perfect locale for your pet-friendly getaway. Of course, taking your pet with you to Mexico will require some planning; however, with this guide, everything will run smoothly!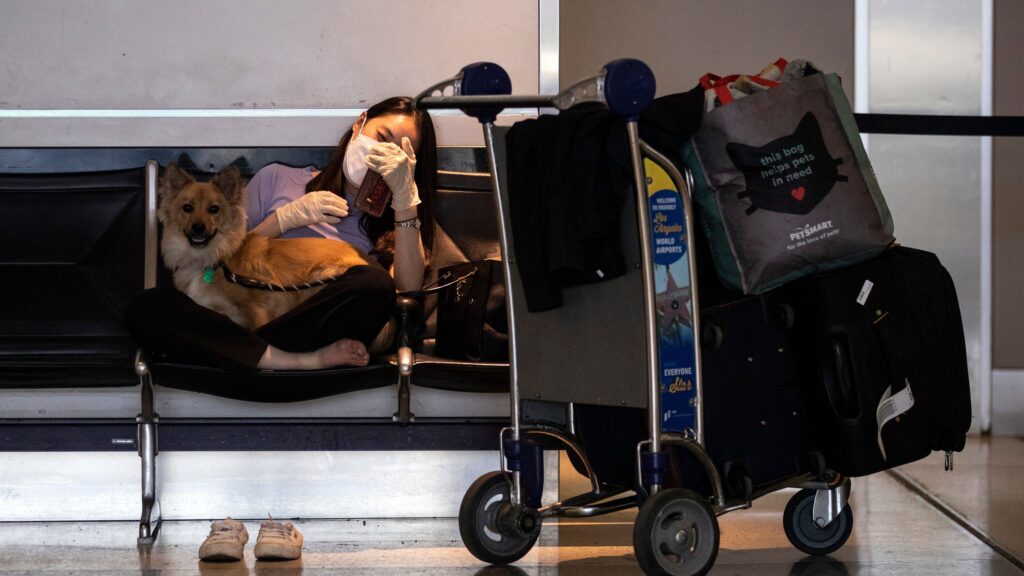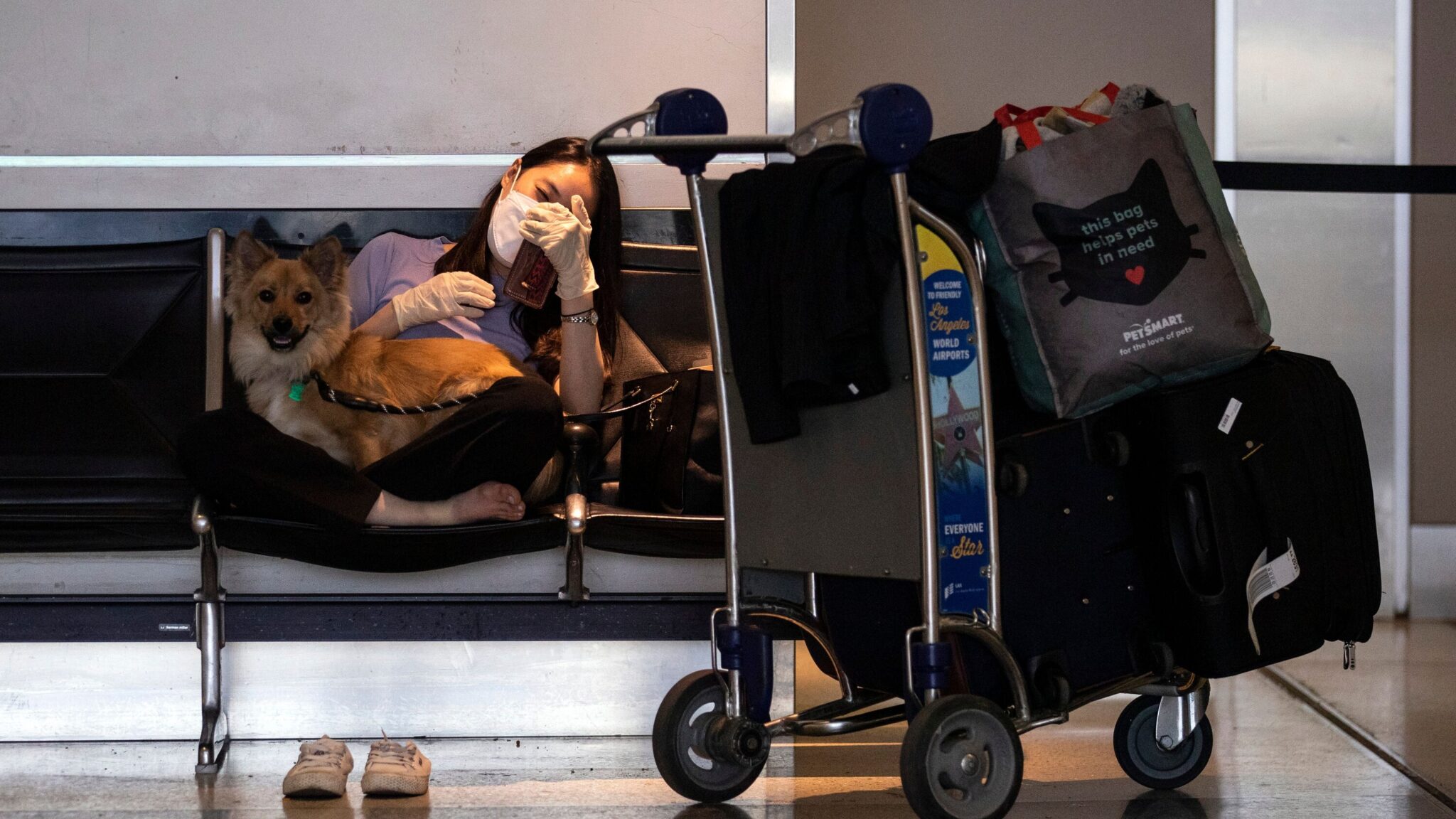 Traveling by Air with your Pet: Airline Policies
Just about every airline has its policy in place for traveling with a pet. As a general rule, we always recommend checking your specific airline's website for possible restrictions and guidelines unique to that airline. For example, many airlines have strict breed, age, and weight restrictions.
Aside from those limitations, you'll also want to ensure your aircraft has enough space for the animal in the cabin or cargo hold. In addition, some airlines limit how many animals they can have on board at any time. Finally, always acknowledge that you will travel with a live animal when booking your ticket. You will not be purchasing a ticket for your pet per se, but an additional fee will be involved with a separate confirmation number.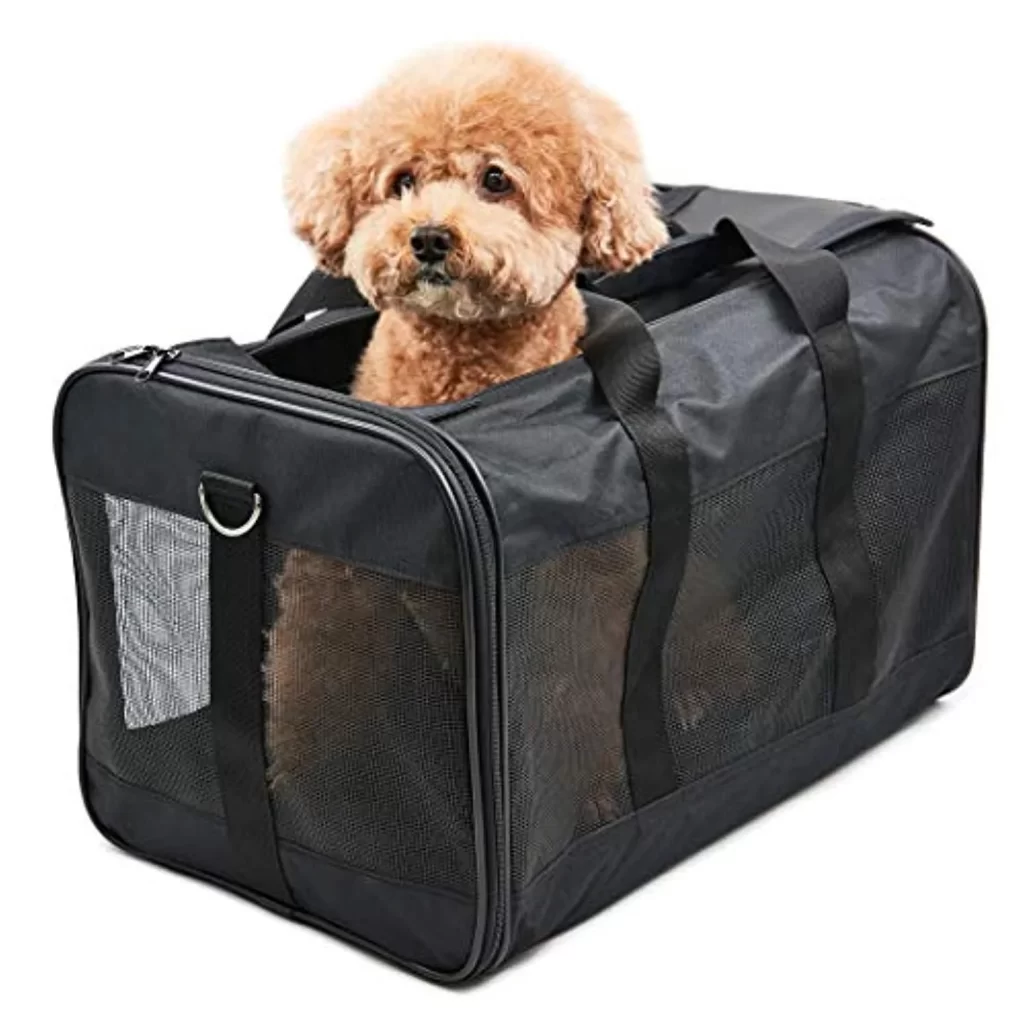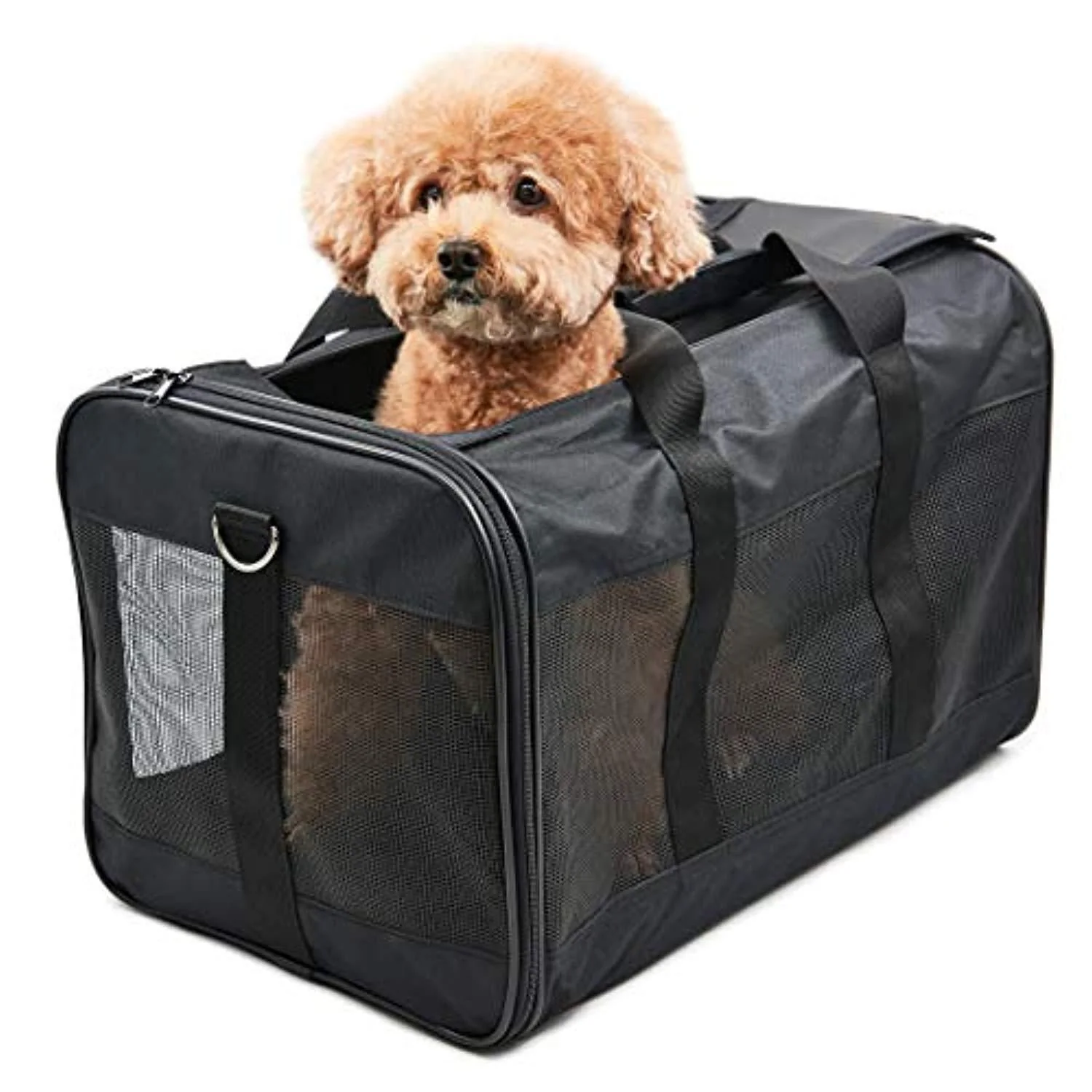 Airplane-Friendly Carriers
Most airlines allow pets up to 20 pounds in the cabin so long as they are contained in an appropriate carrier. Any larger animal will need to travel in the cargo hold. The carrier must fit under the seat in front of you for pets traveling in the cabin and be large enough for your animal to stand up and turn around while inside.
It should be well-ventilated, lightweight, and secure sufficient to keep your animal contained while in transit. The carrier's interior should include some absorbent liner if your pet goes to the bathroom. The airline will pass through security, so it's essential to get your animal in and out of the carrier quickly and easily.
Keep in mind that there are stringent restrictions on how large the carrier's dimensions can be (again, check with your airline to verify). If the carrier is any more extensive than the specified dimensions, the airline can deny your travel before you even get your boarding pass.
If having your animal sitting at your feet in the cabin with limited space makes you feel a bit uneasy, many airlines will give you the option to purchase an additional seat for your pet. While this seat will come at the standard purchase price, it will provide you and your pet more space to spread out and relax. In addition, this will allow you to keep your animal in the carrier on the seat next to you, providing them with more comfort and less stress.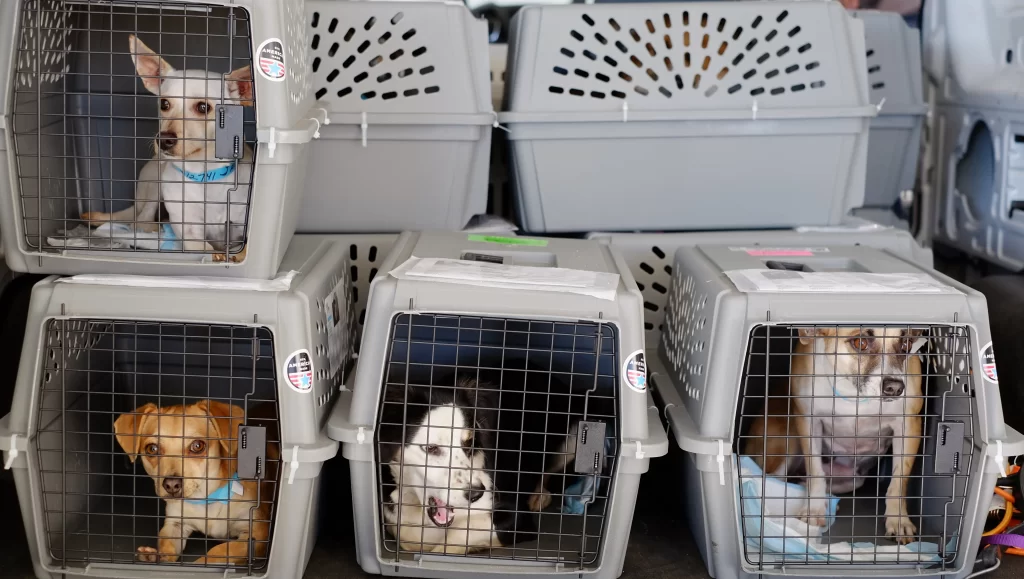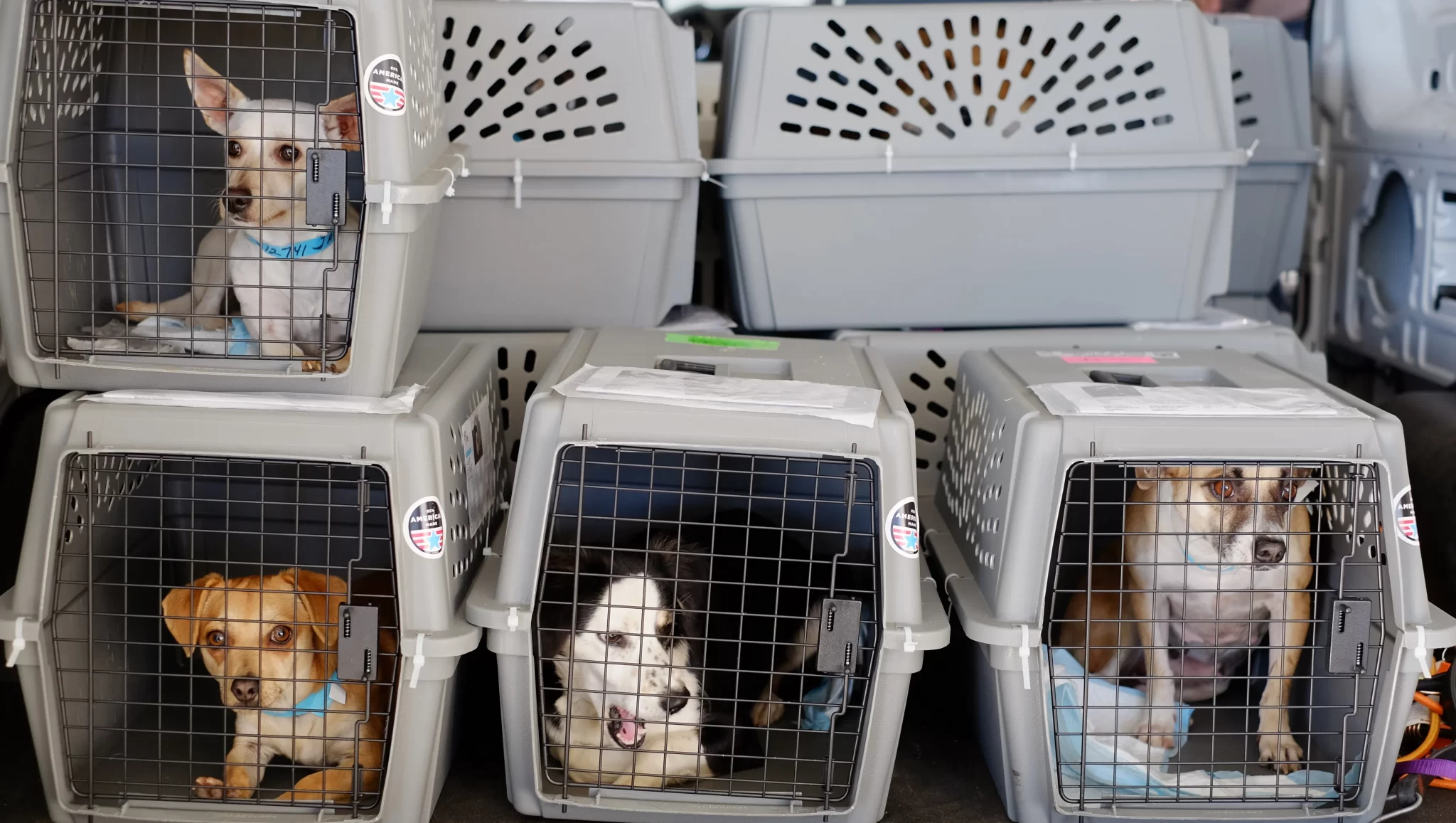 Flying your Animal in the Cargo Hold
The only option for animals more significant than 20 pounds is to travel with them in the cargo hold. Always check with your airline, as some airlines no longer fly animals as cargo and only allow them in the cabin. Other airlines may not allow specific breeds in the cargo hold due to difficulty breathing in warm temperatures and stressful situations. In some cases, you may be required to show a letter from your veterinarian saying that it is safe for your animal to fly in the cargo area.
For pets to travel as cargo, they will need to be housed in a large crate for them to stand, move, sit, and turn their head. It should be well ventilated, have a secure metal door and carrying handles, and be made of a rigid material to avoid bending under pressure. Permanently mark "live animal" on the top and side of the crate.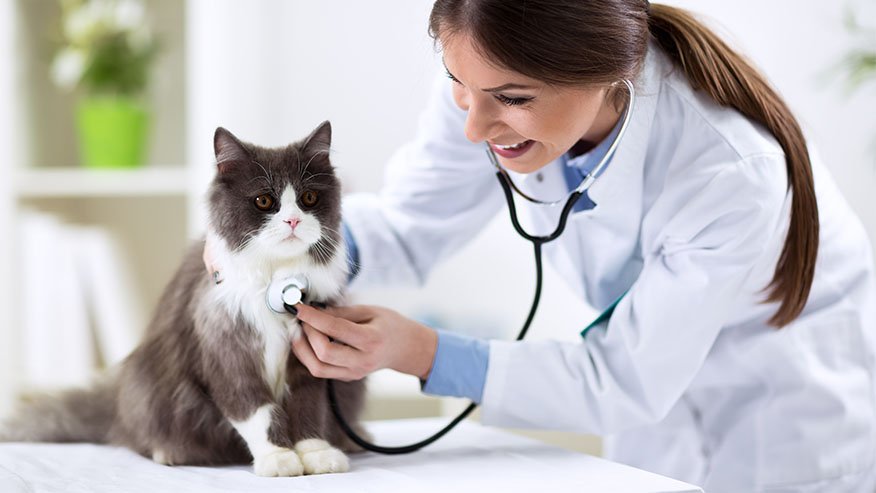 Health Certificates and Vaccine Verification
As of 2019, health certificates for dogs and cats are no longer required for entry into Mexico, as long as you travel from the United States or Canada. However, if you are traveling from any other country, you will need a health certificate issued by a licensed veterinarian in your home country.
The paperwork must be official documentation by a competent authority/veterinarian outlining the following. A declaration that your pet is clinically healthy has been vaccinated against rabies and distemper at least 15 days before your arrival in Mexico. You must internally and externally deworm your pet within six months before your arrival.
Despite not being required for entry into Mexico in certain circumstances, your airline may still require health certificates and documentation. Always consult with your airline first to determine their specific requirements. While the policies may differ from airline to airline, all operating in the United States require an up-to-date rabies vaccination. As a precaution, it may be best to bring your pet's medical and immunization records in your carry-on luggage.
When your plane lands in Mexico, it is required that you check in at the Mexican Animal and Plant Inspection Office (OISA/SENASICA). Here, you will present all necessary paperwork (health records, immunization history), if applicable. In addition, your animal will need to be brought into Mexico in a generally clean and hygienic carrier. A small amount of dry food and water is allowed. However, any accessories (including a pet bed, toys, snacks, or chew-bones) will be confiscated for disposal.
At this kiosk, your pet will also undergo a quick physical examination to verify that they do not present any signs of infectious or contagious disease, that they are free of ectoparasites, and do not present any fresh wounds or wounds in the healing process.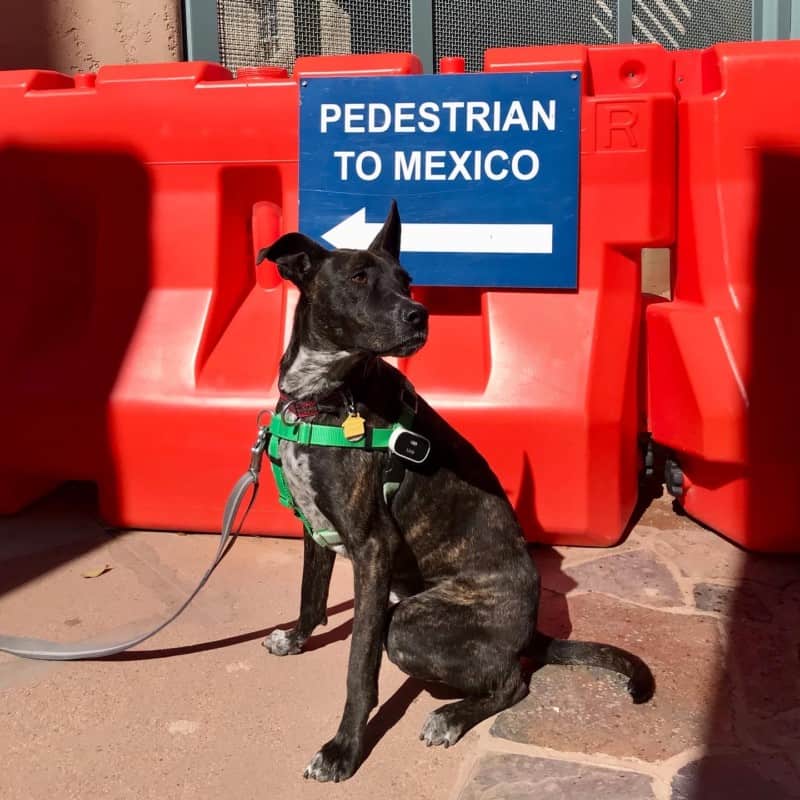 Getting Around Mexico with your Pet
Traveling with your pet in Mexico (especially dogs) is pretty simple. Most taxis and ride-share companies are flexible and can accommodate your request to travel with your pet. Remember that being respectful goes a long way in Mexico and that you should always ask permission before bringing your animal into the car.
Sometimes the taxi driver will ask that you hold your dog or put them on the floor so that they do not get hair on the seats, which seems reasonable. Specific pet-friendly transportation services are also available for 100% private, secure transportation. If you are traveling by car, always be aware of the anticipated weather conditions for the day. Mexico has a sweltering and humid climate, which could potentially lead to severe dehydration and even death of your animal. Always bring adequate supplies, including plenty of water, and avoid leaving your dog in the car alone.
Buses in Mexico are a little different than cars. They will allow pets, although ADO guidelines require them to be transported in the luggage compartment. There is no additional charge for animals less than 24 kilos (55 lbs). However, the airlines will accept no animal if the temperature goes above 30 degrees Celsius (86 degrees Fahrenheit) at any given point during the trip.
Pet Supplies and Veterinarians
You may purchase pet food and supplies at any major supermarket in the Riviera Maya. There are also quite a few chain stores (Petco, Petsy, +Kora, Petland) in the area and little family-owned shops that sell dry food in bulk. Veterinary care is easily accessible with various options across Mexico. Veterinary fees and the cost of medications are typically a tiny fraction of those charged in the United States, Canada, and Europe.
Pet-Friendly Entertainment Options
The Riviera Maya is a very animal-loving region with many places that offer animal access. The famous Fifth Avenue in Playa del Carmen is a fantastic place to walk with your dog. You will find many restaurants and terraces where you can enjoy food, drinks, and even artisanal beer with your furry friend. There are also several open-air shopping malls in Playa del Carmen where you can walk around with your dog (Quinta Alegria, Calle Corazon, and Paseo del Carmen). Various beach clubs and bars are other options for a fun pet-friendly outing that are often very accommodating.
Many allow entry with your dog as long as they are well-behaved and on a leash. In Tulum, there's an excellent spot called Taqueria La Eufemia. They offer a beautiful private, dog-friendly beach area with delicious tacos. The ambiance here is super friendly; all guests are greeted by the owner's Bobtail dog, Eufemia.
If you're looking for some exercise with socialization for your pup, there are a handful of official fenced-in dog parks in the Riviera Maya, including options in Playa del Carmen and Cancun. In Tulum, you'll find a walking/biking path in the Hotel Zone, where hundreds of people take their dogs for walks/runs.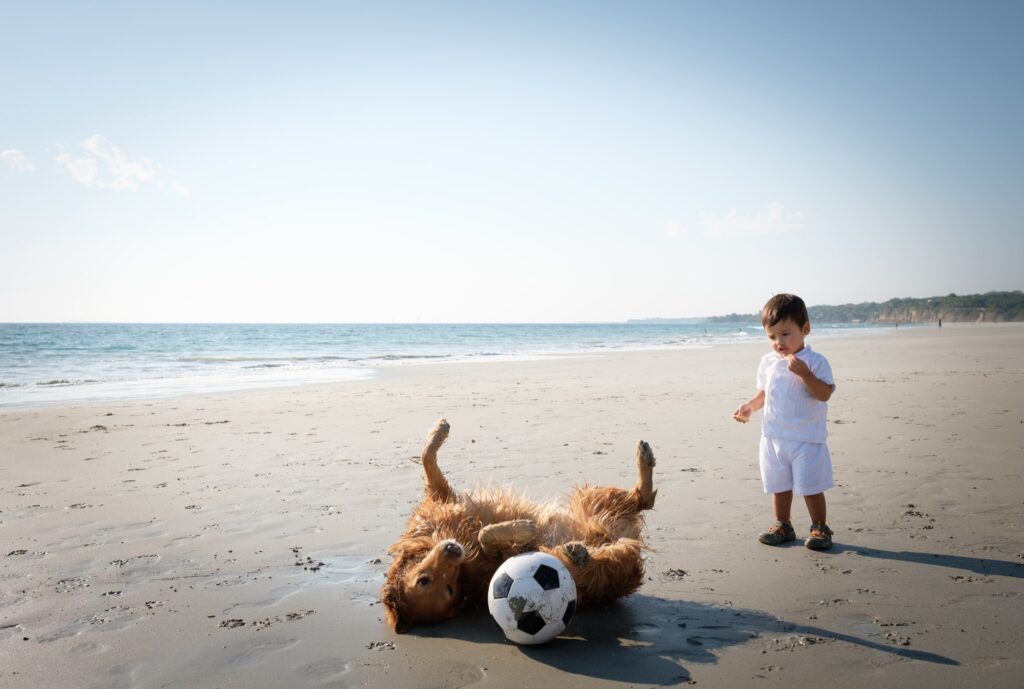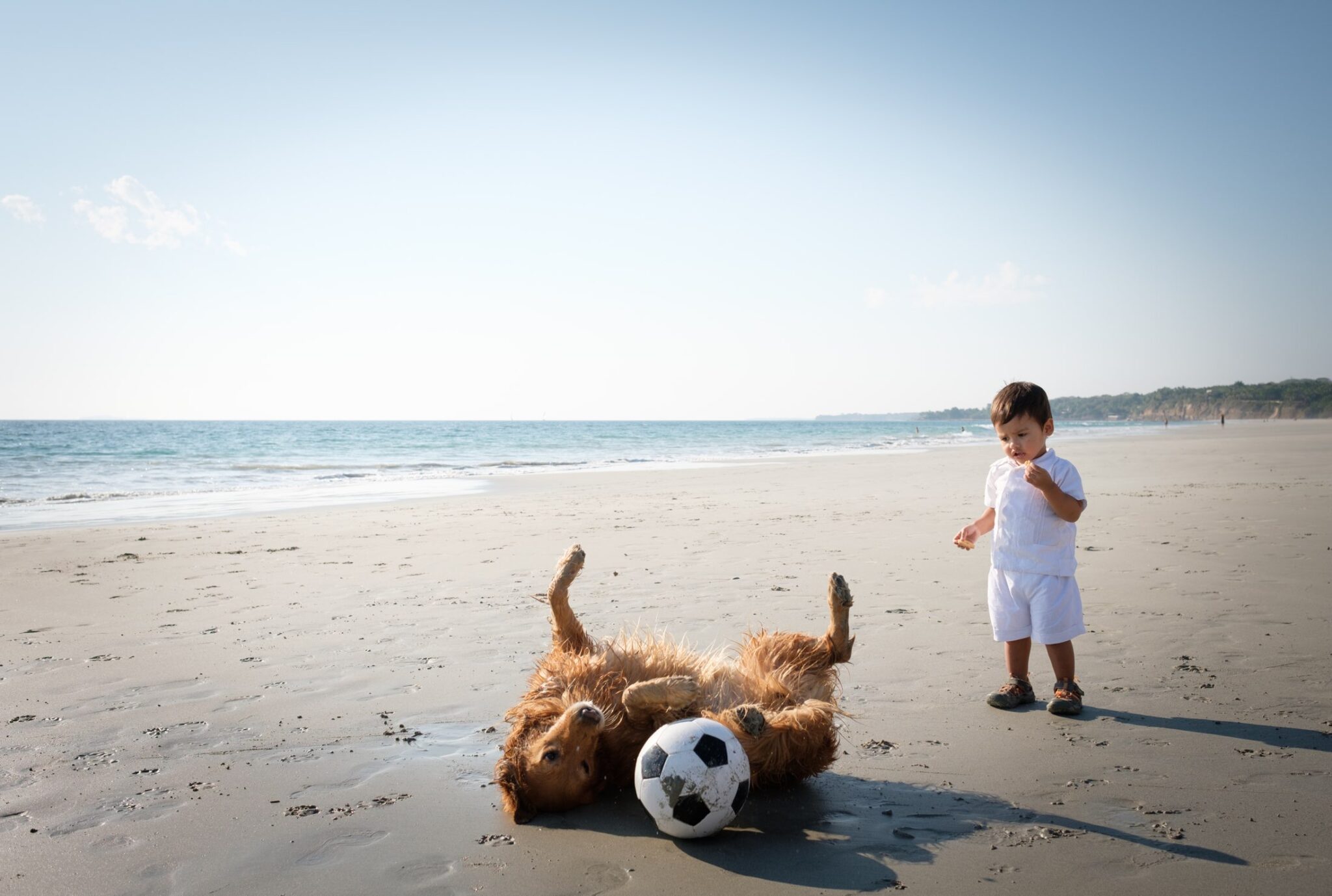 It is generally acceptable to walk your dog on most beaches in Mexico. However, some beaches in popular tourist areas now have signs prohibiting dog owners from bringing their dogs there. Luckily, there are quite a few pet-friendly beaches in the Riviera Maya.
In Cancun, options are limited but not nonexistent. For example, you may visit Playa Coral, a beach known for being one of the few Blue Flag beaches in the entire area. As a Blue Flag beach, it boasts pristine water, security, and restrooms. Open daily from 5 am to midnight; this beach is free of charge and not only allows dogs but also cats, ferrets, and even hamsters! Another option in Cancun is Isla Blanca, located in the northern part of Cancun. For a fun day trip outside of Cancun, Holbox Island is a gorgeous Caribbean gem that is very accepting of pets on the beach.
In comparison to Cancun, Tulum is a dog-owners paradise! Here, you can see dogs running free just about everywhere. However, there are no exclusive pet-friendly beaches like there are in Cancun, as most of them are already very accepting of furry friends. A fun dog-friendly beach club to highlight in the Tulum area is the Akiin Beach Club.
This private area has a gorgeous beachfront with beach beds, chairs, and plenty of room for your dog to run around. In Playa del Carmen, beaches are not generally labeled as officially dog-friendly; however, at the same time, they also do not frown upon the presence of dogs.
Returning Home Safely with your Pet
Returning home from Mexico with your pet may require specific paperwork and procedures depending on your country of origin. For example, some countries have quarantine regulations requiring you to quarantine your pet for a specified amount before you can bring them back home with you. Typically, the required paperwork is similar to the paperwork needed when coming into Mexico.
As with the procedure to enter Mexico, an exit permit must be obtained when you leave Mexico. This permit is issued by SAGARPA, the Mexican agricultural ministry, and includes a visual inspection of your animal to ensure they are in good health. Check your country's customs regulations and airline for specific instructions on traveling with your pet back into your country.
Ready to Start Planning your Pet-Friendly Vacation to the Riviera Maya?
Vacationing in the Riviera Maya, Mexico, is always a completely magical, unforgettable experience. Add in your furry best friend, and a few other things in life can compare. When we travel and leave our pets home, it's only natural to feel separation anxiety and worry about their wellbeing.
This time, ditch the pet-sitters and boarding kennels and bring them along with you! With a bit of planning and homework, your time in the Riviera Maya can be spent truly relaxing with your pet right by your side. Considering how much they bring to our daily lives, they also deserve a vacation in paradise, right?