The Top 5 Destinations for Fully Staffed Villas in Mexico!
Experience Unparalleled Comfort and Relaxation
in Mexico's Fully-Staffed Villas
If you're looking for a luxurious and private vacation experience in Mexico, renting a fully-staffed villa is the perfect option. Fully staffed villas provide unparalleled comfort and relaxation that traditional hotel stays can't match. Here are the top five destinations in Mexico for fully-staffed villas you should consider for your next vacation.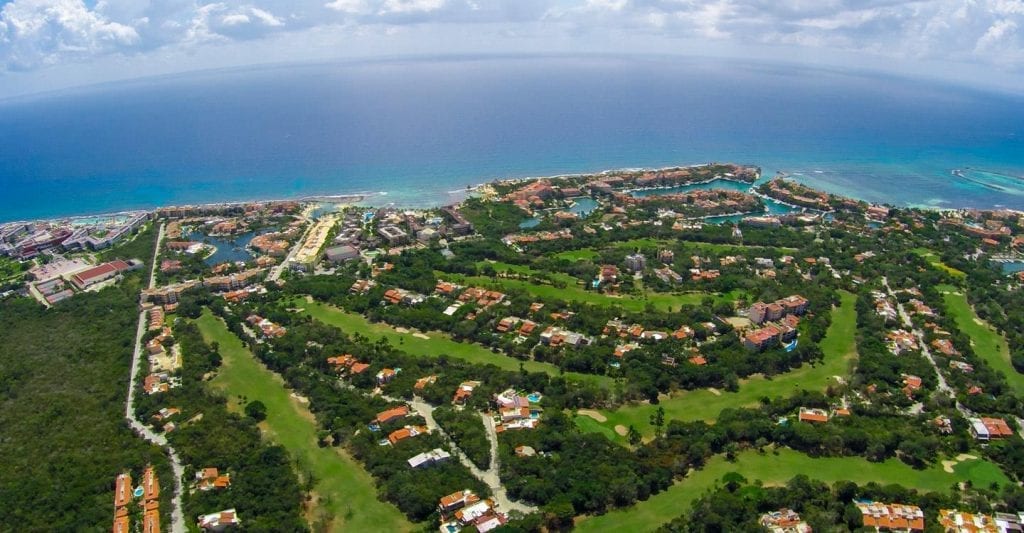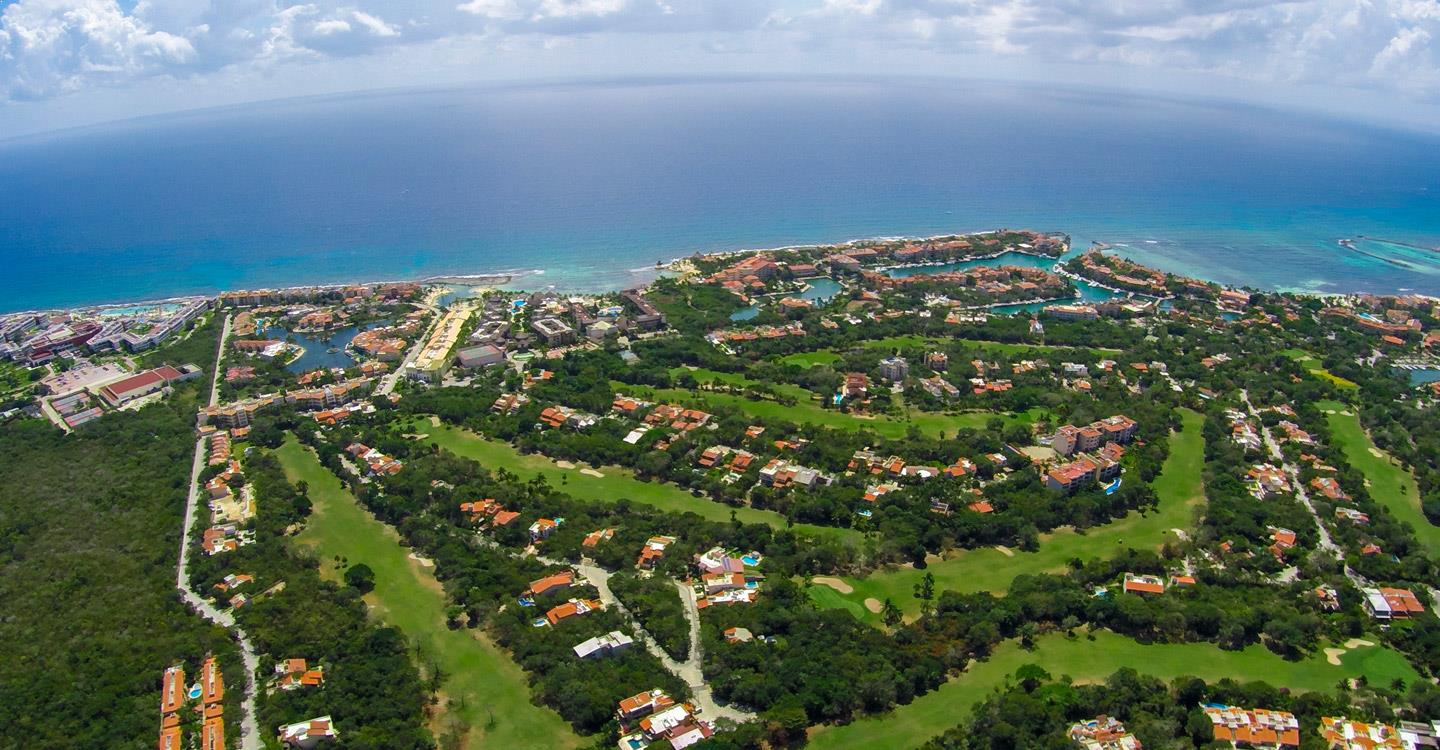 The Riviera Maya: An Idyllic Destination for Adventure and Tranquility
Mexico's Riviera Maya, also called the Mayan Riviera, stretches over 100 miles of pristine, white sandy beaches and beautiful, Caribbean turquoise waters. Just south of Cancun, it is home to the world's second-largest coral reef and encompasses Playa del Carmen, Puerto Aventuras, Akumal, and Tulum. Riviera Maya is one of Mexico's top tourist destinations for its cenotes, underground rivers and caves, archeological sites, scuba diving, snorkeling, zip-lining, rappelling, jungle tours, boating, parasailing, and deep-sea fishing.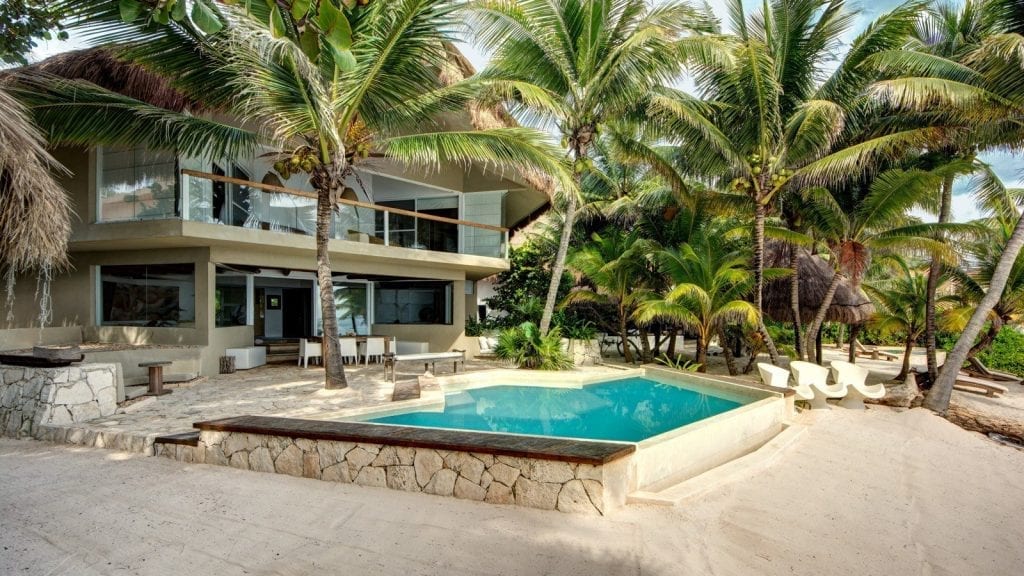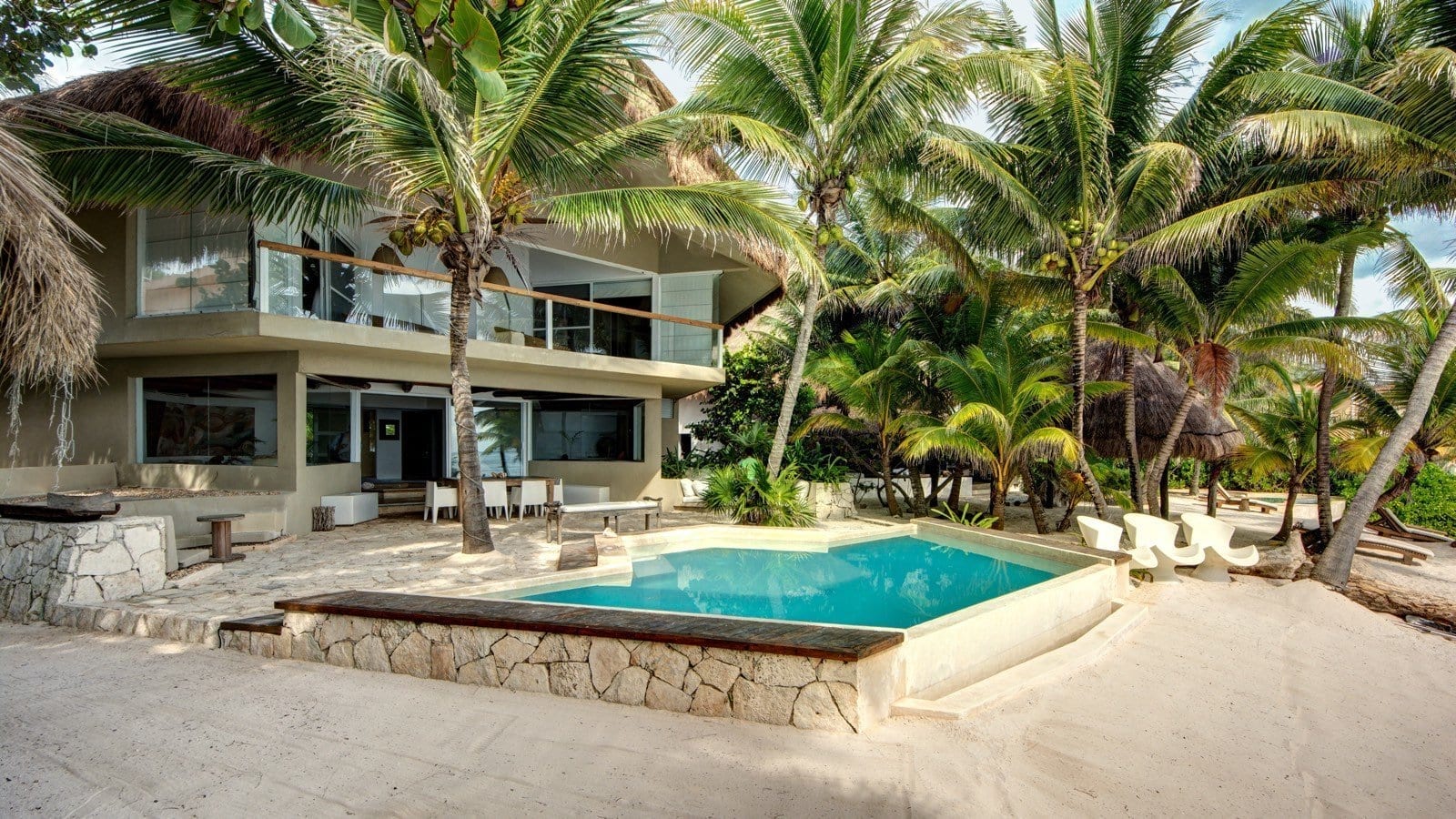 Villa Zacil Na: A Private Beachfront Paradise in Puerto Aventuras
If you want the ultimate relaxation and privacy, Villa Zacil Na in Puerto Aventuras is an excellent choice. This stunning Palapa Style Villa features a private beach, a heated infinity pool, and an entire staff that includes a private chef, personal butler, and concierge.
Punta Mita: A Serene Peninsula Oasis for Luxury and Leisure
Punta Mita is located 10 miles north of Puerto Vallarta on the north end of Banderas Bay in Nayarit. It is a 1,500-acre private peninsula surrounded on three sides by magnificent white sand beaches, aquamarine waters, and a lush tropical jungle. It is an ultra-luxurious vacation hideaway surrounded by white sand beaches, aquamarine waters, and a dense tropical jungle. Punta Mita is known for its world-class golf courses, beautiful surfing beaches, and fancy beach clubs.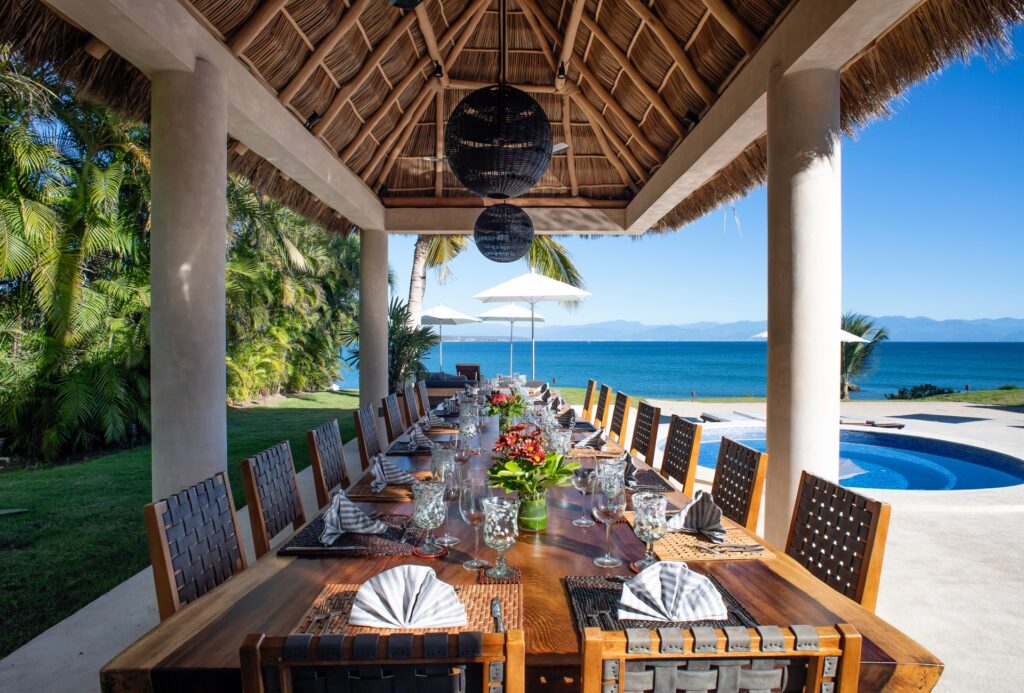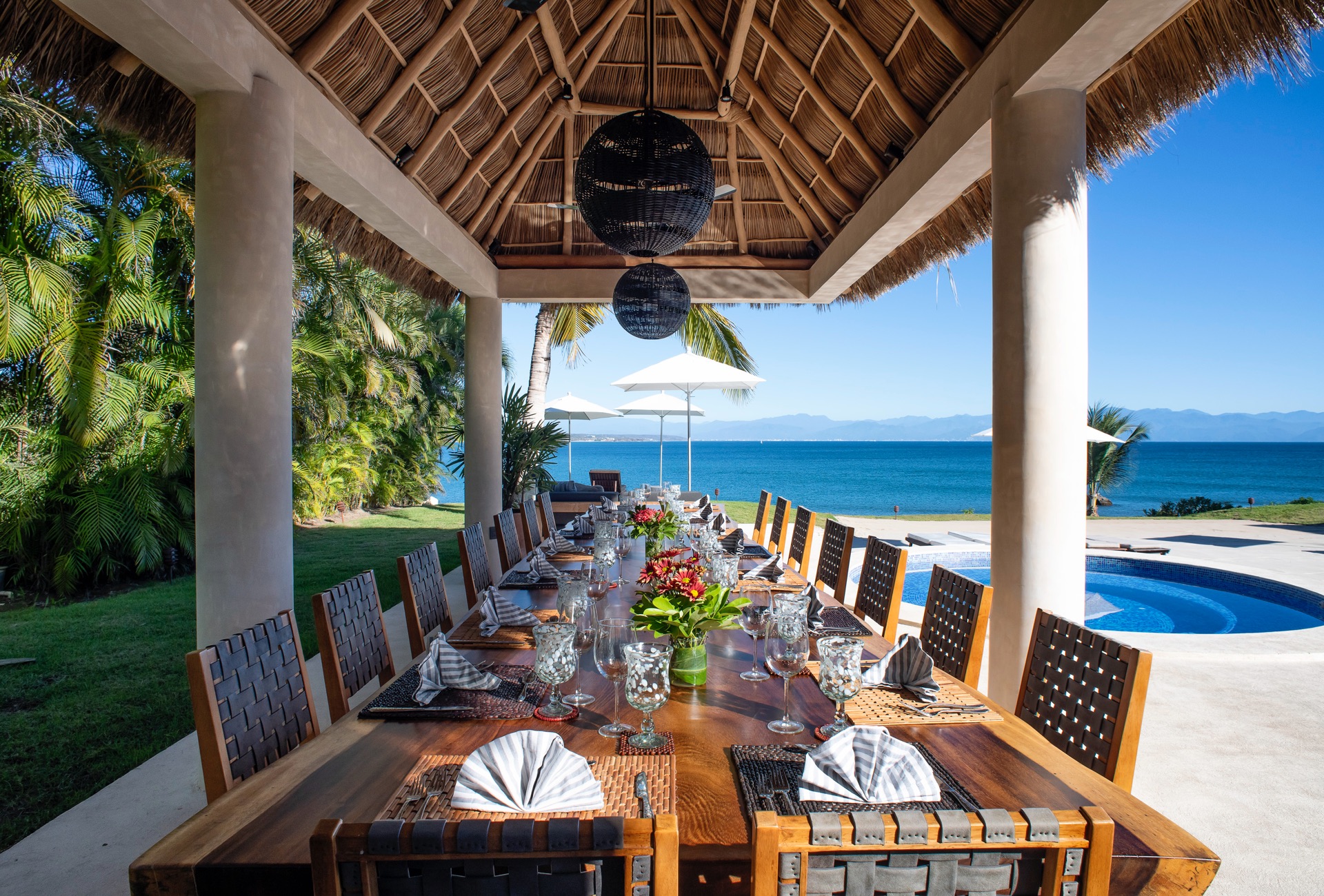 Casa Del Faro: A Majestic Oceanfront Villa in Punta Mita
Casa Del Faro is an 18,000-square-foot luxury oceanfront villa located within the private gates of Punta Mita. This villa features ten bedrooms, and an entire staff, including a personal chef, housekeeper, and concierge. It has 18,000 feet of stunning architecture with ten bedrooms, 14 bathrooms, and 12 full-time staff. Also located within this estate is a fully-equipped fitness room with state-of-the-art cardio and strength equipment. In addition, an exclusive Premier Membership to Club Punta Mita comes with the villa, which allows complimentary access to two Jack Nicklaus championship golf courses, three private beach clubs, a world-class tennis center, a fitness center, and the exclusive St. Regis Beach Club and Facilities.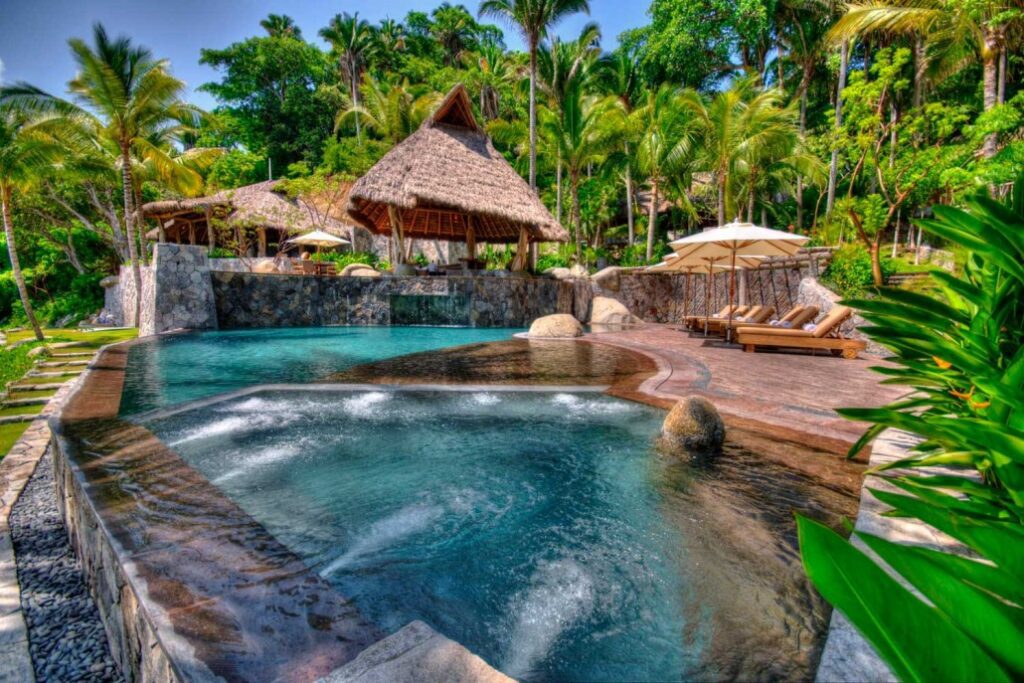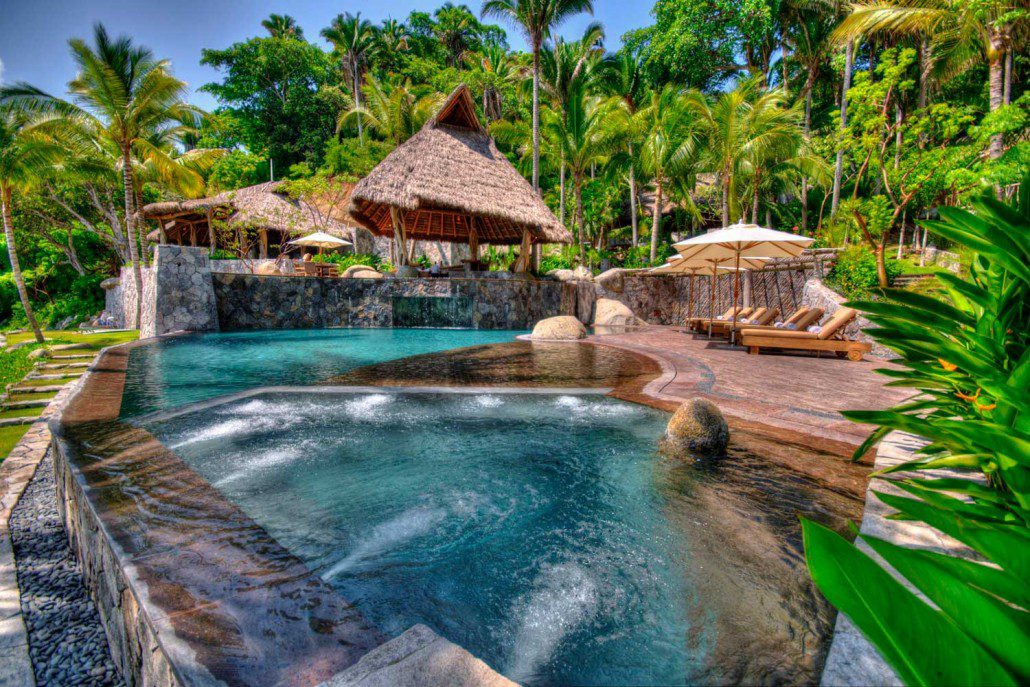 Punta Sayulita: A Charming Enclave for Beach Lovers and Outdoor Enthusiasts
Punta Sayulita Punta Sayulita is a private 33-acre enclave located just north of Banderas Bay, approximately a 45-minute drive from Puerto Vallarta. This community features an exclusive beach club, breathtaking ocean views, stunning sunsets, and multiple trail systems within the gates.
Casa Bambu: An Exquisite Oceanfront Villa in Punta Sayulita
Casa Bambu is a gorgeous oceanfront villa located in Punta Sayulita. The home highlights a thatched palapa roof and exquisite windows overlooking the beautiful Pacific Ocean and tropical jungle. You'll find a stunning terrace with a heated pool, jacuzzi, sun loungers, a dining area, and an outdoor living room under the palapa. Concierge and cleaning services are included with this luxury villa rental.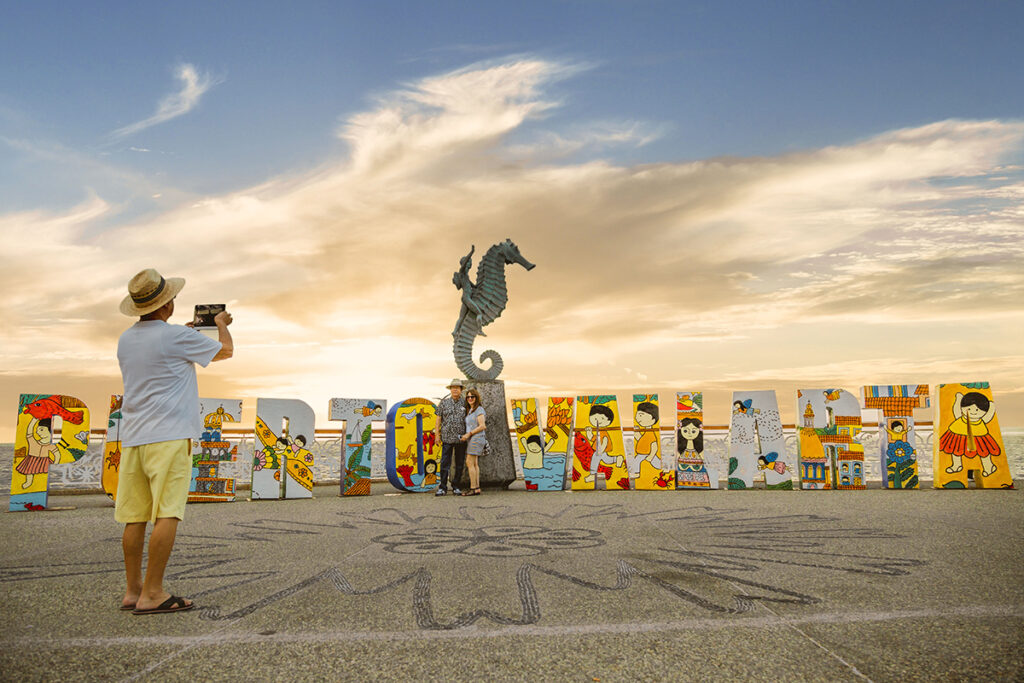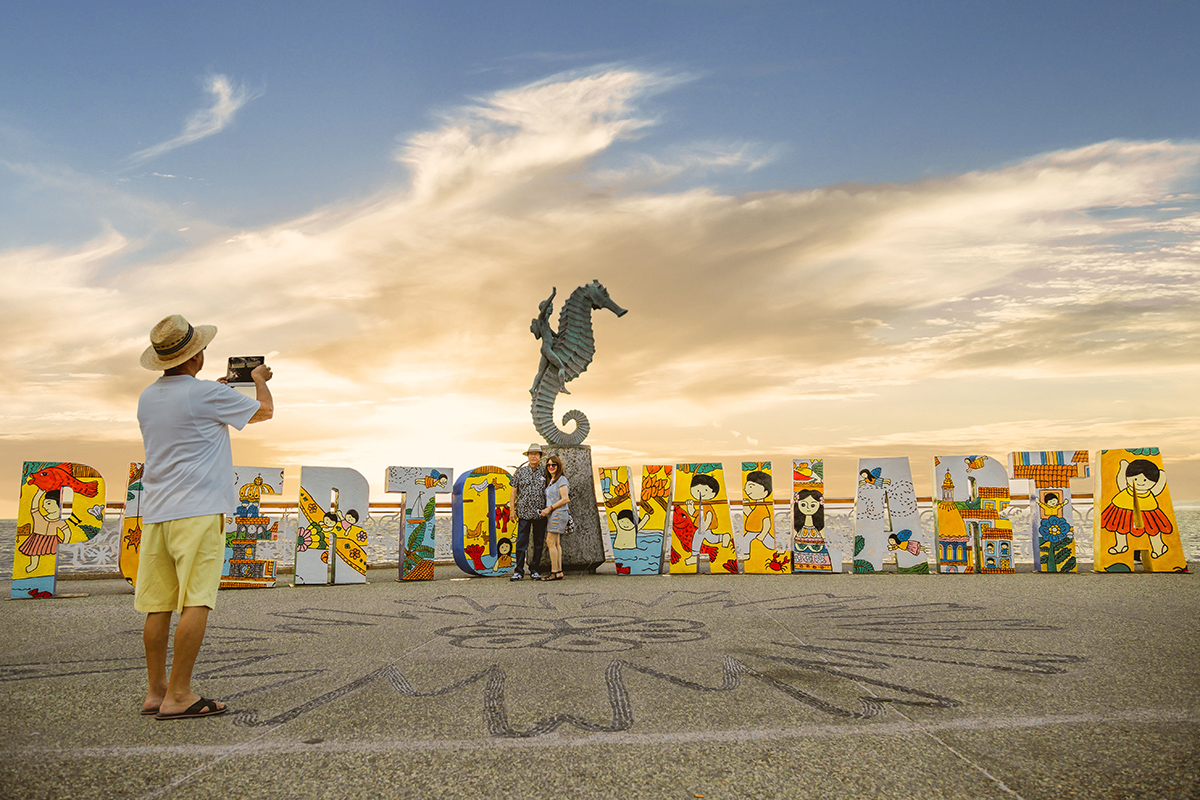 Puerto Vallarta: A Diverse Destination for Culture, Nature, and Nightlife
Puerto Vallarta is one of the most diverse vacation destinations, especially for tourists from the US and Canada. Puerto Vallarta is known for its charming neighborhoods, beautiful beaches, stunning Sierra Madre mountains, and friendly locals! You'll discover vibrant nightlife, extravagant shopping with little boutiques, outstanding cuisine with many restaurants, and amazing outdoor adventures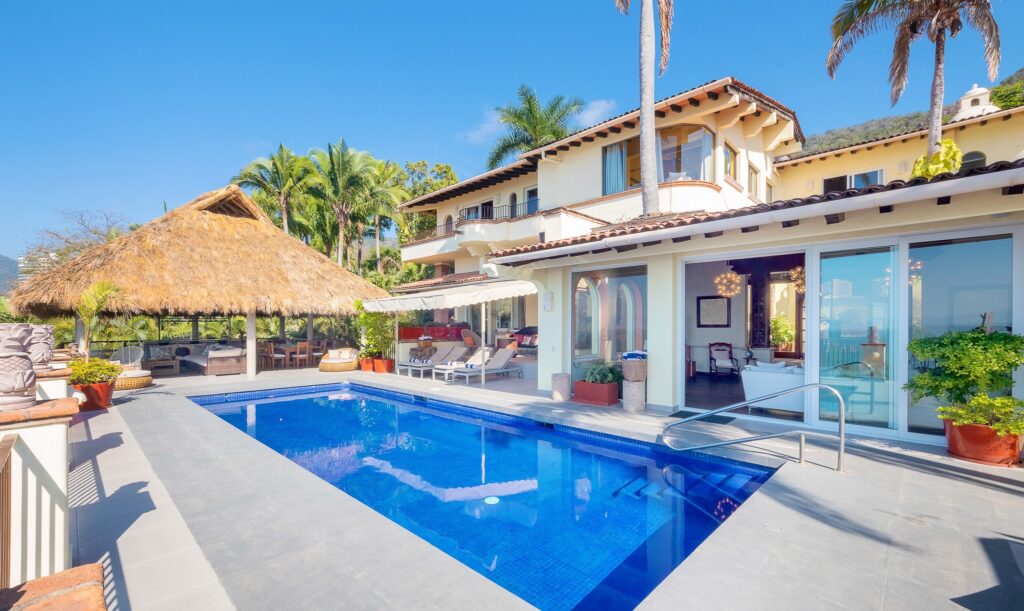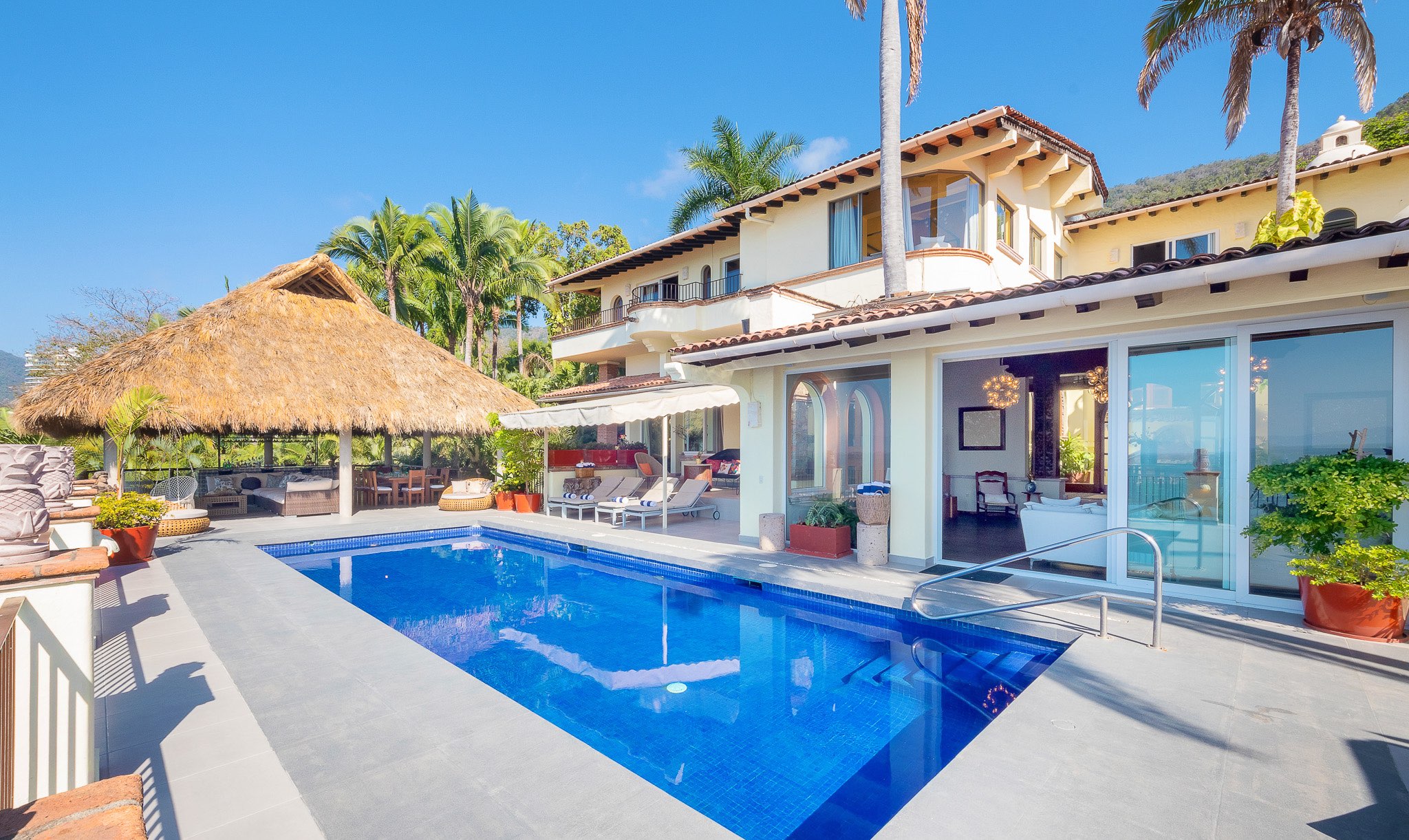 Casa Peregrina: A Multilevel Luxury Villa Overlooking the Ocean and Mountains in Puerto Vallarta
Casa Peregrina is a stunning multilevel luxury villa just a 10-minute drive from downtown Puerto Vallarta. This villa features ten-bedroom suites, a beautiful heated saltwater pool, semi-private beach access, and expansive terraces with breathtaking views of the ocean and mountains.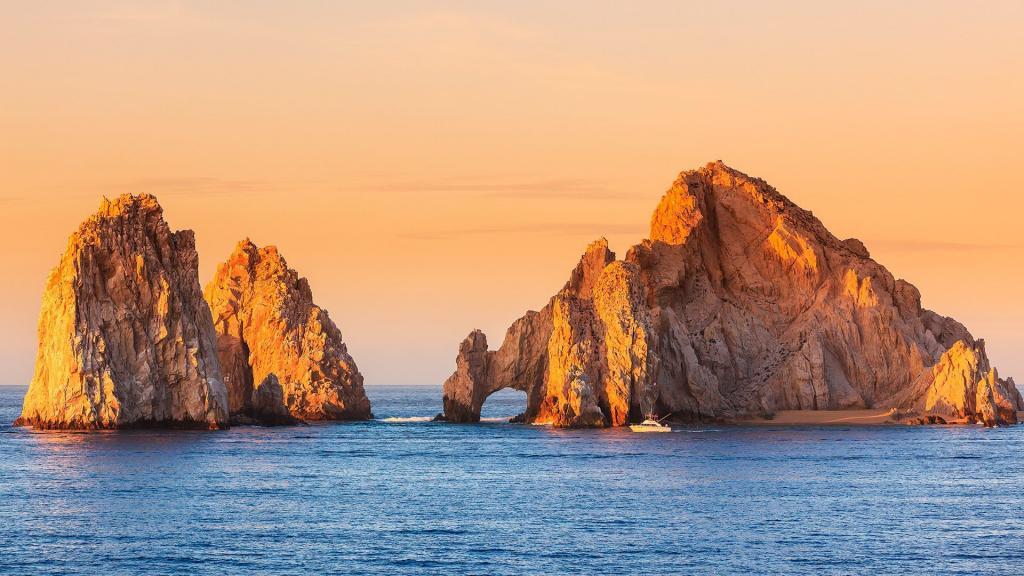 Los Cabos: A Paradise for Beachgoers, Golfers, and Fishermen
Los Cabos is a breathtaking destination at the southernmost point of the Baja California Peninsula. Renowned for its picturesque beaches, top-tier golf courses, opulent resorts, and unparalleled deep-sea fishing, this region is a paradise.
Casablanca de Cabo: A Breathtaking Beachfront Villa with 5-Star Service in Los Cabos
Step into the lap of luxury with Casablanca de Cabo, a beachfront villa like no other. This stunning abode boasts over 5,800 square feet of air-conditioned space, featuring five exquisitely appointed suites and one-half bathroom adorned with lavish marble and granite finishes.
Prepare to be dazzled as you step into the tastefully decorated living room, dining room, and main bedroom, where pocket doors seamlessly blend indoor and outdoor living, offering unobstructed views of the majestic Sea of Cortez. But that's not all – as a guest of Villa Experience, you'll enjoy 5-star service and added value, with the peace of mind that comes from knowing you have a professional team on call throughout your stay.
Q: What is a fully staffed villa?
A: A fully staffed villa is a luxurious vacation rental with an entire staff team to provide a range of services, including a private chef, personal butler, and concierge.
Q: What services can I expect from the staff at a fully staffed villa?
A: First, you can expect a full range of services from the team at a fully staffed villa, including a private chef to prepare meals, a personal butler to attend to your needs, and a concierge to help you plan your itinerary.
Q: How much does renting a fully staffed villa in Mexico cost?
A: When pondering the cost of renting a fully staffed villa in Mexico, a confluence of factors are at play, including but not limited to the destination and area, villa rental size, travel season, and level of luxury. Hence, the range of prices for a fully staffed villa can fluctuate anywhere from 900 USD to several thousand USD per night, depending on the factors above and their associated nuances.
Q: Are fully staffed villas suitable for families with children?
A: Regarding the compatibility of fully staffed villas with families with children, most fully staffed villas are, in fact, quite ideal for such circumstances. This is because many of these villas boast amenities specifically geared towards accommodating and entertaining children, such as a kids' club, game room, and outdoor play area.
Q: Can I customize the services the staff provides at a fully staffed villa?
A: The services staff members provide at fully staffed villas are customized to suit your needs and preferences. You can tailor your trip in advance or discuss your requirements with the villa's concierge or staff. In this way, the services provided by staff members can align with your distinct sensibilities and desires.
In conclusion, Mexico is a beautiful country with so much to offer, and renting a fully-staffed villa is the perfect way to experience it all. Whether you're looking for adventure or relaxation, these five destinations have everything you need for an unforgettable vacation. So book your fully staffed villa today with Villa Experience and prepare for your luxury vacation and privacy like never before.