11 Best Beaches in Los Cabos
Cabos San Lucas, also known simply as Los Cabos, Cabo, or the Capes, is a popular vacation spot for those who love the sun, beaches, and parties in Mexico. With superb hotels and beachfront villas to choose from, as well as a plethora of high-quality restaurant with fine dining, there's no lack of opportunities for fun under the sun. Yet deciding which beach to visit when in Cabo is not easy; with so many beautiful places, choosing which one to go to can be indeed hard. Some are best for swimming, others for snorkeling and sports, and others are great for relaxing. Hoping to help you find the best ones for you, we have listed the 11 best beaches in all of Los Cabos.
---
1. Playa Medano (Medano Beach)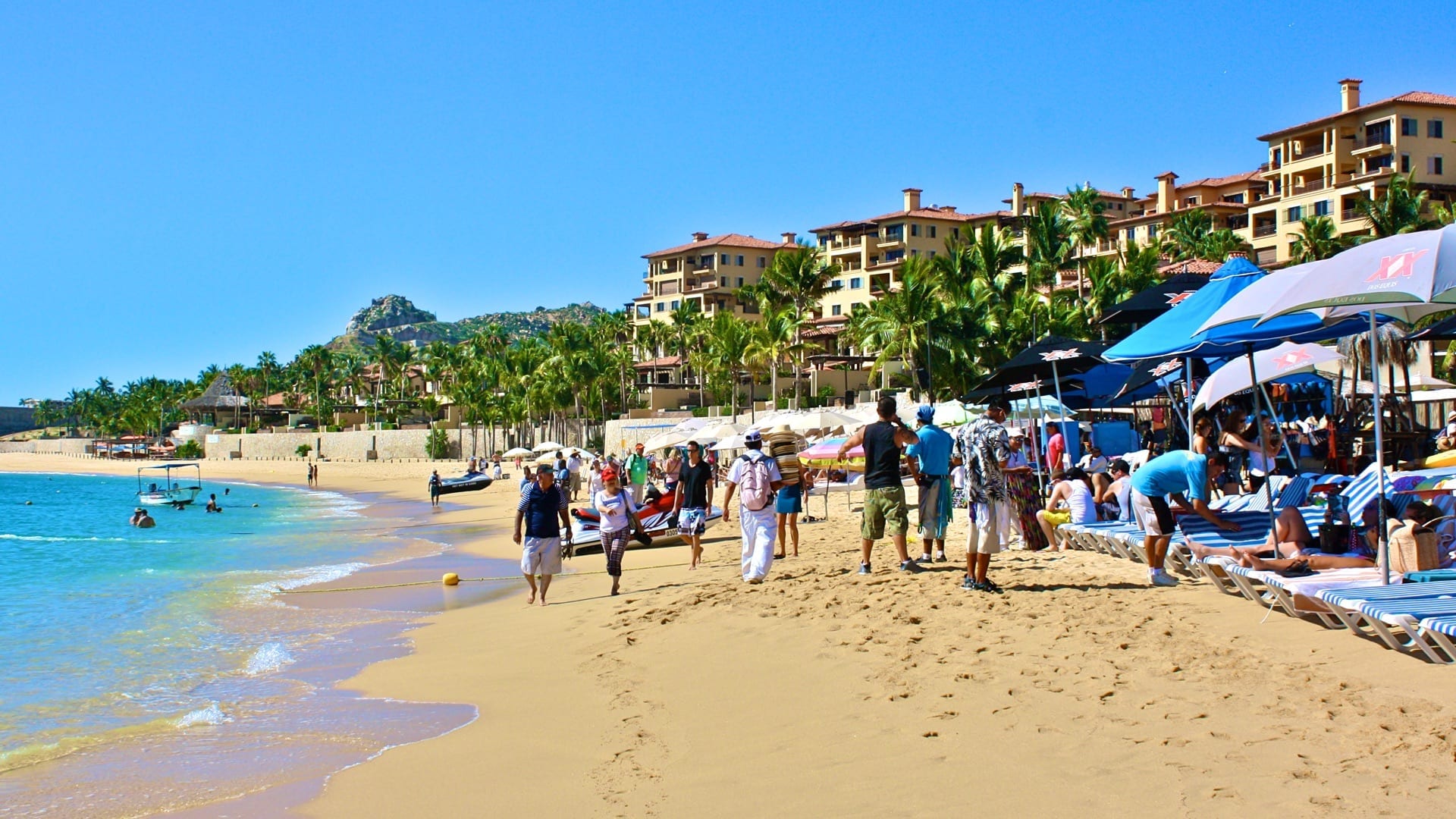 This is the most visited beach during Spring Break, but it is pretty crowded all-year-round as it has a two-mile stretch full of bars, restaurants, and sunbeds that draw large crowds all year round. It is the safest beach to go for a swim in all of Cabo San Lucas, as it has designated swimming areas. You need water taxis to get to the Marina, but they're always a few waiting offshore, so you can go to the Marina area whenever you want. And if you feel like shopping or going to a café in town, you are just a short walk away. There's also plenty of hotels and beachfront villas where stay, as well as some hotels.
2. Playa Solmar
This beach is located on Land's End and can only be accessed through Solmar Suites Hotel. Playa Solmar is perfect if you are looking for a more private beach because of its location and the fact that beach vendors are not allowed access. It's important to note that you cannot swim on this beach; most beaches in Cabo are not good for swimming because of their powerful undertows and often treacherous waves.
3.Playa del Amor
Playa del Amor translates to Lover's Beach and is located on the Sea of Cortez side of Land's End. You have probably already heard of this beach, as it is famous worldwide and has been used as the site for numerous photo shoots because of its privileged location right by the granite rock formations at Land's End, so remember to bring your camera to capture your own images! Access to Playa del Amor is a little restricted, as you can only get here by water taxi, which departs from the marina or Medano Beach (price for the round trip is around $20). If you are coming to this beach, pack your lunch, bring your snorkeling gear, towel, and swimming suit, and enjoy the whole day there. This is a beach where you can swim, but it is highly recommended you never do so on your own.
4. Palmilla Beach
This beautiful beach is great for swimming, and it's located right in San José del Cabo Bay. This is one of the most popular beaches among the locals. This is a great option when traveling with children; because of its calm waters, you can enjoy a swim, play with the sand by the shore and play happily without fear of wild waves. The best way to get to Palmilla Beach is by land, so either you can rent a car or hail a cab.
5. Santa Maria Beach
Located at kilometer 11.5 off the main highway, Santa Maria Beach is part of a marine sanctuary and is well known because of its pinkish colored sand. Here you can go for a swim or go snorkeling and enjoy a beautiful view. If you'd like to spend the day here, it's best to bring whatever you will need because, while you can find the occasional beach vendor, it is safer to bring your food with you. Don't forget your camera! This place is every photographer's dream.
6. Chileno Beach
This is the best beach if you are going with your family; you can snorkel, dive, go kayaking, and much more! Snorkeling is an especially enjoyable activity here, as several reefs run parallel to the beach so that you can see over 80 coral species! You can find the dive flag at the edge of the highway at kilometer 14, which marks the entrance to the parking lot. Chileno Beach has public restrooms and showers. It gets pretty crowded on the weekend, so plan and visit during the week. Or you can walk around the cove and find a more secluded session where you can relax and enjoy the sun. This is one of the most popular beaches and has received a Blue Flag for its quality.
7. Tequila Cova, Playa Bedito
This place is known as Tequila Cove and Playa Bendito and is located right in Meliá Cabo Real and Hilton hotels. The best way to get here is through Meliá Cabo Real at kilometer 19.5. Since this is human-made, swimming and practicing water sports are safe here.
8. Estuary Beach
If you love birdwatching and going for a hike, then this is the beach for you. Estuary Beach is located at the north end of Hotel Row in San José del Cabo, right in front of San Jose Estuary, hence the name. You can't really swim here because of the waves and the fierce undertow. The moment you get here, you will immediately understand why swimming isn't an option. But it does make for a beautiful sight for a beach run.
9. Playa Hotelera
Playa Hotelera, which translates to Hotel Beach, is, once again, not for swimming, but it is known for its great scenery. Surf fishing is a popular pastime here, as are night walks by the beach, horseback riding, and beach volleyball. You can find this beach on Hotel row in San José del Cabo and is accessible through any of the hotels there or through several open spaces along the coast. There are many beachfront villas in this area as well.
10. Playa Costa Azul
This beach is recommended for surfers (as it is home to the famous Zippers and La Roca surf breaks), as swimming is hazardous here. Surfing competitions take place here every year. This beach is located on kilometer 29 off the main highway, through the arroyo at Costa Azul Bridge, after which it takes its name.
11. Playa Las Viudas
Playa Las Viudas, which translates to Widow's Beach, is perfect for those who seek a secluded beach because of its many coves and unique volcanic rock formations. This also makes it a great place for pictures! It is located at kilometer 11 off the main highway.
---
If you would like to know more about accommodations in exclusive resort communities or luxury villas for rent near these beaches, visit our handpicked Los Cabos villa rental collection!