Bacalar, The Mesmerizing Lagoon of The Seven Colors!
Seven Tantalizing Shades of Blue: It Is The Bacalar lagoon, a magical lake that entices you to hop on a kayak or a sailboat to navigate the seven different shades of blue. ​
The distinct water shades contrast with the fabulous backdrop of soft blue skies or a spectacular sunset's vibrant oranges and reds. Explore the different waterways and learn of the hidden history, the pirate havens, and the exuberant natural habitats of Bacalar.
It is a place to be happy, feel relaxed and travel by kayak, paddleboard, or sailboat. Here, the first thing you think of is UTTER PEACE.
What Can You Do in Bacalar?
Travel through the famous canal used by pirates to attack the Spanish fort sitting at the lake's edge. Drink in the reminiscing magic, the spectacular sight, and the overall feeling of Bacalar.
Enjoy watching the storks, herons, and other beautiful waterbirds nest on this stunning lagoon. Swim in the quiet, colored water and relax to your heart's content.
What Is The Height of Your Trip
The height of this trip being a witness of one of the oldest life forms on the planet – the stromatolites – a true and LIVING fossil. ​ It is a living alga that adheres to the rocks and has been around for many years.
What Will You Want to Do in Bacalar?
The main things to do in Bacalar are sailing, sightseeing and swimming in the lagoon. Be sure to take a sailor kayak tour to the Pirates channel, and if you are a bird lover, you will love all of the exotic birds that live here.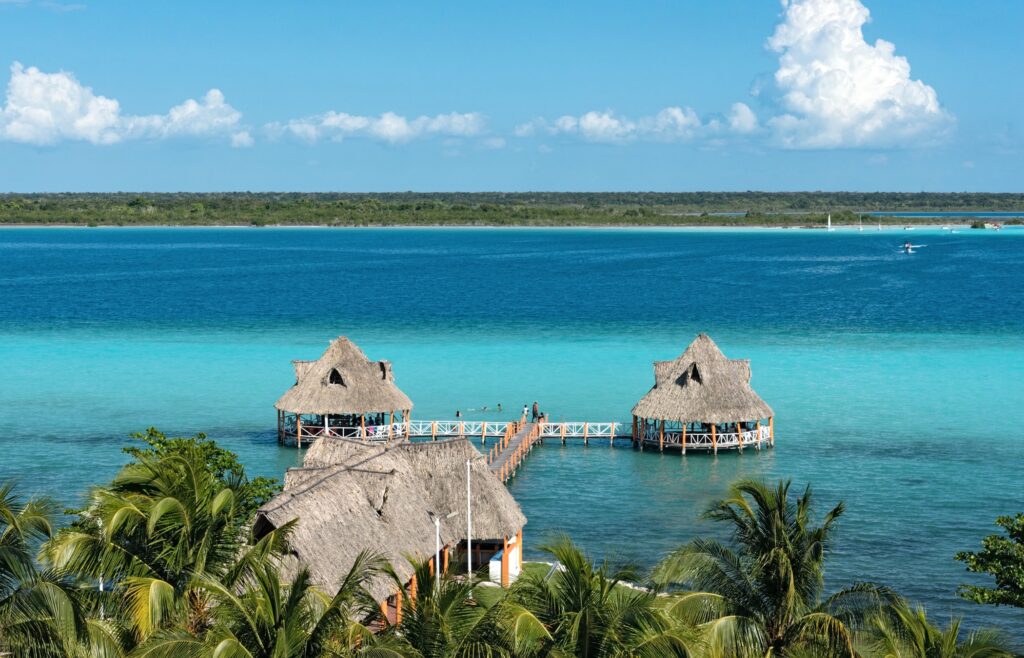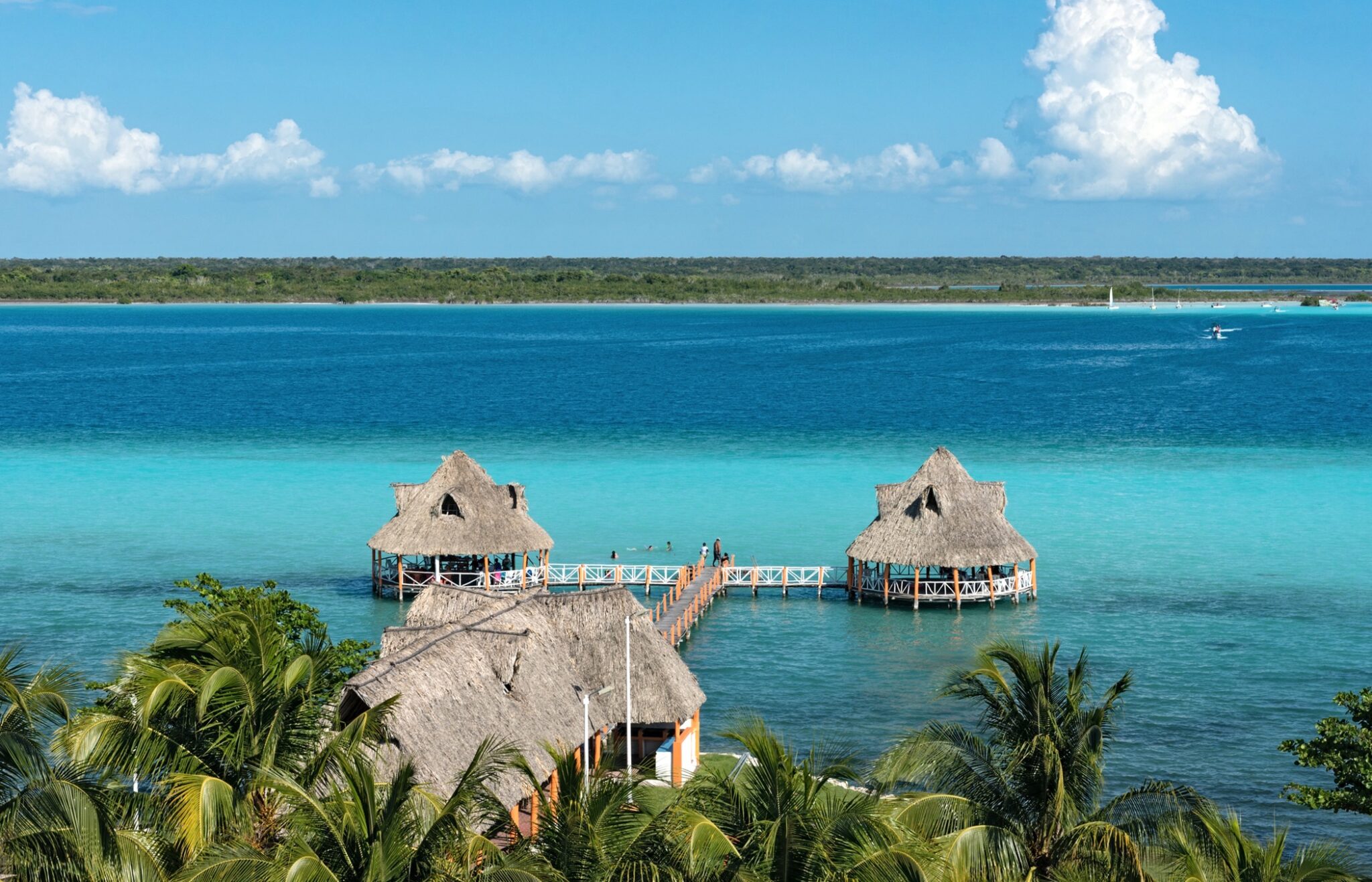 This place is one of those off-the-beaten-path types of destinations, but it is the perfect place to go for nature lovers, and you will probably never see another lake like this in the world.
In Bacalar, you can connect with nature by walking and enjoying the natural surroundings, although bikes are also available to rent. You can also participate in the water activities around the lake, swim in the cenotes, visit nearby Mayan ruins or eat in one of the local restaurants.
Bacalar is a small town located in the southeast of Quintana Roo, Yucatan, Mexico. You can get there either by renting a car, hiring a driver or taxi, or taking the bus. When staying in one of our vacation rentals, our concierge can help coordinate and find you reliable transportation.
How Far is Bacalar from Tulum, Playa del Carmen and Chetumal?
You may find that Bacalar is a pretty far drive when staying in Cancun. It takes you about four and a half hours to get there, but the highway is beautiful, and you get to see a lot of the natural tropics of Yucatan. Plus, Bacalar is well worth the drive.
If you stay in one of our Playa del Carmen vacation rentals, Bacalar is only three and a half hours from your home. Residents of our Tulum vacation rentals will find Bacalar closer at only about two and a half hours.
Of course, if you are staying in one of our homes in Chetumal, you will realize that Bacalar is only about 45 minutes away.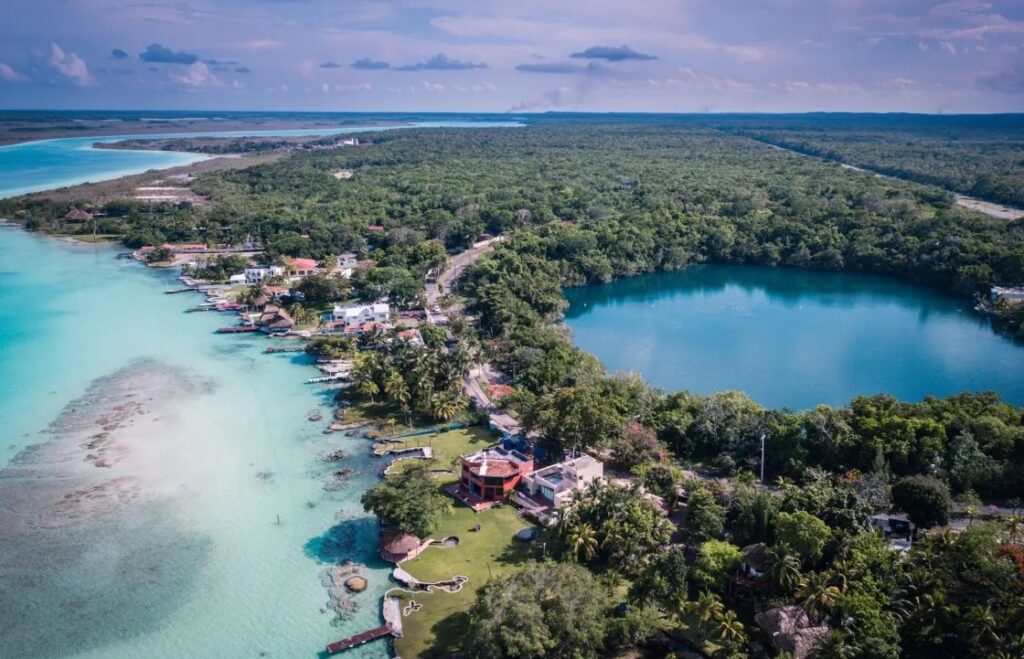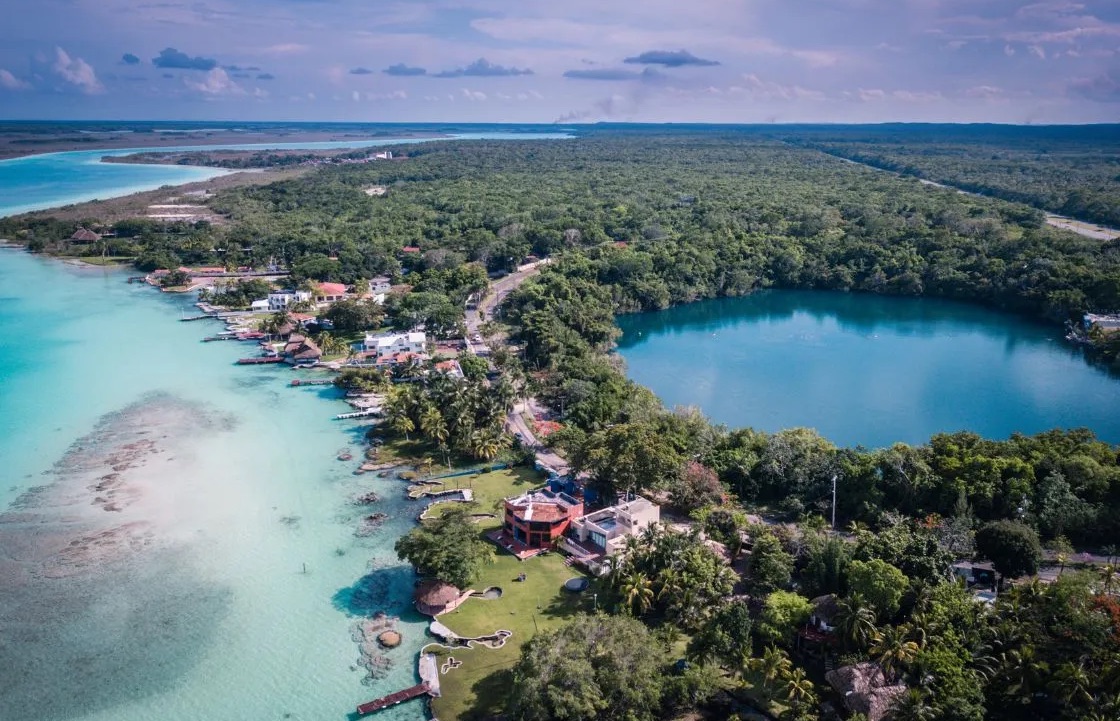 Bacalar is a beautiful lake, and the weather is pleasant throughout the year, so any time is good to visit. The average temperature in Bacalar is 32 degrees Celsius throughout the year.
Things To Know about Bacalar!
Bacalar is also known as the lake of the seven colors because you often see about seven distinct shades of aquamarine colors.
Bacalar Has Been Given Pueblo Mágico Status!
Pueblo Mágicos means Magic Towns, and it is a status given to 111 towns in Mexico. The city earns its position for the magical experiences it offers its tourists. These experiences usually relate to:
Hospitality
Food
Art & Crafts
Tradition
History
Pirates Channel
The Canal de Los Piratas is a water channel that connects Bacalar to the Mariscal Lagoon. During the 17th century, the Spanish sent pirates to Bacalar to get a special dye for clothing. The dye was known as Palo de Tinte.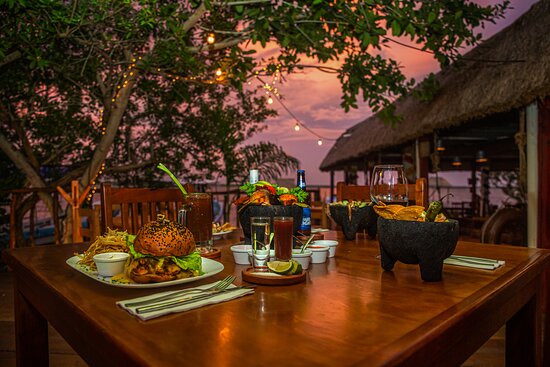 This small area does have some great places where you can enjoy the cuisine. Selva and Enamora are great for breakfast and sometimes have live music.
If you are into the local fish tacos, you will want to try La Playita, a great place to enjoy the sunset. Barril Grill is a great place to enjoy out of this world hamburgers. Try Mango and Chile for an incredible lunch or dinner if you are vegan. 
Where to Stay If you Plan on Visiting Bacalar?
If a visit to Bacalar is high on your list of priorities, you will enjoy one of our Tulum vacation rentals. In Tulum, we have several homes with all the amenities you could want. These homes are not so far from Bacalar and you can make an easy day trip to Bacalar. Here are two houses in the Tulum area to consider when you want to be near things like the ancient Mayan pyramids, the national parks, and Bacalar.
This Tulum vacation home rental has a mesmerizing seaside view. It is a five-bedroom home in the Sian Ka'an area. The house is styled in the Caribbean home decor style, where light and breezy is the overall feel. The home sits on five acres and is surrounded by coastal dunes and tropical greenery. The pool is a nice feature and one that is not often seen in the Biosphere Reserve. It offers a great place to take in the view and relax.
Here you'll find everything you ever dreamed of when thinking of a perfect holiday in the Caribbean. Villa Mariola is in Soliman Bay. It is a five-bedroom beachfront villa where you spend your days in beautiful seclusion. Villa Mariola has a laid-back tropical feel. It has an outdoor living atmosphere and the pool and deck area expand out into the white sandy beaches of the Caribbean dotted with beautiful coconut palms, hammocks, and sunbeds. It is a place you will love to call home.