A Quiet Treasure Found in Large Punta Mita House Rentals
Why is a house rental in Punta Mita the new trend? Why not just stay in a resort?
We often hear these stories from the guests who come to one of our Punta Mita house rentals.  The area is so popular, and why Punta Mita vacation rentals are trending.
Punta Mita house rentals for vacation stays are booming, and there is good reason for this new trend. Family and friends are gathering. They are doing things together and want to spend quality time together, even if it is just for a few days. A vacation home embraces that sense of togetherness, contentment, and intimate conversations. It is this feeling, these activities that a resort hotel room can't meet.
Nothing beats a Punta Mita house rental; It is the most entertaining, relaxing, and peaceful option you can have. It covers every guest's need, from everyone having their room to everyone being able to use more than one bathroom at a time. Plus, every Punta Mita rental has a gorgeous kitchen to help promote that togetherness, share a meal, and taste the delicacies the home's private chef offers.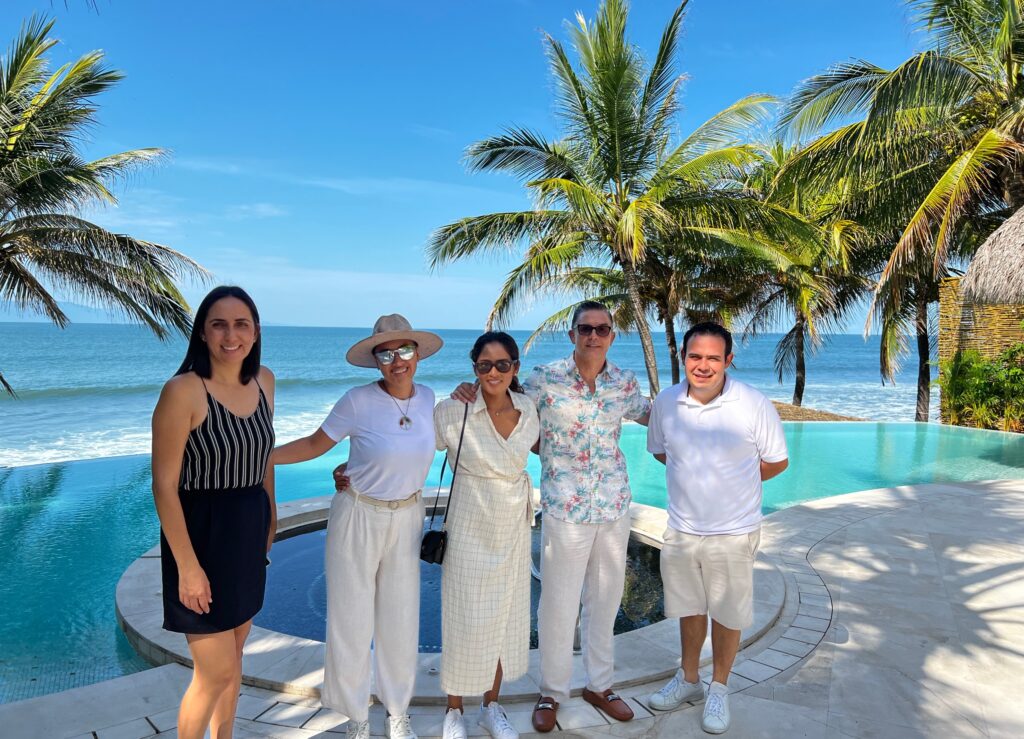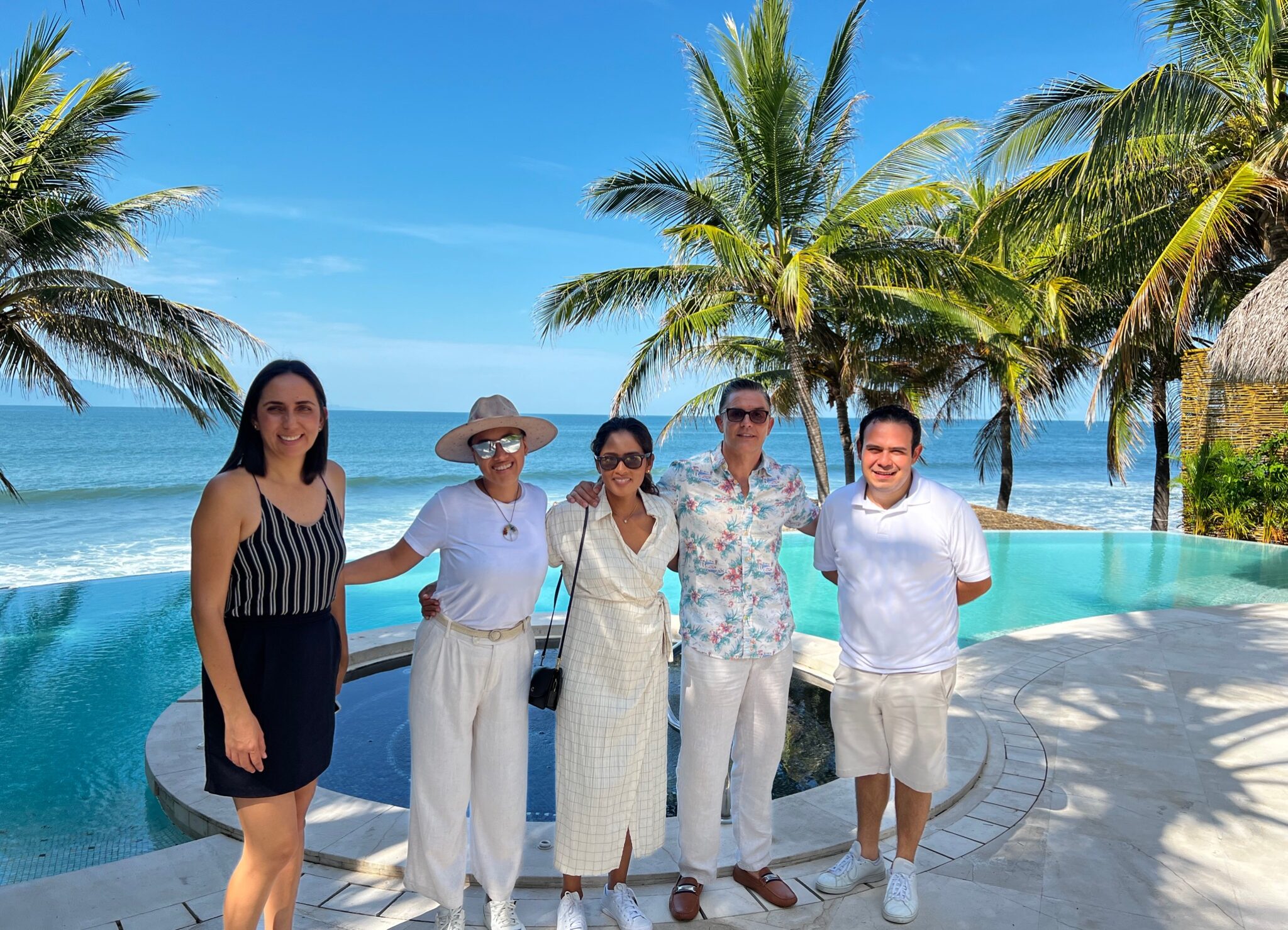 "Every time I come to inspect any of the Punta Mita house rentals, it is with a big smile on my face. With outstanding amenities, these gorgeous Punta Mita house rentals greet you with arms wide open. How could you go wrong with lush gardens, beautiful pools, gorgeous Caribbean-like beaches, and two Jack Nicklaus Signature golf courses? But that is not all you'll find in Punta Mita. The people here are the nicest people you will ever meet. I can't wait for my next trip."
Why do people choose a large Punta Mita Vacation Rental over A Resort?
Family reunions offer the perfect time to catch up with relatives and get fantastic photos. The same goes for weddings, corporate events, or even a friendly get-together. The large Punta Mita house rental has the space you need, the extra privacy you want, and the gorgeousness you desire.
One of the biggest concerns people have is about the safety of Punta Mita. And with all that has been happening in the rest of the country, you may be suitable to be concerned. However, the Riviera Nayarit is a safe area of Mexico, and Punta Mita is probably the safest area you could ever be. Punta Mita has long been established as an area of exclusive neighborhoods with extremely high-security measures, security gates, cameras, and top-notch security measures. Punta Mita is the Mexican neighborhood of the rich and famous, so all of the homes in these areas are very well protected, and security measures are always on top of their game.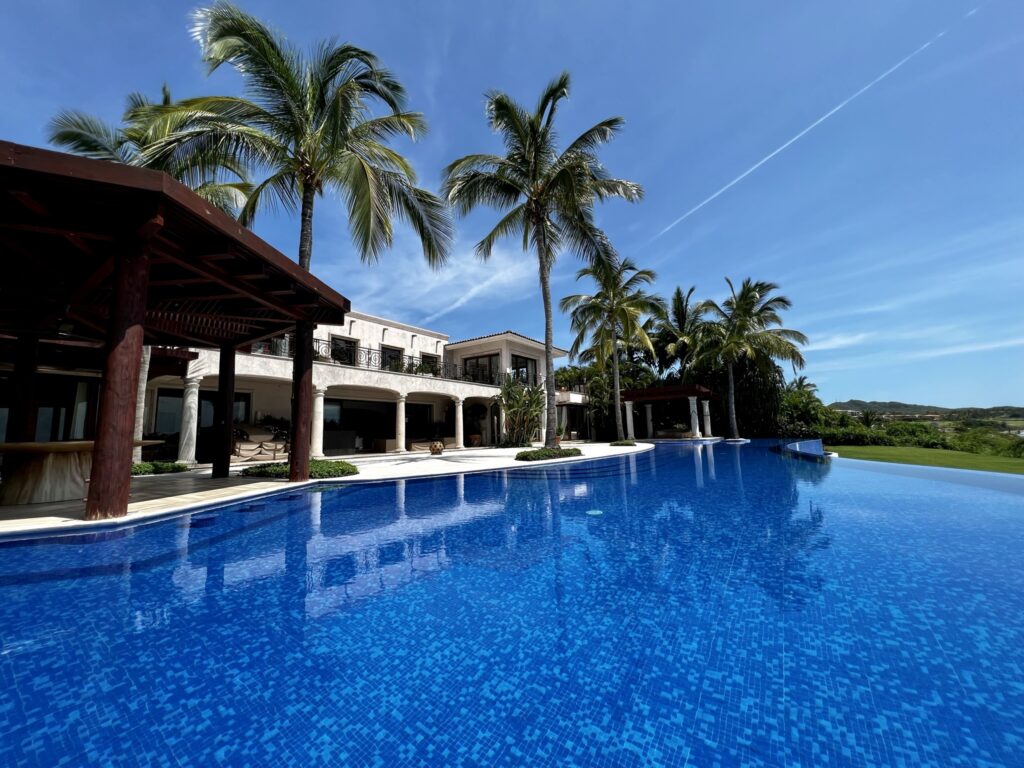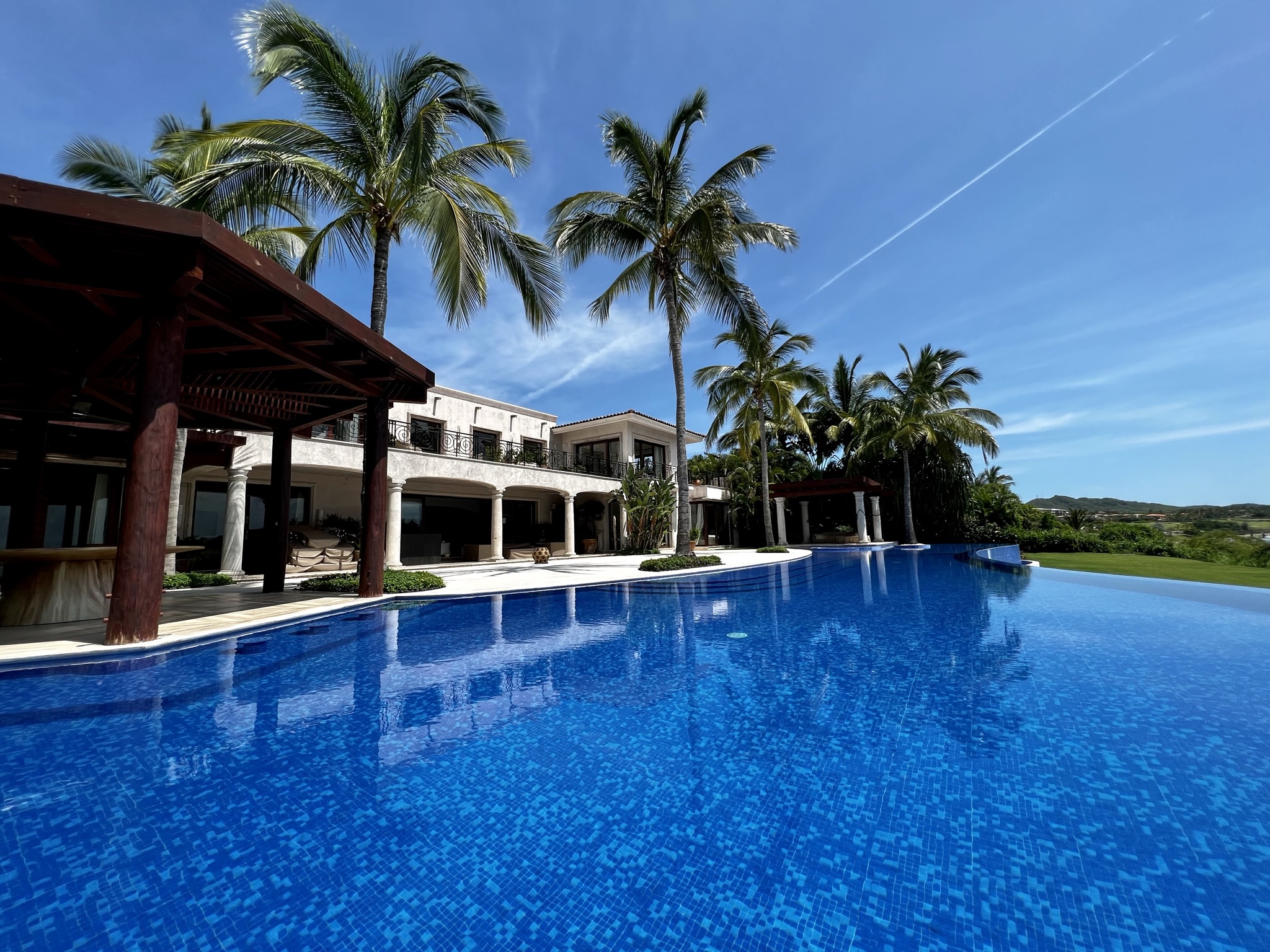 A Punta Mita vacation home has enough space for entertaining everyone. A house like Casa La Vida or Tres Soles can offer memories of a lifetime for your family, your reunion, or your get-together. 
Great Photo Opportunities
The backdrop of the jungle, the mountains, and the ocean make incredible photo opportunities you can take with people you may not have seen very often. In both Casa Tres Soles and Casa Toda Vida, you can get great shots of the people you love in the kitchen, the outdoor palapa, the infinity pool, the lush gardens, and the beach. Believe us! You will end up with amazing photos.
Casa Tres Soles and Casa La Vida are exclusive and gorgeous Punta Mita rental homes. They are equipped with fantastic amenities, like a game room for the kiddos. Kids will have their entertainment and make their memories while adults can talk. It is a great way to entertain kids and bring out the kid in adults. The amenities, activities and pool, and beach toys are fabulous. You will never get tired. And if you do, head out for a lovely bike ride on one of the bicycles offered at home.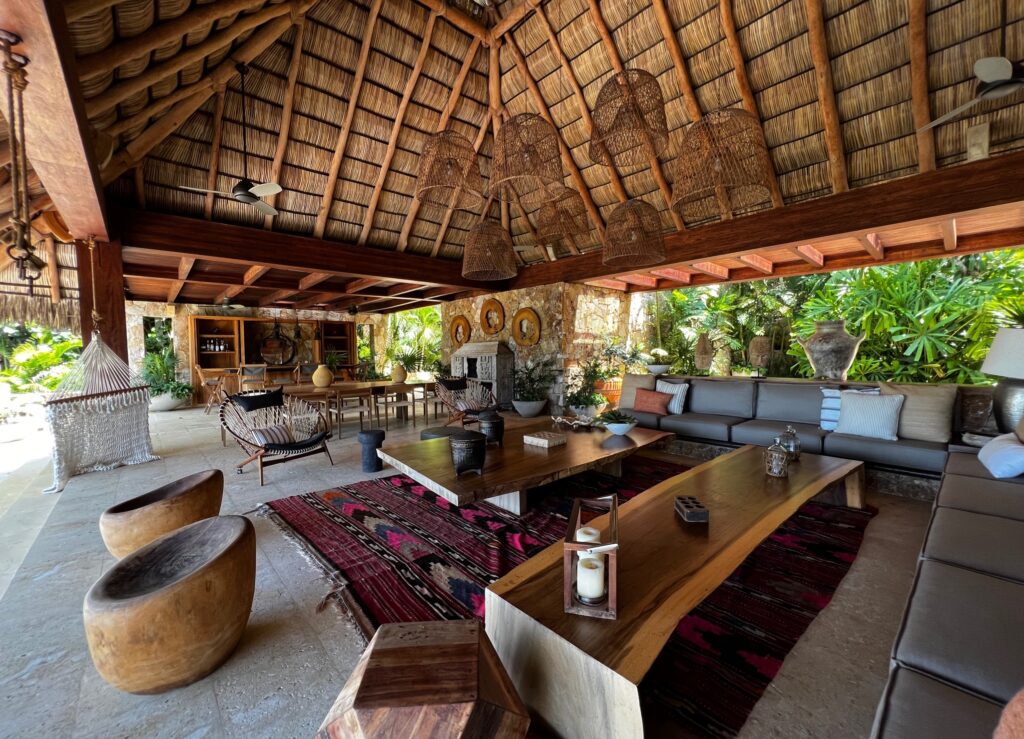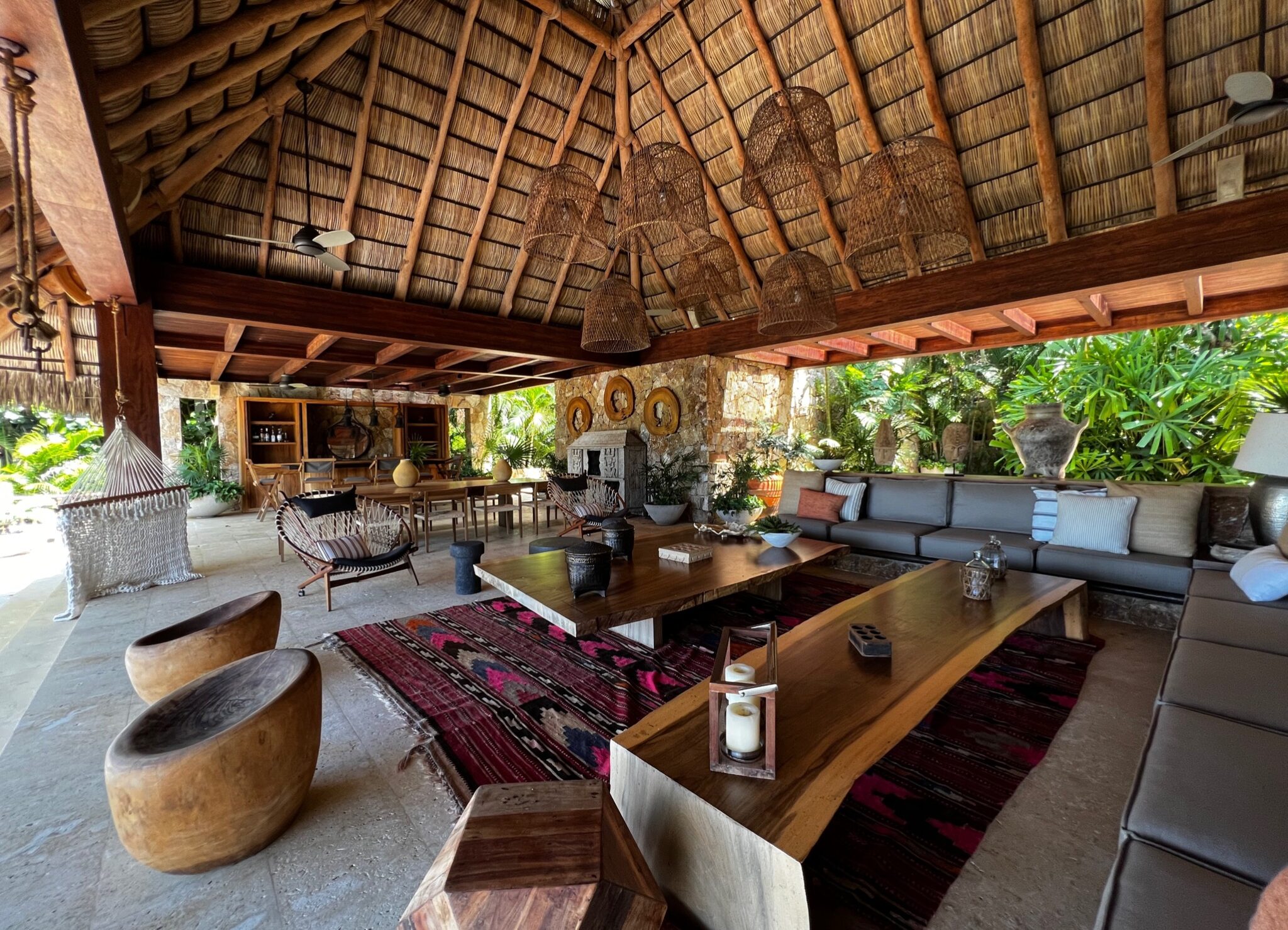 It Is Like Having The Resort Lifestyle All to Yourself
Both Casa Toda Vida and Tres Soles offer the resort lifestyle. You'll find everything here, from surfboards to floaties. Bicycles, golf carts, it is all yours to enjoy. Make your needs known to the house concierge, and it will be available. It is like a resort but without any of the hassles.
When it comes to pools, well, we can't say enough about the Punta Mita house rental pools. They are magnificent. Here the collections are enormous, usually infinity pools, and placed strategically so you can enjoy spectacular views while lounging in the water, enjoying a cocktail your house barman prepared for you. The service is for your entire entourage, but only your private group.
No public sharing facilities, dirty pools, or crowded pool areas exist. Every inch of a Punta Mita vacation rental, like Casa Tres Soles or Casa Toda Vida, is spotless, especially the pool. These homes are impeccable. A full-time staff takes care of all cleaning issues, including the pool. The team constantly upkeeps the house, and while that may be true of a resort, it is much harder to keep public facilities, including pools, clean. This is not the case. At these Punta Mita homes, the staff is on-site every day. Their job is to maintain, clean, and take care of all pool and garden needs just so that you and your guests can enjoy it at its best when you are there.
"I have had the privilege of going to many places worldwide. I can say that Punta Mita and its gorgeous vacation rental homes are spectacular. Enjoying the best food, the loveliest beach clubs, food, and friends is a privilege. Punta Mita has it all – and I have had some of my best memories here."
Where Should You Stay When You Visit Punta Mita?
Yes. Punta Mita has two world-class resorts, and they are fun, but if your goal is to have family moments, talk with friends and spend time together, the resort is not the option. It is too public, too big, and doesn't offer privacy, at least not the way a private Punta Mita villa does.
What Are Punta Mita Home Rentals Best for A Large Group?
Punta Mita is ideal for a large gathering because there is so much to do here, whether you leave your home or not. A large vacation rental in Punta Mita offers enough space for everyone. YOu don't have to worry about there being enough rooms or whether the hotel has enough rooms for your family or friends. Your entire group can be under one roof. It is the perfect place to laugh and catch up with each other.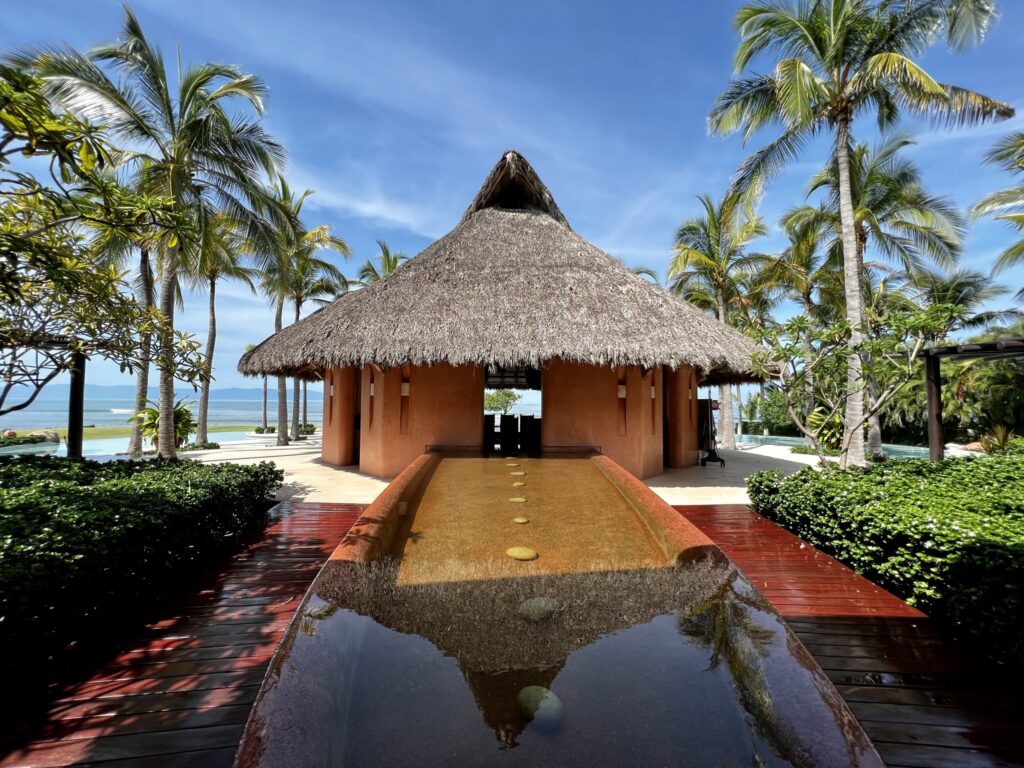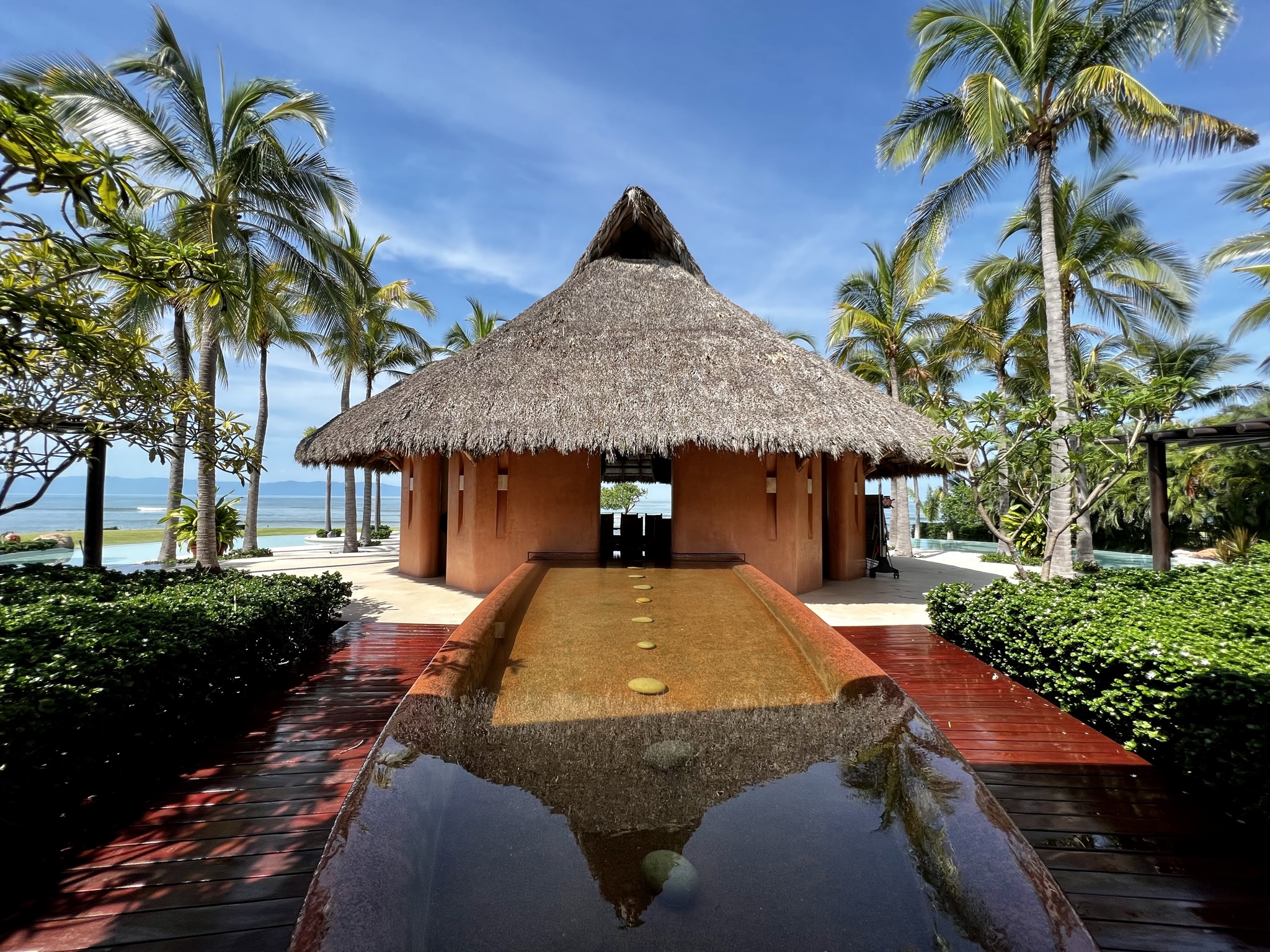 Casa Tres Soles at El Banco, Punta de Mita
A fabulous feeling of peace and serenity pervades here. The design team has masterfully intertwined sophistication and Mexican beach informality in this Punta Mita house rental. The genius of this design is carried throughout the home, giving guests a warm experience and a definite WOW factor with a traditional Mexican style. Famous works of art and decor enhance every room or space in this home.
Surrounded by stunning ocean views, an oval-shaped central terrace with elegant oversized sofas and hand embroidered fabrics contributes to the spectacular design. The terrace view of the ocean and the merging edge of the infinity pool offer stunning views and excellent photo-taking opportunities.
The main palapa sits adjacent to the curving infinity pool, and the dining area overlooks the Pacific for spectacular sunsets from a quiet vantage point. The family room area is a protected air-conditioned retreat, a comfortable retreat to watch a movie, listen to music, or read a book while simultaneously enjoying the magnificent vista of the ocean. This Punta Mita house rental also offers a sauna, massage room, and a fully equipped gym. All bedroom suites have access to satellite TV with HD audio and video and high-speed internet throughout the home.  Curl up on a cozy sofa to talk with friends and family. The area can accommodate as many as 16 people for cool drinks and snacks.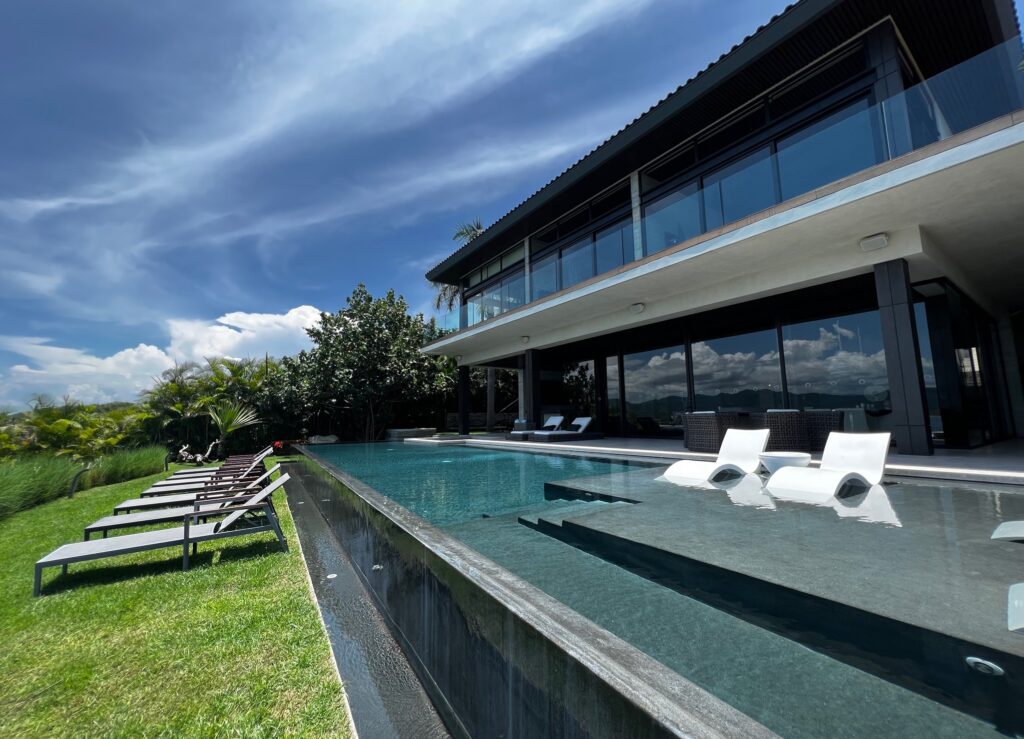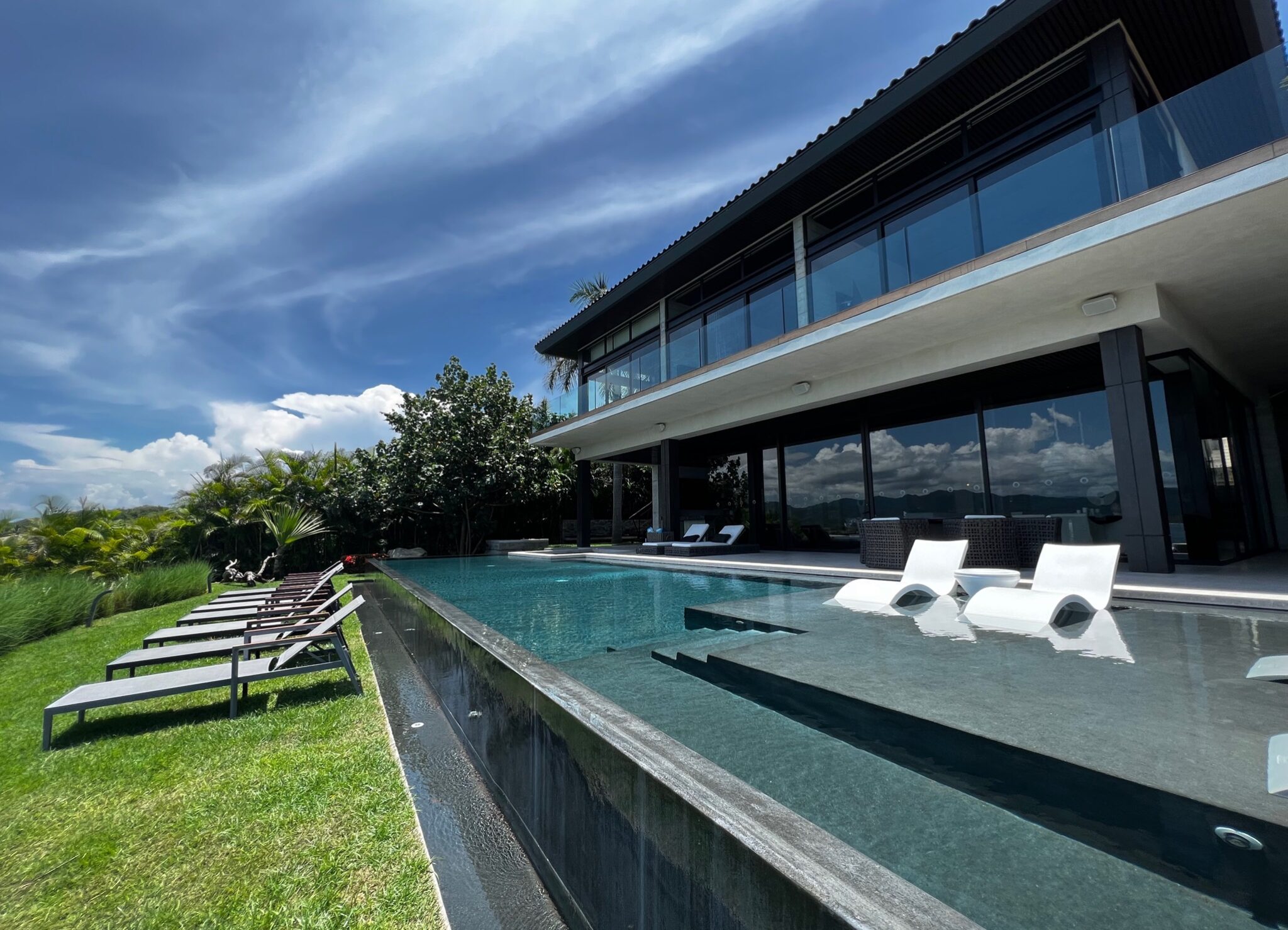 Casa Todo Bien at Kupuri Estates, Punta Mita
This Punta Mita house rental is in Kupuri Estates, a secluded and highly secured exclusive neighborhood. Casa Todo Bien can accommodate just as many people as Tres Soles but in a more efficient, ultra-modern, and simple but gorgeous style. If stylishly modern yet comfy is your kind of thing, then Casa Todo Bien is the perfect Punta Mita house rental. Upon passing through the large gates, you travel down a modern brushed concrete corridor, the type you wished you had in your own house. Here you immediately take in the peace and serenity that permeates the entire house.
Casa Todo Bien delivers holistic and contemporary; all rolled into one. The forethought and care made this home a showcase even in its posh neighborhood. You can immediately tell from the ultra-soft sofas and soft blending hues that this home was made to be a frame for the gorgeous colors of the ocean and jungle surroundings. This Punta Mita house rental is preferred because of its spectacular comfort and style.
Todo Bien sits beachfront in the high-end luxury residential neighborhood of Kupuri and includes access to all Punta Mita beach clubs and the two Jack Nicklaus golf courses.
It features a game room next to the outdoor terrace, making it easy for the adults to watch the kids. It also has modern, oversized sofas so everyone can get comfy, enjoy each other's company and even light a bonfire in the fire pit. It is a large home with an entire staff, a bar to rival any restaurant, a large kitchen, and a great seating area in a five-bedroom, six-bathroom home.
The truth is that the vacation rental market is growing worldwide, and that is because people prefer to stay in vacation rentals compared to resorts. The service is customized for you, the guest. There is room to do everything you want and to enjoy time with family and friends. Punta Mita house rentals are no different, and these homes rival any of the most luxurious homes in the world. Planning your next stay in a Punta Mita vacation home is worth considering.