Explore the 12 Best Surf Spots near Punta Mita!
Punta Mita & Sayluita Surf Map!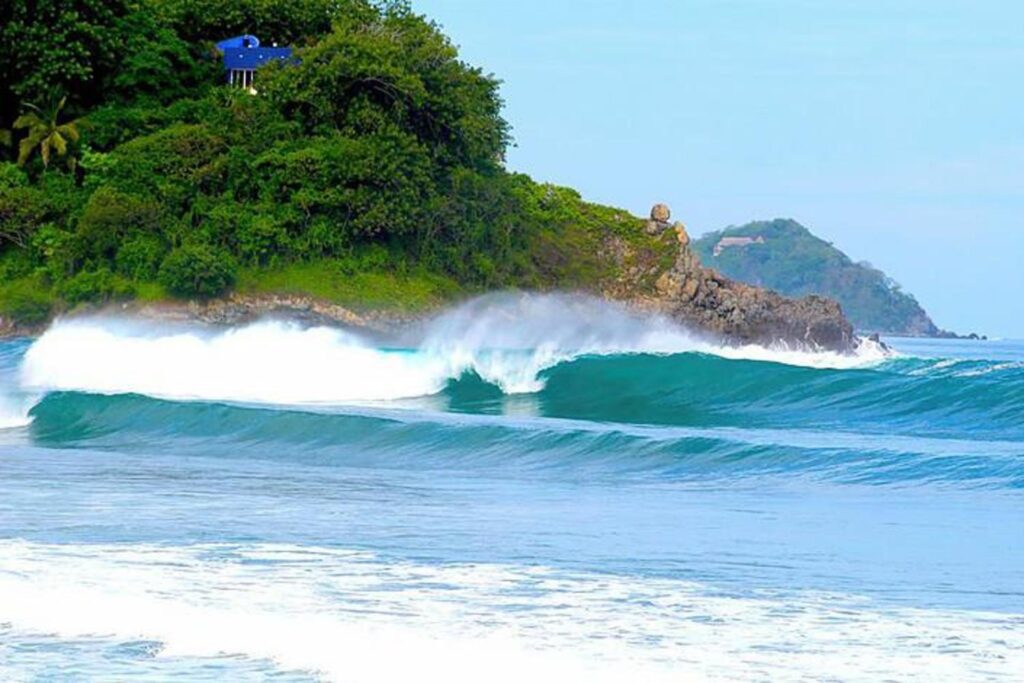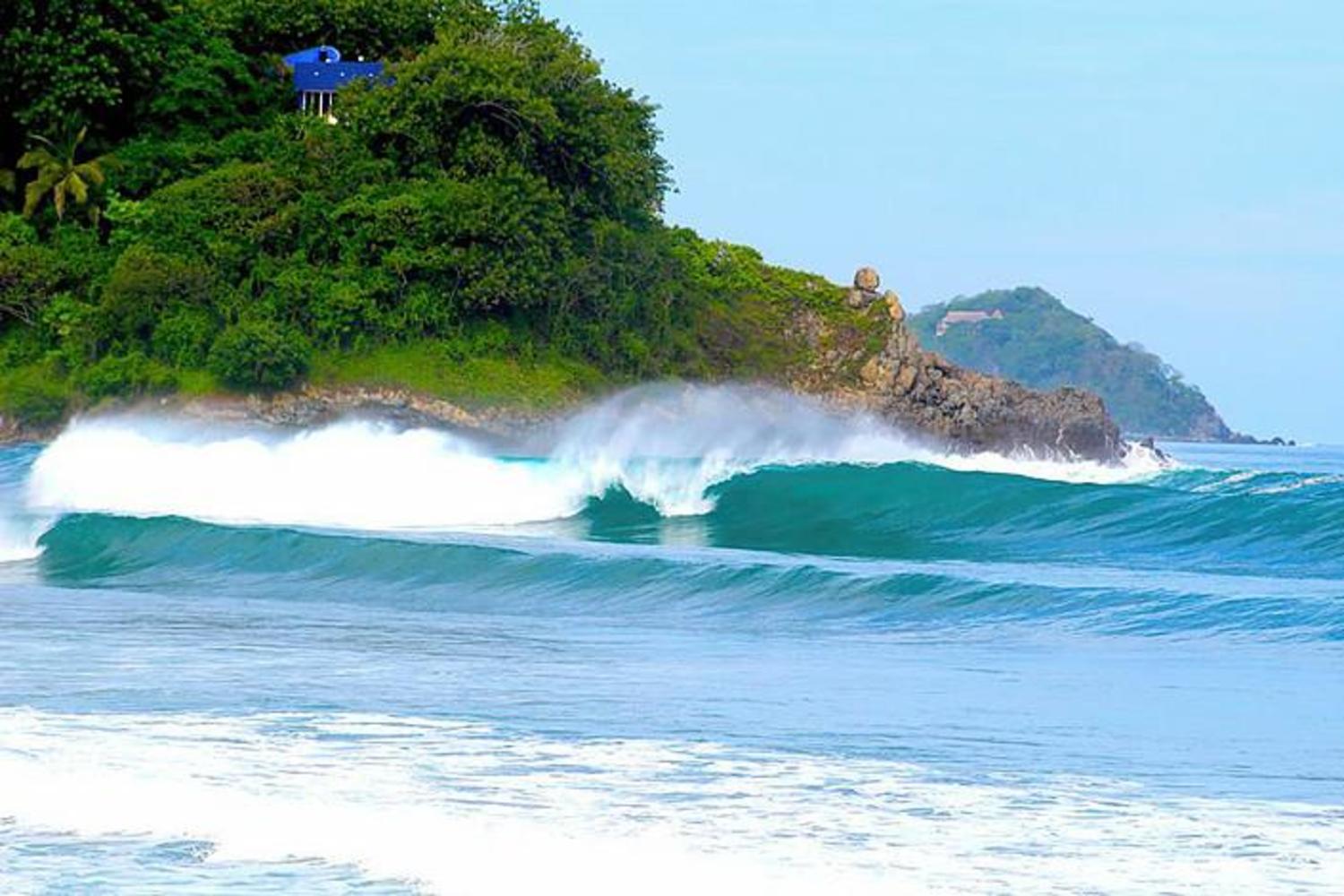 Sunny days and great food on the sandy beach, it's all about San Pancho. San Pancho is the vintage beach town you see in low-budget movies about Mexico. As soon as you arrive, you will be welcomed by a comprehensive view of the Pacific, a sea of colors, and the delicious smell of fresh seafood. It brings all your senses to life as you walk through cobblestone streets parallel to artisan shops and lines of palm trees.
If you're looking to take advantage of the great waves of the area, you'll have the chance to kill two birds with one stone. Visiting the magical town of San Pancho is a great experience on its own. The city is located 10 minutes north of Sayulita and is fully exposed to the ocean current. It is not inside a bay, but there is a cove nearby.
San Pancho is not a spot for beginners, as it mainly offers the game for intermediate and advanced surfers. It has a left-hand river mouth break that works with south swells. Prime surfing conditions occur when the river mouth opens due to heavy rain, basically summer.
When surfing, watch out for the corals and sharp stones underneath. It is also worth mentioning that the rides here are relatively short. However, this is the only wrong side to the story; other than that, you'll be able to enjoy all San Pancho has to offer. The great food, the unrivaled sandy beach, and light blue water.
*Your Villa Experience concierge will be more than glad to share with you all the ins and outs on how to get to San Pancho. Additionally, they can book any activities or restaurant reservations in San Pancho for you.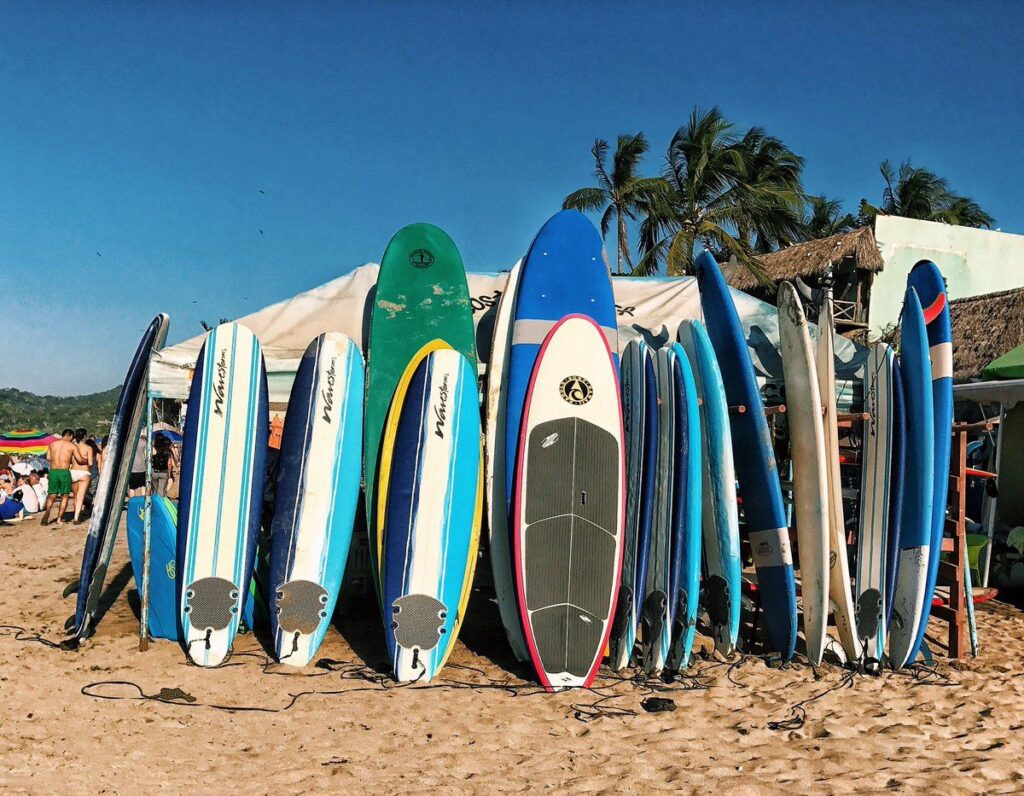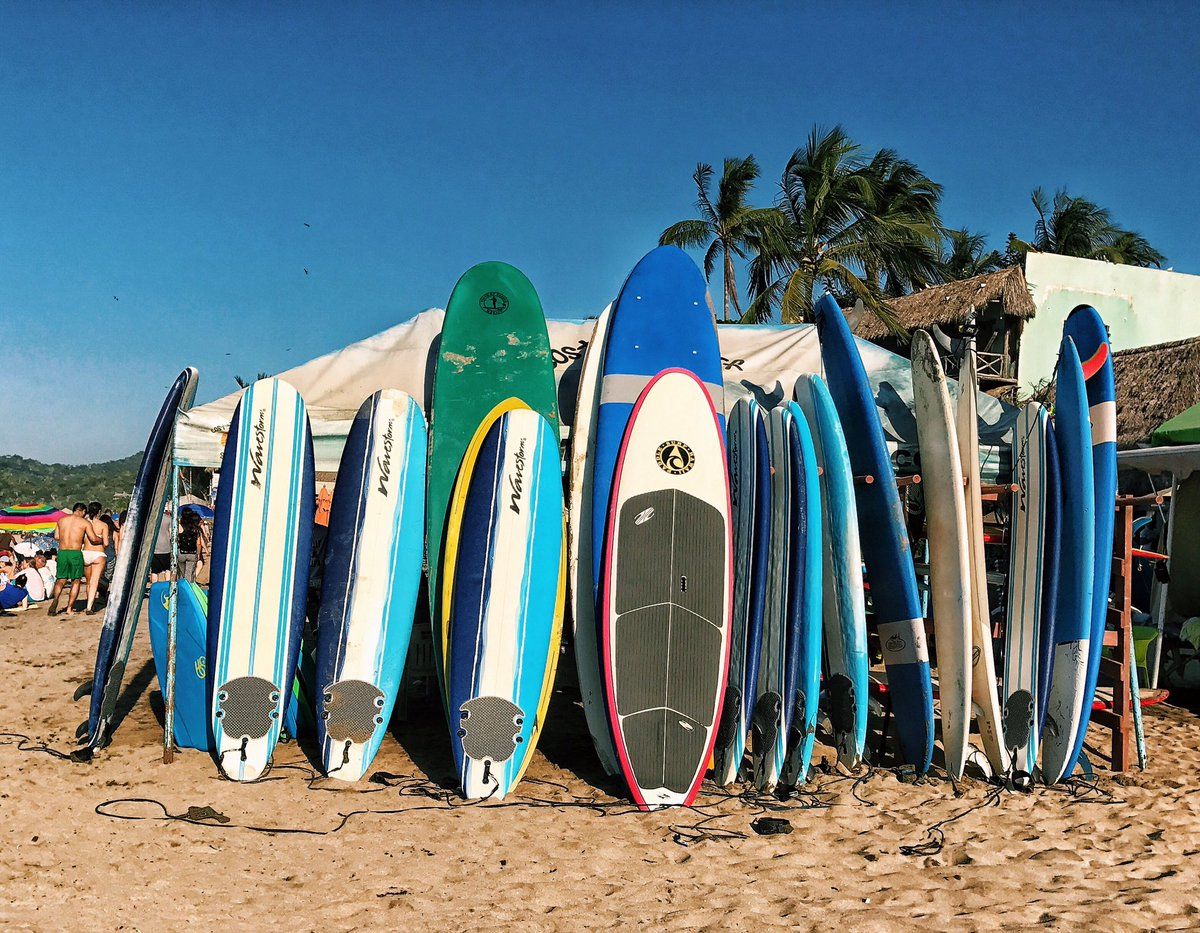 Are we looking to catch some incredible waves in Riviera Nayarit? It sounds just like the right thing to do; you better believe it, especially when we talk about (none other than) Sayulita. In recent years this coastal town has become an attractive destination for surfing in Mexico. The beauty of the area, the tropical weather, and consistent waves make it a beautiful spot for surfers and tourists alike.
Let us tell you a little more about Sayulita; a few decades back, it was still the typical fishing village with very few inhabitants, but as Vallarta became popular in the 60s, so did the other towns and towns along the bay. The bay, however, doesn't get sound waves as it is an enclosed body of water. But Sayulita is right outside the bay, more like a cove exposed to the open ocean and great waves, which is precisely what you expect from Sayulita.
As soon as you arrive in town, you feel like time slows down, and you only want to relax and enjoy every moment. There are great oceanfront restaurants and bars for you to eat, drink, and even practice some salsa moves. People from all walks of life are visiting Sayulita for the second or third time, but you'll notice right away how the hippie culture is influential here. Perhaps the tranquility of the area and the smooth sound of the waves invites a laid-back type of life. Sayulita is only a 15-minute drive from Punta Mita and approximately 40 minutes from the Vallarta International Airport.
Let's Get To The Waves
The incredible sensation in Sayulita is that it has consistent waves throughout the year, yet the winter months offer more frequent swells. However, you'll find that there are more opportunities for surfing during the summer, as it is less crowded and you can focus 100% on your performance. It is also the time when the south and southwest swells come in.
There are three different surf breaks in Sayulita.
1. the sandbar (a subtle left wave for beginners), where you can practice your takeoff, pop-up, and paddling skills. Whether you're bringing a longboard, a funboard, or the gun type, you'll be able to do some great practice here. Also, if you feel like taking some classes, you'll find that different surf schools offer their services right on the beach. Most of them have surfboards, so all you have to bring is the right attitude to the game. Remember, once you catch the first great waves and ride them like a sea cowboy, you'll be hooked for life! That's the gnarly part of it.
2. The main surf break of Sayulita is also known as La Derecha or El Punto in Spanish. It is a right-hand river mouth wave with rock bottom, its main characteristic. Here's where the real action is and where most seasoned surfers try to execute their major tricks, epic carves, and become legends.
Be aware that a queue will wait to get in this wave, especially during the high season (winter months). Therefore, this wave is more appropriate for intermediate and advanced surfers. At all times and for your safety, respect the surf etiquette.
3. Last but not least, La Izquierda, a left-hand river mouth type of wave. This is the most peculiar of all the locks in Sayulita, rising from the northern end of the river mouth. You can bring shortboards here no problem, from a fish to a hybrid. The conditions here are prime for intermediate and advanced surfers.
*Your Villa Experience Concierge can book your surf lessons with any schools available in the Punta Mita-Sayulita areas. Just let us know in advance. We'll be glad to provide you with that service.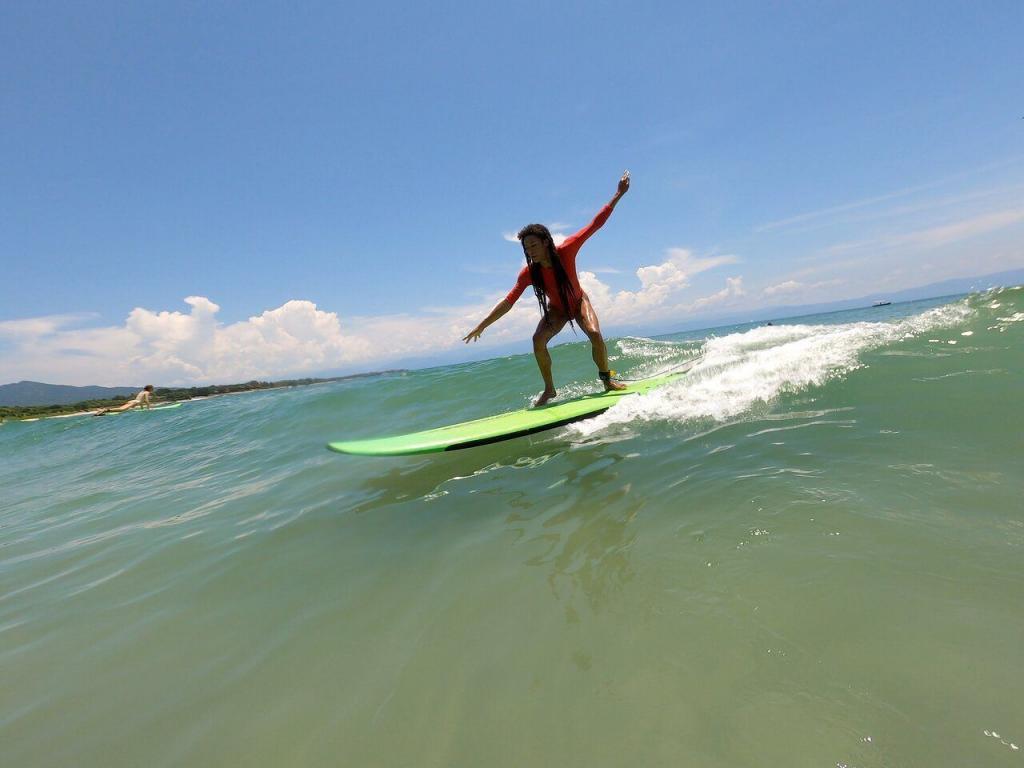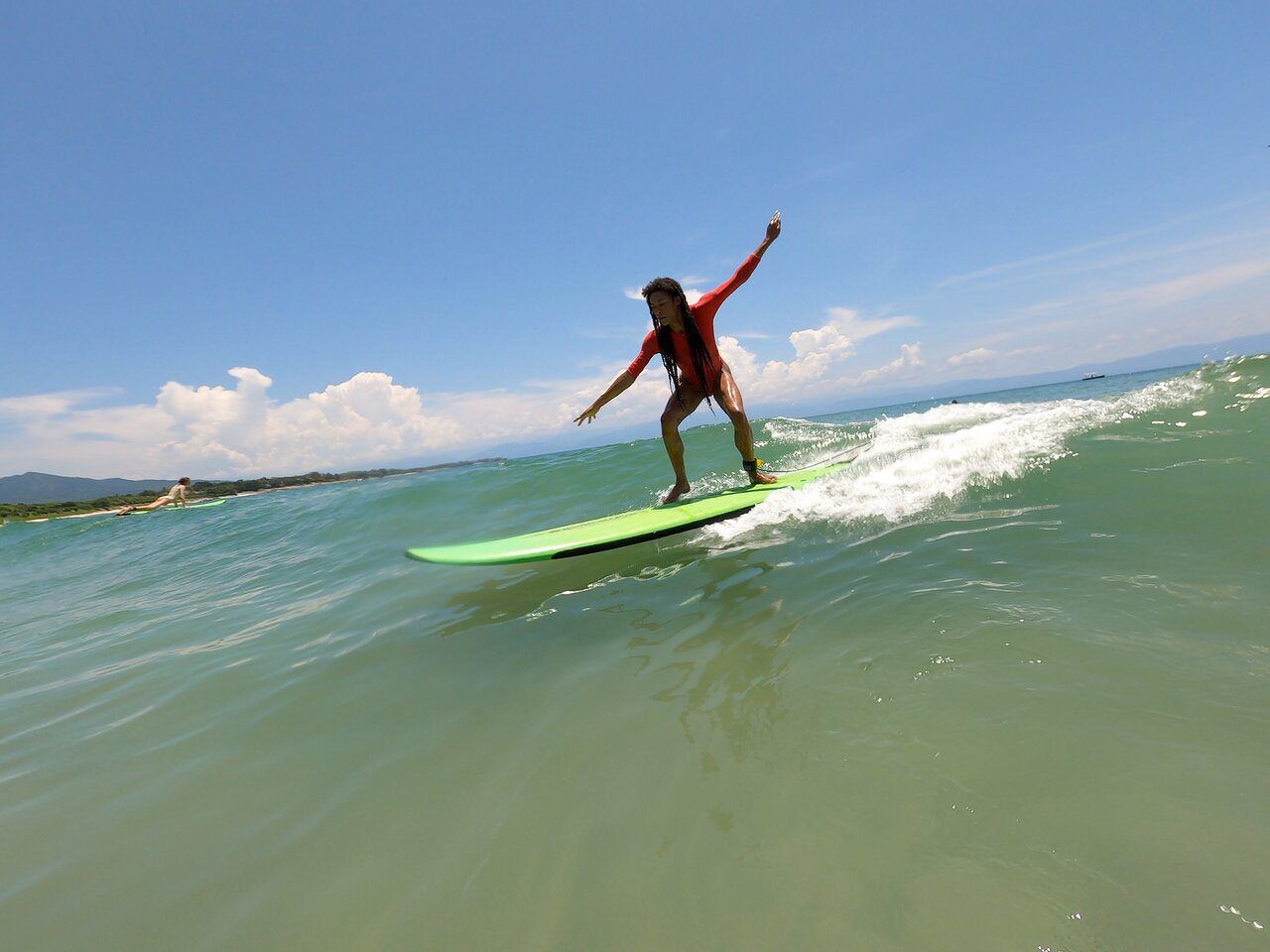 Imagine yourself under a palm tree, waxing your board, ready to face the sunshine and the swelling waves of Litibu Beach. Litibu is the kind of place you instantly fall in love with; it is the isolated, pristine beach where the water has the color of blue topaz, and the sand under your bare feet feels just right. It is a tropical paradise with total exposure to the wind and oceanic waves, making it the ultimate surf spot for those looking to ride some of the best waves in Mexico.
You'll find Litibu at a midpoint location between the villages of Sayulita and Punta Mita, making it a 15-minute drive to any of them. From the Puerto Vallarta international airport, it'll take you at least 45 minutes to reach Litibu, but there are no paved roads to get there. It is a hidden jewel where often you'll find yourself surfing on your own with no one else around. That's how great and private it is, a whole beach almost for yourself. Just imagine that! Of Course, you'll see some beautiful villas in the distance. And perhaps you will encounter some other spontaneous visitors enjoying the beach.
Although the waves in Litibu are not very consistent, the current from the ocean tends to be stronger than it is in the nearby Banderas Bay. It is also a great place to practice your takeoff, from paddling to pop up, as the waves are mostly closeout waves. It is a great place to get some good practice as well, or if you're inviting someone who has just been introduced to the sport. The beach here is super longboard friendly. Litibu Beach is the dream of every Dawn Patrol member out there.
Other surf spots in the Punta Mita area offer more consistent waves than Litibu, yet Litibu is a must-visit location if you are in the area. Get there with the first light of dawn and enjoy this fantastic place to the fullest. It is a magical place beyond your imagination, where the Monkey mountains, the isles, and the Pacific Ocean create a spiritual scenery that will empower your admiration for Mother Nature.
*Litibu offers a left-hand type of wave.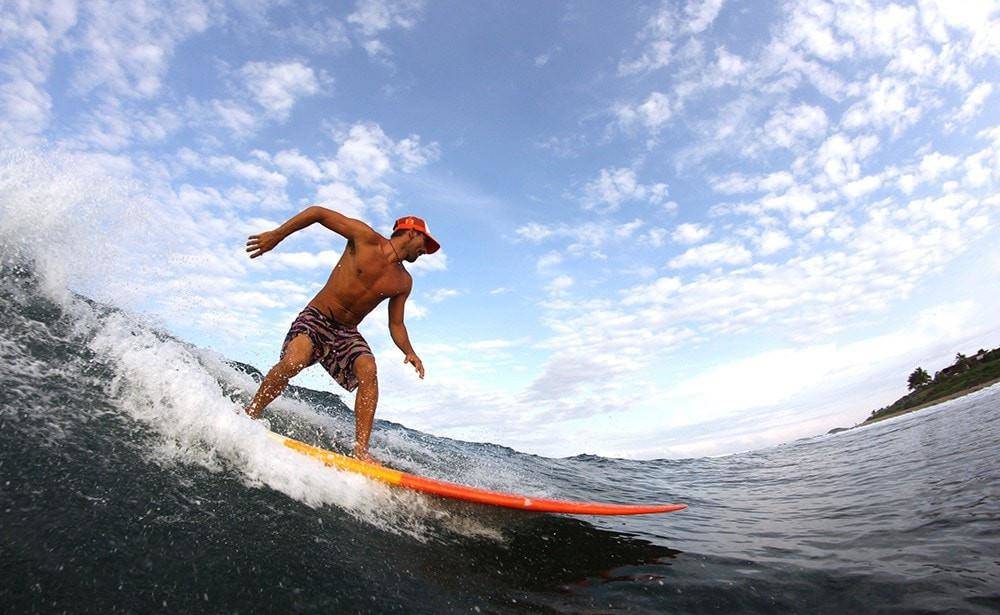 Don't you love it when you feel the power of the ocean under your feet, pushing you, and you think all that wind blowing against your face? Doesn't it make you feel more alive than ever?
Introducing La Bahia, also known as The Cove, an extraordinary surf break considered by many to be the top surf location of the whole Punta Mita area. Found right at the peninsula's tip, this beach has total exposure to the ocean waves, offering long right waves and quick lefts, the ideal fuel to make some epic snaps and maneuver the waves like a true warrior.
This surf break is not for beginners, as the reef gets very exposed during low tides (be cautious). However, the waves stay consistent here, and the tide goes from medium to high. You can surf in any swell direction as the space is very open. We recommend you bring shortboards given the conditions of the surf breaks.
Remember that La Bahia is a secluded spot that can best be reached by boat from El Anclote. Otherwise, you'll spend like 30+ minutes walking on a beat-up road and drain your energy before surfing.
You can reach la Bahia or The Cove about 50 minutes from the Puerto Vallarta International Airport.
*Your Villa Experience concierge will be more than happy to share all the ins and outs about visiting La Bahia.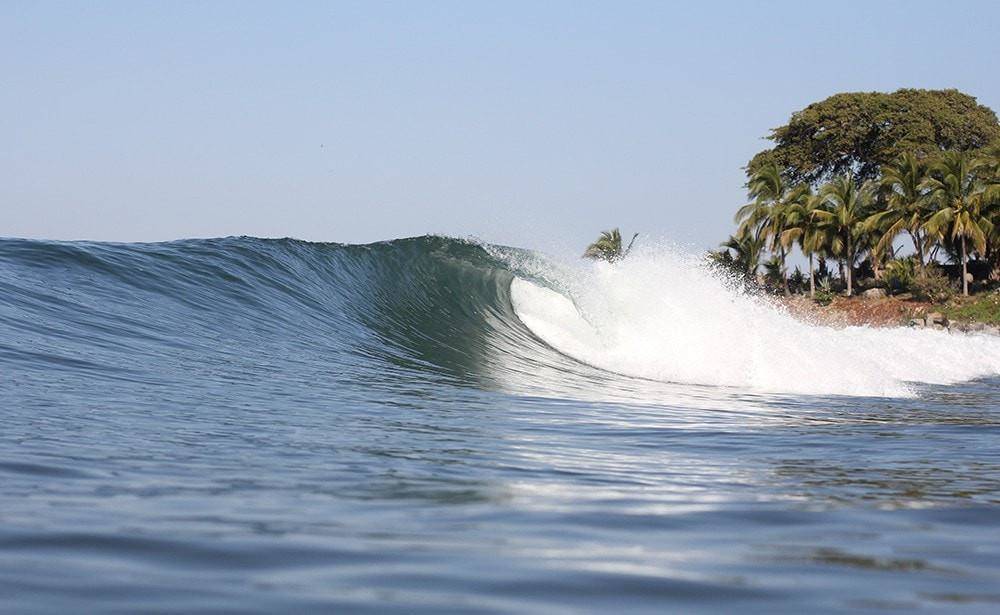 El Faro - The Lighthouse Surf Spot
Enter the top surf spot of the entire Punta Mita area and Banderas Bay. El Faro means The Lighthouse, and it is found at the furthermost end of the Mita peninsula to mark the opening of the bay. To get there, you can either take a long walk over the rocks or take a water taxi from El Anclote. We strongly recommend the second option.
To navigate this surf break, it is better if you are an experienced surfer, given the conditions of the reefs on the shore. Wintertime brings in the best conditions to surf here, and it is the time when it gets more crowded. We require swells of at least six feet for an optimal surfing experience.
*Your Villa Experience concierge will be more than happy to share all the ins and outs about visiting El Faro.
Relevant Information
*El Faro is a right-hand point break.
*Optimal surfing conditions at medium tides.
*Some areas of this surf break can be suitable for beginners.
*Ideal for longboards and shortboards.
*You can reach El Faro in approximately 45 mins. From the airport.
Unparalleled waves and tons of sunshine in one of the best beaches in Mexico. Sounds like a plan?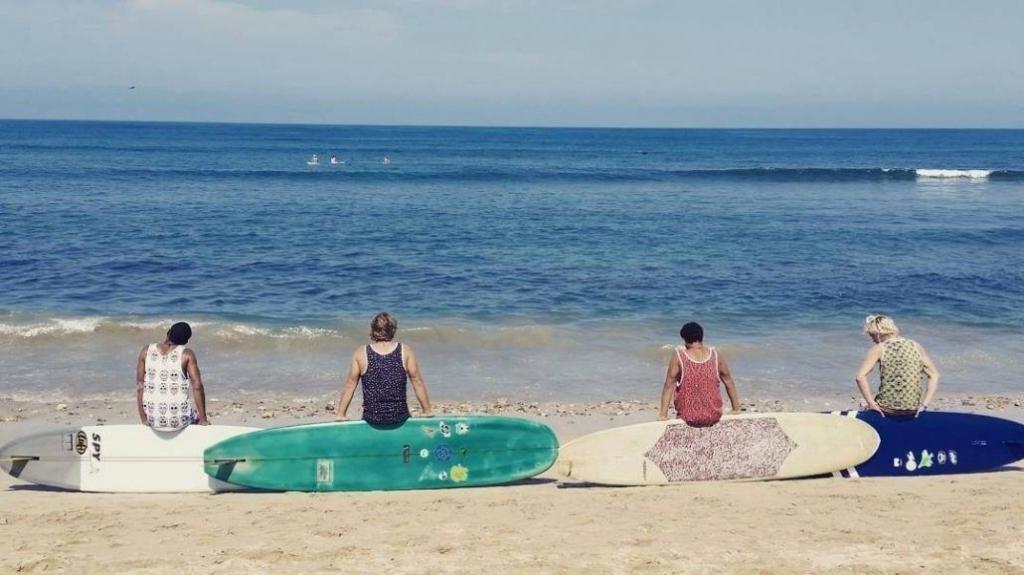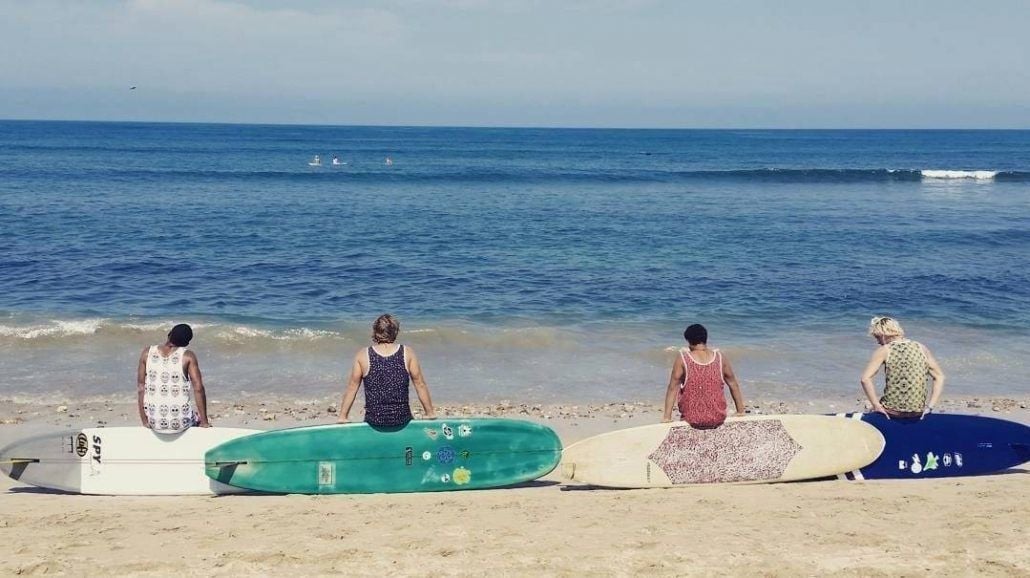 El Anclote & Stinky's Surf Spots
It's all about the beach lifestyle and passion for the sport. As we commonly say in Mexico: "two is better than one," and for that reason, we bring to you these two great surf spots which happen to be next to each other. Given their proximity, they also have almost the same swells and tides.
El Anclote is one of the most accessible surf spots to reach in the Punta Mita area; you can almost drive all the way there. It is found on the west side of the Punta Mita beach and tends to have fewer surfers than other popular breaks. El Anclote is due in part to its secluded, private location.
When optimal conditions for surfing are not met at La Lancha and Punta Burros (and the fun is over), surfers will move to El Anclote or Stinky as a second option. The waves here are not very consistent, and a big push from a south swell is needed for El Anclote to break.
This is a right-hand reef break with lots of opportunities for longboarding.
The same stats and info here are almost identical for the Stinky Surf Spot with minor variations. To get there, you have to reach Quinta del Sol Hotel first (ask someone or follow the signs); it'll be right next to it.
*Watch out for the low tide; there is a reef floor without sand.


Majestic waves, passionate surfers, and an unrivaled sandy beach await you at Palmitas. One of the most accessible surf spots in the whole Punta Mita area is the Palmitas Surf Spot, a classic hangout for surfers to practice all their tricks. You can either reach La Lancha or take a short hike from Stinky's. It is within Banderas Bay but close to the mouth of the bay, the reason why the sea currents come in intense, making this setting mostly a shortboard scenario.
Palmitas has a mid to high tide with a decisive beach break delivering rights and lefts for the pleasure of surfers. The short-lived swell comes with the winds from the north. Do not venture into this surf break if you're not an experienced surfer yet; other surf breaks are more suitable for beginners.
*Your Villa Experience concierge will be more than glad to show you the ins and outs of how to get to Palmitas.
Welcome to La Lancha beach break, a place where legends and legends-in-the-making hit the beach with their colorful boards amidst the glaring sun of the Pacific. Leave all the theory behind and bring your best game to this spot, which happens to be the most consistent area with swells leading in all directions.
While this surf break works with all tides, avoid the low tide, leaving exposed rocks. It is a suitable reef break ideal for longboards with occasional lefts navigable for shortboards. The waves here are from 3 to 4 feet high but can swell up to 7 feet.
Considered by many to be the top location for surf classes, La Lancha is also a beautiful sandy beach with aqua blue water, a natural wonder without restaurants, shops, sunbeds, or any other object ruining the scenery. During the winter months, you'll have the opportunity of a lifetime to see the whales in the near distance jumping in pure joy.
La Lancha is located in Punta Mita, Nayarit. It is just off the road, across from the only Pemex gas station in Punta de Mita, right on the south end of Ranchos Estates gated community.
Don't forget to bring mosquito repellent if you come here.
*Your Villa Experience concierge will be more than glad to show you the ins and outs of how to get to La Lancha.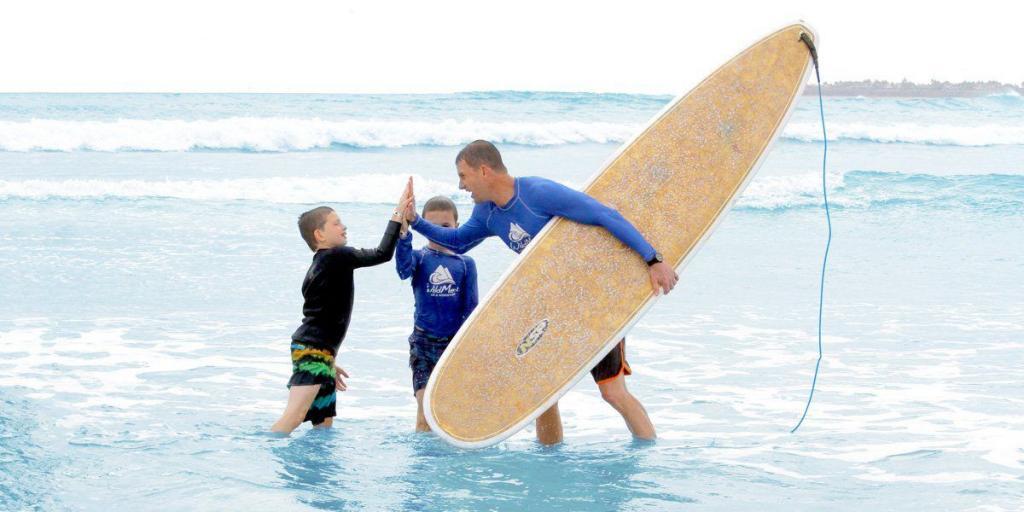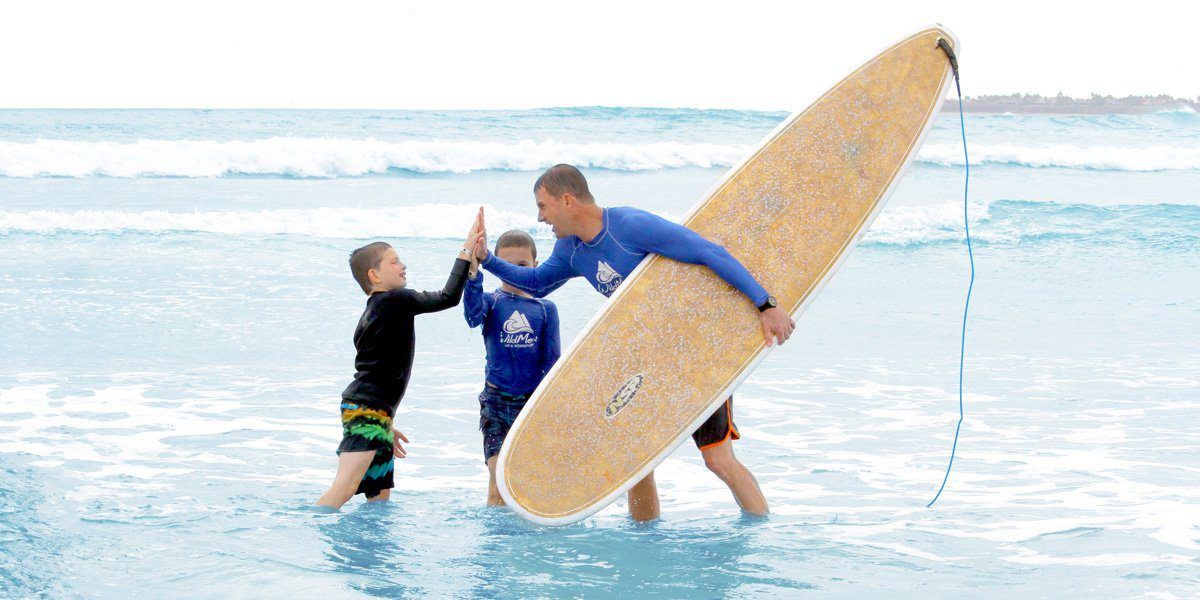 Get inside the tube and come out with a triumphant smile. Punta Burros is unquestionably one of the most incredible surf spots in Banderas Bay, and it is one of the easiest to reach as well. This break is a stone's throw from luxurious villas and resorts, sitting in a prime location. To get there, drive to the Palladium resort, it is right next to it, you'll find your way to the public beach, and there is even space to park.
Burros offers a reef break with mostly rights and occasional lefts, generating prime surfing conditions with low tide and swells from the south. Unfortunately, these excellent features draw a crowd most of the time, so you'll have to find the best timing to surf here.
Before you get to Palladium, you'll see the road signs leading you to the resort. When you get there, you'll have to take an exciting 5-minute walk through the jungle. Keep going till you come across an abandoned construction on your right, then take the path leading down to the beach, and you'll be right where the action is.
This break has always been the most popular of the whole bay, yet it is not ideal for beginners. Waves come in significant time and can reach up to 7 feet.
*Your Villa Experience concierge will be more than glad to share all the ins and outs of how to get to Punta Burros Surf Spot.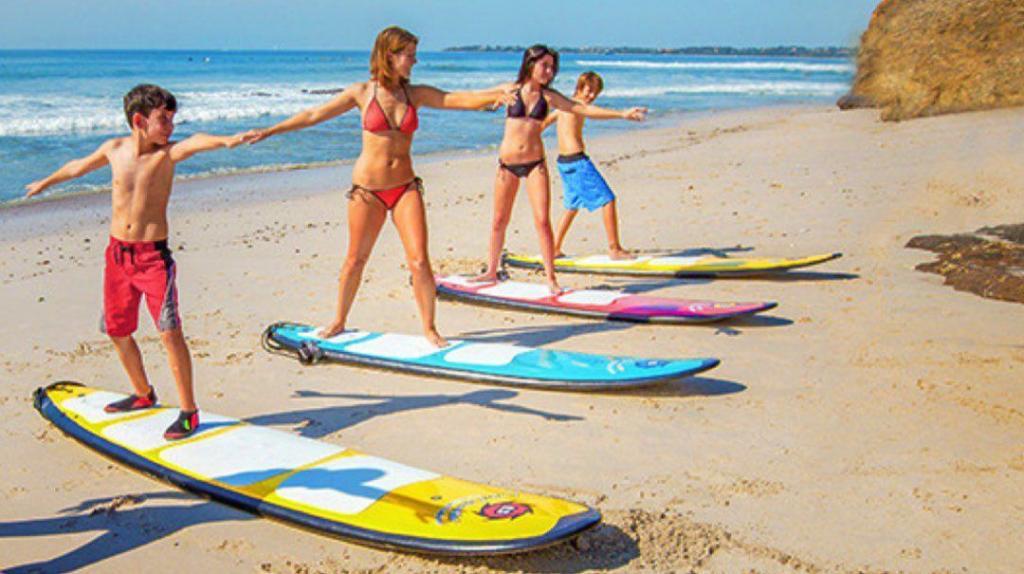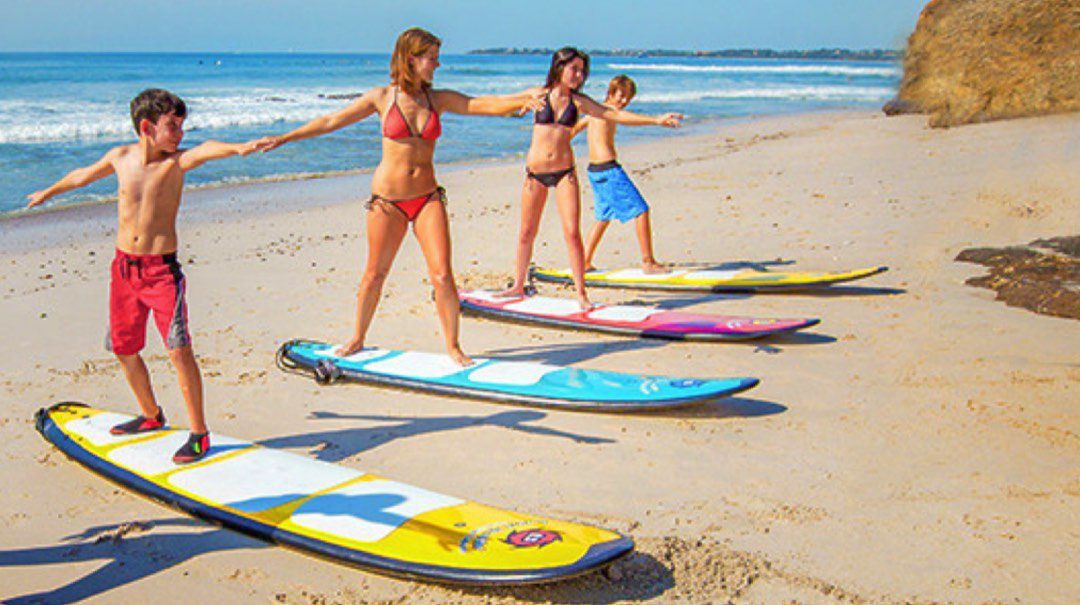 Get barreled, go for a duck dive, and boogie on down the line all in one place. Meet the powerful and impressive waves at El Paredon surf spot, deeper in the mouth of Banderas Bay than other breaks; this is the real deal. Honoring its Spanish name, El Paredon means "The High Wall." This unbeatable location displays a rocky wall on one side of the beach, hence the peculiar name.
El Paredon has a right-hand reef break, and the optimal surfing conditions are when a pushing swell coming from the south takes place. The tides here are long, with plenty of sections to choose from. However, we recommend moving with high tide since there is a rough rocky bottom.
Take ownership of the waves and bring out the warrior within.
El Paredon is next to Veneros (another surf spot), and you can reach it in about 40 minutes from the Puerto Vallarta International Airport. The beauty of the beach and spectacular rock formations on the shore will captivate you from the first moment. After that, it is a surfer's retreat.
*Your Villa Experience concierge will be more than glad to share all the ins and outs on how to get to El Paredon.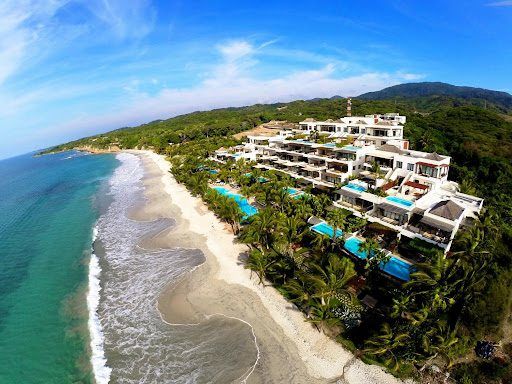 The fabulous Veneros Surf Break has that particular layout built specially to be a surf spot. So once you visit it, you'll come back for sure and become one more of the club. Getting there can be a bit of a challenge as you have to take a 25-minute hike, but if you're a surfer, this shouldn't be a problem. When you get to Destiladeras, just park on the roadside and take the path leading to Veneros.
The generous current brings rights and lefts, allowing the best surfing conditions when the tide is mid to high. Other than that, it tends to have shallow waters, which are not a lot of fun. Nevertheless, this spot is beginner and intermediate-friendly, an excellent playground for those looking to get some good practice.
Los Veneros also has fast rights and lefts, with top conditions generated by south and hurricane swells. When this happens, you are in for a great ride, and you should have a shortboard to take advantage of the waves.
Depending on where you're staying in Banderas Bay, this might be the closest surf spot to your villa. So do not miss the opportunity to visit this fantastic place.
*Your Villa Experience concierge will be more than glad to share with you all the ins and outs on how to get to Veneros.