Why Choose Los Cabos for Your Destination Wedding?
Weddings by the beach have become a trend, and what's not to like about tying the knot with the Pacific Ocean and a stunning sunset as the backdrop? So if you're searching for the perfect location for your beach wedding, look no further than Los Cabos, Mexico.
At the southern tip of the Baja California Peninsula, Los Cabos is a unique destination where the desert meets the Sea of Cortez and the Pacific Ocean, creating breathtaking landscapes of incredible contrast. This singularity sets Los Cabos apart from other Mexican beach towns and makes it an ideal place to exchange vows.
Two Distinct Areas to Choose From
Los Cabos comprises two distinct areas: San Jose del Cabo and Cabo San Lucas. San Jose del Cabo is known for its romantic atmosphere and charming and picturesque Mexican town vibe. On the other hand, Cabo San Lucas is home to many big-brand resorts and offers a more lively atmosphere.
Spectacular Ceremony Spots
There are many stunning ceremony locations in Cabo San Lucas and San Jose del Cabo. However, none can compare to Playa del Amor (Lover's Beach), which offers access to the Pacific Ocean and the Bahia de Cabo San Lucas. The natural rock formations and the Land's End arches provide an unforgettable backdrop for your wedding album.
Easy and Affordable Legal Requirements
Getting married in Mexico is simple and affordable, with only a few legal requirements to consider. A 2-4 days waiting period is required, along with certified copies of birth certificates, driver's licenses or passports, and proof of divorce or death certification, if applicable. Blood tests and X-rays must also be performed in Mexico, and four witnesses must attend the ceremony.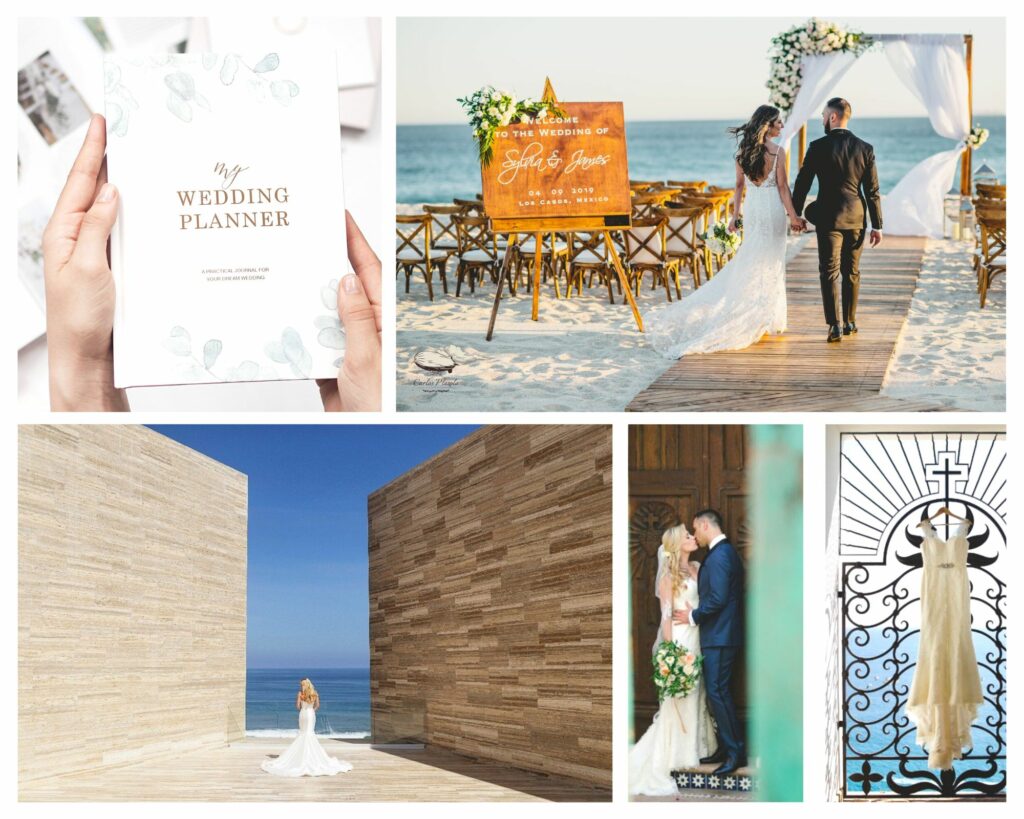 Professional Wedding Services
Los Cabos' proximity to the U.S. and its stunning beauty has made it a popular wedding destination, leading to diversification and professionalization of wedding services. You'll have no trouble finding a photographer, videographer, DJ, mariachi, caterer, and more to make your special day unforgettable.
All-Inclusive Packages and More
For those who want to relax and enjoy their wedding day without the stress of planning, many resorts in Los Cabos offer all-inclusive packages, including on-site planners. For example, the Barceló Maya Palace Deluxe Los Cabos provides a free ceremony with on-site planners for as few as 25 room nights booked. Book 70 room nights, and they'll even throw in a complimentary reception. Other popular resorts to consider for your Los Cabos wedding include the Riu Palace, Dreams Resort, Esperanza Resort Los Cabos, Melia Cabo Real, Cabo Surf Hotel, Secrets Marquis, and Grand Solmar. Each resort offers a range of packages, from all-inclusive to more personalized options.
Los Cabos is a breathtaking destination for your beach wedding, offering unique landscapes, easy and affordable legal requirements, and professional wedding services. Whether looking for a romantic ambiance in San Jose del Cabo or a lively atmosphere in Cabo San Lucas, Los Cabos has something for everyone. Choose from various stunning ceremony locations, all-inclusive packages, or more personalized options to make your special day unforgettable.