Experience the Ultimate in Luxury: Weddings & Events at Hacienda Palo Maria, The Premier Puerto Vallarta Wedding Venue
Luxury Meets Tradition in the Heart of Mexico
Imagine a place where the charm of old-world Mexico meets the luxury of modern amenities. The Hacienda Palo Maria in Puerto Vallarta is a venue and an experience. With its rich Mexican heritage, stunning ocean views, and world-class hospitality, it has earned a reputation as a premier destination for weddings and events.
The Majestic Hacienda Palo Maria
Nestled between turquoise and jade Pacific waters, the Hacienda is a tribute to the beauty and diversity of Mexican art and artisans. Every inch of this glorious estate is adorned with Colonial artifacts and rare local art. Yet, the Hacienda Palo Maria is not just a venue; it's an invitation to enjoy 1.5 acres of unspoiled tropical gardens with breathtaking ocean views.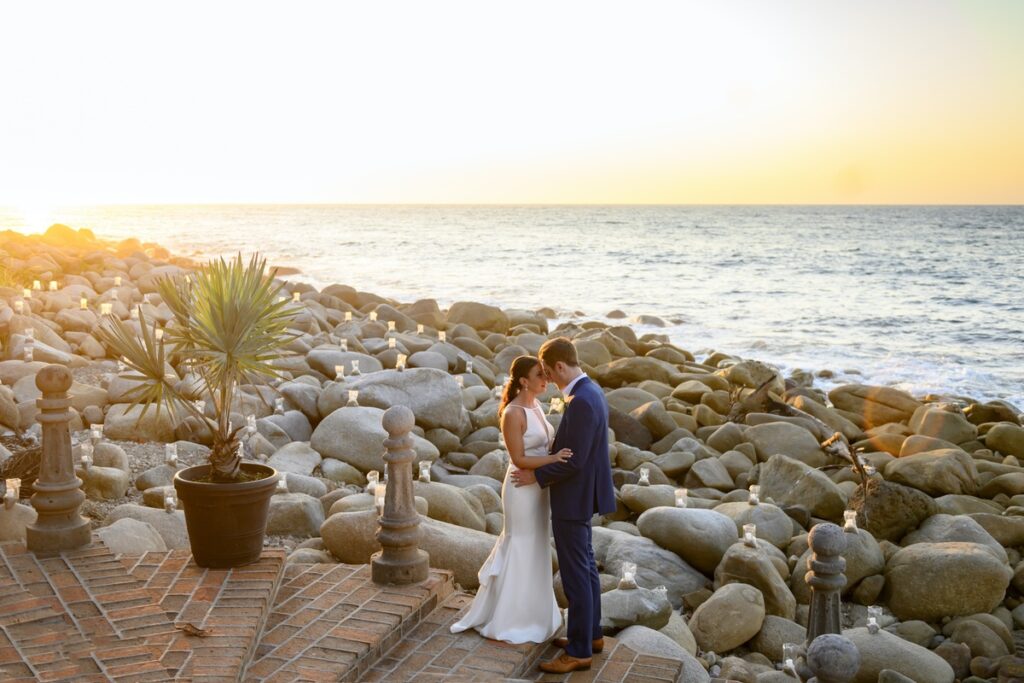 The Hacienda offers five exquisitely appointed luxury master suites. Each suite features romantic king-size beds draped with opulent canopies, luxury linens, museum-quality art, and an ensuite bath, a sensory treat. Imagine soaking tubs surrounded by flowers and gardens, colorful tiled indoor and outdoor showers, and open seating areas for comfort and relaxation.
Exceptional Service for a Seamless Experience
What sets this villa apart is its team of professionally trained hospitality staff. With a complimentary concierge service, we ensure every detail of your stay is perfect. From arranging transportation and spa services to planning unique bespoke excursions, our staff is dedicated to making your stay unforgettable.
Your Dream Puerto Vallarta Wedding Venue
Hacienda Palo Maria offers a romantic colonial Mexican oceanfront venue for small and large gatherings. It's the perfect backdrop for your dream wedding, with the Pacific Ocean as your witness. The charm and romance of this venue are unparalleled, making it the ideal Puerto Vallarta wedding venue.
Event Guidelines and Fees
The Hacienda Palo Maria rental gives you access to the most luxurious event space in Puerto Vallarta. We have flexible packages to accommodate gatherings of all sizes, from intimate weddings to grand events of up to 200 guests. An approved event planner must plan all events and additional services like a private chauffeur or catering staff are available at an additional cost.
Ensuring Your Event is Nothing Less than Perfect
From quiet hours to fireworks, every detail is meticulously planned to ensure your event goes off without a hitch. We understand the importance of creating a memorable experience for our guests, so we have specific guidelines to ensure your event succeeds.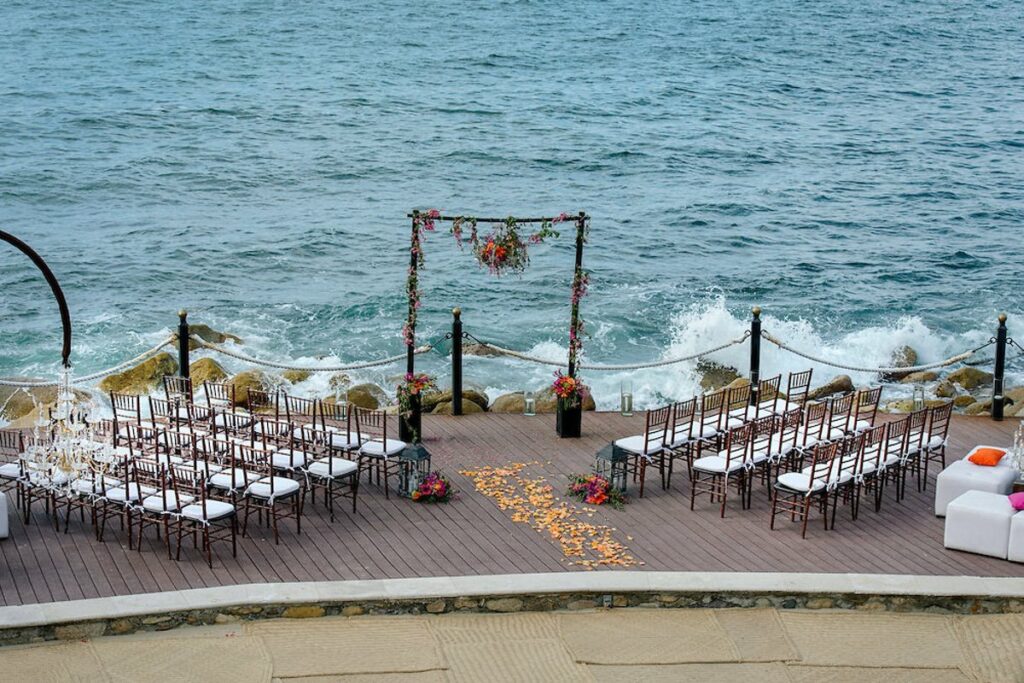 Your Peace of Mind is Our Priority
At Hacienda Palo Maria, we prioritize your safety and security. A refundable security deposit is required, and we ensure all areas are clean and undamaged. In the event of any unforeseen circumstances, the renter assumes all responsibility.
A Wedding Venue Like No Other
Choosing Hacienda Palo Maria as your Puerto Vallarta wedding venue means selecting a place where luxury meets tradition. Here, you'll experience a perfect blend of the old-world charm of Mexico and the modern comforts of a world-class resort. It's not just a venue but a destination where dreams come true.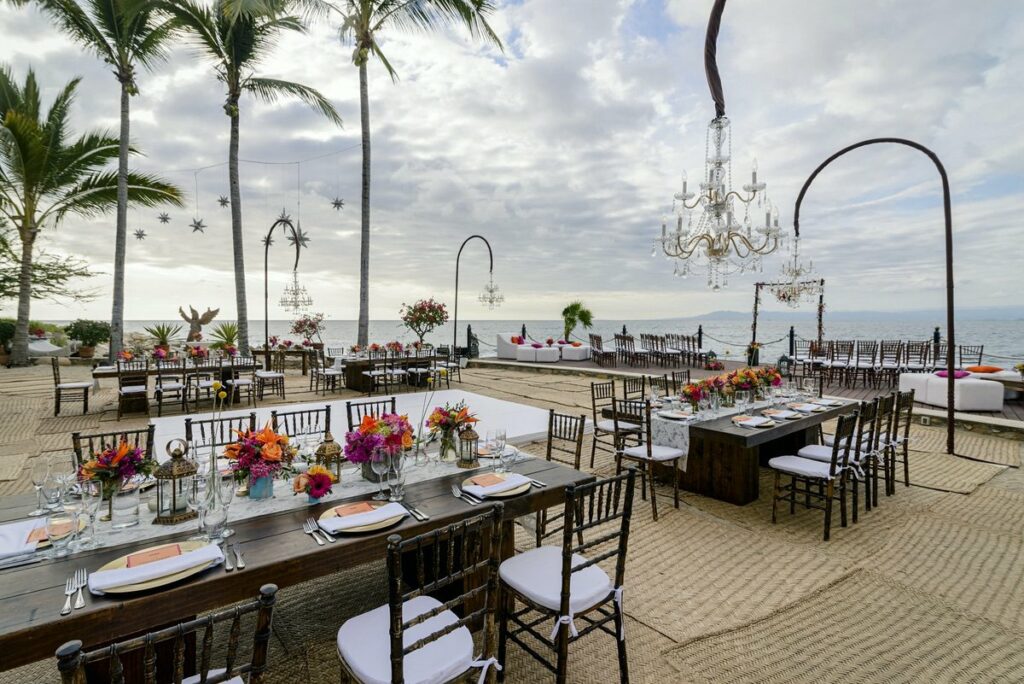 Q: How many guests can the Hacienda Palo Maria accommodate?
A: The Hacienda can accommodate events and weddings of up to 200 guests.
Q: What services does the hospitality staff offer?
A: Our hospitality staff provides various services, including complimentary concierge services to help plan every detail of your stay, from transportation to spa services and unique bespoke excursions. Additional services like private chauffeurs are available at an extra cost.
Q: What are the event guidelines at Hacienda Palo Maria?
A: We require that an approved event planner plan all events. Also, music must be kept low after 1:00 AM, and any fireworks must be set off by a professional technician from a boat in the ocean. We also require a refundable security deposit.
Q: Is catering available at the venue?
A: Catering staff may utilize the outdoor area only and must bring their equipment, as there will be limited access to indoor kitchen facilities.
Q: Can we have fireworks at our event?
A: Yes, fireworks are allowed but must be set off by a professional technician from a boat in the ocean, at least 200 yards from the shoreline.
Reserve Your Dream Event at Hacienda Palo Maria
Start Your Journey Towards an Unforgettable Celebration with Our Simple Booking Process