Discover the Ultimate Equestrian Experience at
La Patrona Polo & Equestrian Club in San Pancho
Are you looking for a great option to add to your Punta Mita vacation? La Patrona Polo & Equestrian Club is a fantastic way to spend your days. Located in San Pancho, approximately 30 minutes from Punta Mita, it offers some of the most exclusive and incredible equestrian experiences.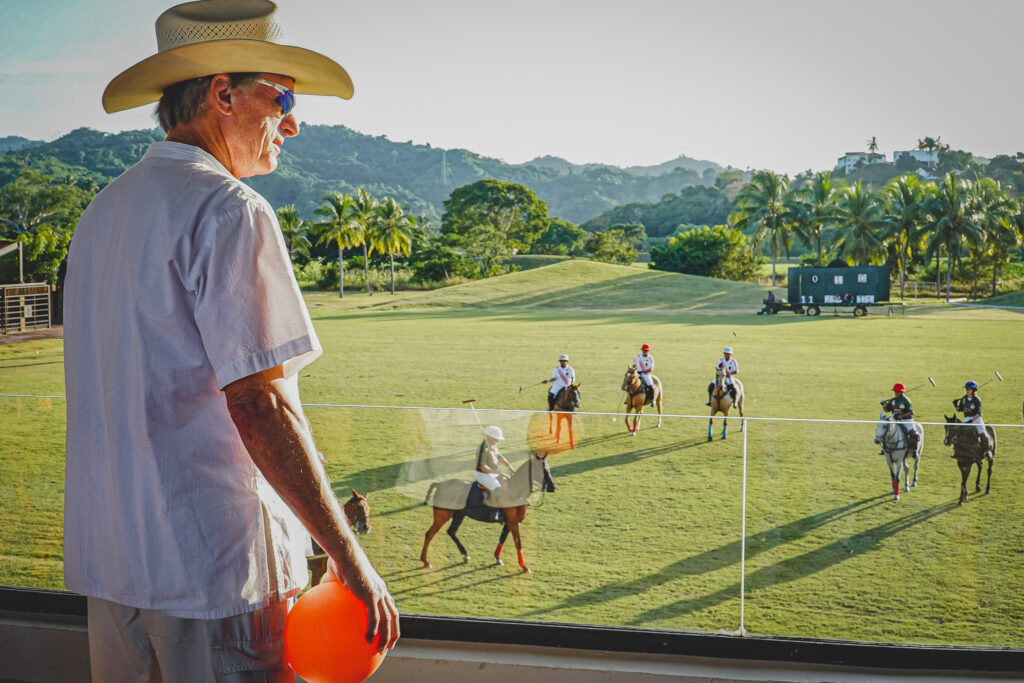 Unparalleled Equestrian Adventures Amidst Breathtaking Scenery
Designed by the Mexican architecture firm, Biopolis, this world-renowned facility boasts a natural vibrancy with the surrounding lush greenery of the Sierra Madre mountains and multiple elevation levels to look out over the rolling hills, all while being only a few steps away from the Pacific Ocean! With private trail riding, exciting polo games, upscale brunches, wellness classes, and a phenomenal beach club, there's plenty of fun for everyone in the family.
A Commitment to Sustainability and a Deep Appreciation for Nature
Established in 2001, La Patrona Polo & Equestrian Club aims to encourage the practice of equestrian sports for beginners and experienced riders alike. Providing the perfect horse adventure, anybody can join their community for a ride, a lesson or attend/play a polo match. Bringing a sustainability mindset, the equestrian club focuses on the long-term conservation of the environment with the delicate balance humans must maintain with their natural surroundings. 
Demonstrating unprecedented levels of respect toward everything in nature, every animal at the club is treated like a family member. When you visit, you will indeed be in awe of the professionalism demonstrated by the staff and the beauty of the horses and natural surroundings.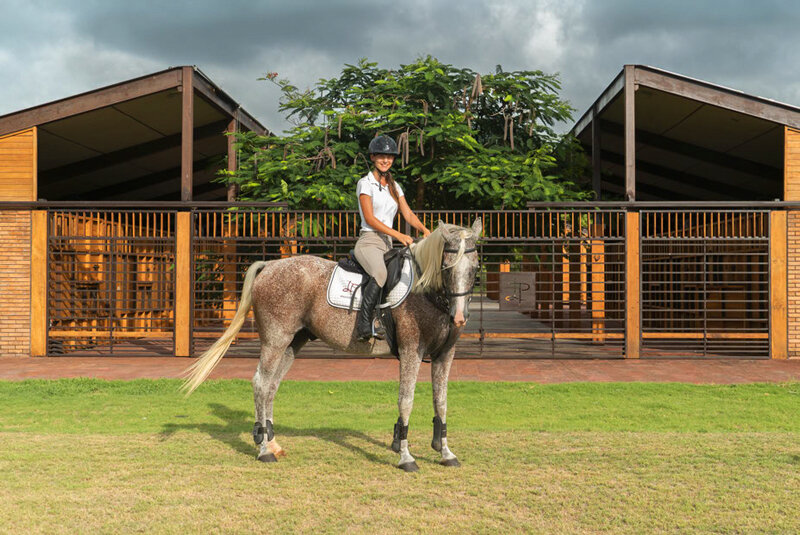 Personalized Horseback Riding Lessons
La Patrona Polo & Equestrian Club offers the exciting sport of horseback riding as the only way to learn and practice. Ideal for children but suitable for those of all ages, their approach focuses on the teamwork between the rider and their mount. Taught by a seasoned rider, private lessons are an excellent way to learn the skills necessary to become a confident equestrian. Keep in mind that reservations are suggested 72 hours in advance of your lesson. If you want to add a private lesson to your itinerary, speak with your concierge to make arrangements.
Scenic Horseback Riding Tours
Guests to the equestrian center can also embark upon a guided horseback tour through the gorgeous estate and surrounding region. As you embrace the fragrant, lush greenery, you should explore the various elevation levels and admire the brilliant views over the rolling hills. Relaxing yet completely breathtaking, you'll want to bring a camera to capture all the magnificent sights. You may choose between a simple horseback riding tour on its own or incorporate lunch and a day pass (premier access) to the Tierra Tropical Beach Club for an unforgettable full day of activities.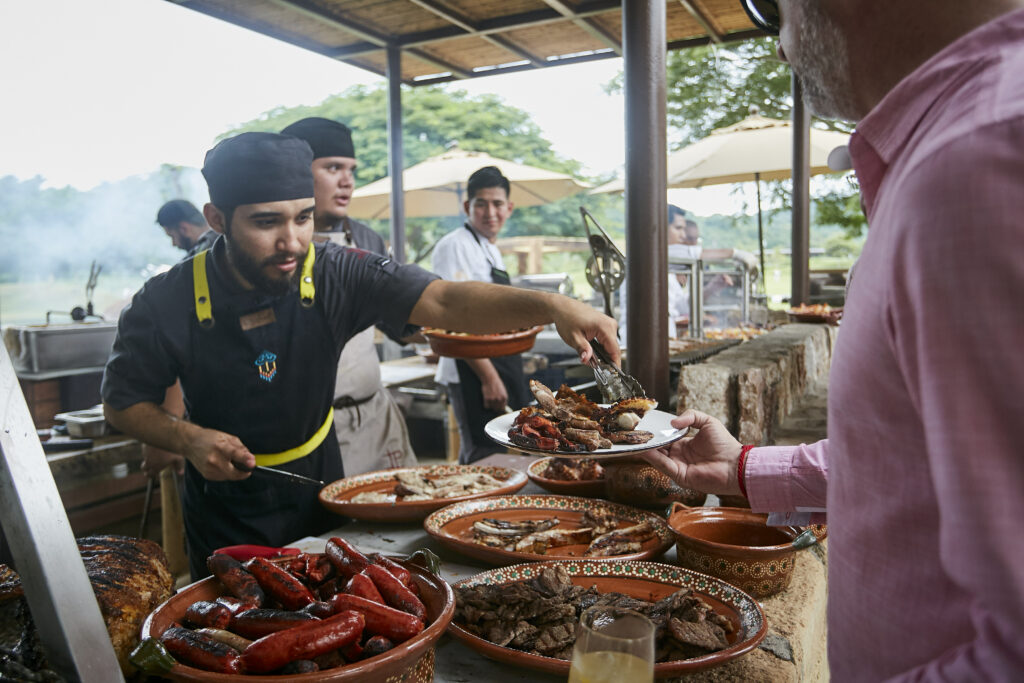 Exhilarating Sunday Brunch & Polo Match
In addition to horseback riding lessons and tours, you'll also be able to learn and participate in the globally celebrated polo game. The Jaguar Field highlights professional measurements and engineering, guaranteeing guests a fun and safe space to learn and practice. If playing a game sounds a bit too adventurous, you can also opt for a more relaxing option: sit in the stands to watch a riveting polo match while savoring a delicious brunch with Mexican spirits. It's a fabulous way to spend a Sunday with friends and family. However, it is only available during the winter months, so check with your concierge for the availability of this activity.
Culinary Delights at La Patrona
Chef Carlos Garcia and his team offer a unique, upscale food experience served with the highest quality and standards. With training from haute cuisine restaurants and a specialization in French gastronomy, Chef Carlos creates masterpieces that blend the best of his grandmother's traditional recipes with modern techniques and influences from master chefs. The whole family can look forward to feeling at home here while simultaneously being surprised by the flavors, presentation, and delicacy.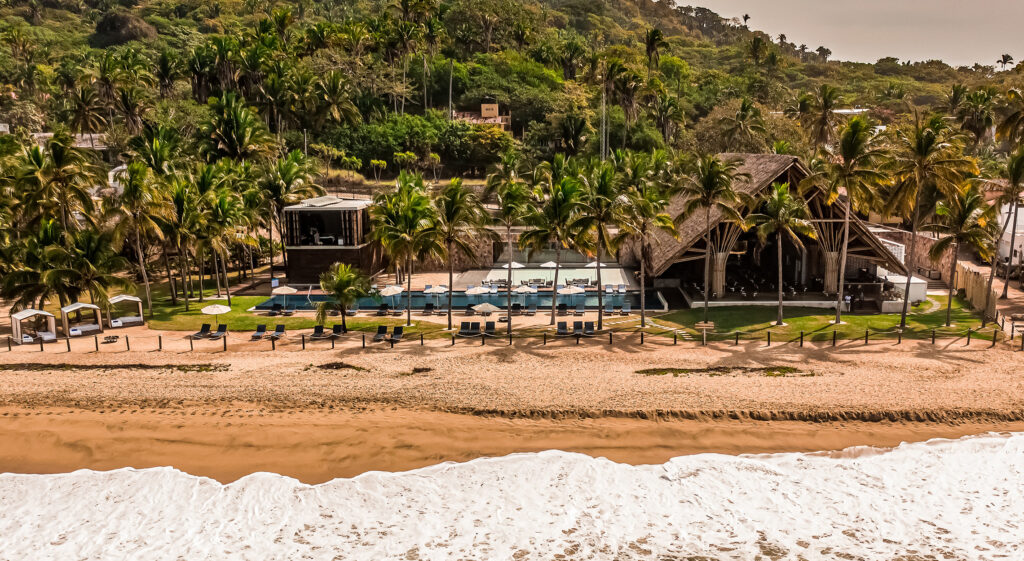 Relax in Style at Tierra Tropical Beach Club
The Tierra Tropical Beach Club is the perfect place to cool off after your horseback riding lesson, tour, or polo match. This trendy attraction brings incredible architecture with comfortable lounge spaces in complete harmony with nature. With sun loungers facing the ocean and an infinity pool, guests can enjoy the cool sea breeze, the lovely beach, and spectacular sunsets over the Mexican Pacific.
Regional and international cuisine from Chef Carlos Garcia and his team, carefully crafted cocktails, and a range of beer and wine can all be enjoyed poolside or on the beach, leaving even the most demanding customer feeling completely pampered. Purchasing a day pass includes the exclusive use of the pool and beach facilities. In addition, multilevel yoga classes for all ages held at the beach club may be purchased separately.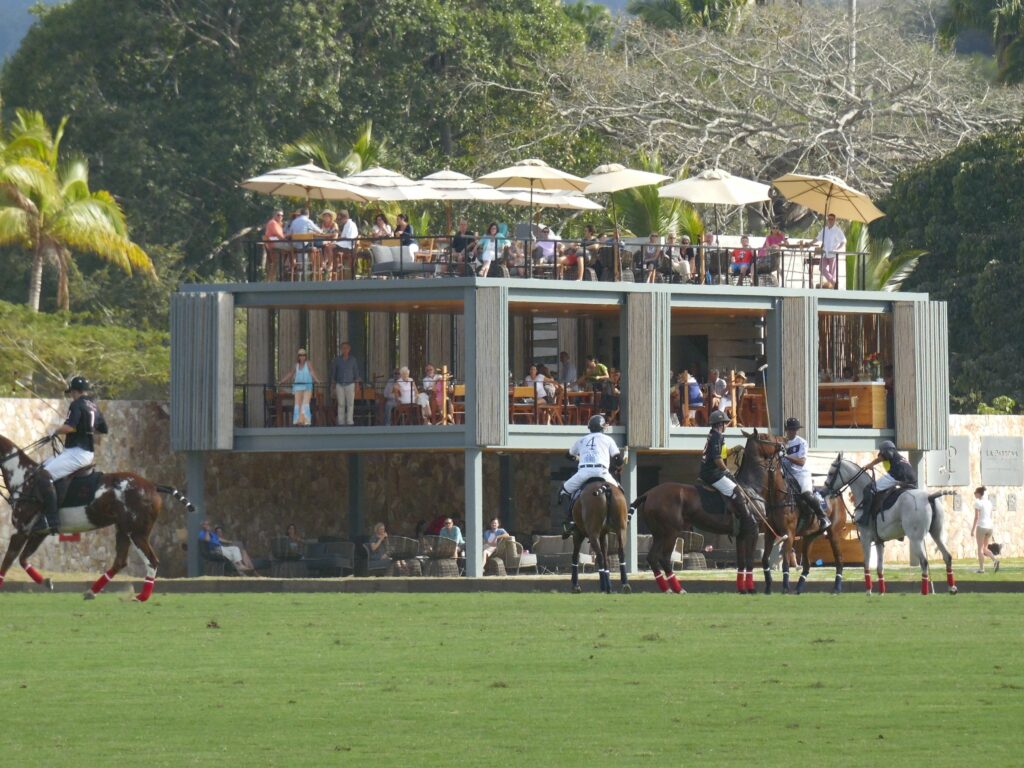 Experience Unrivaled Elegance at Mexico's Premier Equestrian Club
At La Patrona Polo & Equestrian Club, you will discover unparalleled beauty, professionalism, and exclusivity within the stables and the arenas. In addition, you will receive a day full of fun and relaxation and leave feeling completely rejuvenated after time spent at the Tierra Tropical Beach Club. For more information on availability and booking, contact your concierge.