Puerto Vallarta Villa Rental Faq's
Frequently Asked Questions!
Find answers to some of the most common questions guests have had about Puerto Vallarta villa rentals. Each of our villa rentals is backed by our team of professionals. As a result, several articles feature Villa Experience in publications like Travel and Leisure, Fodor's Travel Guide, and Forbes. However, we know renting a villa can be confusing, and we know you have questions. The experience of renting a villa can be both enjoyable and fun, which is why we are always available to help. If you need answers quickly, our FAQs can provide you with answers to some of the most frequently asked questions.
Are villas more expensive than a hotel?
Because you cannot compare the services, it is difficult to answer this question. Hotel rooms come with a bed, a desk, and a room, even in an all-inclusive resort. Not much more. While the pool is enormous, it is always shared with hundreds of other people, and the food is typical and average at best. Keep in mind the hotel has to feed hundreds of people, so the food must be standard fare for everyone. 
Discover how our services are customized to you when you explore our villas. The meals we prepare, the drinks we serve, and our services will all be tailored to your needs. And most of our villas are cheaper than hotels. Furthermore, when you consider all of the extra services and amenities a villa offers, you can see that a villa is a superior option. 
Remember, in the villa; you get the services of private house staff. Meals are prepared exclusively for you. Cocktails are made with delicate detail and artistry. So, it is easy to see that the villa is well worth the price in terms of value for money.
Why do summer and winter rates differ?
Puerto Vallarta has a high season from November through April. As a result, most owners require a five to seven-night stay during these months.
During the Summer, Puerto Vallarta has fewer visitors, which results in lower prices and shorter stay requirements. The exception is the holiday season. This season consists of Christmas and New Year and has a 7-night minimum stay. In addition, large villas offer discounted rates for fewer bedrooms.
For instance, if you rent a large eight-bedroom villa but only use 4 of the bedrooms, you could choose the bedrooms you want, and the other bedrooms would be closed off and left unused. No other person would rent the rooms.
Unless specified, all villas are private and do not share common spaces like living areas, patios, or pools. Rates are subject to change without notice and are not confirmed until a 50% deposit is received. Before selecting a villa, review the rental policy in the description. This policy will change for different properties because each property is privately owned.
Most villa rates are a per night rate in USD, although some villas have a "per room" rate with a minimum room rate. These rates are not a per person rate. However, we calculate two guests per bedroom, except for small kids or infants.
How do I reserve a Villa?
Click the "Inquiry" button or complete the form once you have selected the villa you want. Feel free to call or message our reservation manager if you have any questions. We are locally based and can answer all the destination-specific questions you might have.
We will send you an email with the invoice and rental agreement & all the information you need. At that point, we will place a 48-hour courtesy hold on the property. Until then, you can print, physically sign, or e-sign the rental agreement and submit it to us with a 50% deposit. The villa can be held for five days for you if you need an extension at some point during this process.
We can provide this service upon request. We accept all credit cards or bank wires for deposits. As soon as we receive your guarantee, we will send you a confirmation of receipt. Sixty days before your arrival, you must pay the final balance. Holiday rentals require payment 90 days before arrival.
Once you make your reservation, we will send you the arrival information, villa address, map, phone number, and any additional information you may need within 24 hours of payment. Our team will also introduce you to your private concierge service to help you create the luxurious experience you want.
What is the security deposit?
Property owners require a security deposit to guarantee that you do not damage the property or amenities. Five to seven days after your departure, you will receive your full security deposit back if there are no open bills or damages at the property. We always try to speed up the process to ensure you get it back as soon as possible.
If you deposited by bank wire or deposit, we would refund the amount to your bank account. If you deposited by credit card, we refund the amount to the credit card you used.
Can you hold the villa longer if we need more time to decide?
We can place a courtesy hold on the villa of your choice for 48 hours. There is no financial obligation during that time, but please do let us know if there are changes to your plan.
How far in advance can I reserve a Puerto Vallarta villa?
The answer depends on the property. We recommend booking several months in advance if you have a large group. However, villas can be reserved up to a year in advance.
In the case of a smaller group, it is usually easier to find a villa, and you can book it just a few months in advance.
Here in Puerto Vallarta, holiday dates are exceptional. Thanksgiving, Christmas, New Years', and Easter weeks are the busiest times, so if you wish to travel during these dates, be sure to make your reservation as far in advance as possible.
How do we tip the service staff?
We recommend tipping the staff 10% over the total spent over the lodging total. For example, if your total rent were 5000 USD, the suggested gratuity would be 500 USD. The staff split the tip evenly among themselves. We provide envelopes in the house.
What does the full-time staff do?
There are usually housekeepers, butlers, and cooks assigned to villas. They are the ones who make your stay memorable. They make sure you have everything you need, clean the house daily, and prepare two meals a day, plus snacks.
If you have not made prior arrangements with the concierge, the staff does not work Sundays. Therefore, having them stay over on Sunday may incur an additional fee.
Two meals and snacks are prepared by the chef each day. The guest reviews and makes suggestions about the meal a day in advance, and you must reimburse the house staff for the cost of the food plus transportation costs. According to the exchange rate, you can either reimburse in pesos or USD after the staff presents the receipt. Unfortunately, the team does not accept credit cards.
The staff generally starts working at eight or nine in the morning and finishes at six or seven in the evening. If you need the staff services after hours or during a special dinner, don't hesitate to contact the concierge. However, keep in mind that staff members use public transportation to go home, and buses stop running after 8 pm. So if you need their services late at night, you can arrange for a taxi to take them home.
1. What if members of my group have problems with certain types of foods?
Please let the concierge know if you have special dietary requirements, food allergies, or are vegetarian or vegan. The in-house chef can accommodate your needs. Just be sure to let us know when you submit your pre-arrival documentation.
What is the cost of groceries and beverages?
We can only provide an approximate cost. Breakfast, dinner, and snacks are generally between $25 and $35 per person per day. Alcohol is also included.
However, if guests purchase international foods like steaks and unique wines or liquors, the cost can rise. It is easier to track food expenses if receipts are paid as soon as possible after the house staff member makes a trip to the store.
What if I don't want the staff at the villa every day?
Villa Experience villas are your home away from home, and while the staff is usually available throughout the day, they are generally out of sight and out of mind most of the time. When they are not needed, they work in separate areas.
However, you can ask them to come later in the day or give them a day off, but keep in mind that they usually take a bus home and must leave before 7 or 8 pm. If you pay the staff extra and their cab fare, you can have the staff members stay later.
Are the villas child-friendly?
All villas accept children, and many have child-friendly equipment like high chairs and cribs. However, many villas also have stairs and balconies, so you will want to check the descriptions to decide which villas are the most child-appropriate. Also, be sure to let your concierge know if you need baby items that are generally not available at the villa.
What are the check-in and check-out times?
Check-in is at 3:00 pm, and check-out is at 11:00. Of course, we realize that flight schedules differ, so we do our best to accommodate your schedule, and you can ask for an extension on your departure. However, it would be best if you let your concierge know about this need two weeks before your arrival.
Property owners also allow you to store your luggage at the villa until you need to depart.
What if my flight arrives late?
Please let us know as soon as possible if your flight is arriving late. This way, our concierge service can inform your driver of the delay.
What happens when I arrive at the villa?
When you arrive at the villa, your staff will greet you with light appetizers and drinks. Before your arrival, our staff will send you a form to specify what you would like for dinner upon arrival and what kind of drinks you would like to have. The concierge usually pre-arranges grocery shopping and liquor needs.
If your staff is off on the day you arrive, you can request a vegetable or fruit plate, guacamole, and salsa, which will be left in the refrigerator for your arrival on Sunday. We can also assist you with dinner reservations, birthday surprises, or other special celebrations. However, we ask that you advise our staff with 24-hour notice of your meal plans or requests. All villas have bath towels, linens, dish towels, etc.
Every villa has a unique water filtration system or makes bottled water available. The staff uses the water for cooking, ice, and other food preparation. It is perfectly acceptable to drink.
Even so, because you are traveling internationally and food will be different, we recommend you start eating yogurt every day for two to three weeks before you travel to Mexico. This will prepare your stomach for food changes.
You might even purchase acidophilus pills at a local pharmacy to help restore intestinal bacteria. But, of course, you can find it at any health food store or pharmacy.
Does the villa have high-speed internet service?
Although the internet can be spotty in some city regions, all villas have internet. If the internet is essential to you, be sure to contact the concierge to check on the internet speed.
Does the villa have cable TV or satellite service?
All villas have cable or satellite TV. However, this does not mean all the channels are in English. All paid TV services in Mexico do have a variety of media in English, but these may not always be the channels you have at home. Please confirm when booking and discuss the amenities that are important to you.
What travel documents do I need to bring?
You will need a valid passport to travel to Puerto Vallarta, an international destination. In addition, children under 18 must travel with both parents or have a notarized affidavit allowing them to travel without their parents.
The airline will give you a tourist visa card that you must fill out with your name, address, and other information. You will be sent to pay for the entry permit once you arrive in Mexico. The cost is approximately $25 per person. The visa card will then be stamped, and you will be allowed to enter the country. Once you leave the country, you must return the card.
What if I need to cancel my reservation?
The best solution for cancelations is purchasing a trip cancellation policy. This purchase protects your vacation investment. The service we work best with is travelguard.com. 
Each of our properties is privately owned, so be sure to review cancellation policies in the rental agreement. In general, you can reschedule your reservation or get a full refund minus a facilitating fee if we can rebook the property for the days of your stay.
The exception is for Holiday reservations which are not refundable.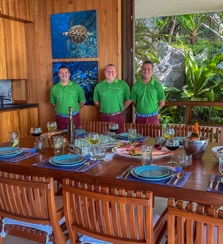 Description of the staff members and services at the Puerto Vallarta villas.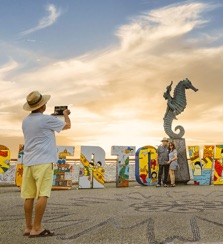 How to take advantage of the Villa Experience concierge services & benefits.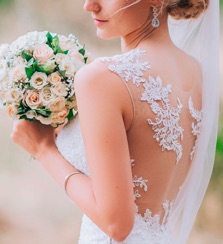 Terms and conditions when having a wedding or event at a private villa in Puerto Vallarta.